Abstract
Knowledge, research, and innovation are of crucial importance for the competitiveness of an economy and a recipe for economic development not only for developed and developing countries, but also for entities surviving a political abnormality, such as the Palestinian territories. As Palestinians are currently planning for their future viable state, the policy and decision makers should formulate relevant science, technology, and innovation policies that encourage the different national sectors to utilize the available innovation potentials and the experience and support of other countries, for developing a competitive economy. Conducting and analyzing a community innovation survey on two major Palestinian industrial sectors, namely quarrying and stone fabrication and the food and beverages sector, brought about very promising indicators and showed high innovative potentials in both sectors. Employment, export, and revenues are clearly improved in innovative enterprises. Lack of cooperation between the industrial sector and the higher education and research and development institutions is found to be a major problem that should be tackled in order to strengthen the enterprises' ability to innovate.
This is a preview of subscription content, log in to check access.
Access options
Buy single article
Instant access to the full article PDF.
US$ 39.95
Price includes VAT for USA
Subscribe to journal
Immediate online access to all issues from 2019. Subscription will auto renew annually.
US$ 99
This is the net price. Taxes to be calculated in checkout.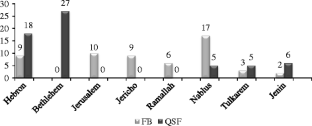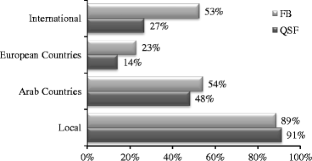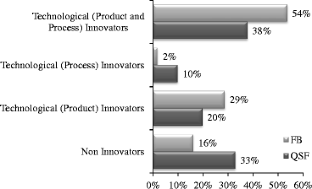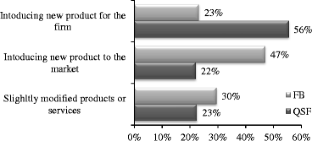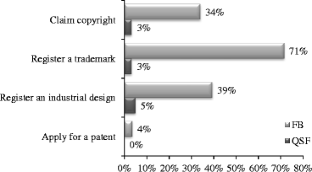 Notes
1.

Hazard Analysis and Critical Control Point (HACCP) is a food safety management system.

2.
References
1.

Alaoneh A (2010) Governing family owned companies in Palestine. Economical Policies Magazine, Issue2, March 2010, Palestinian Economic Council for Development and Reconstruction (PECDAR), Palestinian Authority

2.

Atyani N, Al-Haj Ali S (2009) Problems of micro, small and medium enterprises in Palestine. Palestinian Economic Policy Research Institute (MAS), Palestine

3.

Capron H, Meeusen W (2000) The national innovation system of Belgium. Springer, Belgium

4.

Carayannis E, Campbell D (2009) 'Mode 3' and 'Quadruple Helix': toward a 21st century fractal innovation ecosystem. Int J Technol Manag 46(3/4):201–234

5.

Carayannis E, Campbell D (2010) Triple helix, quadruple helix and quintuple helix and how do knowledge, innovation and the environment relate to each other? A proposed framework for a trans-disciplinary analysis of sustainable development and social ecology. Int J Soc Ecol Sustain Dev 1(1):41–69

6.

Carter C, Williams B (1958) Investment in innovation. Oxford University Press, London

7.

Cohen W, Levinthal R (1989) Innovation and learning: the two faces of R&D. Econ J 99:569–596

8.

The Economist (2010) Innovation. The new masters of management, 15 April 2010

9.

Edquist C (1997) Systems of innovation: technologies, institutions, and organizations. Pinter/Cassell, London

10.

Etzkowitz H (2008) The triple helix—university-industry-government innovation in action. Rutledge, New York

11.

FRASCATI Manual (2002) OECD, ISBN 92-64-19903-9

12.

Griliches Z, Klette TJ, Moen J (1999) Do subsidies to commercial R&D reduce market failures—microeconomic evaluation studies? Harvard Institute of Economic Research Working Papers 1861, Harvard Institute of Economic Research

13.

International Labor Office (2010) The situation of workers of the occupied Arab territories, International Labor Conference, 99th Session 2010, Report to the Directorate-General, ILO, Geneva

14.

Kawasmi H,White S (2010) Towards a policy framework for the development of micro, small and medium-sized enterprises in the occupied Palestinian territories: assessment report. International Labor Organization and Ministry of National Economy, Palestine

15.

Liu H (2010) Analysis of the impact of globalization on the Palestinian economy. Int J Business Manag 5(7):204–207

16.

Lundvall B-Å (ed) (1992) National systems of innovation: towards a theory of innovation and interactive learning. Pinter Publishers, London

17.

Malerba F (2006) Innovation and the evolution of industries. J Evol Econ 16(1–2):2006

18.

Metcalfe JS (1988) The diffusion of innovation: an interpretive survey. In: Dosi G et al (eds) Technical change and economic theory. Pinter Publishers, London, pp 560–589

19.

Ministry of Education and Higher Education (2008) Education development strategic plan 2008–2012. Towards quality education for development, July 2008. Palestinian Authority

20.

Ministry of Planning (2010) Palestinian reform and development plan 2008–2010, MOP, Palestinian Authority

21.

Nelson R, Winter S (1982) An evolutionary theory of economic change. Belknap Press of Harvard University Press, Cambridge Massachussetts

22.

Nelson RR (ed) (1993) National innovation system: a comparative analysis. Oxford University Press, Oxford, 1993

23.

Organization for the Economic Cooperation and Development (1992) Oslo Manual, Paris, 1st edition

24.

Organization for the Economic Cooperation and Development (1996) Oslo Manual, Paris, 2nd edition

25.

Organization for the Economic Cooperation and Development (2005) Oslo Manual, Paris, 3rd edition

26.

Palestinian Central Bureau of Statistics (2010a) http://www.pcbs.gov.ps

27.

Palestinian Central Bureau of Statistics (2010b) Palestine in Figure—2009, PCBS, Palestinian Authority

28.

Palestinian Federation of Industries (2009) The current status of industrial sector in Palestine, April 2009, PFI, Palestinian Authority, 93 pages

29.

Pavitt K (1984) Sectoral patterns of technical change: towards a taxonomy and a theory. Res Policy 13:343–373

30.

Pitelis C (2002) The growth of the firm. In: The legacy of Edith Penrose. Oxford University Press, London, 28 March 2002

31.

Polanyi M (1966) The tacit dimension. University of Chicago Press, Chicago, 2009 reprint

32.

Scherer F (1993) Lagging productivity growth: measurement, technology and shock effects. Empirica 20:5–24

33.

Shinn C, Glicksberg J, Loerke M (2009) The Palestinian faculty development program: improving higher education in the West Bank and Gaza, Institute of International Education 2009

34.

Soete L, Freman C, Nelson R, Silverberg G (eds) (1988) Technical change and economic growth. Pinter Publishers, London

35.

Teubal M (2006) Innovation and technology policy (ITP) for catching up: a three phase life cycle framework for industrializing economies, 2006

36.

UNCTAD (2004) Palestinian small and medium-sized enterprises dynamics and contribution to development, United Nations Conference on Trade and Development, UNCTAD/GDS/APP/2004/1, United Nations, New York, USA

37.

Vania S (2004) The return of the prince of Denmark: a survey on recent developments in the economics of innovation. Econ J 114(496):F312–F332

38.

The World Bank (2006) Middle East and North Africa, Human Development Group, West Bank and Gaza, education sector analysis, impressive achievements under harsh conditions and the way forward to consolidate a quality education system, September 7, 2006

39.

The World Bank (2009) Palestinian economic prospects: Gaza recovery and West Bank revival, The World Bank, 43 pages

40.

The World Bank (2010) The underpinnings of the future Palestinian state: sustainable growth and institutions economic monitoring report to the ad hoc liaison committee, September 21, 2010, The World Bank, 31 pages
Acknowledgment
The research was carried out through a partnership between the Palestine Academy for Science and Technology and the Ministry of National Economy. Background training was provided through the participation in the European-funded Medibtikar project.
About this article
Cite this article
Khatib, I.A., Tsipouri, L., Bassiakos, Y. et al. Innovation in Palestinian Industries: A Necessity for Surviving the Abnormal. J Knowl Econ 4, 492–510 (2013). https://doi.org/10.1007/s13132-012-0093-8
Received:

Accepted:

Published:

Issue Date:
Keywords
Community innovation survey

Palestinian industries

Palestinian economy

Quarrying and stone fabrication

Food and beverages