South Africa's e-Development Still a Futuristic Task
Abstract
The slow pace of e-development in South Africa can be traced to a series of poor telecoms policy choices and a vacuum with respect to broader policy for framing transitions to an information society. This article traces the evolution of e-development in South Africa, analysing policy leadership, information infrastructure ecology, information and communication technology (ICT) industry formation, human resources capacity and ICT applications in business, society and government. It argues that it is possible that e-development will push through the barriers of bad policy, tepid regulation and national governance in those parts of the country where the infrastructure and services has become a necessity to the operation of firms and the lifestyles of households, making for perhaps six 'connected cities'. It proposes that future-oriented policy for information society evolution will need to adopt a paradigm that incorporates and integrates the elements of rapid diffusion and increasing sophistication of information infrastructure, alongside multiple factors in e-development from ICT R&D to promoting a powerful online-content industry, in order to have greater influence in creating economic value and socioeconomic impact.
Keywords
e-Development 
Information society evolution 
Telecommunications 
ICT 
Policy design 
Leadership 
Introduction
South Africa, a medium-sized country with a diverse population of 49.3 million, has demonstrated consistent progress in moving into the electronic age, despite limitations in its policy and regulatory environment. Mobile telecommunications networks have spread across the country; sophisticated information and communication technology (ICT) applications have been adopted by businesses and government; and the Internet provides a foundation for information flows and transactions in banking and financial services, universities and other scientific performing agencies, as well as in shopping and entertainment services.
However, this e-development excludes large numbers of the population and large parts of the country, where there is limited or no access to advanced communications or e-services at the household or firm level. Thus the digital divide of the early twenty-first century parallels the racial and class divide of the previous three centuries. The majority of the African black population still live in low-income households with limited access to global communications infrastructure and services; while the minority population (defined as Whites, Coloureds and Indians) has differentiated, but nevertheless disproportionate access in relation to the country's demographic profile [47]. There is also a geographic divide with respect to e-development, with little advance in ICT-enabled development outside the six metropolitan municipalities.
Progress on e-governance is patchy at best, with very few public services available online or through other ICT channels. E-business has evolved in large-scale enterprises, in particular, in service industries such as banking and finance, tourism, hospitality and entertainment. While small, medium and micro-enterprises (SMMEs) have a strong profile of mobile voice access, this does not translate into e-enabled businesses using a combination of mobile voice, Internet and small-scale ICT applications. E-society is evolving slowly, partly due to the high investment required per household with respect to computer ownership and broadband Internet usage.
This article reviews South Africa's e-development from the perspectives of leadership, infrastructure, ICT industry development, human resource capacity and the contribution of these elements to the formation of e-government, e-business and e-society [19].
Leadership: Policies and Institutions 1996–2009
The slow pace of e-development raises questions regarding the efficacy and value of telecoms policy choices to date, and points to a vacuum with respect to broader policy for framing transitions to an information society. Policy and regulatory design in relation to infrastructure competition, technology and services innovation, access pricing, quality of service, stimulating investment in next-generation networks, encouraging universal connectivity and service, and promoting a local content industry are key issues that still require the attention of policy makers and regulators in South Africa today.
The limited evolution of e-development can be tracked against the slow shaping up of the policy environment in the 16-year period since the first democratic elections in 1994. Information society policy has been dominated by the Department of Communications which holds an infrastructure mandate, while departments that could offer policy or strategy interventions such as Trade and Industry (focus on e-development for business and SMMEs), Public Service and Administration (focus on e-government), Health (telemedicine) and Education (focus on online educational content and scholarly publications) have made little input in terms of creating the conditions for e-development.
E-development has been fostered largely through the introduction of services innovations such as mobile pre-paid services, the subsequent offering of small units of airtime and SMS1 bundles, as well as the availability of cheap new and second-hand handsets. Hence, South Africa is a country with a large mobile user base, typically using small units of airtime for voice communications and a limited market for broadband Internet access at current market prices.
Information Infrastructure Ecology
Availability and affordability of information infrastructure has been a binding constraint on South Africa's more rapid and inclusive e-development. As regards ICT networks and services, though access to advanced communications such as broadband is limited by lack of effective competition, South Africa has a relatively vibrant private and public ICT sector. The range of new electronic media available provides a reasonably sound foundation for e-business, e-commerce and e-government, including innovations in mobile banking and mobile commerce, as will be discussed below. According to the annual financial statistics for 2008, the transport, storage and communication sector (including postal and telecommunication) contributed more than 500 billion Rands to the country's economic activity [50: p. 71]. While data for the communication sector is neither updated nor disaggregated in a 2006 statistical report, the estimated total income for the post and telecommunication industry in 2006 was 137.3 billion Rands (about USD17.8bn3) [49: pp. 4–6]4 or 0.08% of GDP,5 with the largest contribution being from mobile telecommunications, followed by fixed-line, Internet, equipment sales, broadcasting, postal and courier services.
There has been extensive network investment over the last 15 years, of which the main advance has been in mobile networks and fixed-line backhaul, with limited growth in fixed-line or fixed broadband infrastructure. The fixed network has extensive reach yet limited uptake, while the mobile network reaches to even the most far-flung corners of South Africa, fostered by a combination of tourism development and a rapid decline in the cost of handsets and airtime in recent years. Here follows an overview of the telecoms network infrastructure and international bandwidth landscape.
Telecoms Market Structure
The telecoms market is comprised of fixed-line network operators Telkom and Neotel; and mobile network operators Vodacom, MTN, Cell C and Virgin Mobile. Under-serviced area licences were awarded to 14 small operators to provide telecommunications services in areas recorded as having less than 5% teledensity and as having limited commercial viability. In 2008, these companies were granted ECNS licences under the Electronic Communications Act, 2005, allowing them to build their own network infrastructure, though this may be costly. In addition, more than 400 firms, including around 250 ISPs are licenced to provide telecoms and other value-added network services and to self-provide their own network infrastructure. However, the limitation on available spectrum has meant that these small firms cannot pursue wireless provisioning strategies, a more efficient option as compared to building fixed network infrastructure. Thus, competition in the telecoms market is effectively stymied by the high cost of self-provisioning for small players and by the ineffectiveness of the regulator with respect to spectrum allocation.
Telkom SA, the incumbent network operator that emerged from the pre-democracy Department of Posts and Telecommunications, has held an effective 18-year monopoly on fixed-line voice infrastructure since incorporation as a public company in 1991, as well as a monopoly in fixed-line data and broadband infrastructure in more recent years. It has harvested increasing profits, while maintaining monopoly prices in relation to consumers and monopoly rents in relation to facilities leasing. Several independent studies have confirmed that a range of Telkom's prices, particularly local call charges and broadband, are far higher than in many other countries [44: pp. 111–126]. In its 2009 results, Telkom reported a 5-year trend of decline in its fixed access lines from 4.7 million in 2005 to 4.4 million in 20096 including public payphones [54: p. 86]. In a declining fixed-line market, Telkom is attempting to expand away from its traditional fixed-line infrastructure and voice business into the broadband, wireless voice and mobile data markets [54: pp. 4–5]. While it offers high speeds of between 2 and 1551 Mbps for wide area networks operated by businesses and large organisations, its residential broadband speeds of 4 Mbps at the upper end compares unfavourably with 24 Mbps in markets like the UK and India. While the company expresses its intentions to rebalance tariffs with respect to both local and international pricing, this is not reflected in prices to the consumer, where average monthly prices increased 11% between 2008 and 2009.
Neotel, the second network operator, only launched services to consumers in mid-2008 and so far there has been little impact on prices in the sector from this new market entry. Nevertheless, Neotel has implemented an aggressive marketing campaign, promising a connection within 48 hours, compared to the lengthy waiting period for a Telkom landline. The Neotel customer base has developed some depth only from 2009, with deployment of fibre to the desktop, giving a household subscriber base of between 30,000 and 50,000.7 The company strategy appears to be to focus on building its market share through providing new technologies and added value, rather than engage in full-scale price competition with Telkom.
The South African mobile operators Vodacom and MTN have a continental presence in Africa and the Middle East. Collectively, the two groups have more than 130 million subscribers,8 of which 44.7 million plus are in South Africa, not accounting for multiple and inactive sim-cards. An exemplar of rapid expansion, MTN's local subscriber base grew from 200,000 in 1996 to 17.1 million in 2009 [27, 57]. While Vodacom and MTN are the dominant players in the market, late entrant and third mobile operator Cell C is estimated to have around 7 million subscribers and is set to introduce 4-G technology at speeds of 21 Mbps. Virtual mobile operator, Virgin Mobile, launched in 2006, adds a further 200,000 to the subscriber base [6, 56]. While high prices remain a strong feature of the South African telecoms market, the two fixed and four mobile operators are intensely focused on keeping abreast of technology advances and convergence in technologies and services, offering an ever-wider range of commercial and household voice, data and value-added services.
The Internet landscape has evolved slowly since the 1990s, but is beginning to show signs of more rapid development, with increasing access and usage. The number of Internet services and Internet access providers, ISPs and IAPs, increased from seven in 1994 to 603 in 2008 and 726 in 2009, of which the majority were internal corporate providers serving staff and clients of the particular company [17: p. 13], and a small proportion were independent ISPs. By December 2009, Internet access had passed the 5 million mark and is heading for 6 million by the end of 2010.
Internet access is currently experiencing what appears to be a fundamental restructuring. Consumers and businesses who for more than a decade had relied on Telkom for voice, Internet access and international bandwidth, now have a wider market for access through mobile service providers and are likely to have even greater choice resulting from the major market changes pending. VANS providers who have taken a series of cases of uncompetitive behaviour against Telkom to the Competition Commission from 2003 to date, with only limited success, now stand on the cusp of investing in infrastructure development which could push the market towards greater competition and a downward impact on prices. Following the award of ECNS licences in 2009, the sector is awaiting the award of spectrum as one of the last remaining barriers to building new wireless networks. However, the industry regulator, ICASA, has proved slow to deliver on spectrum resource allocation.
As Internet access grows, demand for bandwidth is increasing, in particular from business and the academic community. There are currently five broadband providers in South Africa (previously six), namely Telkom, Neotel, Vodacom, MTN and Wireless Business Solutions operating as iBurst. The 2008 Internet survey, [
15
: p. 46] argues that
'The premium offerings may be expensive, but for the ordinary user with average Internet needs, there is a price to suit the pockets of most working people who have computers and phones at home'.
Pricing of ADSL broadband showed a downward trend between 2004 and 2007 and South Africa witnessed a shift from dial-up to ADSL over the period 2005 to 2009. Of the estimated 630,000 ADSL connections, approximately 355,000 were for SMEs connecting an estimated 1.1 million users, though some have dual Internet access, meaning access at more than one location. Wireless broadband subscribers were reaching towards the 1.5 million mark by December 2009. Estimating access across households, SMMEs, academic and corporate institutions indicates a total of more than 4.5 million unique broadband users [17].
It is noted that these shifts come as a result of a concerted response to constraints in the telecoms policy environment and attempts to push aside the existing policy paradigm of 'managed liberalisation', rather than as a result of well-designed policy or regulation.
Given the slow introduction of broadband by private providers, some provincial and municipal governments have taken an active stance on introducing 'municipal broadband'. The City of Johannesburg has established a public-private partnership with Ericsson to build, operate and maintain a citywide broadband network, offering affordable services to public entities and low-income communities, with eventual transfer of the asset at an agreed date. But the cost of building the infrastructure and the relative difficulty of designing business models that will show commercial returns, has seen these initiatives, too, get off to a slow start. The metropolitan municipalities have historically invested in telecommunications assets for internal communication, but also own a range of assets that can be utilised for telecommunications purposes, including fibre networks, wireless networks, street light poles, storm water drains and pavements. With the current laying of high-bandwidth fibre across many cities by the fixed-line operators, municipalities are establishing policy to invite greater penetration of broadband, while at the same time adopting strict guidelines for the remediation of public land.
The telecoms and broader ICT markets are high-priced markets relative to income, with respect to both voice and broadband. One of the main cost drivers has been the relatively high interconnection rates charged by operators to terminate calls on each other's networks. In 2009, the Ministry of Communication undertook a major price negotiation on interconnection rates with the sector. Rather than await a policy determination from the Ministry, the mobile operators volunteered to reduce interconnection rates commencing 1 March 2010. Telkom proposed to pass the savings on to the customer by dropping the price of peak-time fixed-to-mobile calls. ICASA aims to reduce interconnections rates every July commencing 2010 through to 2012 [14], but it is not yet clear that these rate cuts will be passed on to the consumer in terms of the cost of fixed-to-mobile and mobile-to-mobile calls.
International Internet Bandwidth
International bandwidth has been one of the perceived bottlenecks in South Africa's e-development value cycle, but shifts are beginning to occur in the undersea cable segment of the market. South Africa is linked to the global Internet via the South Atlantic 3 (SAT3)/WASC cable along the West Coast of Africa to Europe, and by the South Africa Far East (SAFE) cable system across the Indian ocean to India and Malaysia. Four additional cable systems will have been laid by 2011 including the West African Cable System (WACS), the Africa Coast to Europe, Eassy9 and Seacom10 [45]. The 17,000-km Seacom cable, offering high-capacity bandwidth links between Africa, Europe and Asia, went live in July 2009, with landing sites in South Africa (Mtunzini), Mozambique (Maputo), Kenya (Mombasa) and Tanzania (Dar es Salaam).
SAT3/SAFE was historically managed by Telkom with high access prices charged. With the commercial launch in March 2009, Seacom promises to offer less expensive bandwidth to the African continent and South Africa, serving what is regarded as the 'longest underserved coastline in the world' [42], connecting South Africa and countries on the continent to London and Mumbai. This potentially disruptive infrastructure deployment may shift the market for international bandwidth to provide a cheaper alternative to SAT3/SAFE, with significantly greater capacity, at 1.28 Tbps11 [17: p. 20]. The Eassy cable and the WACS undersea cable will bring additional capacity of 1.4 and 3.8 Tbps, respectively. This is all in theory, however, the Seacom effect to 'enable high definition TV, peer to peer networks, IPTV and surging Internet demand' [43] is not yet a reality.
In the light of the opening up of international bandwidth and the availability of next-generation technologies, industry players are migrating towards converged digital networks to meet demand for broadband multi-play services. Universities and scientific performing agencies will be able to take advantage of increased capacity in international bandwidth and national cyber-infrastructure to support high-speed international research collaboration, through the academic research network SANRen, which will connect up to 108 sites and more than 3,000 researchers across local-international research networks [26].
ICT Industry
The broader ICT market includes a wide range of state and private providers in the realms of hardware and software provisioning, software engineering and applications design, and IT services. ICT R&D has historically been mainly in the software field. New areas of R&D are evolving in cyber-infrastructure, mobile technologies and applications [11, 34]. But the level of technological advancement is low with respect to the electronics and telecoms/ICT components manufacturing sector, advances in consumer services and the related effects on society and the economy.
South Africa is a net importer of telecoms equipment and the information and computing technologies that go to make up the facilities network. While the South African government adopted an ICT Research and Development Strategy in 2007, the ICT sector is probably several decades away from making a significant contribution to local needs or to making the country a significant player in the global ICT R&D sector. A few universities conduct R&D in the field, giving rise to the emergence of new institutions in the past 5 years, namely The Joburg Centre for Software Engineering (JCSE), established with support from metropolitan government12 and the ICT industry; and the Meraka Institute,13 established in 2007 with resources from the state fiscus. Meraka emerges from a long history of ICT R&D at the CSIR14 and conducts research and experimental development in four broad fields, namely cyber-infrastructure, imaging and networks, systems engineering and applications.
The more developed parts of the R&D ecosystem include the local electronics industry which produces vehicle tracking systems and satellite TV decoding systems for export and for local markets. Other areas of innovation include wireless technologies and mesh networking, as well as voice recognition systems for local languages, translation engines such as translate.org.za and software design and standardisation [24: pp. 271–272]. As regards ICT priorities for the productive sector, the top three priorities for innovation in 2009 were applications development, network infrastructure with due attention to broadband access, and business intelligence [41: pp. 2–3].
The Information Technology Sector
South Africa has a sizeable market for IT goods and services, estimated at USD9.5bn in 2010 [5: p. 1]. It includes the presence of multi-nationals such as IBM, Cisco and Tata,15 and home-grown companies such as Dimension Data and Arivia.Kom. There are reportedly in excess of 2,428 companies operating across the hardware, software and IT services markets, with a combined staff of 141,929 people [41: p. 2]. These companies offer services that include IT architecture and enterprise resource planning; network evolution and management; hardware and software sales; applications integration; data management; e-commerce; and a range of value-added applications. The sector provides support to the manufacturing and resources sectors, to the broad services sector which includes non-governmental organisations and to academic and research institutions. It enables the increasing utilisation of ICT goods and services as a medium for doing business and for managing operations in all spheres of government.
By international standards, South Africa's large companies show a relatively sophisticated usage of IT both in terms of the continuous upgrading of enterprise-wide systems and the introduction of converged services across IT, mobile voice and data platforms. On the other hand, small companies, employing 50 people or less are limited in their deployment of IT, except in sectors such as tourism where IT is a foundation business requirement.
The low levels of household penetration for computers, around 15.6% according to the Community Survey 2007, may begin to shift as large numbers of second-hand laptops come into the marketplace. A similar phenomenon was observed with mobile handsets where, in the period post-2005, the second-hand mobile handset market grew to the extent where the cost of owning a mobile phone was well within reach of most households. However, the cost of operating the mobile phone or computer to conduct electronic or Internet-based transactions is still beyond the budget of most households.
The Content Industry
The content industry is relatively small and still in the early stages of development. Broadcast and Internet content is generally sourced from foreign providers and websites. The local broadcast market [25] is comprised of a multimedia network operator and broadcast network provider, Sentech; the South African Broadcasting Corporation (SABC) and commercial digital satellite television broadcaster, DStv. Radio and TV broadcasting is a diverse, still largely analogue landscape. The public broadcaster, the SABC, incorporates 15 public broadcast radio stations covering all 11 languages16 and three commercial radio stations. There are 13 private commercial radio stations and 126 community radio stations licenced to operate across South Africa's nine provinces.
The TV market is dominated by the SABC's three multi-language terrestrial television channels, supplemented by the free-to-air e.tv and pay TV offering, DStv. TV and radio offers a programming range from news and current affairs, to drama and reality TV. Four pay-TV channels were licenced in 2007 and the company On Digital Media, branded as TopTV, has introduced 55 new channels to the market in 2010. It is certain to compete with DStv in segments such as news, sport and movies, while at the same time aiming for the low-to-middle-income market.
The major local producers of Internet content are the media sector (newspapers, radio and TV); financial, tourism and entertainment sectors; and government. The local content industry for the TV, film and advertising sectors is based almost exclusively in Gauteng and the Western Cape, and South Africa also offers facilitation services for international film and advertising crews.
South Africa's broadcast infrastructure is roughly 15 years old, but not yet obsolete. Still using analogue technologies, multi-language television channel SABC 2 has the biggest footprint and covers 80% of the country in terms of its signal, while English-language channel SABC 3 offers a more urban-focused signal. In far rural areas where there is poor TV coverage, satellite is used to convey a broadcast signal, yet there remain areas that are not covered at all. For the 2010 World Cup™, the International Broadcast Centre at Soccer City in Soweto broadcast using both analogue and digital technologies.
Digital migration from analogue platforms to digital TV is in process. However, the initial switch-on date of November 2008 was not met and much remains to be done to ensure that the current high TV coverage for South African households does not decline due to the lack of affordability of set-top boxes and other constraints. It is argued that new channels are needed to attract people to buy the set-top boxes required for accessing the digital signal [29], presenting a particular challenge for the cash-strapped public broadcaster. Estimates indicate that government will need to subsidise approximately 4.5 million set-top boxes for low-income households. There is now speculation that the switchover for most viewers will only take place in 2014, skirting dangerously close to the 2015 deadline for withdrawal of global protection for analogue signals.
Human Resources
South Africa has a sizeable human resource base of several million tertiary education graduates, with an upward trend in higher education graduations in key sectors such as the engineering sciences, marketing and management sciences, and the health sciences [28: pp. 6–18]. However, the number of full-time researchers per thousand of the workforce is relatively low at 1.5 [28: p. 18] and doctoral graduations in the information, computer and communication technology disciplines is very low at only 4% of the total doctoral graduate pool of 1,176 for 2005 [28: p. 18]. The size of the ICT workforce including core workers and end-users17 is estimated at more than a million [2: pp. 20–21], not accounting for the large numbers of workers in the telecoms sector. While small in global terms, with unmet local demand for ICT skills, the workforce is nevertheless sufficiently large to ensure that the country's ICT infrastructure and services ranges from the most basic to the most advanced.
Skills, Gender and ICT
The limited availability of skills is a constraint to growth of the sector. The problem is less in the services sector where these tools are used, than in the productive sector where the tools are developed. South Africa had no skills base in mobile communications and its convergence with computing 15 years ago; now, large companies employ a range of skills, from technical to content skills. In the technical equipment sector, a few companies like UEC in Durban have developed a niche market with roughly 900 staff producing Multichoice digital satellite decoders for sale in the Far East, in South America, Australia and on the African continent. The large banks employ many thousands of people for information systems development and maintenance, mainly in-house. This latter is a thriving sector, but there are major shortages of software project managers, systems integration and architecture specialists, information security developers, as well as database administration and other high level developers. These skills are crucial as they form the apex of the skills pyramid needed to design new large-scale IT projects [11].
There is a scarcity of useful statistics on ICT skills, but a few recent studies offer a perspective. The ICT workforce, incorporating both core workers18 and end-users, has been measured at various points as being around 1.1 million in 2003 with core ICT workers at around 182,800 [2: p. 21]. By 2009, core workers had increased to around 430,000 [41]. Nevertheless, a 2008 survey [40: p. 15] argues that around 70,000 core ICT workers are needed to provide the various economic sectors with the skills necessary to ensure effective utilisation of these new technologies.
Gender participation in the ICT workforce is skewed towards women [22], with a greater percentage of the total workforce (64.4% in 2005) being women. However, men dominated the workforce in the core workers component, while women were in the majority in the end-users component, 'performing administrative support and secondary ICT work activities' [22: pp. 40–41]. The lower level of women's participation in science and technology is often attributed to women's lack of technical capability. This study found that, contrary to this view, the many barriers that remain to women's greater participation in the ICT workforce include the lack of role models, salary inequities and work-family conflicts.
The broadcast industry has two major centres for production—Cape Town for shooting commercials and facilitation for international crews working in both features and commercials; and Johannesburg for the local TV content industry. Commercials from all over the world are shot in South Africa using local crews and expertise, indicating the high level of technical skills available. However, at the level of film, documentary and series, skills development is less advanced [29].
ICT Applications
ICT's contribution to the growth and development of the country has mainly occurred in the private services sector, the greatest progress being in the banking, finance, tourism and hospitality sectors, with more limited diffusion in the manufacturing sector, and only minor impact in the mining, agricultural and construction sectors. In new areas of international trade, such as the business process outsourcing market, South Africa has so far proved unable to attract expected levels of investment, largely because of the high cost of international bandwidth [8]. With regard to social communication amongst individuals and households, access to and usage of ICTs is limited to voice communications and text messaging, with only 7% of households (2007) having access to the Internet [47]. Using ICT for educational purposes is fairly extensive at the tertiary level, though the ratio of student and lecturer access differs across institutions. At secondary level, Internet access is restricted to some fee-paying schools and to public schools in a few provinces where programmes are in place.
South Africa's e-Society
A consistently productive economy means that South Africa has seen a decade of strong growth. However, after growing at a rate of between 3.1 and 5.8% per year between 2000 and 2008, the economy contracted by 1.5% in 2009 due to the effects of the global recession [51: p. 9]. The urban population is estimated at 56% of the total of 49 million and increasing, with four provinces showing levels of urbanisation greater than 75% and five provinces showing levels of urbanisation between 10% and 45% [46: pp. 21–24]. There is a growing black and female middle class with the requisite disposable incomes to purchase electronic goods and to push forward South Africa's e-development [52].
Simultaneously, a significant proportion of the population is excluded from enjoying the benefits of development. The adult literacy rate for ages 20 years and above hovers around 74% and poverty levels are high with 22% of the population or around 10.7 million people living under the poverty line of USD1.25 per day27 [39: pp. 48 and 26]. Partly because of its advanced industrial base, South Africa's ICT infrastructure and services are relatively well developed in urban centres, but this belies the state of low levels of e-access for most households and small businesses. The Community Survey 2007 reports that 76% of households had a working radio, 73% had mobile phones, 65% had a working TV, 18.6% had a landline telephone, 15% a computer and only 7% had Internet facilities at home [47].
While computer ownership and Internet access have increased marginally since 2007, the utilisation of ICT in everyday life and the value of electronic banking, online media, electronic government services, digital TV and other household-focused applications is limited to high-income and some medium-income households.
Conclusion
The State of e-Development
This review of e-development points to two sets of elements required for information society evolution: (a) increasing levels of ICT diffusion and sophistication with respect to information infrastructure, human resources and ICT applications and (b) evolution of the value cycle with respect to ICT production, utilisation and socioeconomic impact. It is argued that the reality of South Africa as a 'connected, information society' remains futuristic. There is only a very small ICT and electronics manufacturing sector, high mobile voice prices, continued low levels of Internet and broadband penetration. ICT penetration is relatively higher in the six large cities, while populations in most small towns and rural areas are excluded from the digital revolution. Policy and regulation has not closed the digital divide and may rather have contributed to its widening.
Why the failure to move towards an inclusive information society?
E-development was hemmed in by government policy in the period 1996 to 2008 as a result of government's protection of the powerful interests of the telecoms and mobile operators. Then, a confluence of events, namely the court judgement on VANS self-providing their own facilities and the award of more than 450 ECNS licences, a slight reduction in broadband prices and the introduction of innovative broadband packages, the gradual opening up of the undersea cable environment, the possible reduction of interconnection rates, potentially sets the scene for more rapid e-development post-2010, assuming that other dimensions of e-development do not emerge as binding constraints. Internet usage moved slightly ahead of the curve as evidenced in the 2010 Internet survey figures of 5 million users or roughly 10% of population. Unfortunately this still limits e-development to the relatively highly industrialised Gauteng province, and to three other metropoles namely the City of Cape Town, eThekwini Metro and Nelson Mandela Metropolitan Municipality.
In the early stage development of the South African information society, government and industry players saw South Africa as a low middle-income country and assumptions were made that the market for value-added services and online media was small in comparison to the voice market. Thus, high telecoms prices aimed at maximising profit from the voice market has been at the heart of the country's limited progress in household connectivity and low levels of Internet-based activity. These high prices were driven by a number of factors, of which two are prominent. In the first instance, from 1997 to 2008 telecommunications policy favoured the incumbent operator, Telkom, by creating a monopolistic environment. It required mobile service providers and VANS to lease their facilities from the fixed-line operator and set the context for a skewed interconnection pricing regime to emerge, with high call-termination rates on the Telkom-owned backbone network. Secondly, restricted ownership of the undersea cable for international voice and data traffic encouraged monopoly pricing on international bandwidth.
Then, in 2008 the Altech High Court judgement enabling new operators and ISPs to build their own facilities networks, broke the government stranglehold on the telecoms sector. It forespelt a confluence of activity including the Neotel deployment of fixed mobile infrastructure in metropolitan and urban centres, public debate on interconnection rates leading to the lowering of peak and off-peak mobile call rates, growth in the undersea cable environment introducing cheaper rates for Internet connectivity. This massive programme of infrastructure building alongside a strong push to reduce the price of fixed–mobile and mobile–mobile voice calls and international bandwidth for Internet access is creating a new landscape in which the availability and affordability of infrastructure is encouraging adoption of Internet-based services and online media.
Connected Cities, Disconnected Regions
It is possible that e-development will push through the barriers of bad policy, regulation and national governance in those parts of the country where the infrastructure and services has become a necessity to the operation of firms and the lifestyles of households, making for perhaps six 'connected cities'—those of Johannesburg, Tshwane, Ekurhuleni, Cape Town, Nelson Mandela Metro and eThekwini. Other smaller cities such as Bloemfontein and Nelspruit, and small towns in locations where populations are highly dispersed, as is the case in the KwaZulu-Natal and Eastern Cape provinces will remain largely disconnected from the highly urbanised hubs where e-development is taking place. Diffusion of advanced ICTs is limited to six cities and sophistication of ICT and Internet-based services is limited to and high- and some middle-income households.
Even within the six cities, there are disconnected segments where households situated far from the urban centres may be living without access to electronic goods and services, except for intermittent SMS messaging on a mobile phone with little capacity for enhanced applications.
Moving Beyond Disconnected Policy
These disconnected regions mirror the disconnectedness of policy thinking. Policy weaknesses are visible with respect to information society strategy design, with respect to overly bureaucratised approaches to government's responsibilities for policy design and information society leadership, with respect to the limited utilisation of available policy research, and not least with respect to policy flexibility in a highly contested domain for development.
This disconnected policy may be due to the cognitive dissonance experienced by policy-makers who have spent most of their careers in decision-making operating from an industrial paradigm, where strategic thinking and socioeconomic design is exclusively or predominantly influenced by parameters applicable in the industrial age—highly structured, bureaucratised policy-making as compared to flexibility in public policy and strategy design; all powerful decision-makers appointed to make politics-driven rather than evidence-based policy; models of policy-making based on assumptions that changes in the socioeconomic environment occur at a decadal rate of change, whereas change in the technology-society-economy continuum occurs at an increasingly rapid pace in cycles which are yearly or shorter cycles. Indeed, the world is in a transition from an industrial to an information–knowledge-based paradigm, hence the two paradigms co-exist, presenting a set of evolutionary policy challenges to which decision-makers must rise.
Future-oriented policy aimed at development of an information society will need to adopt a paradigm that incorporates and integrates the elements of ever greater and more rapid diffusion and sophistication of information infrastructure, side by side with progression in the ICT value cycle from R&D and new applications to heightened socioeconomic impact, as presented in Fig. 
1
. The conceptual diagram views policy and regulation; information infrastructure and ICT utilisation and impact as interlocking and contributing factors to the state of e-development. No single factor is totally dependent on the other, nor is any factor necessarily more influential than another in the way in which e-development emerges. Rather, these interlocking factors may have both individual and collective cycles of influence, depending on the particular circumstances and nature of information society evolution in any country.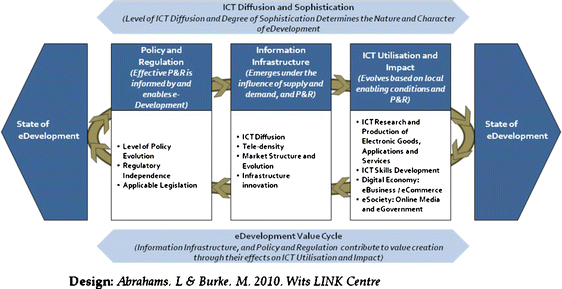 This 2010 analysis of e-development commenced with a view of South Africa using Hanna's [19] conceptual framework for e-development. It concludes with the following conceptual perspective on e-development and the implications for policy design. The state of e-development in any country can be considered to be affected by (a) the levels of ICT diffusion and sophistication and (b) the value creation cycle arising from the synergies between information infrastructure, ICT utilisation, innovation and impact and policy and regulation. The objective for policy design should be to construct, as far as possible, the basis for synergistic interaction amongst these factors, aimed at increasing diffusion, sophistication and value over time. Indeed, the rapidity with which the ICT applications and online content industries increase in sophistication can be particularly influential in new areas of demand, such as applications for electronic business for micro-businesses and electronic media for low-income households.
Value creation through e-development is pertinent in all economic and social sectors from manufacturing and construction to health and education. Hence, it is necessary to track the evolution of the abovementioned factors in order to understand the state of e-development at a given conjuncture in a particular sector, not merely in the broad telecoms or ICT domain. Analysis of the state of e-development can provide valuable evidence and insights for future policy and regulation (P&R) that is better able to address the particular complexities of a twenty-first century information society, not simply as a centralised endeavour, but with respect to the best options to promote a wide range of economic growth and social development objectives. Such an approach to information society evolution emphasises the importance of policy-making and leadership across many ministries and all spheres of government.
Notes
Acknowledgements
This article is based on a LINK public policy research paper co-authored with Arthur Goldstuck.
Open Access
This article is distributed under the terms of the Creative Commons Attribution Noncommercial License which permits any noncommercial use, distribution, and reproduction in any medium, provided the original author(s) and source are credited.