Abstract
Millipedes have been inhabiting the earth for more than 400 my and show a great diversity regarding their morphology and ecology. For a better understanding of the timing and pattern of millipede evolution, Burmese amber offers a unique window into the Cretaceous period, ca. 99 Ma. Here, we describe the first known fossil of the colobognathan order Platydesmida, the species Andrognathus burmiticus n. sp. based on 15 specimens from Cretaceous Burmese amber. We combine classical light-microscopy and modern micro-computer tomography (μCT) with computer aided 3D-reconstructions. These non-invasive techniques allow us to describe the fossil millipedes as detailed as is general practice for extant species, and to grant the scientific community open access to the deposited "Cybertypes". Based on the combination of unique morphological characters such as surface structures, body type, the unique size and shape of tergite 5, the absence of a hypoproct at the anal segment, and detailed gonopod characteristics, the studied fossils can be placed in the family Andrognathidae and the extant genus Andrognathus, which nowadays is restricted to the eastern USA and Mexico with three extant species. Therefore, the minimum age of the genus Andrognathus is pushed to the Cenomanian, 99 Ma. It can be assumed that the genus was much more diverse and wider distributed in the past and migrated between Asia and America via one of the once existing land bridges. These unique fossils prove the unusual relictual distribution of Andrognathus and can serve as key-fossils for the dating of the diplopod phylogeny.
Access options
Buy single article
Instant access to the full article PDF.
US$ 39.95
Tax calculation will be finalised during checkout.
Subscribe to journal
Immediate online access to all issues from 2019. Subscription will auto renew annually.
US$ 79
Tax calculation will be finalised during checkout.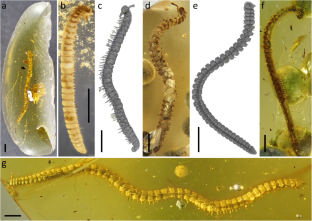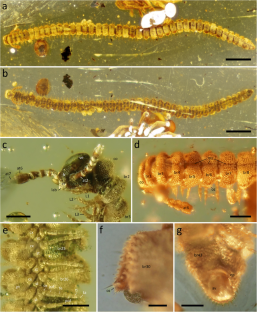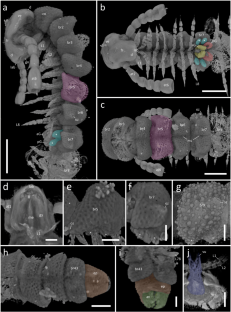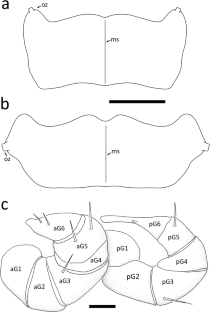 Abbreviations
BuB#:

Burmese amber collection of Patrick Müller (Käshofen Germany)

F#/BU/CJW:

Burmese amber collection of Jörg Wunderlich (Hirschberg, Germany)

ZFMK-MYR# :

Myriapoda collection of the Zoological Research Museum Alexander Koenig (Bonn, Germany)
References
Akkari, N., Enghoff, H., & Metscher, B. D. (2015). A new dimension in documenting new species: high-detail imaging for myriapod taxonomy and first 3D cybertype of a new millipede species (Diplopoda, Julida, Julidae). PLoS One, 10(8), e0135243. https://doi.org/10.1371/journal.pone.0135243.

Akkari, N., Ganske, A. S., Komerički, A., & Metscher, B. (2018). New avatars for Myriapods: complete 3D morphology of type specimens transcends conventional species description (Myriapoda, Chilopoda). PLoS One, 13(7), e0200158. https://doi.org/10.1371/journal.pone.0200158.

Bachofen-Echt, A. (1942). Ueber die Myriapoden des Bernsteins. Palaeobiologica, 7, 394–403.

Blanke, A., & Wesener, T. (2014). Revival of forgotten characters and modern imaging techniques help to produce a robust phylogeny of the Diplopoda (Arthropoda, Myriapoda). Arthropod Structure & Development, 43(1), 63–75. https://doi.org/10.1016/j.asd.2013.10.003.

Brewer, M. S., Spruill, C. L., Rao, N. S., & Bond, J. E. (2012). Phylogenetics of the millipede genus Brachycybe Wood, 1864 (Diplopoda: Platydesmida: Andrognathidae): patterns of deep evolutionary history and recent speciation. Molecular Phylogenetics and Evolution, 64(1), 232–242. https://doi.org/10.1016/j.ympev.2012.04.003.

Brikiatis, L. (2016). Late Mesozoic North Atlantic land bridges. Earth-Science Reviews, 159, 47–57. https://doi.org/10.1016/j.earscirev.2016.05.002.

Cook, O. F., & Loomis, H. F. (1928). Millipeds of the order Colobognatha with descriptions of six new genera and type species, from Arizona and California. Proceedings of the U.S. National Museum, 72(18), 1–28. https://doi.org/10.5479/si.00963801.72-2714.1.

Cope, E. D. (1869). Synopsis of the extinct Mammalia of the cave formations in the United States, with observations on some Myriapoda found in and near the same, and on some extinct mammals of the caves of Anguilla, WI, and of other localities. Proceedings of the American Philosophical Society, 11, 171–192 http://biodiversitylibrary.org/page/31205032.

Cruickshank, R. D., & Ko, K. (2003). Geology of an amber locality in the Hukawng Valley, northern Myanmar. Journal of Asian Earth Sciences, 21(5), 441–455. https://doi.org/10.1016/S1367-9120(02)00044-5.

Edgecombe, G. D. (2015). Diplopoda—Fossils. In A. Minelli (Ed.), Treatise on ZoologyAnatomy, taxonomy, biology. The Myriapoda (Vol. 2, pp. 337–351). Leiden: Brill. https://doi.org/10.1163/9789004188273.

Enghoff, H. (1984). Phylogeny of millipedes–a cladistic analysis. Journal of Zoological Systematics and Evolutionary Research, 22(1), 8–26.

Enghoff, H., & Golovatch, S. (1995). A revision of the Siphonocryptidae (Diplopoda, Polyzoniida). Zoologica Scripta, 24(1), 29–41.

Enghoff, H., Golovatch, S., Short, M., Stoev, P., & Wesener, T. (2015). Diplopoda – taxonomic overview. In A. Minelli (Ed.), Treatise on zoology – anatomy, taxonomy, biology. The Myriapoda (Vol. 2, pp. 363–453). Leiden: Brill. https://doi.org/10.1163/9789004188273.

Fiorillo, A. R. (2008). Dinosaurs of Alaska: implications for the Cretaceous origin of Beringia. Geological Society of America Special Paper,s, 442, 313–326.

Gardner, M. R. (1974). Revision of the millipede family Andrognathidae in the Nearctic region (Diplopoda, Platydesmida). Memoirs of the Pacific Coast Entomological Society, 5, 1–61.

Graham, A. (1993). History of the vegetation: Cretaceous (Maastrichtian)-tertiary. Flora of North America, 1, 57–70.

Grimaldi, D. A., Engel, M. S., & Nascimbene, P. C. (2002). Fossiliferous Cretaceous amber from Myanmar (Burma): its rediscovery, biotic diversity, and paleontological significance. American Museum Novitates, 3361, 1–71.

Hannibal, J. T. (2000). Hexecontasoma, a new helminthomorph millipede (Hexecontasomatidae, n. fam.) from the Mazon Creek, Illinois, fauna (Carboniferous, North America). Fragmenta Faunistica, 43, 19–35.

Hoffman, R. (1982). Diplopoda. Synopsis and classification of living organisms, 2, 689–724.

Likhitrakarn, N., Jirapatrasilp, P., Golovatch, S. I., & Panha, S. (2017). A checklist of the millipedes (Diplopoda) of Myanmar, with an updated list of Leonardo Fea's collecting localities. Zootaxa, 4350(1), 1–46. https://doi.org/10.11646/zootaxa.4350.1.1.

Limaye, A. (2012). Drishti: a volume exploration and presentation tool. In S. R. Stock (Ed.), Developments in X-ray tomography VIII (Proceedings of SPIE) (Vol. 8506, p. 85060). https://doi.org/10.1117/12.935640.

Liu, W., Rühr, P. T., & Wesener, T. (2017). A look with μCT technology into a treasure trove of fossils: The first two fossils of the millipede order Siphoniulida discovered in Cretaceous Burmese amber (Myriapoda, Diplopoda). Cretaceous Research, 74, 100–108. https://doi.org/10.1016/j.cretres.2017.01.009.

Milne, R. I. (2006). Northern hemisphere plant disjunctions: a window on tertiary land bridges and climate change? Annals of Botany, 98(3), 465–472. https://doi.org/10.1093/aob/mcl148.

Moritz, L., & Wesener, T. (2018). Symphylella patrickmuelleri sp. nov.(Myriapoda: Symphyla): The oldest known Symphyla and first fossil record of Scolopendrellidae from Cretaceous Burmese amber. Cretaceous Research, 84, 258–263. https://doi.org/10.1016/j.cretres.2017.11.018.

Mundel, P. (1981). New and little known fossil myriapods from the Mazon Creek area of Illinois (Carboniferous, Westphalian D). Abstracts of Papers. 5th International Congress of Myriapodology, Radford, 20.

O'Leary, M. A., & Kaufman, S. G. (2012). MorphoBank 3.0: Web application for morphological phylogenetics and taxonomy. See http://www.morphobank.org. Accessed 12 Jan 2019.

Parham, J. F., Donoghue, P. C., Bell, C. J., Calway, T. D., Head, J. J., Holroyd, P. A., Inoue, J. G., Irmis, R. B., Joyce, W. G., Ksepka, D. T., Patané, J. S. L., Smith, N. D., Tarver, J. E., Van Tuinen, M., Yang, Z., Angielczyk, K. D., Greenwood, J. M., Hipsley, C. A., Jacobs, P. L., Makovicky, P. J., Müller, J., Smith, K. T., Theodor, J. M., Warnock, R. C. M., & Benton, M. J. (2011). Best practices for justifying fossil calibrations. Systematic Biology, 61(2), 346–359. https://doi.org/10.1093/sysbio/syr107.

Read, H. J., & Enghoff, H. (2018). Siphonophoridae from Brazilian Amazonia part 1 – the genus Columbianum Verhoeff, 1941 (Diplopoda, Siphonophorida). European Journal of Taxonomy, 477, 1–23.

Riquelme, F., Hernández-Patricio, M., Martínez-Dávalos, A., Rodríguez-Villafuerte, M., Montejo-Cruz, M., Alvarado-Ortega, J., Ruvalcaba-Sil, J. L., & Zúñiga-Mijangos, L. (2014). Two flat-backed polydesmidan millipedes from the Miocene Chiapas-amber Lagerstätte, Mexico. PLoS ONE, 9(8), e105877. 10.1371/journal.pone.0105877.

Rodriguez, J., Jones, T. H., Sierwald, P., Marek, P. E., Shear, W. A., Brewer, M. S., Kocot, K. M., & Bond, J. E. (2018). Step-wise evolution of complex chemical defenses in millipedes: a phylogenomic approach. Scientific Reports, 8(1), 3209. https://doi.org/10.1038/s41598-018-19996-6.

Ross, A. J. (2019). Burmese (Myanmar) amber checklist and bibliography 2018. Paleoentomology, 2(1), 22–84. https://doi.org/10.11646/palaeoentomology.2.1.5.

Ross, A., Mellish, C., York, P., & Crighton, B. (2010). Burmese Amber. In D. Penney (Ed.), Biodiversity of fossils in amber from the major world deposits (pp. 208–235). Manchester: Siri Scientific Press.

Santiago-Blay, J. A., & Poinar, G. O. (1992). Millipeds from Dominican amber, with the description of two new species (Diplopoda: Siphonophoridae) of Siphonophora. Annals of the Entomological Society of America, 85(4), 363–369. https://doi.org/10.1093/aesa/85.4.363.

Schindelin, J., Arganda-Carreras, I., Frise, E., Kaynig, V., Longair, M., Pietzsch, T., Preibisch, S., Rueden, C., Saalfeld, S., Schmid, B., Tinevez, J. Y., White, D. J., Hartenstein, V., Eliceiri, K., Tomancak, P., & Cardona, A. (2012). Fiji. An open-source platform for biological-image analysis. Nature Methods, 9(7), 676e682–676e682. https://doi.org/10.1038/nmeth.2019.

Shear, W. A. (1981). Two fossil millipeds from the Dominican amber (Diplopoda: Chytodesmidae, Siphonophoridae). Myriapodologica, 1(8), 51–54.

Shear, W. A., & Marek, P. E. (2009). Andrognathus hoffmani, n. sp., a second species in the genus and the first species of Andrognathidae from México (Diplopoda, Platydesmida, Andrognathidae). A lifetime of contributions to Myriapodology and the natural history of Virginia: A Festschrift in honor of Richard L. Hoffman's 80th birthday. Virginia Museum of Natural History Special Publication, 16, 155–164.

Shelley, R. M., & Golovatch, S. I. (2011). Atlas of myriapod biogeography. I. Indigenous ordinal and supra-ordinal distributions in the Diplopoda: Perspectives on taxon origins and ages, and a hypothesis on the origin and early evolution of the class. Insecta Mundi, 158, 1–134.

Shi, G., Grimaldi, D. A., Harlow, G. E., Wang, J., Wang, J., Yang, M., Lei, W., Li, Q., & Li, X. (2012). Age constraint on Burmese amber based on U–Pb dating of zircons. Cretaceous Research, 37, 155–163. https://doi.org/10.1016/j.cretres.2012.03.014.

Shorter, P. L., Hennen, D. A., & Marek, P. E. (2018). Cryptic diversity in Andrognathus corticarius Cope, 1869 and description of a new Andrognathus species from New Mexico (Diplopoda, Platydesmida, Andrognathidae). Zookeys, 786, 19–41. https://doi.org/10.3897/zookeys.786.27631.

Sierwald, P., & Bond, J. E. (2007). Current status of the myriapod class Diplopoda (millipedes): taxonomic diversity and phylogeny. Annual Review of Entomology, 52, 401–420. https://doi.org/10.1146/annurev.ento.52.111805.090210.

Smith, R. D. A., & Ross, A. J. (2018). Amberground pholadid bivalve borings and inclusions in Burmese amber: implications for proximity of resinproducing forests to brackish waters, and the age of the amber. Earth and Environmental Science Transactions of the Royal Society of Edinburgh, 107, 239–247. https://doi.org/10.1017/S1755691017000287.

Stoev, P., Moritz, L., & Wesener, T. (2019). Dwarfs under dinosaur legs: a new millipede of the order Callipodida (Diplopoda) from Cretaceous amber of Burma. ZooKeys, 841, 79–96. https://doi.org/10.3897/zookeys.841.34991.

Tiffney, B. H. (1985a). Perspectives on the origin of the floristic similarity between eastern Asia and eastern North America. Journal of the Arnold Arboretum, 66(1), 73–94.

Tiffney, B. H. (1985b). The Eocene North Atlantic land bridge: its importance in tertiary and modern phytogeography of the northern hemisphere. Journal of the Arnold Arboretum, 66(2), 243–273.

Wen, J., Nie, Z. L., & Ickert-Bond, S. M. (2016). Intercontinental disjunctions between eastern Asia and western North America in vascular plants highlight the biogeographic importance of the Bering land bridge from late Cretaceous to Neogene. Journal of Systematics and Evolution, 54(5), 469–490.

Wesener, T., & Moritz, L. (2018). Checklist of the Myriapoda in Cretaceous Burmese amber and a correction of the Myriapoda identified in Zhang 2017. Check List, 14(6), 1131–1140. https://doi.org/10.15560/14.6.1131.

Zhang, W. W. (2017). Frozen dimensions of the fossil insects and other invertebrates in amber. Chonqing: Chonqing University Press.

Zherikhin, V. V., & Ross, A. J. (2000). A review of the history, geology and age of Burmese amber (Burmite). Bulletin of the Natural History Museum: Geological Series, 56(1), 3–10.
Acknowledgments
We want to express our gratitude to Patrick Müller for the opportunity to work on his unique collection of millipedes in Burmese amber and for the donation of several valuable specimens to the collection of the Zoological Research Museum A. Koenig. We thank Jörg Wunderlich for providing additionally much appreciated specimens for study. We are grateful to Paul Marek (Virginia Tech) and Henrik Enghoff (Natural History Museum of Denmark) for comments and discussions on the studied fossils. Furthermore, we would like to thank the editor Andreas Wanninger and the two anonymous reviewers for their valuable comments, which greatly enhanced the quality of our manuscript. We thank Thorsten Klug (ZFMK) for photographing the specimens and Kerstin Moritz for corrections of the text. The Alexander Koenig Stiftung (AKS) is thanked for funding, allowing the purchase of the holotype.
Additional information
Publisher's note
Springer Nature remains neutral with regard to jurisdictional claims in published maps and institutional affiliations.
About this article
Cite this article
Moritz, L., Wesener, T. The first known fossils of the Platydesmida—an extant American genus in Cretaceous amber from Myanmar (Diplopoda: Platydesmida: Andrognathidae). Org Divers Evol 19, 423–433 (2019). https://doi.org/10.1007/s13127-019-00408-0
Received:

Accepted:

Published:

Issue Date:
Keywords
Burmese amber

Southeast Asia

Migration

μCT

Virtual paleontology