Abstract
The claustrum in Cnidaria is a tissue in the gastrovascular cavity delimited by a central layer of mesoglea surrounded by gastrodermis (i.e., gastrodermis-mesoglea-gastrodermis), without communication with epidermis. By dividing the gastrovascular cavity, the four claustra provide an additional level of complexity. The presence of claustra in Cubozoa and Staurozoa has been used as evidence supporting a close relationship between these two cnidarian classes. However, the detailed anatomy of the claustrum has never been comparatively analyzed, rendering the evolution of this character among Cnidaria and its homology in Staurozoa and Cubozoa uncertain. This study provides a comparative investigation of the internal anatomy of the claustrum in Staurozoa and Cubozoa, addressing its evolutionary history based on recent phylogenetic hypotheses for Cnidaria. We conclude that the claustrum is a character exclusive to some species of Staurozoa, with a homoplastic evolution in the class, and that the structure called the "claustrum" in Cubozoa corresponds to the valve of gastric ostium, a structure at the base of the manubrium, which is also present in Staurozoa with and without claustrum. Thus, the claustrum cannot be a synapomorphy of a hypothetical clade uniting Staurozoa and Cubozoa, nor can its hypothetical presence in enigmatic fossils be used to support cubozoan affinities.
Access options
Buy single article
Instant access to the full article PDF.
USD 39.95
Price includes VAT (USA)
Tax calculation will be finalised during checkout.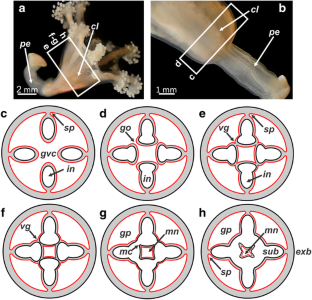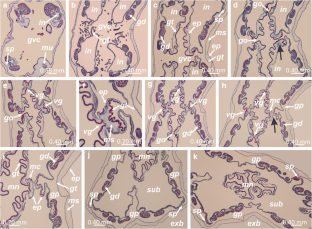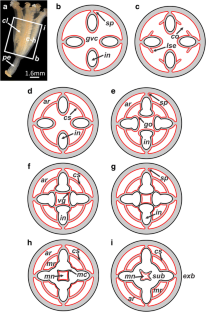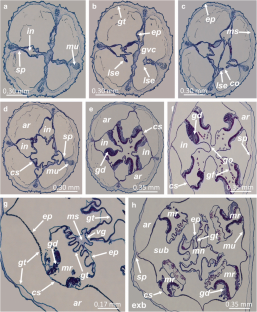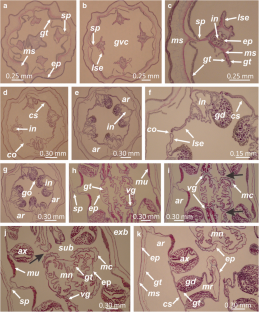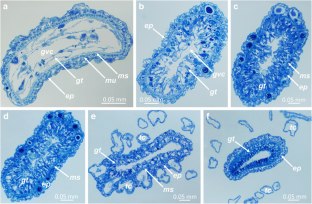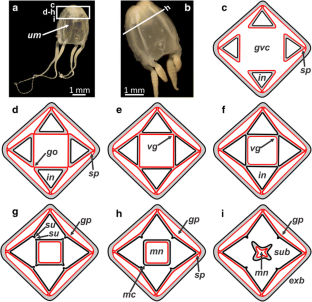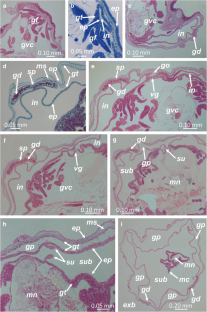 References
Allman, G. I. (1860). On the structure of Carduella cyathiformis. A contribution to our knowledge of Lucernariadae. Transactions of the Microscopical Society of London, VIII, 125–128.

Bancroft, J. D., & Stevens, A. (1982). Theory and practice of histological techniques. Edinburgh: Churchill Livingstone.

Behmer, O. A., Tolosa, E. M., & de Freitas Neto, A. G. (1976). Manual de técnicas para histologia normal e patológica. São Paulo: EDART/USP.

Berrill, M. (1963). Comparative functional morphology of the Stauromedusae. Canadian Journal of Zoology, 41, 741–752.

Carlgren, O. (1935). Über eine neue Südafrikanische Lucernariidae, Depastromorpha africana n. gen., n. sp., nebst Bemerkungen über den Bau und die Systematik dieser Tiergruppe. Kungliga Svenska Vetenskapsakademiens Handlingar, 15, 1–24.

Clark, H. J. (1863). Prodromus of the history, structure, and physiology of the order Lucernariae. Journal of the Boston Society of Natural History, 7, 531–567.

Collins, A. G. (2002). Phylogeny of Medusozoa and the evolution of cnidarians life cycles. Journal of Evolutionary Biology, 15, 418–432.

Collins, A. G., & Daly, M. (2005). A new deepwater species of Stauromedusae, Lucernaria janetae (Cnidaria, Staurozoa, Lucernariidae), and a preliminary investigation of stauromedusan phylogeny based on nuclear and mitochondrial rDNA data. Biological Bulletin, 208, 221–230.

Collins, A. G., Schuchert, P., Marques, A. C., Jankowski, T., Medina, M., & Schierwater, B. (2006). Medusozoan phylogeny and character evolution clarified by large and small subunit rDNA data and an assessment of the utility of phylogenetic mixture models. Systematic Biology, 55, 97–115.

Conant, F. S. (1898). The Cubomedusae. Memoirs of the Biological Laboratory of the Johns Hopkins University, 4, 1–61.

de Pinna, M. C. C. (1991). Concepts and tests of homology in the cladistic paradigm. Cladistics, 7, 367–394.

Gross, I. (1900). Zur Anatomie der Lucernariden. Jenaischen Zeitschrift für Naturwissenschaft, 33, 611–624.

Haeckel, E. (1882). Das system der medusen. I, 2: System der Acraspeden. Zweite Hälfte des Systems der Medusen. Jena: Gustav Fischer.

Haeckel, E. (1882). Report on the deep-sea medusae dredged by H.M.S. Challenger during the years 1873–1876. Report on the scientific results of the voyage H.M.S. Challenger during the years 1873–1876. Zoology, 4, 1–154.

Han, J., Kubota, S., Li, G., Yao, X., Yang, X., Shu, D., Li, Y., Kinoshita, S., Sasaki, O., Komiya, T., & Yan, G. (2013). Early Cambrian pentamerous cubozoan embryos from South China. PloS One, 8, e70741.

Han, J., Kubota, S., Li, G., Ou, Q., Wang, X., Yao, X., Shu, D., Li, Y., Uesugi, K., Hoshino, M., Sasaki, O., Kano, H., Sato, T., & Komiya, T. (2016). Divergent evolution of medusozoan symmetric patterns: evidence from the microanatomy of Cambrian tetramerous cubozoans from South China. Gondwana Research, 31, 150–163.

Humason, G. L. (1962). Animal tissue techniques. San Francisco: W. H. Freeman and Company.

Junqueira, L. C. U. (1995). Histology revisited: technical improvement promoted by the use of hydrophilic resin embedding. Ciência e Cultura, 47, 92–95.

Kayal, E., Roure, B., Philippe, H., Collins, A. G., & Lavrov, D. V. (2013). Cnidarian phylogenetic relationships as revealed by mitogenomics. BMC Evolutionary Biology, 13, 5.

Krumbach, T. (1925). Scyphozoa. Handbook of Zoology, 1, 522–686.

Mahoney, R. (1966). Laboratory techniques in zoology. London: Butterworth & Co..

Marques, A. C., & Collins, A. G. (2004). Cladistic analysis of Medusozoa and cnidarian evolution. Invertebrate Biology, 123, 32–42.

Mayer, A. G. (1910). Medusae of the world. Volume III. Scyphomedusae. Washington: Carnegie Institution Publishing, Publication 109, III, 499–735.

Mendoza-Becerril, M., Maronna, M. M., Pacheco, M. L. A. F., Simões, M. G., Leme, J. M., Miranda, L. S, Morandini, A. C., & Marques, A. C. (2016). An evolutionary comparative analysis of the medusozoan (Cnidaria) exoskeleton. Zoological Journal of the Linnean Society, 178, 206–225.

Miranda, L. S., Collins, A. G., & Marques, A. C. (2013). Internal anatomy of Haliclystus antarcticus (Cnidaria, Staurozoa) with a discussion on histological features used in staurozoan taxonomy. Journal of Morphology, 274, 1365–1383.

Miranda, L. S., Hirano, Y. M., Mills, C. E., Falconer, A., Fenwick, D., Marques, A. C., & Collins, A. G. (2016a). Systematics of stalked jellyfishes (Cnidaria: Staurozoa). PeerJ, 4, e1951.

Miranda, L. S., Collins, A. G., Hirano, Y. M., Mills, C. E., & Marques, A. C. (2016b). Comparative internal anatomy of Staurozoa (Cnidaria), with functional and evolutionary inferences. PeerJ, 4, e2594.

Pearse, A. G. E. (1985). Histochemistry: theoretical and applied. Volume 2: analytical technology (Fourth ed.). Edinburgh: Churchill Livingstone.

Thiel, H. (1966). The evolution of Scyphozoa: a review. In W. J. Rees (Ed.), The Cnidaria and their evolution (pp. 77–118). London: Academic Press.

Uchida, T. (1929). Studies on the Stauromedusae and Cubomedusae, with special reference to their metamorphosis. Japanese Journal of Zoology, 2, 103–193.

Uchida, T., & Hanaoka, K.-I. (1933). On the morphology of a stalked medusa, Thaumatoscyphus distinctus Kishinouye. Journal of the Faculty of Science, Hokkaido Imperial University, Series VI, Zoology, 2, 135–153.

Van Iten, H., Leme, J. M., Simões, M. G., Marques, A. C., & Collins, A. G. (2006). Reassessment of the phylogenetic position of Conulariids (?Ediacaran-Triassic) within the subphylum Medusozoa (phylum Cnidaria). Journal of Systematic Palaeontology, 4, 109–118.

Van Iten, H., Marques, A. C., Leme, J. M., Pacheco, M. L. A. F., & Simões, M. G. (2014). Origin and early diversification of the phylum Cnidaria Verrill: major developments in the analysis of the taxon's Proterozoic-Cambrian history. Palaeontology, 57, 677–690.

Zapata, F., Goetz, F. E., Smith, A. S., Howison, M., Siebert, S., Church, S., Sanders, S. M., Ames, C. L., McFadden, C. S., France, S. C., Daly, M., Collins, A. G., Haddock, S. H. D., Dunn, C., & Cartwright, P. (2015). Phylogenomic analyses support traditional relationships within Cnidaria. PloS One, 10, e0139068.
Acknowledgments
The authors are grateful to Enio Mattos (IB-USP) and José Eduardo A. R. Marian (IB-USP) for their kind assistance with the histological procedures. We are also grateful to the editor Andreas Wanninger and to an anonymous reviewer whose comments helped improve the quality of the manuscript. This contribution involved the participation of scientists of NP-BioMar.
Funding
This study was supported by Fundação de Amparo à Pesquisa do Estado de São Paulo (FAPESP) 2010/07362-7 (LSM), 2015/23695-0 (LSM), 2010/50174-7 (ACMo), 2015/21007-9 (ACMo), 2011/50242-5 (ACMa), 2013/50484-4 (ACMa); Comissão de Aperfeiçoamento de Pessoal de Nível Superior (CAPES) PDSE 16499/12-3 (LSM), PNPD (LSM); and Conselho Nacional de Desenvolvimento Científico e Tecnológico (CNPq) 142270/2010-5 (LSM), 301039/2013-5 (ACMo), 304961/2016-7 (ACMo), 474672/2007-7 (ACMa), 562143/2010-6 (ACMa), 305805/2013-4 (ACMa), 445444/2014-2 (ACMa).
About this article
Cite this article
Miranda, L.S., García-Rodríguez, J., Collins, A.G. et al. Evolution of the claustrum in Cnidaria: comparative anatomy reveals that it is exclusive to some species of Staurozoa and absent in Cubozoa. Org Divers Evol 17, 753–766 (2017). https://doi.org/10.1007/s13127-017-0342-6
Received:

Accepted:

Published:

Issue Date:
Keywords
Medusozoa

Stauromedusae

Stalked jellyfish

Box jellyfish

Histology