Abstract
Recently, there have been controversial discussions regarding the decline in the number of taxonomists as the main bottleneck for the discovery and complete assessment of global biodiversity. In addition, we here review and highlight the eminent role of natural history collections in exploring the global species diversity by discussing the current conditions of institutional infrastructure in biologically megadiverse developing countries (MDCs). To our knowledge, this is the first critical assessment, which primarily focuses on these biologically wealthy nations. We show that in addition to the taxonomists' shortage, the lack of well-maintained collection infrastructure represents the main bottleneck for biodiversity exploration in MDCs. No campaign to inventory biodiversity at national or global scale in a foreseeable timeframe can be successful without the creation of more positions for taxonomists and the expansion of existing or the establishment of new natural history collections in MDCs, respectively. Considering the lack of sufficient financial resources in many MDCs, we suggest that joint political priority of industrialized and developing countries should be given to the enduring maintenance and sustainable support of institutional infrastructures, if Convention on Biological Diversity targets for 2020 are to be addressed expediently.
Access options
Buy single article
Instant access to the full article PDF.
USD 39.95
Price excludes VAT (USA)
Tax calculation will be finalised during checkout.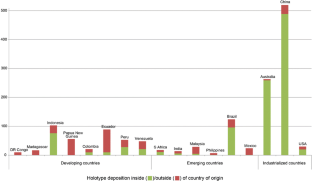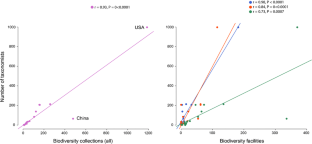 Similar content being viewed by others
References
Adenle, A. A. (2012). Failure to achieve 2010 biodiversity's target in developing countries: how can conservation help? Biodiversity and Conservation, 21(10), 2435–2442.

Agosti, D. (2006). Biodiversity data are out of local taxonomists' reach. Nature, 439(7075), 392. doi:10.1038/439392a.

Alberch, P. (1993). Museums, collections and biodiversity inventories. Trends in Ecology & Evolution, 8(10), 372–375. doi:10.1016/0169-5347(93)90222-b.

Alonso, L. E., Deichmann, J. L., McKenna, S. A., Naskrecki, P., & Richards, S. J. (2011). Still counting… biodiversity exploration for conservation: the first 20 years of the rapid assessment program. Arlington: Conservation International.

Bacher, S. (2011). Still not enough taxonomists: reply to Joppa et al. Trends in Ecology and Evolution, 27, 65–66.

Bernard, E., Aguiar, L. M. S., & Machado, R. B. (2011). Discovering the Brazilian bat fauna: a task for two centuries? Mammal Review, 41(1), 23–39. doi:10.1111/j.1365-2907.2010.00164.x.

Bickford, D., Lohman, D. J., Sodhi, N. S., Ng, P. K. L., Meier, R., Winker, K., et al. (2007). Cryptic species as a window on diversity and conservation. Trends in Ecology and Evolution, 22(3), 148–155. doi:10.1016/j.tree.2006.11.004.

Butchart, S. H. M., Walpole, M., Collen, B., van Strien, A., Scharlemann, J. P. W., Almond, R. E. A., et al. (2010). Global biodiversity: indicators of recent declines. Science, 328(5982), 1164–1168. doi:10.1126/science.1187512.

Caley, M. J., Fisher, R., & Mengersen, K. (2014). Global species richness estimates have not converged. Trends in Ecology & Evolution, 29(4), 187–188.

Carbayo, F., & Marques, A. C. (2011). The costs of describing the entire animal kingdom. Trends in Ecology and Evolution, 26(4), 154–155.

Cassola, F., & Pearson, D. L. (2000). Global patterns of tiger beetle species richness (Coleoptera: Cicindelidae): their use in conservation planning. Biological Conservation, 95(2), 197–208.

Clausnitzer, V. (2005). An updated checklist of the dragonflies (Odonata) of the Kakamega Forest, Kenya. Journal of East African natural history, 94(2), 239–246.

Convention on Biological Diversity. (2006). Guide to the global taxonomy initiative. http://www.cbd.int/doc/publications/cbd-ts-30.pdf. (Vol. 30, pp. 195).

Convention on Biological Diversity. (2013). National reports analyzer. http://www.cbd.int/reports/analyzer.shtml. Accessed 15 Oct 2013.

Convention on Biological Diversity. (2014). Global taxonomy initiative. http://www.cbd.int/gti/focalpoints.shtml.

Costello, M. J., May, R. M., & Stork, N. E. (2013a). Can we name earth's species before they go extinct? Science, 339(6118), 413–416. doi:10.1126/science.1230318.

Costello, M. J., Wilson, S., & Houlding, B. (2013b). More taxonomists describing significantly fewer species per unit effort may indicate that most species have been discovered. Systematic Biology, 62(4), 616–624.

Dar, G., Khuroo, A. A., Reddy, C., & Malik, A. H. (2012). Impediment to taxonomy and its impact on biodiversity science: an Indian perspective. Proceedings of the National Academy of Sciences, India Section B: Biological Sciences, 82(2), 235–240.

de Carvalho, M., Bockmann, F., Amorim, D., Brandão, C., de Vivo, M., de Figueiredo, J., et al. (2007). Taxonomic impediment or impediment to taxonomy? A commentary on systematics and the cybertaxonomic-automation paradigm. Evolutionary Biology, 34(3), 140–143. doi:10.1007/s11692-007-9011-6.

Deans, A. R., Yoder, M. J., & Balhoff, J. P. (2012). Time to change how we describe biodiversity. Trends in Ecology & Evolution, 27(2), 78–84. doi:10.1016/j.tree.2011.11.007.

Dirzo, R., Young, H. S., Galetti, M., Ceballos, G., Isaac, N. J., & Collen, B. (2014). Defaunation in the Anthropocene. Science, 345(6195), 401–406.

Drew, L. W. (2011). Are we losing the science of taxonomy? Bioscience, 61(12), 942–946.

Fischer, G. (2012). Ecology, biogeography and responses to habitat degradation of a highly diverse rainforest ant community and taxonomy of Afrotropical Pheidole Westwood (Hymenoptera, Formicidae). University of Bonn.

Grieneisen, M. L., Zhan, Y., Potter, D., & Zhang, M. (2014). Biodiversity, taxonomic infrastructure, international collaboration, and new species discovery. Bioscience, 64(4), 322–332. doi:10.1093/biosci/biu035.

Haszprunar, G. (2011). Species delimitations—not 'only descriptive'. Organisms Diversity and Evolution, 11(3), 249–252.

Hawksworth, D., & Cowie, R. (2013). The discovery of historically extinct, but hitherto undescribed, species: an under-appreciated element in extinction-rate assessments. Biodiversity and Conservation, 22(11), 2429–2432. doi:10.1007/s10531-013-0542-0.

Herbert, D. G. (2001). Museum natural science and the NRF: crisis times for practitioners of fundamental biodiversity science. South African Journal of Science, 97, 168–172.

Hopkins, G. W., & Freckleton, R. P. (2002). Declines in the numbers of amateur and professional taxonomists: implications for conservation. Animal Conservation, 5(3), 245–249. doi:10.1017/s1367943002002299.

International Monetary Fund. (2012). World economic and financial surveys. Washington, DC 20090, USA

Joppa, L. N., Roberts, D. L., & Pimm, S. L. (2011). The population ecology and social behaviour of taxonomists. Trends in Ecology and Evolution, 26, 551–553.

Jürgens, N., Haarmeyer, D., Luther-Mosebach, J., Dengler, J., Finckh, M., & Schmiedel, U. (2010). Biodiversity in southern Africa. Volume 1: patterns at local scale—the BIOTA Observatories. Klaus Hess.

Koch, A., Huelsken, T., & Hoffmann, J. (2012). The young systematists special issue—promoting the scientific work of early career scientists in taxonomy and systematics. Organisms Diversity and Evolution, 12, 1–2.

Lewinsohn, T. M., & Prado, P. I. (2005). How many species are there in Brazil? Conservation Biology, 19(3), 619–624. doi:10.1111/j.1523-1739.2005.00680.x.

Lohrmann, V., K. Vohland, M. Ohl, and C. Häuser. (2012). Taxonomische Forschung in Deutschland—Eine Übersichtsstudie. Netzwerk-Forum zur Biodiversitätsforschung Deutschland Museum für Naturkunde Berlin Berlin http://biodiversity.de/images/stories/Downloads/taxo-studie-01-2012.pdf.

Lovejoy, T. E., Brouillet, L., Doolittle, W. F., Gonzalez, A., Green, D. M., Hall, P., et al. (2010). Canadian taxonomy: Exploring biodiversity, creating opportunity. Council of Canadian Academies.

MacLeod, N., Benfield, M., & Culverhouse, P. (2010). Time to automate identification. Nature, 467(7312), 154–155.

Marques, A. C., & Lamas, C. J. E. (2005). Taxonomia zoológica no Brasil: estado da arte, expectativas e sugestões de ações futuras. Papeis Avulsos de Zoologia, 46, 139–174.

Mittermeier, R. A., Goettsch Mittermeier, C., & Robles Gil, P. (1997). Megadiversity: Earth's biologically wealthiest nations. Mexico: Cemex Monterrey.

Mora, C., Tittensor, D. P., Adl, S., Simpson, A. G. B., & Worm, B. (2011). How many species are there on Earth and in the ocean? PLoS Biology, 9(8), e1001127.

Nagy, Z. T., Sonet, G., Glaw, F., & Vences, M. (2012). First large-scale DNA barcoding assessment of reptiles in the biodiversity hotspot of Madagascar, based on newly designed COI primers. PLoS ONE, 7(3), e34506.

Paglia, A. P., da Fonseca, G. A. B., Rylands, A. B., Herrmann, G., Aguiar, L. M. S., Chiarello, A. G., et al. (2013). Annotated checklist of Brazilian mammals—2nd edition. Occasional Papers in Conservation Biology, 6, 1–76.

Pearson, D. L., Hamilton, A. L., & Erwin, T. L. (2011). Recovery plan for the endangered taxonomy profession. Bioscience, 61(1), 58–63.

Polhemus, D. A., Michalski, J., & Richards, S. J. (2008). Pseudagrion fumipennis, a remarkable new species of damselfly from New Guinea (Odonata: Zygoptera: Coenagrionidae). Tijdschrift voor Entomologie, 151(1), 51.

Riedel, A., Sagata, K., Surbakti, S., Tänzler, R., & Balke, M. (2013). One hundred and one new species of Trigonopterus weevils from New Guinea. ZooKeys (280), 1–150.

Rodman, J. E., & Cody, J. H. (2003). The taxonomic impediment overcome: NSF's partnerships for enhancing expertise in taxonomy (PEET) as a model. Systematic Biology, 52(3), 428–435.

Ryder Wilkie, K. T., Mertl, A. L., & Traniello, J. F. A. (2010). Species diversity and distribution patterns of the ants of Amazonian Ecuador. PLoS ONE, 5(10), e13146.

Sangster, G., & Luksenburg, J. A. (2015). Declining rates of species described per taxonomist: slowdown of progress or a side-effect of improved quality in taxonomy? Systematic Biology, 64(1), 144–151. doi:10.1093/sysbio/syu069.

Scheffers, B. R., Joppa, L. N., Pimm, S. L., & Laurance, W. F. (2012). What we know and don't know about Earth's missing biodiversity. Trends in Ecology and Evolution, 27(9), 501–510.

Shaffer, H. B., Fisher, R. N. & Davidson, C. (1998). The role of natural history collections in documenting species declines. Trends in Ecology and Evolution, 13, 27–30.

Sluys, R. (2013). The unappreciated, fundamentally analytical nature of taxonomy and the implications for the inventory of biodiversity. Biodiversity and Conservation, 22(4), 1095–1105. doi:10.1007/s10531-013-0472-x.

Smith, G. F., Buys, M., Walters, M., Herbert, D., & Hamer, M. (2008). Taxonomic research in South Africa: the state of the discipline. South African Journal of Science, 104, 254–256.

Suarez, A. V., & Tsutsui, N. D. (2004). The value of museum collections for research and society. Bioscience, 54(1), 66–74.

Tancoigne, E., & Dubois, A. (2013). Taxonomy: no decline, but inertia. Cladistics, 29(5), 567–570. doi:10.1111/cla.12019.

Wägele, H., Klussmann-Kolb, A., Kuhlmann, M., Haszprunar, G., Lindberg, D., Koch, A., et al. (2011). The taxonomist—an endangered race. A practical proposal for its survival. Frontiers in Zoology, 8(1), 25.

Wemmer, C., Rudran, R., Dallmeier, F., & Wilson, D. E. (1993). Training developing-country nationals is the critical ingredient to conserving global biodiversity. Bioscience, 43(11), 762–767.

Wheeler. (1922). Ants of the American Museum Congo expedition: a contribution to the myrmecology of Africa. Order of the Trustees. American Museum of Natural History.

Wheeler, Knapp, S., Stevenson, D. W., Stevenson, J., Blum, S. D., Boom, B. M., et al. (2012). Mapping the biosphere: exploring species to understand the origin, organization and sustainability of biodiversity. Systematics and Biodiversity, 10(1), 1–20. doi:10.1080/14772000.2012.665095.

World Taxonomist Database. (2012). World taxonomist database. http://www.eti.uva.nl/tools/wtd.php (04.07.2012).
Acknowledgments
We are very thankful to Donat Agosti, Charles Oliver Coleman, Brian L. Fisher, Bernhard Misof, Robert Neal and Rudolf Meier for their constructive comments and suggestions on earlier versions of the present manuscript. In addition, we thank Alexander Riedel (Staatliches Museum für Naturkunde Karlsruhe, Germany) and Francisco "Paco" Hita Garcia (California Academy of Sciences, San Francisco, CA, USA) for information regarding the deposition of their (type) material. Finally, we acknowledge the fruitful comments by three anonymous reviewers who helped us enhance the quality of this manuscript.
About this article
Cite this article
Paknia, O., Rajaei Sh., H. & Koch, A. Lack of well-maintained natural history collections and taxonomists in megadiverse developing countries hampers global biodiversity exploration. Org Divers Evol 15, 619–629 (2015). https://doi.org/10.1007/s13127-015-0202-1
Received:

Accepted:

Published:

Issue Date:

DOI: https://doi.org/10.1007/s13127-015-0202-1
Keywords