Abstract
The unfolded protein response (UPR) plays a pivotal role in some exercise training–induced physiological adaptation. Our aim was to evaluate the changes in the protein kinase R-like endoplasmic reticulum kinase (PERK) arm of the UPR and hypertrophy signaling pathway following 8 weeks of resistance training and creatine (Cr) supplementation in rats. Thirty-two adult male Wistar rats (8 weeks old) were randomly divided into 4 groups of 8: untrained + placebo (UN+P), resistance training + placebo (RT+P), untrained + Cr (UN+Cr), and resistance training + Cr (RT+Cr). Trained animals were submitted to the ladder-climbing exercise training 5 days per week for a total of 8 weeks. Cr supplementation groups received creatine diluted with 1.5 ml of 5% dextrose orally. The flexor hallucis longus (FHL) muscle was extracted 48 h after the last training session and used for western blotting. After training period, the RT+Cr and RT+P groups presented a significant increase in phosphorylated and phosphorylated/total ratio hypertrophy indices, phosphorylated and phosphorylated/total ratio PERK pathway proteins, and other downstream proteins of the PERK cascade compared with their untrained counterparts (P < 0.05). The increase in hypertrophy indices were higher but PERK pathway proteins were lower in the RT-Cr group than in the RT+P group (P < 0.05). There was no significant difference between the untrained groups (P > 0.05). Our study suggests that resistance training in addition to Cr supplementation modifies PERK pathway response and improves skeletal muscle hypertrophy.
Access options
Buy single article
Instant access to the full article PDF.
US$ 39.95
Tax calculation will be finalised during checkout.
Subscribe to journal
Immediate online access to all issues from 2019. Subscription will auto renew annually.
US$ 79
Tax calculation will be finalised during checkout.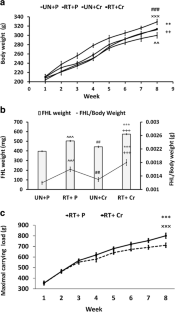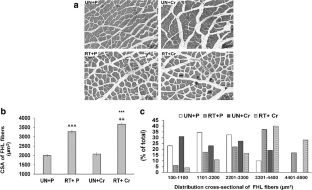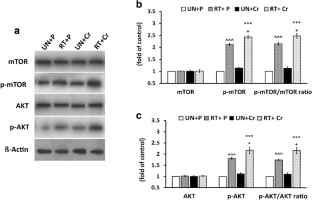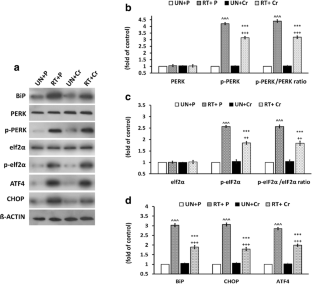 Funding
This research work was financially supported by the University of Kurdistan, Sanandaj, Iran (grant number: 17873).
Ethics declarations
Ethics approval
Animals used in the current research were treated in accordance with the National Institutes of Health Guide for the care and use of laboratory animals, and the study design was reviewed and approved by the Animal Research Ethics Committee of Kurdistan University of Medical Sciences (IR.MUK.REC.1397.5010).
Conflict of interest
The authors declare no competing interests.
Additional information
Publisher's note
Springer Nature remains neutral with regard to jurisdictional claims in published maps and institutional affiliations.
Key Points
• Creatine has a synergistic effect on hypertrophy caused by resistance training.
• Resistance training increases phosphorylates PERK proteins and its downstream pathway.
• Creatine supplementation during resistance training modifies PERK pathway response.
About this article
Cite this article
Nouri, H., Sheikholeslami-Vatani, D. & Moloudi, M.R. Changes in UPR-PERK pathway and muscle hypertrophy following resistance training and creatine supplementation in rats. J Physiol Biochem 77, 331–339 (2021). https://doi.org/10.1007/s13105-021-00801-4
Received:

Accepted:

Published:

Issue Date:
Keywords
Ladder-climbing training

UPR

PERK pathway

Muscle mass

Creatine