Abstract
High mobility group box-1 (HMGB1) participates actively in oxidative stress damage, and the latter relates closely to diabetes and diabetic complications including osteoporosis, though the underlying mechanisms are elusive. This study aimed to investigate the effect of high glucose on bone marrow stromal cells (BMSCs) apoptosis and the role of HMGB1 in this process. BMSCs were isolated from 2-week-old Sprague-Dawley rats and cultured in medium containing normal glucose (NG), high glucose (HG), high glucose + glycyrrhizin (HMGB1 inhibitor, HG+GL), and high glucose + glycyrrhizin + dorsomorphin (AMPK inhibitor, HG+GL+Dm), respectively. Cell apoptosis, expression of HMGB1, AMPK, apoptotic markers, and mitochondrial functions were detected. By these approaches, we demonstrated that HG treatment significantly upregulated the expression of HMGB1 in BMSCs, which could be attenuated by GL treatment. Inhibiting HMGB1 by GL improved AMPK activation, decreased mitochondrial ROS levels, increased mitochondrial membrane potential, normalized mitochondrial fission/fusion balance, and consequently reduced apoptosis of BMSCs under HG condition. The addition of AMPK inhibitor dorsomorphin hampered this protective effect. Taken together, our data show that inhibition of HMGB1 can be an effective approach to alleviate HG-induced BMSCs apoptosis by activation of AMPK pathway and relieving mitochondrial dysfunction.
Access options
Buy single article
Instant access to the full article PDF.
US$ 39.95
Tax calculation will be finalised during checkout.
Subscribe to journal
Immediate online access to all issues from 2019. Subscription will auto renew annually.
US$ 79
Tax calculation will be finalised during checkout.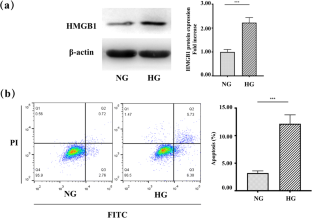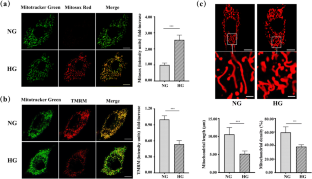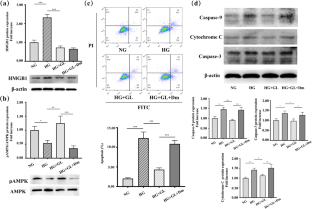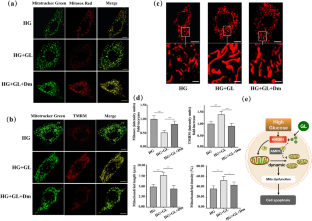 Availability of data and material
The data used to support the findings of this study are available from the corresponding author upon request.
Funding
This work was supported by the National Key Research and Development Program of China (grant No. 2016YFC1102704), the National Natural Science Foundation of China (grant No. 81771113 and No. 81870802) and the Research Fund for Resin Material of Chinese Stomatology Association CSA-R2018-05(G. XQ).
Ethics declarations
Ethical approval
This study was approved by the Research Ethics Commit of West China Hospital of Stomatology (Approval No. WCHSIRB-D-2017-110).
Consent to participate/publish
Not applicable.
Conflict of interest
The authors declare no competing interests.
Additional information
Publisher's note
Springer Nature remains neutral with regard to jurisdictional claims in published maps and institutional affiliations.
Key Points
• High glucose induces HMGB1 upregulation and cell apoptosis in BMSCs.
• High glucose causes mitochondrial dysfunction and mitochondrial fragmentation.
• Inhibiting HMGB1 promotes AMPK activation and reduced apoptosis.
• Inhibiting HMGB1 relieves mitochondrial dysfunction and mitochondrial fragmentation through AMPK activation.
Supplementary Information
About this article
Cite this article
Liu, B., Gan, X., Zhao, Y. et al. Inhibition of HMGB1 reduced high glucose-induced BMSCs apoptosis via activation of AMPK and regulation of mitochondrial functions. J Physiol Biochem (2021). https://doi.org/10.1007/s13105-021-00784-2
Received:

Accepted:

Published:
Keywords
High mobility group box 1 (HMGB1)

Apoptosis

AMP-activated protein kinase (AMPK)

Mitochondria

Reactive oxygen species