Abstract
The link between obesity-induced systemic inflammation and decreased insulin signalling is well-known. It is also known that peripherally produced inflammatory cytokines can cross the blood-brain barrier, resulting in the release of neurotoxins that can ultimately lead to the demise of central nervous system integrity. A high-mesembrine Sceletium tortuosum extract was recently shown to possess cytoprotective and mild anti-inflammatory properties in monocytes and to target specific p450 enzymes to reduce adrenal glucocorticoid synthesis. This is significant since the aetiology of both obesity and diabetes is linked to inflammation and excess glucocorticoid production. Given the interlinked nature of glucocorticoid action and inflammation, central immunomodulatory effects of two Sceletium tortuosum extracts prepared by different extraction methods were investigated. Human astrocytes were pre-treated for 30 min, before exposure to Escherichia coli lipopolysaccharide for 23.5 h (in the presence of treatment). Cytotoxicity, mitotoxicity and cytokine responses (basally and in response to inflammatory stimulus) were assessed. In addition, total polyphenol content, antioxidant capacity and selected neural enzyme inhibition capacity were assessed for both extracts. The high-mesembrine Sceletium extract exerted cytoprotective and anti-inflammatory effects. In contrast, the high delta7-mesembrenone extract, rich in polyphenols, exhibited potent antioxidant effect, although with relatively higher risk of adverse effects with overdose. We conclude that both Sceletium tortuosum extracts may be employed as either a preventative supplement or complimentary treatment in the context of obesity and diabetes; however, current data also highlights the impact that extraction methods can have on plant product mechanism of action.
Access options
Buy single article
Instant access to the full article PDF.
USD 39.95
Price excludes VAT (USA)
Tax calculation will be finalised during checkout.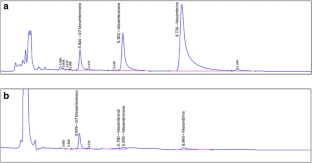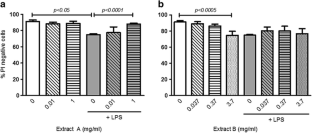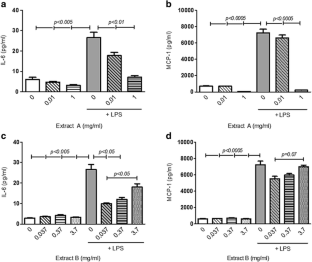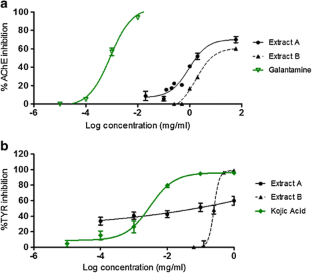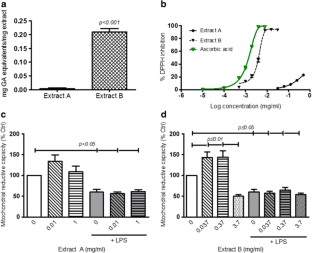 Abbreviations
ANOVA:

Analysis of variance

AChE:

Acetylcholinesterase

BBB:

Blood-brain barrier

CNS:

Central nervous system

DMEM:

Dulbecco's modified eagle's medium

DPBS:

Dulbecco's phosphate-buffered saline

DPPH:

1,1-Diphenyl-2-picrylhydrazyl

FBS:

Foetal bovine serum

HBSS:

Hank's balanced salt solution

HPLC:

High-performance liquid chromatography

IFN-γ:

Interferon-gamma

IL-6:

Interleukin-6

LPS:

Lipopolysaccharide

MAO-A:

Monoamine oxidase A

MCP-1:

Monocyte chemotactic protein-1

PBS:

Phosphate-buffered saline

PI:

Propidium iodide

ROS:

Reactive oxygen species

RPM:

Revolutions per minute

SEM:

Standard error of the mean

T2D:

Type 2 diabetes

T3D:

Type 3 diabetes
Acknowledgements
We would like to acknowledge the South African National Research Foundation (NRF) for the funding, and Verve Dynamics for the preparation and kind donation of the extracts used in this study.
Ethics declarations
Conflict of interest
The authors declare that they have no conflict of interest.
About this article
Cite this article
Bennett, A., Van Camp, A., López, V. et al. Sceletium tortuosum may delay chronic disease progression via alkaloid-dependent antioxidant or anti-inflammatory action. J Physiol Biochem 74, 539–547 (2018). https://doi.org/10.1007/s13105-018-0620-6
Received:

Accepted:

Published:

Issue Date:

DOI: https://doi.org/10.1007/s13105-018-0620-6
Keywords