Abstract
Glioblastoma multiforme (GBM), the most common and lethal primary brain tumor in adults characterized by high proliferative ability and mortality rate, contains a small subpopulation of cancer stem-like cells (CSCs), which is responsible for GBM progression and therapeutic resistance. Numerous microRNAs are strongly implicated in the malignancy of glioma. However, their specific functions and roles have yet to be fully demonstrated. In the present study, we revealed that the upregulation of Let-7b, a member of the Let-7 microRNA family, inhibited proliferation, migration, and invasion in glioma cell lines. Using bioinformatics, expression analysis, and luciferase assay, E2F2 was confirmed as a candidate target of Let-7b. Moreover, we also observed that elevated levels of Let-7b resulted in a reduction of tumor sphere growth and stemness of glioma stem-like cells. Furthermore, we found that knockdown of E2F2 expression could reduce the proliferation of glioma and GSCs, while overexpression of E2F2 partially abrogated the inhibitory effect of Let-7b on the proliferation of glioma and GSCs. In conclusion, we suggest that Let-7b could be developed into a promising anticancer target in glioma.
Access options
Buy single article
Instant access to the full article PDF.
USD 39.95
Price excludes VAT (USA)
Tax calculation will be finalised during checkout.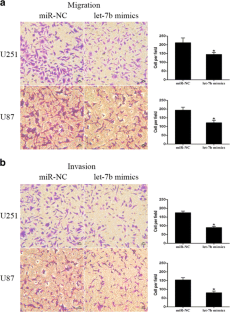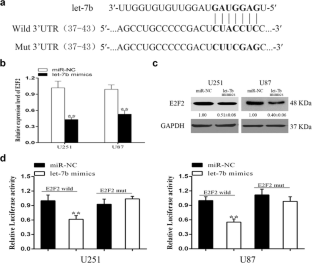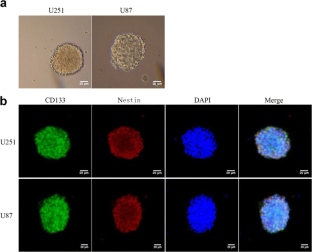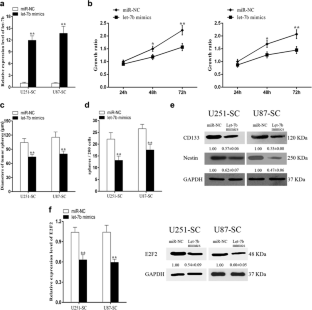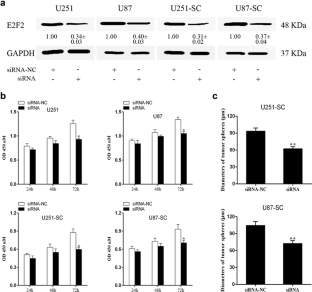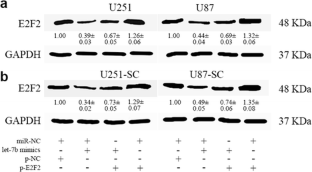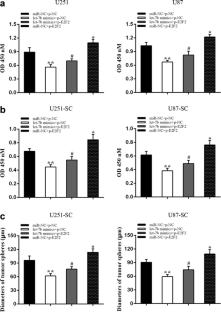 Reference
Bartel DP (2009) MicroRNAs: target recognition and regulatory functions. Cell 136:215–233

Büssing I, Slack FJ, Grosshans H (2008) Let-7 microRNAs in development, stem cells and cancer. Trends Mol Med 14:400e409

Degregori J (2002) The genetics of the E2F family of transcription factors: shared functions and unique roles. Biochim Biophys Acta 1602:131–150

Esquela-Kerscher A, Slack FJ (2006) Oncomirs-microRNAs with a role in cancer. Nat Rev Cancer 6:259–269

Furnari FB, Fenton T, Bachoo RM, Mukasa A, Stommel JM, Stegh A, Hahn WC, Ligon KL, Louis DN, Brennan C, Chin L, DePinho RA, Cavenee WK (2007) Malignant astrocytic glioma: genetics, biology, and paths to treatment. Genes Dev 21:2683–2710

Graziano F, Canestrari E, Loupakis F, Ruzzo A, Galluccio N, Santini D, Rocchi M, Vincenzi B, Salvatore L, Cremolini C, et al. (2010) Genetic modulation of the let-7 microRNA binding to KRAS 3′-untranslated region and survival of metastatic colorectal cancer patients treated with salvage cetuximab-irinotecan. Pharmacogenomics J 10:458–464

Han X, Chen Y, Yao N, Liu H, Wang Z (2015) MicroRNA let-7b suppresses human gastric cancer malignancy by targeting ING1. Cancer Gene Ther 22:122–129

Hwang HW, Mendell JT (2007) MicroRNAs in cell proliferation, cell death, and tumorigenesis. Br J Cancer 96:776–780

Iwasaki T, Tanaka K, Kawano M, Itonaga I, Tsumura H (2015) Tumor-suppressive microRNA-let-7a inhibits cell proliferation via targeting of E2F2 in osteosarcoma cells. Int J Onco 46:1543–1550

Jusufović E, Rijavec M, Keser D, Korošec P, Sodja E, Iljazović E, Radojević Z, Košnik M (2012) Let-7b and mir-126 are down-regulated in tumor tissue and correlate with microvessel density and survival outcomes in non-small-cell lung cancer. PLoS One 7:e45577

Kloosterman WP, Plasterk RH (2006) The diverse functions of microRNAs in animal development and disease. Dev Cell 11:441–450

Kovesdi I, Reichel R, Nevins JR (1986) Identification of a cellular transcription factor involved in E1A trans-activation. Cell 45:219–228

Kovesdi I, Reichel R, Nevins JR (1987) Role of an adenovirus E2 promoter binding factor in E1A-mediated coordinate gene control. Proc Natl Acad Sci U S A 84:2180–2184

Lewis BP, Shih IH, Jones-Rhoades MW, Bartel DP, Burge CB (2004) Prediction of mammalian microRNA targets. Cell 115:787–798

Li T, Luo W, Liu K, Lv X, Xi T (2015) Mir-31 promotes proliferation of colon cancer cells by targeting E2F2. Biotechnol Lett 37:523–532

Mao XG, Hütt-Cabezas M, Orr BA, Weingart M, Taylor I, Rajan AK, Odia Y, Kahlert U, Maciaczyk J, Nikkhah G, Eberhart CG, Raabe EH (2013) LIN28A facilitates the transformation of human neural stem cells and promotes glioblastoma tumorigenesis through a pro-invasive genetic program. Oncotarget 4:1050–1064

Noda SE, El-Jawahri A, Patel D, Lautenschlaeger T, Siedow M, Chakravarti A (2009) Molecular advances of brain tumors in radiation oncology. Semin Radiat Oncol 19:171–178

Okamoto OK, Oba-Shinjo SM, Lopes L, Nagahashi Marie SK (2007) Expression of HOXC9 and E2F2 are up-regulated in CD133+ cells isolated from human astrocytomas and associate with transformation of human astrocytes. Biochim Biophys Acta 1769:437–442

Ostrom QT, Gittleman H, Farah P, Ondracek A, Chen Y, Wolinsky Y, Stroup NE, Kruchko C, Barnholtz-Sloan JS (2013) CBTRUS statistical report: primary brain and central nervous system tumors diagnosed in the United States in 2006–2010. Neuro-Oncology 15(suppl 2):1–56

Piccirillo SG, Vescovi AL (2007) Brain tumor stem cells: possibilities of new therapeutic strategies. Expert Opin Biol Ther 7:1129–1135

Qin R, Zhou J, Chen C, Xu T, Yan Y, Ma Y, Zheng Z, Shen Y, Lu Y, Fu D, Chen J (2014) LIN28 is involved in glioma carcinogenesis and predicts outcomes of glioblastoma multiforme patients. PLoS One 9:e86446

Rani SB, Rathod SS, Karthik S, Kaur N, Muzumdar D, Shiras AS (2013) Mir-145 functions as a tumor-suppressive RNA by targeting Sox9 and adducin 3 in human glioma cells. Neuro-Oncology 15:1302–1316

Reimer D, Sadr S, Wiedemair A, Goebel G, Concin N, Hofstetter G, Marth C, Zeimet AG (2006) Expression of the E2F family of transcription factors and its clinical relevance in ovarian cancer. Ann N Y Acad Sci 1091:270–281

Reimer D, Sadr S, Wiedemair A, Stadlmann S, Concin N, Hofstetter G, Müller-Holzner E, Marth C, Zeimet AG (2007) Clinical relevance of E2F family members in ovarian cancer—an evaluation in a training set of 77 patients. Clin Cancer Res 13:144–151

Schultz J, Lorenz P, Gross G, Ibrahim S, Kunz M (2008) MicroRNA let-7b targets important cell cycle molecules in malignant melanoma cells and interferes with anchorage-independent growth. Cell Res 18:549–557

Shao Y, Zhang L, Cui L, Lou W, Wang D, Lu W, Jin D, Liu T (2015) LIN28B suppresses MicroRNA let-7b expression to promote CD44+/LIN28B + human pancreatic cancer stem cell proliferation and invasion. Am J Cancer Res 5:2643–2659

Song H, Zhang Y, Liu N, Wan C, Zhang D, Zhao S, Kong Y, Yuan L (2016) Mir-92b regulates glioma cells proliferation, migration, invasion, and apoptosis via PTEN/Akt signaling pathway. J Physiol Biochem 72:201–211

Suzuki DE, Nakahata AM, Okamoto OK (2014) Knockdown of E2F2 inhibits tumorigenicity, but preserves stemness of human embryonic stem cells. Stem Cells Dev 23:1266–1274

Takashima Y, Terada M, Udono M, Miura S, Yamamoto J, Suzuki A (2016) Suppression of let-7b and mir-125a/b maturation by LIN28b enables maintenance of stem cell properties in hepatoblasts. Hepatology. doi:10.1002/hep.28548

Tian Y, Hao S, Ye M, Zhang A, Nan Y, Wang G, Jia Z, Yu K, Guo L, Pu P, Huang Q, Zhong Y (2015) MicroRNAs let-7b/i suppress human glioma cell invasion and migration by targeting IKBKE directly. Biochem Biophys Res Commun 458:307–312

Wen L, Cheng F, Zhou Y, Yin C (2015) Mir-26a enhances the sensitivity of gastric cancer cells to cisplatin by targeting NRAS and E2F2. Saudi J Gastroenterol 21:313–319

Yuan X, Curtin J, Xiong Y, Liu G, Waschsmann-Hogiu S, Farkas DL, Black KL, Yu JS (2005) Isolation of cancer stem cells from adult glioblastoma multiforme. Oncogene 23:9392–9400

Zhang Y, Han D, Wei W, Cao W, Zhang R, Dong Q, Zhang J, Wang Y, Liu N (2015) Mir-218 inhibited growth and metabolism of human glioblastoma cells by directly targeting E2F2. Cell Mol Neurobiol 35:1165–1173

Zimmerman AL, Wu S (2011) MicroRNAs, cancer and cancer stem cells. Cancer Lett 300:10–19
Acknowledgments
The authors thank the staff at the Department of Biochemistry of Southeast University. This study was supported by the Science and Technology Innovation Foundation of Jiangsu Province (KYZZ_0067) and Scientific Research Foundation of Graduate School of Southeast University (YBJJ1638).
About this article
Cite this article
Song, H., Zhang, Y., Liu, N. et al. Let-7b inhibits the malignant behavior of glioma cells and glioma stem-like cells via downregulation of E2F2. J Physiol Biochem 72, 733–744 (2016). https://doi.org/10.1007/s13105-016-0512-6
Received:

Accepted:

Published:

Issue Date:

DOI: https://doi.org/10.1007/s13105-016-0512-6
Keywords