Abstract
Exposure to fine particulate matter (PM2.5) air pollution is a risk factor for type 2 diabetes (T2DM). We argue whether the potentiating effect of PM2.5 over the development of T2DM in high-fat diet (HFD)-fed mice would be related to modification in cell stress response, particularly in antioxidant defenses and 70-kDa heat shock proteins (HSP70) status. Male mice were fed standard chow or HFD for 12 weeks and then randomly exposed to daily nasotropic instillation of PM2.5 for additional 12 weeks under the same diet schedule, divided into four groups (n = 14–15 each): Control, PM2.5, HFD, and HFD + PM2.5 were evaluated biometric and metabolic profiles of mice, and cellular stress response (antioxidant defense and HSP70 status) of metabolic tissues. Extracellular to intracellular HSP70 ratio ([eHSP72]/[iHSP70]), viz. H-index, was then calculated. HFD + PM2.5 mice presented a positive correlation between adiposity, increased body weight and glucose intolerance, and increased glucose and triacylglycerol plasma levels. Pancreas exhibited lower iHSP70 expression, accompanied by 3.7-fold increase in the plasma to pancreas [eHSP72]/[iHSP70] ratio. Exposure to PM2.5 markedly potentiated metabolic dysfunction in HFD-treated mice and promoted relevant alteration in cell stress response assessed by [eHSP72]/[iHSP70], a relevant biomarker of chronic low-grade inflammatory state and T2DM risk.
This is a preview of subscription content, log in to check access.
Access options
Buy single article
Instant access to the full article PDF.
US$ 39.95
Price includes VAT for USA
Subscribe to journal
Immediate online access to all issues from 2019. Subscription will auto renew annually.
US$ 99
This is the net price. Taxes to be calculated in checkout.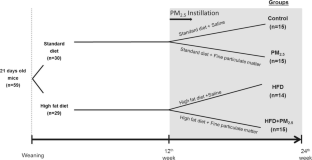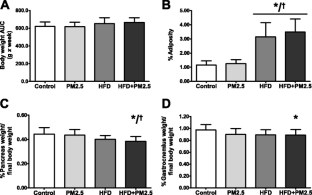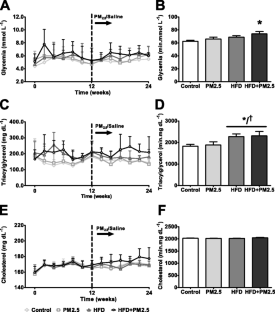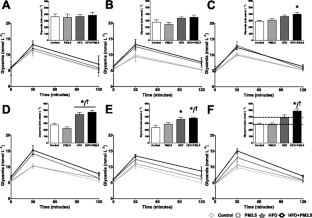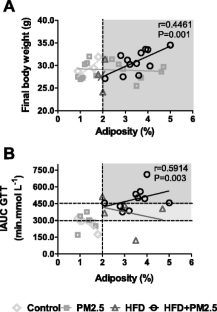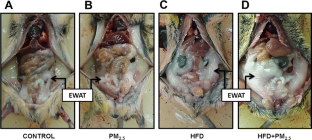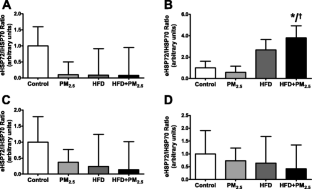 Abbreviations
CAT:

Catalase

CD91:

α2-Macroglobulin receptor

DM:

Diabetes mellitus

EWAT:

Epididymal white adipose tissue

GTT:

Glucose tolerance test

HFD:

High-fat diet

HSP70:

The 70-kDa family of heat shock proteins

eHSP70:

Extracellular 70-kDa heat shock proteins

iHSP70:

Intracellular 70-kDa heat shock proteins

IAUC:

Incremental area under the curve

NF-kB:

Nuclear factor-kappa B

NMRT:

Nutrient metabolism-related tissues

PM:

Particulate matter

PM2.5 :

Fine particulate matter

PMSF:

Phenylmethanesulfonyl fluoride

SDS:

Sodium dodecyl sulfate

SOD:

Superoxide dismutase

T2DM:

Type 2 diabetes

TLCK:

Tosyl-l-lysine chloromethyl ketone hydrochloride

TLR2:

Toll-like receptor 2

TLR4:

Toll-like receptor 4
References
1.

Aebi H (1984) Catalase in vitro. Methods Enzymol 105:121–126

2.

Bock PM, Krause M, Schroeder HT, Hahn GF, Takahashi HK, Scholer CM, Nicoletti G, Neto LD, Rodrigues MI, Bruxel MA et al (2016) Oral supplementations with L-glutamine or L-alanyl-L-glutamine do not change metabolic alterations induced by long-term high-fat diet in the B6.129F2/J mouse model of insulin resistance. Mol Cell Biochem 411:351–362

3.

Bradford MM (1976) A rapid and sensitive method for the quantitation of microgram quantities of protein utilizing the principle of protein-dye binding. Anal Biochem 72:248–254

4.

Chen JC, Schwartz J (2008) Metabolic syndrome and inflammatory responses to long-term particulate air pollutants. Environ Health Perspect 116:612–617

5.

Defronzo RA (2009) Banting Lecture. From the triumvirate to the ominous octet: a new paradigm for the treatment of type 2 diabetes mellitus. Diabetes 58:773–795

6.

Di Naso FC, Porto RR, Fillmann HS, Maggioni L, Padoin AV, Ramos RJ, Mottin CC, Bittencourt A, Marroni NA, de Bittencourt HPI Jr (2015) Obesity depresses the anti-inflammatory HSP70 pathway, contributing to NAFLD progression. Obesity 23:120–129

7.

Emmerechts J, Hoylaerts MF (2012) The effect of air pollution on haemostasis. Hamostaseologie 32:5–13

8.

EPA(2010). https://ofmpub.epa.gov/sor_internet/registry/termreg/searchandretrieve/termsandacronyms/search.do?search=&term=chronic&matchCriteria=Contains&checkedAcronym=true&checkedTerm=true&hasDefinitions=false#formTop. In.

9.

Fajersztajn L, Veras M, Barrozo LV, Saldiva P (2013) Air pollution: a potentially modifiable risk factor for lung cancer. Nat Rev Cancer 13:674–678

10.

Heck TG, Scholer CM, de Bittencourt HPI Jr (2011) HSP70 expression: does it a novel fatigue signalling factor from immune system to the brain? Cell Biochem Funct 29:215–226

11.

Hoffmann B, Moebus S, Dragano N, Stang A, Mohlenkamp S, Schmermund A, Memmesheimer M, Brocker-Preuss M, Mann K, Erbel R et al (2009) Chronic residential exposure to particulate matter air pollution and systemic inflammatory markers. Environ Health Perspect 117:1302–1308

12.

Hooper PL, Balogh G, Rivas E, Kavanagh K, Vigh L (2014) The importance of the cellular stress response in the pathogenesis and treatment of type 2 diabetes. Cell Stress Chaperones 19:447–464

13.

Kang R, Lotze MT, Zeh HJ, Billiar TR, Tang D (2014) Cell death and DAMPs in acute pancreatitis. Mol Med 20:466–477

14.

Keane KN, Cruzat VF, Carlessi R, de Bittencourt PI H Jr, Newsholme P (2015) Molecular Events Linking Oxidative Stress and Inflammation to Insulin Resistance and beta-Cell Dysfunction. Oxidative Med Cell Longev 2015:181643

15.

Kolberg A, Rosa TG, Puhl MT, Scola G, da Rocha JD, Maslinkiewicz A, Lagranha DJ, Heck TG, Curi R, de Bittencourt HPI Jr (2006) Low expression of MRP1/GS-X pump ATPase in lymphocytes of Walker 256 tumour-bearing rats is associated with cyclopentenone prostaglandin accumulation and cancer immunodeficiency. Cell Biochem Funct 24:23–39

16.

Krause M, Bock PM, Takahashi HK, de Bittencourt HPI Jr, Newsholme P (2015) The regulatory roles of NADPH oxidase, intra- and extra-cellular HSP70 in pancreatic islet function, dysfunction and diabetes. Clin Sci 128:789–803

17.

Krause M, de Bittencourt HPI Jr (2008) Type 1 diabetes: can exercise impair the autoimmune event? The L-arginine/glutamine coupling hypothesis. Cell Biochem Funct 26:406–433

18.

Krause M, Heck TG, Bittencourt A, Scomazzon SP, Newsholme P, Curi R, de Bittencourt HPI Jr (2015) The chaperone balance hypothesis: the importance of the extracellular to intracellular HSP70 ratio to inflammation-driven type 2 diabetes, the effect of exercise, and the implications for clinical management. Mediat Inflamm 2015:249205

19.

Lee MO (1929) The Function of the Air Sacs in Holopneustic Insects. Science 69:334–335

20.

Liu C, Ying Z, Harkema J, Sun Q, Rajagopalan S (2013) Epidemiological and experimental links between air pollution and type 2 diabetes. Toxicol Pathol 41:361–373

21.

Ludwig MS, Minguetti-Camara VC, Heck TG, Scomazzon SP, Nunes PR, Bazotte RB, de Bittencourt HPI Jr (2014) Short-term but not long-term hypoglycaemia enhances plasma levels and hepatic expression of HSP72 in insulin-treated rats: an effect associated with increased IL-6 levels but not with IL-10 or TNF-alpha. Mol Cell Biochem 397:97–107

22.

Maatz LF, Wood GJ, Rivero DH & Saldiva PH et al (2009) Tracheal instillation of urban PM(2.5) suspension promotes acute cardiac polarization changes in rats. Brazilian journal of medical and biological research = Revista brasileira de pesquisas medicas e biologicas/Sociedade Brasileira de Biofisica 42:207–213

23.

Marklund S, Marklund G (1974) Involvement of the superoxide anion radical in the autoxidation of pyrogallol and a convenient assay for superoxide dismutase. European journal of biochemistry/FEBS 47:469–474

24.

Medeiros N Jr, Rivero DH, Kasahara DI, Saiki M, Godleski JJ, Koutrakis P, Capelozzi VL, Saldiva PH, Antonangelo L (2004) Acute pulmonary and hematological effects of two types of particle surrogates are influenced by their elemental composition. Environ Res 95:62–70

25.

Mendez R, Zheng Z, Fan Z, Rajagopalan S, Sun Q, Zhang K (2013) Exposure to fine airborne particulate matter induces macrophage infiltration, unfolded protein response, and lipid deposition in white adipose tissue. Am J Transl Res 5:224–234

26.

Miller MR, Shaw CA, Langrish JP (2012) From particles to patients: oxidative stress and the cardiovascular effects of air pollution. Futur Cardiol 8:577–602

27.

Newsholme P, de Bittencourt HPI Jr (2014) The fat cell senescence hypothesis: a mechanism responsible for abrogating the resolution of inflammation in chronic disease. Current opinion in clinical nutrition and metabolic care 17:295–305

28.

Pearson JF, Bachireddy C, Shyamprasad S, Goldfine AB & Brownstein JS (2010) Association between fine particulate matter and diabetes prevalence in the U.S..Diabetes care 33:2196–2201

29.

Probst-Hensch NM (2010) Chronic age-related diseases share risk factors: do they share pathophysiological mechanisms and why does that matter? Swiss Med Wkly 140:w13072

30.

Rajagopalan S, Brook RD (2012) Air pollution and type 2 diabetes: mechanistic insights. Diabetes 61:3037–3045

31.

Rodrigues-Krause J, Krause M, O'Hagan C, De Vito G, Boreham C, Murphy C, Newsholme P, Colleran G (2012) Divergence of intracellular and extracellular HSP72 in type 2 diabetes: does fat matter? Cell Stress Chaperones 17:293–302

32.

Schuster DP (2010) Obesity and the development of type 2 diabetes: the effects of fatty tissue inflammation. Diabetes, metabolic syndrome and obesity : targets and therapy 3:253–262

33.

Sone H, Kagawa Y (2005) Pancreatic beta cell senescence contributes to the pathogenesis of type 2 diabetes in high-fat diet-induced diabetic mice. Diabetologia 48:58–67

34.

Sun Q, Yue P, Deiuliis JA, Lumeng CN, Kampfrath T, Mikolaj MB, Cai Y, Ostrowski MC, Lu B, Parthasarathy S et al (2009) Ambient air pollution exaggerates adipose inflammation and insulin resistance in a mouse model of diet-induced obesity. Circulation 119:538–546

35.

Van Eeden SF, Tan WC, Suwa T, Mukae H, Terashima T, Fujii T, Qui D, Vincent R, Hogg JC (2001) Cytokines involved in the systemic inflammatory response induced by exposure to particulate matter air pollutants (PM(10)). Am J Respir Crit Care Med 164:826–830

36.

Walsh RC, Koukoulas I, Garnham A, Moseley PL, Hargreaves M, Febbraio MA (2001) Exercise increases serum Hsp72 in humans. Cell Stress Chaperones 6:386–393

37.

WHO (1998) Carbohydrates in human nutrition. Report of a Joint FAO/WHO Expert Consultation FAO food and nutrition paper 66:1–140

38.

Winzell MS, Ahren B (2004) The high-fat diet-fed mouse: a model for studying mechanisms and treatment of impaired glucose tolerance and type 2 diabetes. Diabetes 53(Suppl 3):S215–S219

39.

Xu X, Yavar Z, Verdin M, Ying Z, Mihai G, Kampfrath T, Wang A, Zhong M, Lippmann M, Chen LC et al (2010) Effect of early particulate air pollution exposure on obesity in mice: role of p47phox. Arterioscler Thromb Vasc Biol 30:2518–2527

40.

Yan YH, Chou CC, Lee CT, Liu JY, Cheng TJ (2011) Enhanced insulin resistance in diet-induced obese rats exposed to fine particles by instillation. Inhal Toxicol 23:507–519
Acknowledgments
The authors would like to thank to E.G.P. Basso, E.T.C. Martins, M.M. Sulzbacher, R.D.B. Basso (all from UNIJUI), P.H.N. Saldiva (USP), and colleagues from the Laboratory of Oxidative Stress and Atmospheric Pollution (UFCSPA) for their technical support.
Author contribution
PBGF completed all the experiments described in this manuscript. PBGF, BS, and FGB performed biometric and metabolic profile. PBGF and ABS performed experiments on oxidative stress parameters. PBGF, BS, and FGB performed Western blot analyses. All authors were involved in analyzing the results. PBGF, TGH, and MSL co-wrote the paper. TGH and CRR designed the study. PIHBJ, TGH, MSL, and CRR provided experimental advice and helped with manuscript revision. All the authors had final approval of the submitted and published versions.
Ethics declarations
Competing interest
The authors declare that they do not have competing financial interests.
Financial support
This work was supported by Federal University of Health Sciences of Porto Alegre (UFCSPA) and by grants from Research Support Foundation of the State of Rio Grande do Sul (PqG-2013 - FAPERGS, process: 002106-2551/13-5 to TGH). PBGF and FGB were recipients of scholarships from the Coordination for the Improvement of Higher Education Personnel (CAPES) and ABS from Research Support Foundation of the State of Rio Grande do Sul (FAPERGS).
About this article
Cite this article
Goettems-Fiorin, P.B., Grochanke, B.S., Baldissera, F.G. et al. Fine particulate matter potentiates type 2 diabetes development in high-fat diet-treated mice: stress response and extracellular to intracellular HSP70 ratio analysis. J Physiol Biochem 72, 643–656 (2016). https://doi.org/10.1007/s13105-016-0503-7
Received:

Accepted:

Published:

Issue Date:
Keywords
Adiposity

Particulate matter

Glycemic control

Heat shock protein

HSP70

Blood glucose