Abstract
A lot of evidence for the importance of CD26/dipeptidyl peptidase IV (CD26/DPP IV) in immunoactivation has been reported; however, its involvement in colitis remains unclear. The aim of this study was to investigate the influence of CD26/DPP IV deficiency on immunophenotypic changes associated with dextran sulfate sodium (DSS)-induced colitis in wild-type (WT) and CD26-deficient mice. Development of clinical symptoms of colitis and animal health status parameters were assessed; the expression of the nuclear factor (NF)-κB p65 subunit was measured by quantitative real-time PCR, while cell characterization was determined by flow cytometry and immunohistochemical staining. DSS treatment induced loss of body weight and colon length shortening in both mouse strains. An increase of myeloperoxidase activity in CD26-deficient mice was more intensive than in WT mice, in spite of similar histopathological changes. Furthermore, a significant increase in the expression of NF-κB p65 subunit in the colon of CD26-deficient mice was determined. The percentage of splenic CD4+ and CD8+ cells in the acute phase of colitis was significantly decreased in WT mice, while in the same period, an increase in the percentage of splenic CD8+ cells was present in CD26-deficient mice. Development of colitis was accompanied by a significant increase in the percentage of intrahepatic NKT cells in both mouse strains, but their percentage in spleen was increased only in CD26-deficient mice. CD26 deficiency was associated with a heightened response to DSS accompanied by increased expression of NF-κB p65 subunit and distinct changes in leukocyte trafficking. These results provide new insights into the role of CD26/DPP IV during the development of colitis.
Access options
Buy single article
Instant access to the full article PDF.
US$ 39.95
Tax calculation will be finalised during checkout.
Subscribe to journal
Immediate online access to all issues from 2019. Subscription will auto renew annually.
US$ 79
Tax calculation will be finalised during checkout.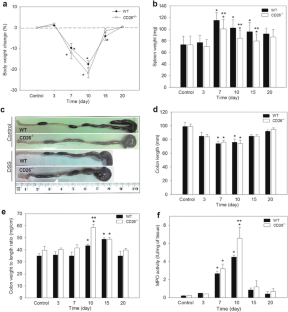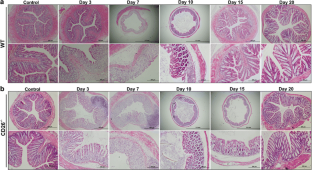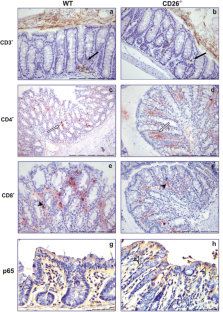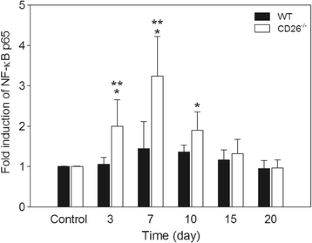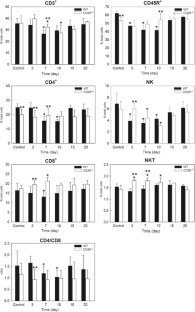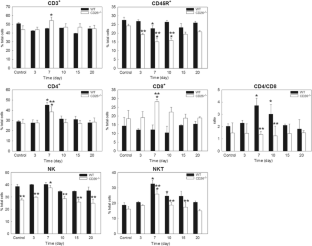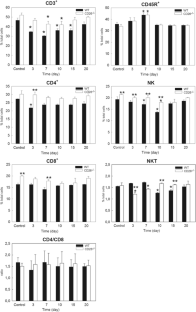 References
1.

Atreya I, Atreya R, Neurath MF (2008) NF-kappaB in inflammatory bowel disease. J Intern Med 263:591–596

2.

Baticic L, Detel D, Kucic N, Buljevic S, Pugel EP, Varljen J (2011) Neuroimmunomodulative properties of dipeptidyl peptidase IV/CD26 in a TNBS-induced model of colitis in mice. J Cell Biochem 112:3322–3333

3.

Bradley PP, Priebat DA, Christensen RD, Rothstein G (1982) Measurement of cutaneous inflammation: estimation of neutrophil content with an enzyme marker. J Investig Dermatol 78:206–209

4.

Busso N, Wagtmann N, Herling C, Chobaz-Peclat V, Bischof-Delaloye A, So A, Grouzmann E (2005) Circulating CD26 is negatively associated with inflammation in human and experimental arthritis. Am J Pathol 166:433–442

5.

Cader MZ, Kaser A (2013) Recent advances in inflammatory bowel disease: mucosal immune cells in intestinal inflammation. Gut 62:1653–1664

6.

De Meester I, Korom S, Van Damme J, Scharpe S (1999) CD26, let it cut or cut it down. Immunol Today 20:367–375

7.

Detel D, Pugel EP, Pucar LB, Buljevic S, Varljen J (2012) Development and resolution of colitis in mice with target deletion of dipeptidyl peptidase IV. Exp Physiol 97:486–496

8.

Eckmann L, Nebelsiek T, Fingerle AA, Dann SM, Mages J, Lang R, Robine S, Kagnoff MF, Schmid RM, Karin M, Arkan MC, Greten FR (2008) Opposing functions of IKKbeta during acute and chronic intestinal inflammation. Proc Natl Acad Sci U S A 105:15058–15063

9.

Egger B, Bajaj-Elliott M, MacDonald TT, Inglin R, Eysselein VE, Buchler MW (2000) Characterisation of acute murine dextran sodium sulphate colitis: cytokine profile and dose dependency. Digestion 62:240–248

10.

Fichtner-Feigl S, Fuss IJ, Preiss JC, Strober W, Kitani A (2005) Treatment of murine Th1- and Th2-mediated inflammatory bowel disease with NF-kappa B decoy oligonucleotides. J Clin Invest 115:3057–3071

11.

Gabele E, Dostert K, Hofmann C, Wiest R, Scholmerich J, Hellerbrand C, Obermeier F (2011) DSS induced colitis increases portal LPS levels and enhances hepatic inflammation and fibrogenesis in experimental NASH. J Hepatol 55:1391–1399

12.

Geier MS, Tenikoff D, Yazbeck R, McCaughan GW, Abbott CA, Howarth GS (2005) Development and resolution of experimental colitis in mice with targeted deletion of dipeptidyl peptidase IV. J Cell Physiol 204:687–692

13.

Gorrell MD, Gysbers V, McCaughan GW (2001) CD26: a multifunctional integral membrane and secreted protein of activated lymphocytes. Scand J Immunol 54:249–264

14.

Hayden MS, Ghosh S (2011) NF-kappaB in immunobiology. Cell Res 21:223–244

15.

Hildebrandt M, Rose M, Ruter J, Salama A, Monnikes H, Klapp BF (2001) Dipeptidyl peptidase IV (DP IV, CD26) in patients with inflammatory bowel disease. Scand J Gastroenterol 36:1067–1072

16.

Iwaya H, Fujii N, Hagio M, Hara H, Ishizuka S (2013) Contribution of dipeptidyl peptidase IV to the severity of dextran sulfate sodium-induced colitis in the early phase. Biosci Biotechnol Biochem 77:1461–1466

17.

John B, Crispe IN (2004) Passive and active mechanisms trap activated CD8+ T cells in the liver. J Immunol 172:5222–5229

18.

John B, Crispe IN (2005) TLR-4 regulates CD8+ T cell trapping in the liver. J Immunol 175:1643–1650

19.

Jurjus AR, Khoury NN, Reimund JM (2004) Animal models of inflammatory bowel disease. J Pharmacol Toxicol Methods 50:81–92

20.

Lee FT, Cao Z, Long DM, Panagiotopoulos S, Jerums G, Cooper ME, Forbes JM (2004) Interactions between angiotensin II and NF-kappaB-dependent pathways in modulating macrophage infiltration in experimental diabetic nephropathy. J Am Soc Nephrol 15:2139–2151

21.

Marguet D, Baggio L, Kobayashi T, Bernard AM, Pierres M, Nielsen PF, Ribel U, Watanabe T, Drucker DJ, Wagtmann N (2000) Enhanced insulin secretion and improved glucose tolerance in mice lacking CD26. Proc Natl Acad Sci U S A 97:6874–6879

22.

Mimura S, Ando T, Ishiguro K, Maeda O, Watanabe O, Ujihara M, Hirayama Y, Morise K, Maeda K, Matsushita M, Funasaka K, Nakamura M, Miyahara R, Ozaki N, Goto H (2013) Dipeptidyl peptidase-4 inhibitor anagliptin facilitates restoration of dextran sulfate sodium-induced colitis. Scand J Gastroenterol 48:1152–1159

23.

Mizoguchi A, Mizoguchi E, Smith RN, Preffer FI, Bhan AK (1997) Suppressive role of B cells in chronic colitis of T cell receptor alpha mutant mice. J Exp Med 186:1749–1756

24.

Ohnuma K, Hosono O, Dang NH, Morimoto C (2011) Dipeptidyl peptidase in autoimmune pathophysiology. Adv Clin Chem 53:51–84

25.

Ohnuma K, Munakata Y, Ishii T, Iwata S, Kobayashi S, Hosono O, Kawasaki H, Dang NH, Morimoto C (2001) Soluble CD26/dipeptidyl peptidase IV induces T cell proliferation through CD86 up-regulation on APCs. J Immunol 167:6745–6755

26.

Ohnuma K, Takahashi N, Yamochi T, Hosono O, Dang NH, Morimoto C (2008) Role of CD26/dipeptidyl peptidase IV in human T cell activation and function. Front Biosci 13:2299–2310

27.

Okayasu I, Hatakeyama S, Yamada M, Ohkusa T, Inagaki Y, Nakaya R (1990) A novel method in the induction of reliable experimental acute and chronic ulcerative colitis in mice. Gastroenterology 98:694–702

28.

Pacheco R, Martinez-Navio JM, Lejeune M, Climent N, Oliva H, Gatell JM, Gallart T, Mallol J, Lluis C, Franco R (2005) CD26, adenosine deaminase, and adenosine receptors mediate costimulatory signals in the immunological synapse. Proc Natl Acad Sci U S A 102:9583–9588

29.

Shale M, Schiering C, Powrie F (2013) CD4(+) T-cell subsets in intestinal inflammation. Immunol Rev 252:164–182

30.

Shibolet O, Alper R, Zolotarov L, Trop S, Thalenfeld B, Engelhardt D, Rabbani E, Ilan Y (2004) The role of intrahepatic CD8+ T cell trapping and NK1.1+ cells in liver-mediated immune regulation. Clin Immunol 111:82–92

31.

Siegmund B, Rieder F, Albrich S, Wolf K, Bidlingmaier C, Firestein GS, Boyle D, Lehr HA, Loher F, Hartmann G, Endres S, Eigler A (2001) Adenosine kinase inhibitor GP515 improves experimental colitis in mice. J Pharmacol Exp Ther 296:99–105

32.

Spehlmann ME, Eckmann L (2009) Nuclear factor-kappa B in intestinal protection and destruction. Curr Opin Gastroenterol 25:92–99

33.

Steinbrecher A, Reinhold D, Quigley L, Gado A, Tresser N, Izikson L, Born I, Faust J, Neubert K, Martin R, Ansorge S, Brocke S (2001) Targeting dipeptidyl peptidase IV (CD26) suppresses autoimmune encephalomyelitis and up-regulates TGF-beta 1 secretion in vivo. J Immunol 166:2041–2048

34.

Viennois E, Chen F, Laroui H, Baker MT, Merlin D (2013) Dextran sodium sulfate inhibits the activities of both polymerase and reverse transcriptase: lithium chloride purification, a rapid and efficient technique to purify RNA. BMC Res Notes 6:360

35.

Vora KA, Porter G, Peng R, Cui Y, Pryor K, Eiermann G, Zaller DM (2009) Genetic ablation or pharmacological blockade of dipeptidyl peptidase IV does not impact T cell-dependent immune responses. BMC Immunol 10:19

36.

Wallace KL, Zheng LB, Kanazawa Y, Shih DQ (2014) Immunopathology of inflammatory bowel disease. World J Gastroenterol 20:6–21

37.

Yan S, Marguet D, Dobers J, Reutter W, Fan H (2003) Deficiency of CD26 results in a change of cytokine and immunoglobulin secretion after stimulation by pokeweed mitogen. Eur J Immunol 33:1519–1527

38.

Yazbeck R, Howarth GS, Geier MS, Demuth HU, Abbott CA (2008) Inhibiting dipeptidyl peptidase activity partially ameliorates colitis in mice. Front Biosci 13:6850–6858
Acknowledgments
The research was supported by the Ministry of Science, Education and Sports of the Republic of Croatia, grant no. 062-0061245-0213 and University of Rijeka, grant no. 13.06.1.2.26. We gratefully acknowledge Professor Didier Marguet (Centre d'Immunologie de Marseille-Luiny, Université de la Méditerrance, Marseille, France), for providing CD26-deficient animals. The authors wish to thank Ioannis Pateras, MD, PhD (Department of Histology, National and Kapodistrian University of Athens, Greece) for performing p65 immunohistochemical staining, as well as the head of the Department Professor Vassilis Gorgoulis, for his affability. We kindly thank Professor Siniša Volarević (Department of Molecular Biology, School of Medicine, University of Rijeka, Croatia) for continuous support and collaboration through the TransMedRi project and Professor Stipan Jonjić for allowing us to use all the facilities of the Department of Histology and Embryology, School of Medicine, University of Rijeka, Croatia. The authors would like to thank Tihana and Ben Harrison for valuable language suggestions.
Ethics declarations
Conflict of interest
The authors declare that they have no conflict of interest, financial or otherwise.
About this article
Cite this article
Detel, D., Buljevic, S., Pucar, L.B. et al. Influence of CD26/dipeptidyl peptidase IV deficiency on immunophenotypic changes during colitis development and resolution. J Physiol Biochem 72, 405–419 (2016). https://doi.org/10.1007/s13105-016-0491-7
Received:

Accepted:

Published:

Issue Date:
Keywords
Inflammatory bowel disease

CD26/dipeptidyl peptidase IV

CD26-deficient animals

Dextran sulfate sodium

Immune response