Abstract
Cerebral microbleeds (CMBs) are very frequent diagnoses with MRI imaging in the elderly or in patients with cerebral infarction, intracranial hemorrhage (ICH), and dementia. The mechanisms for CMBs are not fully understood but may be secondary to injury to the vascular wall from long-standing hypertension or amyloid deposition in the tissue. The presence of CMB increases the risk for stroke, dementia, and death. The increasing number of CMBs is also associated with a higher risk of hemorrhagic complications with the long-term use of anticoagulants in atrial fibrillation and in patients requiring thrombolysis for acute stroke. The presence of CMBs is however not a contraindication for anticoagulation or thrombolysis as was recently shown from the results of the CROMIS-2 study. This review will summarize our current understanding of the natural history of CMBs and offer suggestions on the best management in common clinical settings.
This is a preview of subscription content, log in to check access.
Access options
Buy single article
Instant access to the full article PDF.
US$ 39.95
Price includes VAT for USA
Subscribe to journal
Immediate online access to all issues from 2019. Subscription will auto renew annually.
US$ 99
This is the net price. Taxes to be calculated in checkout.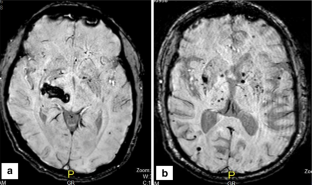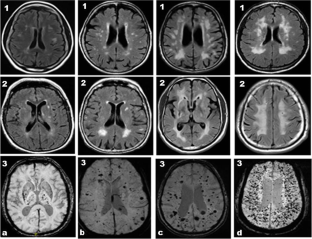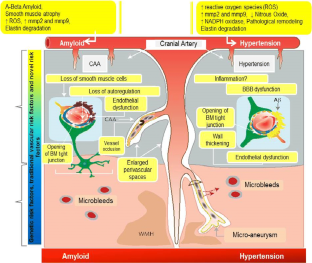 References
1.

Vernooij MW, van der Lugt A, Ikram MA, Wielopolski PA, Niessen WJ, Hofman A, et al. Prevalence and risk factors of cerebral microbleeds the Rotterdam Scan Study. Neurology. 2008;70:1208–14.

2.

Greenberg SM, Vernooij MW, Cordonnier C, Viswanathan A, al-Shahi Salman R, Warach S, et al. Cerebral microbleeds: a guide to detection and interpretation. Lancet Neurol. 2009;8:165–74.

3.

Charidimou A, Blacker D, Viswanathan A. Context is everything: from cardiovascular disease to cerebral micr0obleeds. Int J Stroke. 2018;13:6–10.

4.

Ding J, Sigurðsson S, Jónsson PV, Eiriksdottir G, Meirelles O, Kjartansson O, et al. Space and location of cerebral microbleeds, cognitive decline, and dementia in the community. Neurology. 2017;88:2089–7.

5.

Scharf J, Bräuherr E, Forsting M, Sartor K. Significance of haemorrhagic lacunes on MRI in patients with hypertensive cerebrovascular disease and intracerebral haemorrhage. Neuroradiology. 1994;36:504–8.

6.

Daugherty AM, Raz M. Incident risk and progression of cerebral microbleeds in healthy adults: a multi-occasion longitudinal study. AJNR. 2017;38:2251–6.

7.

Cordonnier C, Al-Shahi Salman R, Wardlaw J. Spontaneous brain microbleeds: systematic review, subgroup analyses and standards for study design and reporting. Brain. 2007;130:1988–2003.

8.

Kwa VI, Franke CL, Verbeeten B, Stam J. Amsterdam Vascular Medicine Group. Silent intracerebral microhemorrhages in patients with ischemic stroke. Ann Neurol. 1998;44:372–7.

9.

Poels MM, Ikram MA, van der Lugt A, et al. Incidence of cerebral microbleeds in the general population. Stroke. 2011;42:656–61.

10.

Jeon SB, Kwon SU, Cho AH, Yun SC, Kim JS, Kang DW. Rapid appearance of new cerebral microbleeds after acute ischemic stroke. Neurology. 2009;73:1638–44.

11.

Mackey J, Wing JJ, Norato G, Sobotka I, Menon RS, Burgess RE, et al. High rate of microbleed formation following primary intracerebral hemorrhage. Int J Stroke. 2015;10:1187–91.

12.

Saito T, Kawamura Y, Sato, et al. Cerebral microbleeds remain for nine years: a prospective study with yearly magnetic resonance imaging. J Stroke Cerebrovasc Dis. 2018;27:315–32.

13.

Fisher M. Cerebral microbleeds and thrombolysis: clinical consequences and mechanistic implications. JAMA Neurol. 2016;73:632–5.

14.

Janaway BM, Simpson JE, Hoggardt N, et al. Brain hemosiderin in older people: pathological evidence for ischemic origin of MRI microbleeds. Neuropathol Appl Neurobiol. 2014;40:258–69.

15.

Haller S, Montandon ML, Lazeyras F, Scheffler M, Meckel S, Herrmann FR, et al. Radiologic-histopathologic correlation of cerebral microbleeds using pre-mortem and post-mortem MRI. PLoS One. 2016;11:e0167743.

16.

Pasi M, Charidimou A, Boulouis G, Auriel E, Ayres A, Schwab KM, et al. Mixed-location of cerebral hemorrhage/microbleeds: underlying microangiopathy and recurrence risk. Neurology. 2018;90:e119–26.

17.

Han BH, Zhou ML, Johnson AW, Singh I, Liao F, Vellimana AK, et al. Contribution of reactive oxygen species to cerebral amyloid angiopathy, vasomotor dysfunction, and microhemorrhage in aged Tg2576 mice. Proc Natl Acad Sci. 2015;112:E881–90.

18.

Kövari E, Charidimou A, Herrmann FR, Giannakopoulos P, Bouras C, Gold G. No neuropathological evidence for a direct topographical relation between microbleeds and cerebral amyloid angiopathy. Acta Neuropathol Commun. 2015;3:49.

19.

Gregoire SM, Charidimou A, Gadapa N, Dolan E, Antoun N, Peeters A, et al. Acute ischaemic brain lesions in intracerebral haemorrhage: multicentre cross-sectional magnetic resonance imaging study. Brain. 2011;134:2376–86.

20.

Pasi M, Boulouis G, Fotiadis P, Auriel E, Charidimou A, Haley K, et al. Distribution of lacunes in cerebral amyloid angiopathy and hypertensive small vessel disease. Neurology. 2017;88:2162–8.

21.

Van Veluw SJ, Biessels GJ, Klijn CJ, Rozemuller AJ. Heterogeneous histopathology of cortical microbleeds in cerebral amyloid angiopathy. Neurology. 2016;86:867–71.

22.

Akoudad S, Portegies ML, Koudstaal PJ, Hofman A, van der Lugt A, Ikram MA, et al. Cerebral microbleeds are associated with an increased risk of stroke. Circulation. 2015;132:509–16.

23.

Chen W, Zhu W, Kovanlikaya I, Kovanlikaya A, Liu T, Wang S, et al. Intracranial calcifications and hemorrhages: characterization with quantitative susceptibility imaging. Radiology. 2014;270:496–506.

24.

Charidimou A, Kakar P, Fox Z, Werring DJ. Cerebral microbleeds and recurrent stroke risk. Stroke. 2013;44:995–1001.

25.

Lim JS, Hong KS, Kim GM, Bang OY, Bae HJ, Kwon HM, et al. Cerebral microbleeds and early recurrent stroke after transient ischemic attack: results from the Korean Transient Ischemic Attack Expression Registry. JAMA Neurol. 2015;72:301–8.

26.

Lee SH, Kim BJ, Roh JK. Silent microbleeds are associated with volume of primary intracerebral hemorrhage. Neurology. 2006;66:430–2.

27.

Charidimou A, Shams S, Romero JR, Ding J, Veltkamp R, Horstmann S, et al. Clinical significance of cerebral microbleeds on MRI: a comprehensive meta-analysis of ICH, ischemic stroke, mortality and dementia in cohort studies. Int J Stroke. 2018 (in press);13:454–68.

28.

Smith EE, Saposnik G, Biessels GJ, Doubal FN, Fornage M, Gorelick PB, et al. Prevention of stroke in patients with silent cerebrovascular disease. Stroke. 2017;48:e44–71.

29.

Song TJ, Kim J, Song D, Nam HS, Kim YD, Lee HS, et al. Association of cerebral microbleeds with mortality in stroke patients having atrial fibrillation. Neurology. 2014;83:1308–15.

30.

Lovelock CE, Cordonnier C, Naka H, al-Shahi Salman R, Sudlow CLM, The Edinburgh Stroke Study Group, et al. Antithrombotic drug use, cerebral microbleeds, and intracerebral hemorrhage. Stroke. 2010;41:1222–8.

31.

Vernooij MW, Haag MD, van der Lugt A, Hofman A, Krestin GP, Stricker BH, et al. Use of antithrombotic drugs and the presence of cerebral microbleeds: the Rotterdam Scan Study. Arch Neurol. 2009;66:714–20.

32.

Horstmann S, Möhlenbruch M, Wegele C, Rizos T, Laible M, Rauch G, et al. Prevalence of atrial fibrillation and association of previous antithrombotic treatment in patients with cerebral microbleeds. Eur J Neurol. 2015;22:1355–62.

33.

Lee SH, Ryu WS, Roh JK. Cerebral microbleeds are a risk factor for warfarin-related intracerebral hemorrhage. Neurology. 2009;72:171–6.

34.

Akoudad S, Darweesh SK, Leening MJ, et al. Use of coumarin anticoagulants and cerebral microbleeds in the general population. Stroke. 2014;45:3436–9.

35.

Ueno H, Naka H, Ohshita T, Kondo K, Nomura E, Ohtsuki T, et al. Association between cerebral microbleeds on T2*-weighted MR images and recurrent hemorrhagic stroke in patients treated with warfarin following ischemic stroke. Am J Neuroradiol. 2008;29:1483–6.

36.

Wilson D, Amber G, Shakeshaft C, et al. Cerebral microbleeds and intracranial hemorrhage risk in patients anticoagulated for atrial fibrillation after ischemic stroke or transient ischemic attacks (CROMIS-2): a multicentre observational cohort study. Lancet Neurol. 2018;2017:539–47.

37.

Cordonnier C. Incident cerebral microbleeds in a cohort of intracerebral hemorrhage. Stroke. 2016;47:689–4.

38.

Tsivgoulis G, Zand R, Katsanos AH, Turc G, Nolte CH, Jung S, et al. Risk of symptomatic intracerebral hemorrhage after intravenous thrombolysis in patients with acute ischemic stroke and high cerebral microbleed burden: a meta-analysis. JAMA Neurol. 2016;73:675–83.

39.

O'donnell MJ, Eikelboom JW, Yusuf S, et al. Effect of apixaban on brain infarction and microbleeds: AVERROES-MRI assessment study. Am Heart J. 2016;178:145–50.

40.

Chairidimou A, Shoamanesh A, Al-Shahi Salman R, et al. Cerebral amyloid anbgiopathy, cerebral microbleeds and implications for anticoagulation decisions: the need for a balanced approach. Int J Stroke. 2018;13:117–20.

41.

Charidimou A, Shoamanesh A. Clinical relevance of microbleeds in acute stroke thrombolysis. Neurology. 2016;87:1534–41.

42.

Shoamanesh A, Kwok CS, Lim PA, Benavente OR. Postthrombolysis intracranial hemorrhage risk of cerebral microbleeds in acute stroke patients: a systematic review and meta-analysis. Int J Stroke. 2013;8:348–56.

43.

Powers WJ, Rabinstein AA, Ackerson T, Adeoye OM, Bambakidis NC, Becker K, et al. 2018 guidelines for the early management of patients with acute ischemic stroke. Stroke. 2018;49:e46–e110.

44.

Charidimou A, Turc G, Oppenheim C, Yan S, Scheitz JF, Erdur H, et al. Microbleeds, cerebral hemorrhage, and functional outcome after stroke thrombolysis. Stroke. 2017;48:2084–90.

45.

Shi ZS, Duckwiler GR, Jahan R, et al. New cerebral microbleeds after mechanical thrombectomy for large-vessel occlusion strokes. Medicine. 2015;94:e2180.

46.

Caldeira D, Gonçalves N, Ferreira JJ, Pinto FJ, Costa J. Tolerability and acceptability of non-vitamin K antagonist oral anticoagulants in atrial fibrillation: systematic review and meta-analysis. Am J Cardiovasc Drugs. 2015;15:259–65.

47.

Wang Z, Soo YO, Mok VC. Cerebral microbleeds. Stroke. 2014;45:2811–7.

48.

Wilson D, Jäger HR, Werring DJ. Anticoagulation for atrial fibrillation in patients with cerebral microbleeds. Curr Atheroscler Rep. 2015;17:1–5.

49.

Shoamanesh A, Pearce LA, Bazan C, Catanese L, McClure LA, Sharma M, et al. Microbleeds in the SPS3 trial: stroke, mortality and treatment interactions. Ann Neurol. 2017;82:196–207.

50.

Ungvari Z, Tarantini S, Kirkpatrick AC, Csiszar A, Prodan CI. Cerebral microhemorrhages: mechanisms, consequences, and prevention. Am J Phys Heart Circ Phys. 2017;312:H1128–43.

51.

Bosch J, Eikelboom JW, Connolly SJ, Bruns NC, Lanius V, Yuan F, et al. Rationale, design and baseline characteristics of participants in the Cardiovascular OutcoMes for People Using Anticoagulation StrategieS (COMPASS) trial. Can J Cardiol. 2017;33:1027–35.

52.

Ward SA, Raniga P, Ferris NJ, Woods RL, Storey E, Bailey MJ, et al. ASPREE-NEURO study protocol: a randomized controlled trial to determine the effect of low-dose aspirin on cerebral microbleeds, white matter hyperintensities, cognition, and stroke in the healthy elderly. Int J Stroke. 2017;12:108–13.

53.

Chatterjee S, Sardar P, Biondi-Zoccai G, Kumbhani D. New oral anticoagulants and the risk of intracranial hemorrhage. JAMA Neurol. 2013;70:1486–90.
Ethics declarations
Conflict of Interest
The authors declare that they have no conflict of interest.
Ethical Approval
For this type of study, formal consent is not required.
Additional information
Publisher's Note
Springer Nature remains neutral with regard to jurisdictional claims in published maps and institutional affiliations.
About this article
Cite this article
Shuaib, A., Akhtar, N., Kamran, S. et al. Management of Cerebral Microbleeds in Clinical Practice. Transl. Stroke Res. 10, 449–457 (2019). https://doi.org/10.1007/s12975-018-0678-z
Received:

Revised:

Accepted:

Published:

Issue Date:
Keywords
Cerebral microbleeds

Stroke

MRI

Dementia