Abstract
Cerebral hyperperfusion syndrome (CHS) is a complication that can occur after carotid endarterectomy (CEA), the treatment of choice to decrease the subsequent risk of fatal or disabling stroke for patients with symptomatic severe stenosis of the carotid artery. Because of its rarity and complexity, the mechanism of the condition is still unclear, making its prevention via prediction and monitoring challenging. This is especially true during surgery, when multiple factors can induce physiological changes, including blood pressure and baroreceptor functions, which are crucial factors for post-CEA hypertension and CHS. Thus, with intra-operative videos taken by surgical microscopes, we employed a new video processing technique to magnify ordinarily invisible carotid artery pulsation patterns as rhythmic color fluctuations. We applied the technique for three CEA cases, two of which developed CHS with post-CEA hypertension. For those with CHS, abnormal pulsation patterns were detected at the site of the baroreceptors. The results suggested that intra-operative baroreceptor dysfunction can potentially be linked with post-operative hypertension, as well as the occurrence of CHS. Guided by the preliminary discovery, further investigation may help establish the introduced technique as a simple and contactless technique to help predict post-CEA hypertension and CHS in order to facilitate the management and understanding of the condition and improve the care of CEA.
This is a preview of subscription content, log in to check access.
Access options
Buy single article
Instant access to the full article PDF.
US$ 39.95
Price includes VAT for USA
Subscribe to journal
Immediate online access to all issues from 2019. Subscription will auto renew annually.
US$ 99
This is the net price. Taxes to be calculated in checkout.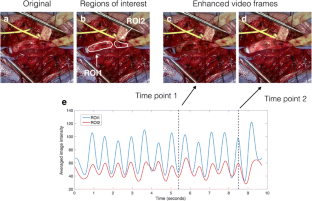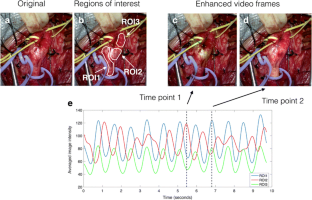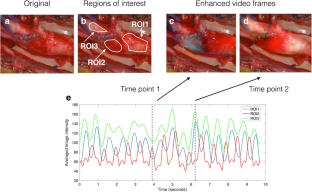 References
1.

Ogasawara K, Mikami C, Inoue T, Ogawa A. Delayed cerebral hyperperfusion syndrome caused by prolonged impairment of cerebrovascular autoregulation after carotid endarterectomy: case report. Neurosurgery. 2004;54(5):1258–1261; discussion 61-2. https://doi.org/10.1227/01.NEU.0000120064.55339.F9.

2.

van Mook WN, Rennenberg RJ, Schurink GW, van Oostenbrugge RJ, Mess WH, Hofman PA, et al. Cerebral hyperperfusion syndrome. Lancet Neurol. 2005;4(12):877–88. https://doi.org/10.1016/S1474-4422(05)70251-9.

3.

Farooq MU, Goshgarian C, Min J, Gorelick PB. Pathophysiology and management of reperfusion injury and hyperperfusion syndrome after carotid endarterectomy and carotid artery stenting. Exp Transl Stroke Med. 2016;8(1):7. https://doi.org/10.1186/s13231-016-0021-2.

4.

Janigro D, West GA, Nguyen TS, Winn HR. Regulation of blood-brain barrier endothelial cells by nitric oxide. Circ Res. 1994;75(3):528–38. https://doi.org/10.1161/01.RES.75.3.528.

5.

Ogasawara K, Inoue T, Kobayashi M, Endo H, Fukuda T, Ogawa A. Pretreatment with the free radical scavenger edaravone prevents cerebral hyperperfusion after carotid endarterectomy. Neurosurgery. 2004;55(5):1060–7. https://doi.org/10.1227/01.NEU.0000140838.27450.63.

6.

Ille O, Woimant F, Pruna A, Corabianu O, Idatte JM, Haguenau M. Hypertensive encephalopathy after bilateral carotid endarterectomy. Stroke. 1995;26(3):488–91. https://doi.org/10.1161/01.STR.26.3.488.

7.

Ascher E, Markevich N, Schutzer RW, Kallakuri S, Jacob T, Hingorani AP. Cerebral hyperperfusion syndrome after carotid endarterectomy: predictive factors and hemodynamic changes. J Vasc Surg. 2003;37(4):769–77. https://doi.org/10.1067/mva.2003.231.

8.

Skydell JL, Machleder HI, Baker JD, Busuttil RW, Moore WS. Incidence and mechanism of post-carotid endarterectomy hypertension. Arch Surg. 1987;122(10):1153–5. https://doi.org/10.1001/archsurg.1987.01400220063013.

9.

Comfere T, Sprung J, Kumar MM, Draper M, Wilson DP, Williams BA, et al. Angiotensin system inhibitors in a general surgical population. Anesth Analg. 2005;100(3):636–644, table of contents. https://doi.org/10.1213/01.ANE.0000146521.68059.A1.

10.

Robinson TG, James M, Youde J, Panerai R, Potter J. Cardiac baroreceptor sensitivity is impaired after acute stroke. Stroke. 1997;28(9):1671–6. https://doi.org/10.1161/01.STR.28.9.1671.

11.

Eames PJ, Blake MJ, Dawson SL, Panerai RB, Potter JF. Dynamic cerebral autoregulation and beat to beat blood pressure control are impaired in acute ischaemic stroke. J Neurol Neurosurg Psychiatry. 2002;72(4):467–72.

12.

Ferrari AU. Modifications of the cardiovascular system with aging. Am J Geriatr Cardiol. 2002;11(1):30–3.

13.

Cacheaux LP, Ivens S, David Y, Lakhter AJ, Bar-Klein G, Shapira M, et al. Transcriptome profiling reveals TGF-beta signaling involvement in epileptogenesis. J Neurosci. 2009;29(28):8927–35. https://doi.org/10.1523/JNEUROSCI.0430-09.2009.

14.

Wadhwa N, Rubinstein M, Durand F, Freeman WT. Phase-based video motion processing. ACM Trans Graph. 2013;32(4):1. https://doi.org/10.1145/2461912.2461966.

15.

Wu HY, Rubinstein M, Shih E, Guttag J, Durand F, Freeman W. Eulerian video magnification for revealing subtle changes in the world. ACM Trans Graph. 2012;31(4):1–8. https://doi.org/10.1145/2185520.2185561.

16.

Benzel EC, Hoppens KD. Factors associated with postoperative hypertension complicating carotid endarterectomy. Acta Neurochir. 1991;112(1–2):8–12. https://doi.org/10.1007/BF01402447.

17.

Bove EL, Fry WJ, Gross WS, Stanley JC. Hypotension and hypertension as consequences of baroreceptor dysfunction following carotid endarterectomy. Surgery. 1979;85(6):633–7.

18.

Newman JE, Bown MJ, Sayers RD, Thompson JP, Robinson TG, Williams B, et al. Post-carotid endarterectomy hypertension. Part 1: association with pre-operative clinical, imaging, and physiological parameters. Eur J Vasc Endovasc Surg. 2017;54(5):551–63. https://doi.org/10.1016/j.ejvs.2017.01.013.

19.

Parsa P, Hodgkiss-Harlow K, Bandyk DF. Interpretation of intraoperative arterial duplex ultrasound testing. Semin Vasc Surg. 2013;26(2–3):105–10. https://doi.org/10.1053/j.semvascsurg.2013.11.003.

20.

Weinstein S, Mabray MC, Aslam R, Hope T, Yee J, Owens C. Intraoperative sonography during carotid endarterectomy: normal appearance and spectrum of complications. J Ultrasound Med. 2015;34(5):885–94. https://doi.org/10.7863/ultra.34.5.885.

21.

Pennekamp CW, Moll FL, De Borst GJ. Role of transcranial Doppler in cerebral hyperperfusion syndrome. J Cardiovasc Surg. 2012;53(6):765–71.
Ethics declarations
Conflicts of Interest
The authors declare that they have no conflict of interest.
Ethical Approval
All procedures performed in studies involving human participants were in accordance with the ethical standards of the institutional and/or national research committee and with the 1964 Helsinki declaration and its later amendments or comparable ethical standards.
Informed Consent
Informed consent was obtained from all participants included in the study.
About this article
Cite this article
Xiao, Y., Rivaz, H., Kasuya, H. et al. Intra-operative Video Characterization of Carotid Artery Pulsation Patterns in Case Series with Post-endarterectomy Hypertension and Hyperperfusion Syndrome. Transl. Stroke Res. 9, 452–458 (2018). https://doi.org/10.1007/s12975-017-0605-8
Received:

Revised:

Accepted:

Published:

Issue Date:
Keywords
Carotid endarterectomy

Image processing

Surgical video

Cerebral hyperperfusion syndrome

Baroreceptor

Hypertension