Abstract
Although paclitaxel-based devices which demonstrated improved outcomes in the treatment of lower-extremity peripheral artery disease (PAD) have been used worldwide, Katsanos et al. reported a systematic review and summary-level meta-analysis of RCTs in which application of paclitaxel-based devices in the femoropopliteal artery was associated with an increased mortality risk. The purpose of this study was to describe the safety of endovascular therapy (EVT) using paclitaxel-coated stents for femoropopliteal disease by evaluating the mortality risk compared with patients treated with paclitaxel-free devices. A retrospective, multicenter, non-randomized study examined 481 de-novo symptomatic PAD patients treated in 13 Japanese medical centers from January 2011 to December 2015. The risk of all-cause mortality was analyzed between the 65 patients treated with a paclitaxel-coated stent (PTX-coated group) and 416 patients treated with an uncoated balloon or bare nitinol stent (PTX-free group). Overall survival of the PTX-coated group and the PTX-free group were compared after propensity score matching. The 2-year overall survival estimates were 87.7% in the PTX-coated group vs 88.7% in the PTX-free group. There were no significant differences in the mortality risk between the groups through a full follow-up of 2 years (p = 0.80). The multivariate cox proportional hazards model identified three significant predictors of mortality; age (HR, 1.08; 95% CI, 1.03–1.13; p = 0.002), hemodialysis (HR, 3.16; 95% CI, 1.34–7.42; p = 0.008), and albumin (g/dl) (HR, 0.46; 95% CI, 0.25–0.85; p = 0.01).
Access options
Buy single article
Instant access to the full article PDF.
US$ 39.95
Tax calculation will be finalised during checkout.
Subscribe to journal
Immediate online access to all issues from 2019. Subscription will auto renew annually.
US$ 79
Tax calculation will be finalised during checkout.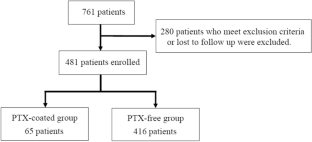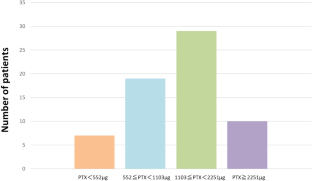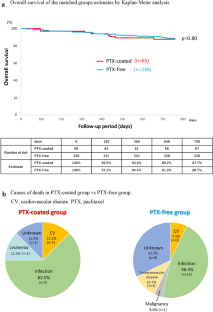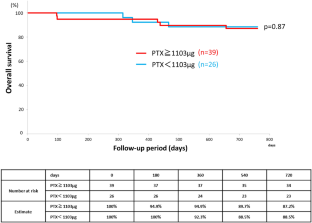 References
1.

Laird JR, Schneider PA, Tepe G, Brodmann M, Zeller T, Metzger C, et al. IN.PACT SFA trial investigators: durability of treatment effect using a drug-coated balloon for femoropopliteal lesions: 24-month results of IN.PACT SFA. J Am Coll Cardiol. 2015;66(21):2329–38.

2.

Rosenfield K, Jaff MR, White CJ, White CJ, Rocha-Singh K, Mena-Hurtado C, et al. LEVANT 2 investigators: trial of a paclitaxel-coated balloon for femoropopliteal artery disease. N Engl J Med. 2015;373(2):145–53.

3.

Katsanos K, Spiliopoulos S, Kitrou P, Krokidis M, Karnabatidis D. Risk of death following application of paclitaxel-coated balloons and stents in the femoropopliteal artery of the leg: a systematic review and meta-analysis of randomized controlled trials. J Am Heart Assoc. 2018;7(24):e011245.

4.

Takahara M, Iida O, Soga Y, Kawasaki D, Fujihara M. Mortality risk of femoropopliteal paclitaxel-coated devices remains inconclusive. Cardiovasc Interv Ther. 2019;34(2):194–5.

5.

Holden A, Varcoe RL, Jaff MR, Schneider PA, Tepe G, Zeller T. Paclitaxel and mortality: the dose argument is critical. J Endovasc Ther. 2019;26(4):467–70.

6.

Norgren L, Hiatt WR, Dormandy JA, Nehler MR, Harris KA, Fowkes FG. TASC II Working Group: inter-society consensus for the management of peripheral arterial disease (TASC II). J Vasc Surg. 2007;45(Suppl S):S5-67.

7.

Rocha-Singh KJ, Zeller T, Jaff MR. Peripheral arterial calcification: prevalence, mechanism, detection, and clinical implications. Catheter Cardiovasc Interv. 2014;83(6):E212-220.

8.

Tepe G, Laird J, Schneider P, Brodmann M, Krishnan P, Micari A, et al. IN.PACT SFA Trial Investigators: Drug coated balloon versus standard percutaneous transluminal angioplasty for the treatment of superficial femoral and/or popliteal peripheral artery disease: 12-month results from the IN. PACT SFA randomized trial. Circulation. 2015;131(5):495–502.

9.

Steiner S, Willfort-Ehringer A, Sievert H, Geist V, Lichtenberg M, Del Giudice C, et al. RANGER SFA investigators: 12-Month results from the first-in-human randomized study of the ranger paclitaxel-coated balloon for femoropopliteal treatment. JACC Cardiovasc Interv. 2018;11(10):934–41.

10.

Scheinert D, Schulte KL, Zeller T, Lammer J, Tepe G. Paclitaxel-releasing balloon in femoropopliteal lesions using a BTHC excipient: twelve-month results from the BIOLUX P-I randomized trial. J Endovasc Ther. 2015;22(1):14–21.

11.

Iida O, Soga Y, Urasawa K, Saito S, Jaff MR, Wang H, et al. MDT-2113 SFA Japan Investigators: drug-coated balloon versus uncoated percutaneous transluminal angioplasty for the treatment of atherosclerotic lesions in the superficial femoral and proximal popliteal artery: 2-year results of the MDT-2113 SFA Japan randomized trial. Catheter Cardiovasc Interv. 2019;93(4):664–72.

12.

Stage TB, Bergmann TK, Kroetz DL. Clinical pharmacokinetics of paclitaxel monotherapy: an updated literature review. Clin Pharmacokinet. 2018;57(1):7–19.

13.

Dake MD, Van Alstine WG, Zhou Q, Ragheb AO. Polymer-free paclitaxel-coated Zilver PTX stents—evaluation of pharmacokinetics and comparative safety in porcine arteries. J Vasc Interv Radiol. 2011;22(5):603–10.

14.

Schneider PA, Laird JR, Doros G, Gao Q, Ansel G, Brodmann M, et al. Mortality not correlated with paclitaxel exposure: an independent patient-level meta-analysis. J Am Coll Cardiol. 2019;73(20):2550–63.

15.

Gray WA, Jaff MR, Parikh SA, Ansel GM, Brodmann M, Krishnan P, et al. Mortality assessment of paclitaxel-coated balloons: patient-level meta-analysis of the ILLUMENATE clinical program at 3 years. Circulation. 2019;140(14):1145–55.

16.

Dake MD, Ansel GM, Jaff MR, Ohki T, Saxon RR, Smouse HB, et al. Zilver PTX Investigators: durable clinical effectiveness with paclitaxel-eluting stents in the femoropopliteal artery 5-year results of the Zilver PTX randomized trial. Circulation. 2016;133(15):1472–83.

17.

Katsuki T, Takahara M, Soga Y, Okamoto S, Iida O, Fujihara M, et al. Mortality risk following application of a paclitaxel-coated stent in femoropopliteal lesions. J Endovasc Ther. 2019;26(5):593–9.

18.

Soga Y, Iida O, Hirano K, Yokoi H, Nanto S, Nobuyoshi M. Mid-term clinical outcome and predictors of vessel patency after femoropopliteal stenting with self-expandable nitinol stent. J Vasc Surg. 2010;52(3):608–15.

19.

Masakane I, Nakai S, Ogata S, Kimata N, Hanafusa N, Hamano T, et al. An overview of regular dialysis treatment in Japan (as of 31 December 2013). Ther Apher Dial. 2015;19(6):540–74.

20.

Nakano M, Hirano K, Iida O, Soga Y, Kawasaki D, Suzuki K, et al. Prognosis of critical limb ischemia in hemodialysis patients after isolated infrapopliteal balloon angioplasty: results from the Japan below-the-knee artery treatment (J-BEAT) registry. J Endovasc Ther. 2013;20(1):113–24.

21.

Ancion A, Allepaerts S, Oury C, Gori AS, Pierard LA, Lancellotti P. Serum albumin level and hospital mortality in acute non-ischemic heart failure. ESC Heart Fail. 2017;4(2):138–45.

22.

Shirakabe A, Hata N, Kobayashi N, Okazaki H, Matsushita M, Shibata Y, et al. The prognostic impact of malnutrition in patients with severely decompensated acute heart failure, as assessed using the Prognostic Nutritional Index (PNI) and Controlling Nutritional Status (CONUT) score. Heart Vessels. 2018;33(2):134–44.

23.

Gonzalez L, Kassem M, Owora AH, Seligson MT, Richards CY, Monita MM, et al. Frailty and biomarkers of frailty predict outcome in veterans after open and endovascular revascularization. J Surg Res. 2019;243:539–52.
Ethics declarations
Conflict of interest
The authors declare no association with any individual, company, or organization having a vested interest in the subject matter/products mentioned in this article.
Human rights and ethical standards
This study was approved by the ethics committee of each hospital and written informed consents were obtained from patients.
Additional information
Publisher's Note
Springer Nature remains neutral with regard to jurisdictional claims in published maps and institutional affiliations.
About this article
Cite this article
Tan, M., Urasawa, K., Haraguchi, T. et al. Mortality risk after use of a paclitaxel-coated stent in femoropopliteal peripheral artery disease. Cardiovasc Interv and Ther (2021). https://doi.org/10.1007/s12928-020-00744-5
Received:

Accepted:

Published:
Keywords
Drug-coated stent

Endovascular therapy

Mortality

Paclitaxel

Peripheral artery disease