Abstract
We aimed to identify predictors of late lumen enlargement (LLE) after drug-coated balloon (DCB) angioplasty for de novo coronary lesions. LLE, which is defined as an increase in the luminal diameter of the vessel from the immediate postprocedural measurement to follow-up measurements, is frequently observed after DCB angioplasty for de novo coronary artery disease. No predictors of LLE are known. This retrospective observational study analyzed 196 de novo coronary lesions in 182 patients who underwent both DCB angioplasty and follow-up angiography. Of the 196 lesions, 109 (56%) developed LLE during a mean follow-up period of 7.2 ± 2.5 months. As defined by American College of Cardiology (ACC)/American Heart Association (AHA) lesion types, lesions with LLE were significantly less severe than lesions without LLE (types A, B1, B2 and C 15%, 35%, 38% and 13% vs. 7%, 24%, 45% and 24%, respectively; p = 0.036), although no significant differences in clinical or other lesion background characteristics were observed between the groups. Among type C lesions, chronic total occlusion (CTO) was more frequently observed in lesions with LLE than in lesions without LLE (79% vs 43%, p = 0.036). Lesion severity predicts LLE after DCB angioplasty for de novo coronary artery disease. Among type C lesions, CTO is expected in lesions showing LLE, and preparations should therefore be made prior to DCB application. Further research is needed.
This is a preview of subscription content, log in to check access.
Access options
Buy single article
Instant access to the full article PDF.
US$ 39.95
Tax calculation will be finalised during checkout.
Subscribe to journal
Immediate online access to all issues from 2019. Subscription will auto renew annually.
US$ 79
Tax calculation will be finalised during checkout.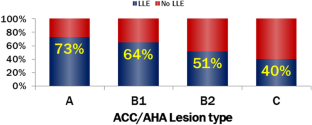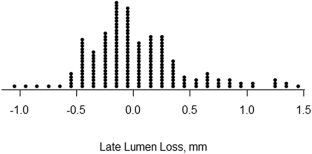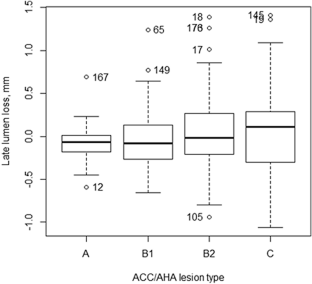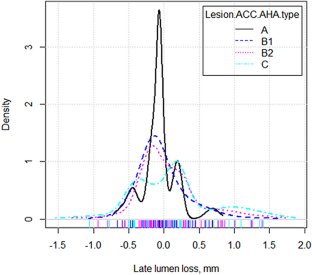 References
1.

Scheller B, Fischer D, Clever YP, Kleber FX, Speck U, Bohm M, et al. Treatment of a coronary bifurcation lesion with drug-coated balloons: lumen enlargement and plaque modification after 6 months. Clin Res Cardiol. 2013;102:469–72.

2.

Kleber FX, Schulz A, Waliszewski M, Hauschild T, Bohm M, Dietz U, et al. Local paclitaxel induces late lumen enlargement in coronary arteries after balloon angioplasty. Clin Res Cardiol. 2015;104:217–25.

3.

Funatsu A, Nakamura S, Inoue N, Nanto S, Nakamura M, Iwabuchi M, et al. A multicenter randomized comparison of paclitaxel-coated balloon with plain balloon angioplasty in patients with small vessel disease. Clin Res Cardiol. 2017;106:824–32.

4.

Onishi T, Onishi Y, Kobayashi I, Umezawa S, Niwa A. Drug-coated balloon angioplasty for de novo small vessel disease including chronic total occlusion and bifurcation in real-world clinical practice. Cardiovasc Interv Ther. 2019;34:139–48.

5.

Funatsu A, Kobayashi T, Mizobuchi M, Nakamura S. Clinical and angiographic outcomes of coronary dissection after paclitaxel-coated balloon angioplasty for small vessel coronary artery disease. Cardiovasc Interv Ther. 2019;34:317–24.

6.

Kleber FX, Mathey DG, Rittger H, Scheller B, German Drug-eluting Balloon Consensus G. How to use the drug-eluting balloon: recommendations by the German consensus group. EuroIntervention. 2011;7(Suppl K):K125–K128128.

7.

Cortese B, Berti S, Biondi-Zoccai G, Colombo A, Limbruno U, Bedogni F, et al. Drug-coated balloon treatment of coronary artery disease: a position paper of the Italian Society of Interventional Cardiology. Catheter Cardiovasc Interv. 2014;83:427–35.

8.

Huber MS, Mooney JF, Madison J, Mooney MR. Use of a morphologic classification to predict clinical outcome after dissection from coronary angioplasty. Am J Cardiol. 1991;68:467–71.

9.

Rissanen TT, Uskela S, Siljander A, Karkkainen JM, Mantyla P, Mustonen J, et al. Percutaneous coronary intervention of complex calcified lesions with drug-coated balloon after rotational atherectomy. J Interv Cardiol. 2017;30:139–46.

10.

Ueno K, Morita N, Kojima Y, Takahashi H, Kawasaki M, Ito R, et al. Safety and long-term efficacy of drug-coated balloon angioplasty following rotational atherectomy for severely calcified coronary lesions compared with new generation drug-eluting stents. J Interv Cardiol. 2019;2019:9094178.

11.

Nagai T, Mizobuchi M, Funatsu A, Kobayashi T, Nakamura S. Acute and mid-term outcomes of drug-coated balloon following rotational atherectomy. Cardiovasc Interv Ther. 2019;35:242–9.

12.

Sato A, Kijima M, Ichimura S, Yaegashi D, Anzai F, Shimizu T, et al. Short-term outcome of percutaneous coronary intervention with directional coronary atherectomy followed by drug-coated balloon: a preliminary report. Cardiovasc Interv Ther. 2019;34:149–54.

13.

Koln PJ, Scheller B, Liew HB, Rissanen TT, Ahmad WA, Weser R, et al. Treatment of chronic total occlusions in native coronary arteries by drug-coated balloons without stenting—a feasibility and safety study. Int J Cardiol. 2016;225:262–7.
Acknowledgements
We would like to express our gratitude to the staff members of our department and to our radiology technicians, medical engineering staff and nurses, all of whom support our daily clinical practice.
Ethics declarations
Conflict of interest
The authors have no conflicts of interest to declare.
Additional information
Publisher's Note
Springer Nature remains neutral with regard to jurisdictional claims in published maps and institutional affiliations.
Electronic supplementary material
Below is the link to the electronic supplementary material.
About this article
Cite this article
Onishi, T., Onishi, Y., Kobayashi, I. et al. Late lumen enlargement after drug-coated balloon angioplasty for de novo coronary artery disease. Cardiovasc Interv and Ther (2020). https://doi.org/10.1007/s12928-020-00690-2
Received:

Accepted:

Published:
Keywords
Drug-coated balloon

Coronary artery disease

Late lumen enlargement