Abstract
The technical outcome of poor distal vessel quality (PDV) on chronic total occlusion (CTO) percutaneous coronary intervention (PCI) is yet to be clearly elucidated. PDV has not been evaluated in scoring systems. We examined 193 consecutive CTO–PCIs performed in January 2013–December 2017. The endpoint, including the technical outcomes in these patients between with and without PDV, was analyzed. Moreover, we re-evaluated the predictors for CTO–PCI difficulty according to Japan-CTO score. Out of 193 CTO–PCIs, 181 (93.8%) achieved technical success [including 101 (55.8%) with and 80 (44.2%) without PDV]. In patients with and without PDV, the success rates of guidewire crossing using only the antegrade technique were 46.5% vs. 83.8%, respectively (p < 0.0001) and using the retrograde approach were 53.5% vs. 16.3%, respectively (p < 0.0001). Moreover, there were 56 non-interventional collateral channels in 181 patients. The successful rate of primary antegrade approach was significantly lower and the rate of a rescue retrograde approach was significantly higher with PDV (37.2% vs. 62.8%, 76.9% vs. 23.1%, respectively; p < 0.0119). Significant predictors associated with successful guidewire crossings of ≤ 30 min included blunt stump, calcification, bending, occlusion length ≥ 20 mm, retry lesion following Japan-CTO score, and PDV (p < 0.05, all). Multivariate analyses demonstrated that blunt stump, calcification, bending, retry lesion, and PDV were independent predictors of unsuccessful guidewire crossing of ≤ 30 min (odds ratio [OR] 0.31, 95% confidence interval [CI] 0.13–0.71, p = 0.0039; OR 0.34, 95% CI 0.16–0.71, p = 0.0035; OR 0.17, 95% CI 0.05–0.60, p = 0.0034; OR 0.18, 95% CI 0.06–0.54, p = 0.0008; and OR 0.19, 95% CI 0.09–0.41, p < 0.0001, respectively). PDV could affect the technical outcome of CTO–PCI.
Access options
Buy single article
Instant access to the full article PDF.
US$ 39.95
Tax calculation will be finalised during checkout.
Subscribe to journal
Immediate online access to all issues from 2019. Subscription will auto renew annually.
US$ 79
Tax calculation will be finalised during checkout.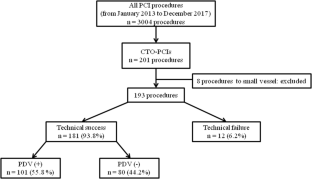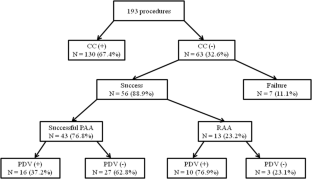 Abbreviations
PDV:

Poor distal vessel quality

ADR:

Antegrade dissection reentry

CART:

Controlled antegrade and retrograde subintimal tracking

CTO:

Chronic total occlusion

IVUS:

Intravascular ultrasound

J-CTO:

Japan-CTO

PCI:

Percutaneous coronary intervention

RCART:

Reverse CART

TIMI:

Thrombolysis in myocardial infarction

CC:

Interventional collateral channel

PAA:

Primary antegrade approach

RRA:

Rescue retrograde approach
References
1.

Grantham JA, Jones PG, Cannon L, Spertus JA. Quantifying the early health status benefits of successful chronic total occlusion recanalization: results from the Flow Cardia's Approach to Chronic Total Occlusion Recanalization (FACTOR) Trial. Circ Cardiovasc Qual Outcomes. 2010;3:284–90.

2.

Mehran R, Claessen BE, Godino C, Dangas GD, Obunai K, Kanwal S, et al. Long-term outcome of percutaneous coronary intervention for chronic total occlusions. JACC Cardiovasc Interv. 2011;4:952–61.

3.

George S, Cockburn J, Clayton TC, Ludman P, Cotton J, Spratt J, et al. Long-term follow-up of elective chronic total coronary occlusion angioplasty: analysis from the UK Central Cardiac Audit Database. J Am Coll Cardiol. 2014;64:235–43.

4.

Teramoto T, Tsuchikane E, Yamamoto M, Matsuo H, Kawase Y, Suzuki Y, et al. Successful revascularization improves long-term clinical outcome in patients with chronic coronary total occlusion. Int J Cardiol Heart Vasc. 2016;14:28–322.

5.

Mitsudo K, Yamashita T, Asakura Y, Muramatsu T, Doi O, Shibata Y, et al. Recanalization strategy for chronic total occlusions with tapered and stiff-tip guidewire The results of CTO new technique for standard procedure (CONQUEST) trial. J Invasive Cardiol. 2008;20:571–7.

6.

Kimura M, Katoh O, Tsuchikane E, Nasu K, Kinoshita Y, Ehara M, et al. The efficacy of a bilateral approach for treating lesions with chronic total occlusions the CART (controlled antegrade and retrograde subintimal tracking) registry. JACC Cardiovasc Interv. 2009;2:1135–41.

7.

Tsuchikane E, Katoh O, Kimura M, Nasu K, Kinoshita Y, Suzuki T. The first clinical experience with a novel catheter for collateral channel tracking in retrograde approach for chronic coronary total occlusions. JACC Cardiovasc Interv. 2010;3:165–71.

8.

Morino Y, Abe M, Morimoto T, Kimura T, Hayashi Y, Muramatsu T, et al. Predicting successful guidewire crossing through chronic total occlusion of native coronary lesions within 30 min: the J-CTO (Multicenter CTO Registry in Japan) score as a difficulty grading and time assessment tool. JACC Cardiovasc Interv. 2011;4:213–21.

9.

Christopoulos G, Kandzari DE, Yeh RW, Jaffer FA, Karmpaliotis D, Wyman MR, et al. Development and validation of a novel scoring system for predicting technical success of chronic total occlusion percutaneous coronary interventions: the PROGRESS CTO (Prospective Global Registry for the Study of Chronic Total Occlusion Intervention) score. JACC Cardiovasc Interv. 2016;9:1–9.

10.

Szijgyarto Z, Rampat R, Werner GS, Ho C, Reifart N, Lefevre T, et al. Derivation and validation of a chronic total coronary occlusion intervention procedural success score from the 20,000-patient EuroCTO Registry: the EuroCTO (CASTLE) Score. JACC Cardiovasc Interv. 2019;12:335–42.

11.

Harding SA, Wu EB, Lo S, Lim ST, Ge L, Chen JY, et al. New algorithm for crossing chronic total occlusions from the Asia Pacific Chronic Total Occlusion Club. JACC Cardiovasc Interv. 2017;10:2135–43.

12.

Maeremans J, Walsh S, Knaapen P, Spratt JC, Avran A, Hanratty CG, et al. The hybrid algorithm for treating chronic total occlusions in Europe: the RECHARGE Registry. J Am Coll Cardiol. 2016;68:1958–70.

13.

Suzuki Y, Tsuchikane E, Katoh O, Muramatsu T, Muto M, Kishi K, et al. Outcomes of percutaneous coronary interventions for chronic total occlusion performed by highly experienced Japanese Specialists: the first report from the Japanese CTO-PCI expert registry. JACC Cardiovasc Interv. 2017;10:2144–54.

14.

Di Mario C, Werner GS, Sianos G, Galassi AR, Büttner J, Dudek D, et al. European perspective in the recanalisation of Chronic Total Occlusions (CTO): consensus document from the EuroCTO Club. EuroIntervention. 2007;3:30–433.

15.

Werner GS, Ferrari M, Heinke S, Kuethe F, Surber R, Richartz BM, et al. Angiographic assessment of collateral connections in comparison with invasively determined collateral function in chronic coronary occlusions. Circulation. 2003;107:1972–7.

16.

Huang CC, Lee CK, Meng SW, Hung CS, Chen YH, Lin MS, et al. Collateral channel size and tortuosity predict retrograde percutaneous coronary intervention success for chronic total occlusion. Circ Cardiovasc Interv. 2018;11:e005124.

17.

Suzuki Y, Muto M, Yamane M, Muramatsu T, Okamura A, Igarashi Y, et al. Independent predictors of retrograde failure in CTO-PCI after successful collateral channel crossing. Catheter Cardiovasc Interv. 2017;90:E11–E18.

18.

Suzuki T, Hosokawa H, Yokoya K, Kojima A, Kinoshita Y, Miyata S, et al. Time-dependent morphologic characteristics in angiographic chronic total coronary occlusions. Am J Cardiol. 2001;88(167–169):A5–6.
Acknowledgements
We thank all participants and coauthors in this study.
Ethics declarations
Conflict of interest
The authors declare no conflicts of interest.
Additional information
Publisher's Note
Springer Nature remains neutral with regard to jurisdictional claims in published maps and institutional affiliations.
About this article
Cite this article
Ochiumi, Y., Suzuki, Y., Murata, A. et al. The evaluation of technical outcome and wire manipulation time within 30 min in patients with poor distal vessel quality on percutaneous coronary intervention for chronic total occlusion. Cardiovasc Interv and Ther 36, 67–73 (2021). https://doi.org/10.1007/s12928-020-00647-5
Received:

Accepted:

Published:

Issue Date:
Keywords
Chronic total occlusion

Poor distal vessel quality

Technical outcome