Abstract
Calcified lesions still remain a technical challenge even in the treatment of infrainguinal artery disease. The aim of this retrospective, multicenter observational study was to investigate interventional outcomes of a high-speed rotational atherectomy device (Rotablator™) and to compare clinical outcomes in patients who underwent Rotablator and those who did not even after failed balloon angioplasty because of underlying calcified lesions. This study enrolled patients who underwent Rotablator (Rota group) and those who did not (Non-rota group) between January 2010 and 2014 December at 12 hospitals. A total of 67 limbs and 68 lesions in 65 patients were included (Rota group; 54 limbs and 55 lesions in 52 patients, Non-rota group; 13 limbs and 13 lesions in 13 patients). In the Rota group, a technical success rate was 94.5% with a complication rate of 1.8%, and all lesions underwent subsequent postdilatation following the adjunctive use of Rotablator, and approximately half of above-the-knee lesions underwent stent implantation. The Rota group had a significantly lower clinically driven reintervention rate at 12 months than the Non-rota group (26.5% vs. 58.3%, respectively, p = 0.046). In addition, Rota group showed a trend toward a higher amputation-free survival compared to the Non-rota group at 1 month (Rota; 98.0% vs. Non-rota; 84.6%, respectively, p = 0.10). Rotablator was used as an adjunctive device with a high technical success and a low complication rates, and Patients who underwent Rotablator yielded a significantly lower clinically driven reintervention rate at 12 months compared to those who did not even after failed balloon angioplasty.
Access options
Buy single article
Instant access to the full article PDF.
US$ 39.95
Tax calculation will be finalised during checkout.
Subscribe to journal
Immediate online access to all issues from 2019. Subscription will auto renew annually.
US$ 79
Tax calculation will be finalised during checkout.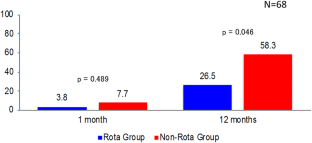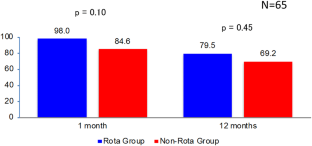 References
1.

Kawarada O, Zen K, Hozawa K, Ayabe S, Huang HL, Choi D, et al. Contemporary critical limb ischemia: Asian multidisciplinary consensus statement on the collaboration between endovascular therapy and wound care. Cardiovasc Interv Ther. 2018;33:297–312.

2.

Tomy M, Kini AS, Sharma SK. Current status of rotational atherectomy. J Am Coll Cardiol Interv. 2014;7:345–53.

3.

Fukuda K, Yokoi Y. Application of rotational atherectomy for a calcified superficial femoral artery lesion. Cardiovasc Interv Ther. 2015;30:351–5.

4.

Schwarzwälder U, Zeller T. Below-the-knee revascularization. Advanced techniques. J Cardiovasc Surg. 2009;50:627–34.

5.

Zacca NM, Raizner AE, Noon GP, Short D 3rd, Weilbaecher D, Gotto A Jr, et al. Treatment of symptomatic peripheral atherosclerotic disease with a rotational atherectomy device. Am J Cardiol. 1989;63:77–80.

6.

White CJ, Ramee SR, Escobar A, Jain S, Collins TJ. High-speed rotational ablation (Rotablator) for unfavorable lesions in peripheral arteries. Cathet Cardiovasc Diagn. 1993;30:115–9.

7.

Dorros G, Iyer S, Zaitoun R, Lewin R, Cooley R, Olson K. Acute angiographic and clinical outcome of high speed percutaneous rotational atherectomy (Rotablator). Cathet Cardiovasc Diagn. 1991;22:157–66.

8.

The Collaborative Rotablator Atherectomy Group (CRAG). Peripheral atherectomy with the rotablator: a multicenter report. J Vasc Surg. 1994;19:509–15.

9.

Henry M, Amor M, Ethevenot G, Henry I, Allaoui M. Percutaneous peripheral atherectomy using the rotablator: a single-center experience. J Endovasc Surg. 1995;2:51–66.

10.

Myers KA, Denton MJ. Infrainguinal atherectomy using the Auth Rotablator: patency rates and clinical success for 36 procedures. J Endovasc Surg. 1995;2:67–73.

11.

Mahmud E, Keramati S, Salami A, Palakodeti V, Tsimikas S. Expanded applications of rotational atherectomy in contemporary coronary and peripheral interventional practice. J Invasive Cardiol. 2005;17:207–10.

12.

Schwarzwälder U, Zeller T. Debulking procedures: potential device specific indications. Tech Vasc Interv Radiol. 2010;13:43–53.
Acknowledgements
This study was partially supported by Endovascular Asia, a nonprofit physician education and research meeting.
Ethics declarations
Conflict of interest
Osami Kawarada reports honorarium of lectures and advisory board fees from Boston Scientific Corporation.
Additional information
Publisher's Note
Springer Nature remains neutral with regard to jurisdictional claims in published maps and institutional affiliations.
About this article
Cite this article
Yamamoto, Y., Kawarada, O., Ando, H. et al. Effects of high-speed rotational atherectomy in peripheral artery disease patients with calcified lesions: a retrospective multicenter registry. Cardiovasc Interv and Ther 35, 393–397 (2020). https://doi.org/10.1007/s12928-020-00643-9
Received:

Accepted:

Published:

Issue Date:
Keywords
Rotablator

Peripheral artery disease

Calcification