This is a preview of subscription content, log in to check access.
Access options
Buy single article
Instant access to the full article PDF.
US$ 39.95
Price includes VAT for USA
Subscribe to journal
Immediate online access to all issues from 2019. Subscription will auto renew annually.
US$ 99
This is the net price. Taxes to be calculated in checkout.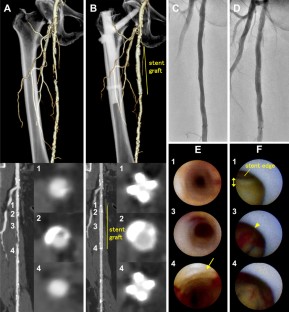 References
1.

Lammer J, Zeller T, Hausegger KA, Schaefer PJ, Gschwendtner M, Mueller-Huelsbeck S, et al. Heparin-bonded covered stents versus bare-metal stents for complex femoropopliteal artery lesions: the randomized VIASTAR trial [Viabahn endoprosthesis with PROPATEN bioactive surface (VIA) versus bare nitinol stent in the treatment of long lesions in superficial femoral artery occlusive disease]. J Am Coll Cardiol. 2013;62:1320–7.

2.

Ishihara T, Iida O, Awata M, Nanto K, Shiraki T, Okamoto S, et al. Extensive arterial repair one year after paclitaxel-coated nitinol drug-eluting stent vs. bare-metal stent implantation in the superficial femoral artery. Cardiovasc Interv Ther. 2015;30:51–6.

3.

Al-Hakim R, Lee EW, Kee ST, Seals K, Varghese B, Chien A, et al. Hemodynamic analysis of edge stenosis in peripheral artery stent grafts. Diagn Interv Imaging. 2017;98:729–35.
Acknowledgements
We would like to express our gratitude to Mr. John Martin for his grammatical assistance.
Additional information
Publisher's Note
Springer Nature remains neutral with regard to jurisdictional claims in published maps and institutional affiliations.
Electronic supplementary material
Below is the link to the electronic supplementary material.
Movie 1: follow-up angioscopy in the middle of the Viabahn. A continuous angioscopic video image while pulling back in the vessel from distal to proximal detects yellow plaques seen through the expanded polytetrafluoroethylene and mural thrombi without neointima coverage
Movie 2: follow-up angioscopy at the proximal edge of the Viabahn. A continuous angioscopic video image while pulling back in the vessel from distal to proximal detects mural thrombi without neointima coverage, and a small gap between the proximal stent edge and luminal vessel wall
About this article
Cite this article
Nishimoto, Y., Fukuhara, R., Toma, M. et al. Vascular responses to a Viabahn stent graft: evaluation with computed tomographic angiography, angiography, and angioscopy. Cardiovasc Interv and Ther 34, 390–392 (2019). https://doi.org/10.1007/s12928-018-0562-5
Received:

Accepted:

Published:

Issue Date: