Abstract
As precision medicine approaches are implemented, cancer treatment decisions have come to require comprehension of genetic tests and their role in risk stratification and treatment options. Acceptance and implementation of precision medicine requires patient understanding of numeracy, genetic literacy, health literacy, and medical trust. Implementing precision medicine in a US federally qualified community health center (FQCHC) setting has received little attention. Using a mixed-methods approach, we sought to identify patient-level factors influencing the understanding of cancer risk and precision medicine among FQCHC patients. We enrolled 26 English-speaking adults aged 40–79 years. Participants enrolled in focus groups and completed surveys to assess patient-level understanding of precision medicine, numeracy, and health literacy. The majority of participants were female (77%) and self-identified as African American (89%). Approximately one-third reported having a high school degree or less. While health literacy was generally high, 42% felt that genes or genetics had little impact on health and most (69%) reported little familiarity with precision medicine. Many participants reported that trust in their providers was extremely or very important when receiving genetic tests. Numeracy levels were moderate, with nearly half reporting some discomfort working with fractions and 38% finding numerical information only occasionally useful. Findings suggest that patients may lack familiarity with precision medicine concepts relevant for understanding cancer treatment decisions. Future educational efforts may help bridge the gap in patient understanding and facilitate equitable opportunities for precision medicine for all patients, including those seeking care from community health centers.
Access options
Buy single article
Instant access to the full article PDF.
USD 39.95
Price excludes VAT (USA)
Tax calculation will be finalised during checkout.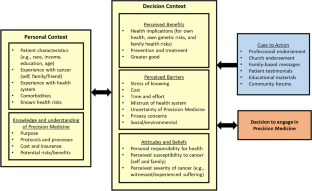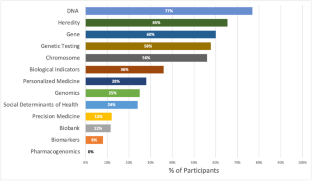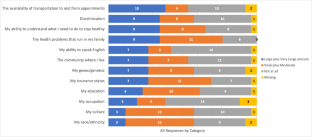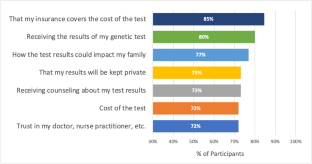 References
Ademuyiwa FO, Patricia Salyer Yu, Tao JL, Hensing WL, Afolalu A, Peterson LL, Weilbaecher K, Housten AJ, Baumann AA, Desai M, Jones S, Linnenbringer E, Plichta J, Bierut L (2021) Genetic counseling and testing in african american patients with breast cancer: a nationwide survey of US breast oncologists. J Clin Oncol: Off J Am Soc Clin Oncol 39(36):4020–4028. https://doi.org/10.1200/JCO.21.01426

Azungah T (2018) Qualitative research: deductive and inductive approaches to data analysis. Qual Res J 18(4):383–400. https://doi.org/10.1108/QRJ-D-18-00035

Beans JA, Brian Woodbury R, Wark KA, Hiratsuka VY, Spicer P (2020) Perspectives on precision medicine in a tribally managed primary care setting. AJOB Empirical Bioethics 11(4):246–256. https://doi.org/10.1080/23294515.2020.1817172

Berger MF, Mardis ER (2018) The emerging clinical relevance of genomics in cancer medicine. Nat Rev Clin Oncol 15(6):353–365. https://doi.org/10.1038/s41571-018-0002-6

Blom EF, ten Haaf K, Arenberg DA, de Koning HJ (2020) Disparities in receiving guideline-concordant treatment for lung cancer in the United States. Ann Am Thorac Soc 17(2):186–194. https://doi.org/10.1513/AnnalsATS.201901-094OC

Canedo JR, Miller ST, Myers HF, Sanderson M (2019) Racial and ethnic differences in knowledge and attitudes about genetic testing in the US: systematic review. J Genet Couns 28(3):587–601. https://doi.org/10.1002/jgc4.1078

Canedo JR, Wilkins CH, Senft N, Romero A, Bonnet K, Schlundt D (2020) Barriers and facilitators to dissemination and adoption of precision medicine among Hispanics/Latinos. BMC Public Health 20(1):603. https://doi.org/10.1186/s12889-020-08718-1

Chakkalakal RJ, Venkatraman S, White RO, Kripalani S, Rothman R, Wallston K (2017) Validating health literacy and numeracy measures in minority groups. Health Lit Res Practic 1(2):e23-30. https://doi.org/10.3928/24748307-20170329-01

Chakravarthy R, Stallings SC, Williams M, Hollister M, Davidson M, Canedo J, Wilkins CH (2020) Factors influencing precision medicine knowledge and attitudes. PLoS ONE 15(11):e0234833. https://doi.org/10.1371/journal.pone.0234833

Chew LD, Bradley KA, Boyko EJ (2004) Brief questions to identify patients with inadequate health literacy. Fam Med 36(8):588–594

Collymore DC, Kobilis SL, Lundquist TG, McGivney WT, Pezalla EJ, Poage W (2016) Genomic testing in oncology to improve clinical outcomes while optimizing utilization: the evolution of diagnostic testing. Am J Manag Care 22(2 Suppl):s20-25

Cragun D, Weidner A, Lewis C, Bonner D, Kim J, Vadaparampil ST, Pal T (2017) Racial disparities in BRCA testing and cancer risk management across a population-based sample of young breast cancer survivors. Cancer 123(13):2497–2505. https://doi.org/10.1002/cncr.30621

Ellis L, Canchola AJ, Spiegel D, Ladabaum U, Haile R, Gomez SL (2018) Racial and ethnic disparities in cancer survival: the contribution of tumor, sociodemographic, institutional, and neighborhood characteristics. J Clin Oncol: Off J Am Soc Clin Oncol 36(1):25–33. https://doi.org/10.1200/JCO.2017.74.2049

Fereday J, Muir-Cochrane E (2006) Demonstrating rigor using thematic analysis: a hybrid approach of inductive and deductive coding and theme development. Int J Qual Methods 5(1):80–92. https://doi.org/10.1177/160940690600500107

Ferryman, Kadija, and Mikaela Pitcan (2018) "Fairness in precision medicine." Data & Society. Retrieved September 8, 2021 (https://datasociety.net/library/fairness-in-precision-medicine/).

Fetters MD, Curry LA, Creswell JW (2013) Achieving integration in mixed methods designs-principles and practices. Health Serv Res 48(6 Pt 2):2134–2156. https://doi.org/10.1111/1475-6773.12117

Flaherty KT, Gray RJ, Chen AP, Li S, McShane LM, Patton D, Hamilton SR, Mickey Williams P, John Iafrate A, Sklar J, Mitchell EP, Harris LN, Takebe N, Sims DJ, Coffey B, Tony Fu, Routbort M, Zwiebel JA, Rubinstein LV, Little RF, Arteaga CL, Comis R, Abrams JS, O'Dwyer PJ, Conley BA (2020) Molecular landscape and actionable alterations in a genomically guided cancer clinical trial: National Cancer Institute Molecular Analysis for Therapy Choice (NCI-MATCH). J Clin Oncol 38(33):3883–3894. https://doi.org/10.1200/JCO.19.03010

Gambardella V, Tarazona N, Cejalvo JM, Lombardi P, Huerta M, Roselló S, Fleitas T, Roda D, Cervantes A (2020) Personalized medicine: recent progress in cancer therapy. Cancers 12(4):1009. https://doi.org/10.3390/cancers12041009

Geneviève LD, Martani A, Shaw D, Elger BS, Wangmo T (2020) Structural racism in precision medicine: leaving no one behind. BMC Med Ethics 21:17. https://doi.org/10.1186/s12910-020-0457-8

Haslem DS, Burke Van Norman S, Fulde G, Knighton AJ, Belnap T, Butler AM, Rhagunath S, Newman D, Gilbert H, Tudor BP, Lin K, Stone GR, Loughmiller DL, Mishra PJ, Srivastava R, Ford JM, Nadauld LD (2017) A retrospective analysis of precision medicine outcomes in patients with advanced cancer reveals improved progression-free survival without increased health care costs. J Oncol Practic 13(2):e108–e119. https://doi.org/10.1200/JOP.2016.011486

Haun J, Luther S, Dodd V, Donaldson P (2012) Measurement variation across health literacy assessments: implications for assessment selection in research and practice. J Health Commun 17(Suppl 3):141–159. https://doi.org/10.1080/10810730.2012.712615

Herbst RS, Gandara DR, Hirsch FR, Redman MW, LeBlanc M, Mack PC, Schwartz LH, Vokes E, Ramalingam SS, Bradley JD, Sparks D, Zhou Y, Miwa C, Miller VA, Yelensky R, Li Y, Allen JD, Sigal EV, Wholley D, Sigman CC, Blumenthal GM, Malik S, Kelloff GJ, Abrams JS, Blanke CD, Papadimitrakopoulou VA (2015) Lung master protocol (Lung-MAP)-a biomarker-driven protocol for accelerating development of therapies for squamous cell lung cancer: SWOG S1400. Clin Cancer Res: Off J Am Assoc Cancer Res 21(7):1514–1524. https://doi.org/10.1158/1078-0432.CCR-13-3473

Hillyer GC, Schmitt KM, Reyes A, Cruz A, Lizardo M, Schwartz GK, Terry MB (2020) Community education to enhance the more equitable use of precision medicine in Northern Manhattan. J Genet Couns 29(2):247–258. https://doi.org/10.1002/jgc4.1244

Kripalani S, Heerman WJ, Patel NJ, Jackson N, Goggins K, Rothman RL, Yeh VM, Wallston KA, Smoot DT, Wilkins CH (2019) Association of health literacy and numeracy with interest in research participation. J Gen Intern Med 34(4):544–551. https://doi.org/10.1007/s11606-018-4766-2

Kutner, Mark, Elizabeth Greenberg, Ying Jin, and Christine Paulsen (2006) "The health literacy of America's adults: results from the 2003 National Assessment of Adult Literacy." Retrieved December 1, 2022 (https://nces.ed.gov/pubsearch/pubsinfo.asp?pubid=2006483).

Lewis KL, Heidlebaugh AR, Epps S, Han PKJ, Fishler KP, Klein WMP, Miller IM, Ng D, Hepler C, Biesecker BB, Biesecker LG (2019) Knowledge, motivations, expectations, and traits of an African, African-American, and Afro-Caribbean sequencing cohort and comparisons to the original ClinSeq® Cohort. Genet Med: Off J American Coll Med Genet 21(6):1355–1362. https://doi.org/10.1038/s41436-018-0341-9

Lin JJ, Mhango G, Wall MM, Lurslurchachai L, Bond KT, Nelson JE, Berman AR, Salazar-Schicchi J, Powell C, Keller SM, Halm EA, Leventhal H, Wisnivesky JP (2014) Cultural factors associated with racial disparities in lung cancer care. Ann Am Thorac Soc 11(4):489–495. https://doi.org/10.1513/AnnalsATS.201402-055OC

McNaughton CD, Cavanaugh KL, Kripalani S, Rothman RL, Wallston KA (2015a) Validation of a short, 3-item version of the Subjective Numeracy Scale. Med Decis Making : Int J Soc Med Decis Making 35(8):932–936. https://doi.org/10.1177/0272989X15581800

McNaughton CD, Cawthon C, Kripalani S, Liu D, Storrow AB, Roumie CL (2015b) Health literacy and mortality: a cohort study of patients hospitalized for acute heart failure. J Am Heart Assoc 4(5):e001799. https://doi.org/10.1161/JAHA.115.001799

Neroda P, Hsieh M-C, Xiao-Cheng W, Cartmell KB, Mayo R, Jiande W, Hicks C, Zhang L (2021) Racial disparity and social determinants in receiving timely surgery among stage I-IIIA non-small cell lung cancer patients in a US Southern State. Frontiers Public Health 9:662876. https://doi.org/10.3389/fpubh.2021.662876

Paasche-Orlow MK, Parker RM, Gazmararian JA, Nielsen-Bohlman LT, Rudd RR (2005) The prevalence of limited health literacy. J Gen Intern Med 20(2):175–184. https://doi.org/10.1111/j.1525-1497.2005.40245.x

Politi K, Herbst RS (2015) Lung cancer in the era of precision medicine. Clin Cancer Res : Off J Am Assoc Cancer Res 21(10):2213–2220. https://doi.org/10.1158/1078-0432.CCR-14-2748

Rosas LG, Nasrallah C, Park VT, Vasquez JJ, Duron Y, Garrick O, Hattin R, Cho M, David SP, Evans J, McClinton-Brown R, Martin C (2020) Perspectives on precision health among racial/ethnic minority communities and the physicians that serve them. Ethnicity & Disease 30(Suppl 1):137–48. https://doi.org/10.18865/ed.30.S1.137

Rosenstock IM, Strecher VJ, Becker MH (1988) Social learning theory and the health belief model. Health Educ Q 15(2):175–183. https://doi.org/10.1177/109019818801500203

Scanlon JK, Wofford L, Fair A, Philippi D (2021) Predictors of participation in clinical research. Nurs Res 70(4):289–297. https://doi.org/10.1097/NNR.0000000000000513

Scherr CL, Ramesh S, Marshall-Fricker C, Perera MA (2019) A review of African Americans' beliefs and attitudes about genomic studies: opportunities for message design. Front Genet 10:548. https://doi.org/10.3389/fgene.2019.00548

Siegel RL, Miller KD, Fuchs HE, Jemal A (2022) Cancer statistics 2022. Cancer J Clin 72(1):7–33

Stokols D (1996) Translating social ecological theory into guidelines for community health promotion. Am J Health Promot: AJHP 10(4):282–298. https://doi.org/10.4278/0890-1171-10.4.282

Suckiel SA, Braganza GT, Aguiñiga KL, Odgis JA, Bonini KE, Kenny EE, Hamilton JG, Abul-Husn NS (2022) Perspectives of diverse Spanish- and English-speaking patients on the clinical use of polygenic risk scores. Genet Med 24(6):1217–1226. https://doi.org/10.1016/j.gim.2022.03.006

Tjora A (2018) Qualitative research as stepwise-deductive induction. Routledge, London

Tong A, Sainsbury P, Craig J (2007) Consolidated criteria for reporting qualitative research (COREQ): a 32-item checklist for interviews and focus groups. Int J Qual Health Care 19(6):349-357

Tsimberidou AM, Fountzilas E, Nikanjam M, Kurzrock R (2020) Review of precision cancer medicine: evolution of the treatment paradigm. Cancer Treat Rev 86:102019. https://doi.org/10.1016/j.ctrv.2020.102019

Wallston KA, Cawthon C, McNaughton CD, Rothman RL, Osborn CY, Kripalani S (2014) Psychometric properties of the brief health literacy screen in clinical practice. J Gen Intern Med 29(1):119–126. https://doi.org/10.1007/s11606-013-2568-0

Wilkins CH, Mapes BM, Jerome RN, Villalta-Gil V, Pulley JM, Harris PA (2019) Understanding what information is valued by research participants, and why. Health Affairs (project Hope) 38(3):399–407. https://doi.org/10.1377/hlthaff.2018.05046

Williams JR, Yeh VM, Bruce MA, Szetela C, Ukoli F, Wilkins CH, Kripalani S (2018) Precision medicine: familiarity, perceived health drivers, and genetic testing considerations across health literacy levels in a diverse sample. J Genet Couns. https://doi.org/10.1007/s10897-018-0291-z

Woodbury RB, Beans JA, Wark KA, Spicer P, Hiratsuka VY (2020) Community perspectives on communicating about precision medicine in an Alaska Native Tribal Health Care System. Front Commun 5:70. https://doi.org/10.3389/fcomm.2020.00070

Yeh VM, Bergner EM, Bruce MA, Kripalani S, Mitrani VB, Ogunsola TA, Wilkins CH, Griffith DM (2020) Can precision medicine actually help people like Me? African American and Hispanic perspectives on the benefits and barriers of precision medicine. Ethnicity & Disease 30(Suppl 1):149–58

Zavala VA, Bracci PM, Carethers JM, Carvajal-Carmona L, Coggins NB, Cruz-Correa MR, Davis M, de Smith AJ, Dutil J, Figueiredo JC, Fox R, Graves KD, Gomez SL, Llera A, Neuhausen SL, Newman L, Nguyen T, Palmer JR, Palmer NR, Pérez-Stable EJ, Piawah S, Rodriquez EJ, Sanabria-Salas MC, Schmit SL, Serrano-Gomez SJ, Stern MC, Weitzel J, Yang JJ, Zabaleta J, Ziv E, Fejerman L (2021) Cancer health disparities in racial/ethnic minorities in the United States. Br J Cancer 124(2):315–332. https://doi.org/10.1038/s41416-020-01038-6

Zhang W, Creswell J (2013) The use of 'mixing' procedure of mixed methods in health services research. Med Care 51(8):e51-57. https://doi.org/10.1097/MLR.0b013e31824642fd
Acknowledgements
The authors acknowledge and express gratitude for the Matthew Walker Comprehensive Health Center, Inc.—its patients, providers, and staff—for their support and assistance in carrying out this study.
Funding
This study was funded by a pilot grant from the Center of Excellence in Precision Medicine and Population Health (U54 MD010722) funded by the National Institute for Minority Health and Health Disparities. Jennifer Richmond is supported by grant number T32HS026122 from the Agency for Healthcare Research and Quality and a Loan Repayment Award from the National Cancer Institute (L60CA264691).
Ethics declarations
Ethics approval
The study was approved by the Vanderbilt University Institutional Review Board, and all procedures followed were in accordance with the ethical standards of the responsible committee on human experimentation (institutional and national) and with the Helsinki Declaration of 1975, as revised in 2000.
Consent to participate
Written informed consent was obtained from all participants prior to their involvement.
Consent for publication
Informed consent included data collection and analysis. No identifying information was collected or associated with either survey or focus group responses during this study.
Competing interests
The authors declare no competing interests.
Additional information
Publisher's note
Springer Nature remains neutral with regard to jurisdictional claims in published maps and institutional affiliations.
Rights and permissions
Springer Nature or its licensor (e.g. a society or other partner) holds exclusive rights to this article under a publishing agreement with the author(s) or other rightsholder(s); author self-archiving of the accepted manuscript version of this article is solely governed by the terms of such publishing agreement and applicable law.
About this article
Cite this article
Stallings, S.C., Richmond, J., Canedo, J.R. et al. Assessing patient-level knowledge of precision medicine in a community health center setting. J Community Genet (2023). https://doi.org/10.1007/s12687-023-00632-4
Received:

Accepted:

Published:

DOI: https://doi.org/10.1007/s12687-023-00632-4
Keywords
Precision medicine

Patient knowledge

Health equity

Genetic testing