Abstract
Computer-aided facial diagnostic tools are valuable emerging technologies for the early detection and initial diagnosis of congenital disorders. These tools require large datasets of facial photographs, especially of infants and children, to identify these disorders and improve classification accuracies. Researchers need to balance this need for larger datasets with patients' privacy rights, needs and preferences. This study aimed to investigate parents' views regarding the collection, storage, use and publication of their children's facial images for research and diagnostic purposes. A total of 151 parents of children with and without congenital disorders completed an online survey evaluating their views on the collection, storage, use and publication of children's facial images for research and diagnosis. Overall, 72.5% of parents would allow researchers to take facial photographs of their children, preferring the images to be stored in a secure database that is not available to the public. Parents of children with congenital disorders were more accepting of researchers taking facial photographs of their children, compared to parents of children without these conditions. Half of the respondents would allow facial photographs of their children to be published in academic journals, without their eyes covered, and this acceptance increased as the proportion of the child's face covered increased. Parents also indicated specific requirements to allow the use of these images in other similar research studies which need to be taken into consideration when planning studies that involve facial analysis research.
This is a preview of subscription content,
to check access.
Access this article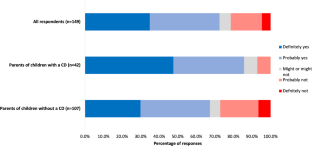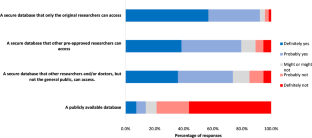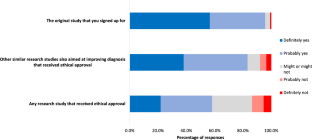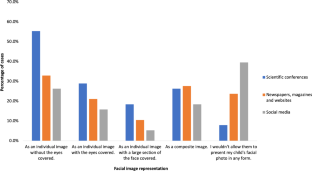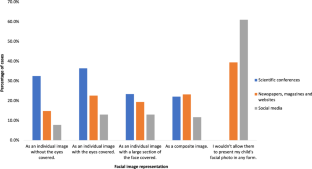 Data availability
The datasets generated and/or analysed during the current study are available from the corresponding author on reasonable request.
References
Adeyemo WL, Mofikoya BO, Akadiri OA, James O, Fashina AA (2013) Acceptance and perception of Nigerian patients to medical photography. Dev World Bioeth 13:105–110

Aldridge K, George ID, Cole KK, Austin JR, Takahashi TN et al (2011) Facial phenotypes in subgroups of prepubertal boys with autism spectrum disorders are correlated with clinical phenotypes. Mol Autism 2:15

Australian Government (1988) Privacy Act 1988. Available at https://www.legislation.gov.au/Details/C2014C00076. Accessed 6 Oct 2022

Boehringer S, Vollmar T, Tasse C, Wurtz RP, Gillessen-Kaesbach G et al (2006) Syndrome identification based on 2D analysis software. Eur J Hum Genet 14:1082–1089

Braun V, Clarke V (2006) Using thematic analysis in psychology. Qual Res Psychol 3:77–101

Christianson A, Howson C, Modell B (2006) March of Dimes: global report on birth defects, the hidden toll of dying and disabled children. March of Dimes Birth Defects Foundation, White Plains, New York

Department of Health, Republic of South Africa (2015) Guidelines for maternity care in South Africa. A manual for clinics, community health centres and district hospitals. Available at https://www.kznhealth.gov.za/family/Maternal-Care-Guidelines-2015.pdf. Accessed 6 Oct 2022

Fang S, McLaughlin J, Fang J, Huang J, Autti-Ramo I et al (2008) Automated diagnosis of fetal alcohol syndrome using 3D facial image analysis. Orthod Craniofac Res 11:162–171

Ferry Q, Steinberg J, Webber C, FitzPatrick DR, Ponting CP et al (2014) Diagnostically relevant facial gestalt information from ordinary photos. Elife 3:e02020

Naderifar M, Goli H, Ghaljaie F (2017) Snowball sampling: a purposeful method of sampling in qualitative research. Strides Dev Med Educ 14(3):e67670. https://doi.org/10.5812/sdme.67670

Gurovich Y, Hanani Y, Bar O, Nadav G, Fleischer N et al (2019) Identifying facial phenotypes of genetic disorders using deep learning. Nat Med 25:60–64

Hacard F, Maruani A, Delaplace M, Caille A, Machet L et al (2013) Patients' acceptance of medical photography in a French adult and paediatric dermatology department: a questionnaire survey. Br J Dermatol 169:298–305

Hammond P, Hutton TJ, Allanson JE, Campbell LE, Hennekam RC et al (2004) 3D analysis of facial morphology. Am J Med Genet A 126A:339–348

Hammond P, Hutton TJ, Allanson JE, Buxton B, Campbell LE et al (2005) Discriminating power of localized three-dimensional facial morphology. Am J Hum Genet 77:999–1010

Hammond P, Forster-Gibson C, Chudley AE, Allanson JE, Hutton TJ et al (2008) Face-brain asymmetry in autism spectrum disorders. Mol Psychiatry 13:614–623

Hart TC, Hart PS (2009) Genetic studies of craniofacial anomalies: clinical implications and applications. Orthod Craniofac Res 12:212–220

Harting MT, DeWees JM, Vela KM, Khirallah RT (2015) Medical photography: current technology, evolving issues and legal perspectives. Int J Clin Pract 69:401–409

Hennessy RJ, Baldwin PA, Browne DJ, Kinsella A, Waddington JL (2007) Three-dimensional laser surface imaging and geometric morphometrics resolve frontonasal dysmorphology in schizophrenia. Biol Psychiatry 61:1187–1194

Henrich J, Heine SJ, Norenzayan A (2010) Most people are not WEIRD. Nature 466:29–29

Lau CK, Schumacher HH, Irwin MS (2010) Patients' perception of medical photography. J Plast Reconstr Aesthet Surg 63:e507-511

Leger MC, Wu T, Haimovic A, Kaplan R, Sanchez M et al (2014) Patient perspectives on medical photography in dermatology. Dermatol Surg 40:1028–1037

Loos HS, Wieczorek D, Wurtz RP, von der Malsburg C, Horsthemke B (2003) Computer-based recognition of dysmorphic faces. Eur J Hum Genet 11:555–560

Porras AR, Bramble MS, Mosema Be Amoti K, Spencer DA, Dakande C et al (2021) Facial analysis technology for the detection of Down syndrome in the Democratic Republic of the Congo. Eur J Med Genet 64:104267

Qudaisat IY, Al-Ma'abreh NZ, Alkhalaileh SM, Dia'aldeen SS, Al-Sabbagh MQ (2021) Patients' attitudes and perspectives on perioperative clinical photography. Perioper Care Oper Room Manag 24:100178

Rai MCE, Werghi N, Al Muhairi H, Alsafar H (2015) Using facial images for the diagnosis of genetic syndromes: a survey, pp. 1–6 in 2015 International Conference on Communications, Signal Processing, and their Applications (ICCSPA'15). IEEE

Regulation 2016/679 of the European Parliament and of the Council of 27 April 2016 on the protection of natural persons with regard to the processing of personal data and on the free movement of such data, and repealing Directive 95/46/EC (General Data Protection Regulation) (2016) Publications Office of the European Union

Republic of South Africa (2013) Protection of Personal Information Act No. 4 of 2013. Available at https://www.gov.za/documents/protection-personal-information-act. Accessed 6 Oct 2022

Statistics South Africa (2021) Statistical release P0302. Mid-year population estimates. Available at http://www.statssa.gov.za/publications/P0302/P03022021.pdf. Accessed 6 Oct 2022

Suttie M, Foroud T, Wetherill L, Jacobson JL, Molteno CD et al (2013) Facial dysmorphism across the fetal alcohol spectrum. Pediatrics 131:e779-788

Wang Y, Tan H, Yang X (2017) Perception and acceptability of medical photography in Chinese dermatologic patients: a questionnaire survey. Dermatol Surg 43:437–442

World Health Organization (2006) Management of birth defects and haemoglobin disorders. Report of a joint WHO-March of Dimes meeting. Geneva, Switzerland, 17–19 May 2006. Available at https://www.who.int/publications/i/item/9789241594929. Accessed 6 Oct 2022
Acknowledgements
Lize Schoeman was supported by the University of Pretoria Postgraduate Masters Research Bursary.
Ethics declarations
Competing interests
The authors declare no competing interests.
Ethics approval
This study received ethical approval from the Research Ethics Committees of the Faculty of Natural and Agricultural Sciences and the Faculty of Health Sciences at the University of Pretoria (NAS117/2021). All procedures followed were in accordance with the ethical standards of the institutional and/or national research committee and with the 1964 Helsinki Declaration and its later amendments or comparable ethical standards.
Consent to participate
All participants gave informed consent before participating by selecting 'Yes' to an informed consent question at the beginning of the survey.
Conflict of interest
The authors declare no competing interests.
Additional information
Publisher's note
Springer Nature remains neutral with regard to jurisdictional claims in published maps and institutional affiliations.
Supplementary Information
Below is the link to the electronic supplementary material.
Rights and permissions
Springer Nature or its licensor holds exclusive rights to this article under a publishing agreement with the author(s) or other rightsholder(s); author self-archiving of the accepted manuscript version of this article is solely governed by the terms of such publishing agreement and applicable law.
About this article
Cite this article
Schoeman, L., Honey, E.M., Malherbe, H. et al. Parents' perspectives on the use of children's facial images for research and diagnosis: a survey. J Community Genet 13, 641–654 (2022). https://doi.org/10.1007/s12687-022-00612-0
Received:

Accepted:

Published:

Issue Date:

DOI: https://doi.org/10.1007/s12687-022-00612-0
Keywords