Abstract
Hemoglobinopathies are major health problems among Iraqi Kurds, who are a distinct ethnic group inhabiting North and Northeastern Iraq. We reviewed published literature on these disorders in this part of the world, and it was revealed that the most prevalent is β-thalassemia with carrier rates of 3.7–6.9%. Alpha thalassemia is less prevalent with carrier rates of 0.03-1.22%, while the sickle cell gene is variably distributed with carrier rates of 0.06–1.2%. Other structural hemoglobinopathies and δβ-thalassemia are sporadic. Twenty-seven different β-thalassemia mutations were identified, with seven constituting 82% of 1039 chromosomes characterized, namely: IVS-II-1 (G>A), IVS-I-6 (T>C), IVS-I-I (G>A), codon 8 (−AA), codon 8/9 (+G), IVS-I-110 (G>A), and codon 5 (-CT). There were notable regional variations in the distribution of β-thalassemia mutations, with Cd44 being mainly prevalent in the North, while IVS-I-110 is mainly prevalent in the East. In relevance to α-thalassemia, ten different mutations were detected, with the four most frequent constituting 92.4% of 262 alleles characterized being: −α3.7, --MED, α−5ntα, and αPolyA1α. In relevance to sickle cell gene, it is seen in the northern part of the region bordering Turkey, with comparable prevalence rates, and is associated, similar to Turkey, mainly with the Benin haplotype, unlike that in Southern Iraq where it is associated with the Arab-Indian haplotype, similar to Eastern Arabian Peninsula. Given the high prevalence of hemoglobinopathies in the region, and the high rates of consanguineous marriages, a preventive program was initiated in 2008, and results of its first 5 years were promising, though there are still many outstanding challenges that require addressing.
This is a preview of subscription content, log in to check access.
Access options
Buy single article
Instant access to the full article PDF.
US$ 39.95
Tax calculation will be finalised during checkout.
Subscribe to journal
Immediate online access to all issues from 2019. Subscription will auto renew annually.
US$ 99
Tax calculation will be finalised during checkout.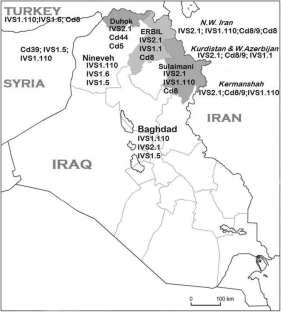 References
Abul-Hab J (1969) Malaria vector survey in North Iraq. I. Provinces of Naynawah and Dhook. Bull Endem Dis (Baghdad) 11:117–133

Adekile AD (2001) Sickle cell disease in Kuwait. Hemoglobin 25:219–225

Adekile AD, Gu LH, Baysal E, Haider MZ, al-Fuzae L, Aboobacker KC, al-Rashied A, Huisman TH (1994) Molecular characterization of alpha-thalassemia determinants, beta-thalassemia alleles, and beta S haplotypes among Kuwaiti Arabs. Acta Haematol 92:176–181

Aidoo M, Terlouw DJ, Kolczak MS, McElroy PD, ter Kuile FO, Kariuki S, Nahlen BL, Lal AA, Udhayakumar V (2002) Protective effects of the sickle cell gene against malaria morbidity and mortality. Lancet 359:1311–1312

Al Moamen NJ, Thabet A, Mahdi F, Newton H, Salman E (2018) Various α-thalassemia genotype combinations of the Saudi-type polyadenylation signal mutation (α(T-Saudi)α) in the population of Bahrain: an update of genotype-phenotype analyses. Hemoglobin 42:166–170

Al-Ali AK, Alsulaiman A, Alzahrani AJ, Obeid OT, Vatte CB, Cyrus C, Alnafie AN, Alali RA, Alfarhan M, Mozeleski B, Steinberg MH (2020) Prevalence and diversity of haplotypes of sickle cell disease in the Eastern Province of Saudi Arabia. Hemoglobin 44:78–81

Al-Allawi N (2008) The preventive program for haemoglobinopathies in Duhok: an option or a necessity. Duhok Med J 2:1–4

Al-Allawi NA, Al-Dousky AA (2010) Frequency of haemoglobinopathies at premarital health screening in Dohuk, Iraq: implications for a regional prevention programme. East Mediterr Health J 16:381–385

Al-Allawi NA, Jubrael JM, Hughson M (2006) Molecular characterization of beta-thalassemia in the Dohuk region of Iraq. Hemoglobin 30:479–486

Al-Allawi NA, Badi AI, Imanian H, Nikzat N, Jubrael JM, Najmabadi H (2009) Molecular characterization of alpha-thalassemia in the Dohuk region of Iraq. Hemoglobin 33:37–44

Al-Allawi NA, Hassan KM, Sheikha AK, Nerweiy FF, Dawood RS, Jubrael J (2010) β-thalassemia mutations among transfusion-dependent thalassemia major patients in Northern Iraq. Molecular biology international 2010:479282. https://doi.org/10.4061/2010/479282

Al-Allawi NA, Shamdeen MY, Rasheed NS (2010b) Homozygosity for the Mediterranean a-thalassemic deletion (hemoglobin Barts hydrops fetalis). Ann Saudi Med 30:153–155

Al-Allawi NA, Jalal SD, Nerwey FF, Al-Sayan GO, Al-Zebari SS, Alshingaly AA, Markous RD, Jubrael JM, Hamamy H (2012) Sickle cell disease in the Kurdish population of northern Iraq. Hemoglobin 36:333–342

Al-Allawi NA, Al-Mousawi BM, Badi AI, Jalal SD (2013a) The spectrum of β-thalassemia mutations in Baghdad, Central Iraq. Hemoglobin 37:444–453

Al-Allawi NA, Jalal SD, Ahmed NH, Faraj AH, Shalli A, Hamamy H (2013b) The first five years of a preventive programme for haemoglobinopathies in Northeastern Iraq. J Med Screen 20:171–176

Al-Allawi NA, Jalal SD, Rasheed NS, Bayat N, Imanian H, Najmabadi H, Faraj A (2013c) The spectrum of α-thalassemia mutations in the Kurdish population of Northeastern Iraq. Hemoglobin 37:56–64

Al-Allawi NA, Jalal SD, Mohammad AM, Omer SQ, Markous RS (2014) β-thalassemia intermedia in Northern Iraq: a single center experience. Biomed Res Int 2014:262853

Al-Allawi NA, Al-Doski AA, Markous RS, Mohamad Amin KA, Eissa AA, Badi AI, Asmaro RR, Hamamy H (2015) Premarital screening for hemoglobinopathies: experience of a single center in Kurdistan, Iraq. Public Health Genomics 18:97–103

Al-Allawi N, Qadir SMA, Puehringer H, Chui DHK, Farrell JJ, Oberkanins C (2019) The association of HBG2, BCL11A, and HMIP polymorphisms with fetal hemoglobin and clinical phenotype in Iraqi Kurds with sickle cell disease. Int J Lab Hematol 41:87–93

Al-Awamy BH (2000) Thalassemia syndromes in Saudi Arabia. Meta-analysis of local studies. Saudi Med J 21:8–17

Alibakhshi R, Moradi K, Aznab M, Dastafkan Z, Tahmasebi S, Ahmadi M, Omidniakan L (2020) The spectrum of α-thalassemia mutations in Kurdistan Province, West Iran. Hemoglobin 44:156–161

Aliyeva G, Asadov C, Mammadova T, Gafarova S, Guliyeva Y, Abdulalimov E (2020) Molecular and geographical heterogeneity of hemoglobinopathy mutations in Azerbaijanian populations. Ann Hum Genet 84:249–258

Al-Riyami AZ, Daar S, Kindi SA, Madhani AA, Wali Y, Rawahi MA, Zadjali SA (2020) α-Globin genotypes associated with Hb H disease: a report from Oman and a review of the literature from the Eastern Mediterranean Region. Hemoglobin 44:20–26

Al-Sultan A, Phanasgaonkar S, Suliman A, Al-Baqushi M, Nasrullah Z, Al-Ali A (2011) Spectrum of β-thalassemia mutations in the eastern province of Saudi Arabia. Hemoglobin 35:125–134

Alswaidi FM, O'Brien SJ (2009) Premarital screening programmes for haemoglobinopathies, HIV and hepatitis viruses: review and factors affecting their success. J Med Screen 16:22–28

Aluoch JR, Kilinç Y, Aksoy M, Yüregir GT, Bakioglu I, Kutlar A, Kutlar F, Huisman TH (1986) Sickle cell anaemia among Eti-Turks: haematological, clinical and genetic observations. Br J Haematol 64:45–55

Amin SS, Jalal SD, Ali KM, Mohammed AI, Rasool LK, Osman TJ (2020) Beta-thalassemia intermedia: a single thalassemia center experience from Northeastern Iraq. Biomed Res Int 2020:2807120

Angastiniotis M, Kyriakidou S, Hadjiminas M (1986) How thalassemia was controlled in Cyprus. World Health forum 7:291–297

Arshi Z, Zabihi K (1990) Kurdistan. Oriental art publications, Östersund

Baker F, Al-Quasi M (1964) Sickle cell anemia in Iraq: first case report. 3. J Fac Med Baghdad 6:26–31

Bashir N, Barkawi M, Sharif L (1991) Prevalence of haemoglobinopathies in school children in Jordan Valley. Ann Trop Paediatr 11:373–376

Bashir N, Barkawi M, Sharif L, Momani A, Gharaibeh N (1992) Prevalence of hemoglobinopathies in north Jordan. Trop Geogr Med 44:122–125

Baysal E (2011) α-Thalassemia syndromes in the United Arab Emirates. Hemoglobin 35:574–580

Baysal E, Kleanthous M, Bozkurt G, Kyrri A, Kalogirou E, Angastiniotis M, Ioannou P, Huisman TH (1995) alpha-Thalassaemia in the population of Cyprus. Br J Haematol 89:496–499

Bozdogan ST, Yuregir OO, Buyukkurt N, Aslan H, Ozdemir ZC, Gambin T (2015) Alpha-thalassemia mutations in adana province, southern Turkey: genotype-phenotype correlation. Indian J Hematol Blood Transfus 31:223–228

Canatan D, Oğuz N, Güvendik İ, Yıldırım S (2002) The incidence of alpha-thalassemia in Antalya- Turkey. Turk J Haematol 19:433–434

Charafeddine K, Isma'eel H, Charafeddine M, Inati A, Koussa S, Naja M, Taher A (2008) Survival and complications of beta-thalassemia in Lebanon: a decade's experience of centralized care. Acta Haematol 120:112–116

Cürük MA (2007) Hb H (beta4) disease in Cukurova, Southern Turkey. Hemoglobin 31:265–271

Cürük MA, Dimovski AJ, Baysal E, Gu LH, Kutlar F, Molchanova TP, Webber BB, Altay C, Gürgey A, Huisman TH (1993) Hb Adana or alpha 2(59)(E8)Gly-->Asp beta 2, a severely unstable alpha 1-globin variant, observed in combination with the -(alpha)20.5 Kb alpha-thal-1 deletion in two Turkish patients. Am J Hematol 44:270–275

De Sanctis V, Kattamis C, Canatan D, Soliman AT, Elsedfy H, Karimi M, Daar S, Wali Y, Yassin M, Soliman N, Sobti P, Al Jaouni S, El Kholy M, Fiscina B, Angastiniotis M (2017) β-Thalassemia distribution in the Old World: an ancient disease seen from a historical standpoint. Mediterr J Hematol. Infect Dis Ther 9:e2017018

Dehbozorgian J, Moghadam M, Daryanoush S, Haghpanah S, Imani Fard J, Aramesh A, Shahsavani A, Karimi M (2015) Distribution of alpha-thalassemia mutations in Iranian population. Hematology 20:359–362

Durand PM, Coetzer TL (2008) Hereditary red cell disorders and malaria resistance. Haematologica 93:961–963

Eissa AA, Kashmoola MA, Atroshi SD, Al-Allawi NA (2015) Molecular characterization of β-thalassemia in Nineveh Province illustrates the relative heterogeneity of mutation distributions in Northern Iraq. Indian J Hematol Blood Transfus 31:213–217

Fei YJ, Kutlar F, Harris HF 2nd, Wilson MM, Milana A, Sciacca P, Schiliro G, Masala B, Manca L, Altay C et al (1989) A search for anomalies in the zeta, alpha, beta, and gamma globin gene arrangements in normal black, Italian, Turkish, and Spanish newborns. Hemoglobin 13:45–65

Galanello R, Eleftheriou A, Traaeger-Synedions J, Petrou M, Angastiniotis M (2003) Prevention of thalassemias and other hemoglobin disorders. TIF Publications, Nicosia

Guvenc B, Yildiz SM, Tekinturhan F, Dincer S, Akyuzluer I, Okten S, Erkman H (2010) Molecular characterization of alpha-Thalassemia in Adana, Turkey: a single center study. Acta Haematol 123:197–200

Hadavi V, Taromchi AH, Malekpour M, Gholami B, Law HY, Almadani N, Afroozan F, Sahebjam F, Pajouh P, Kariminejad R, Kariminejad MH, Azarkeivan A, Jafroodi M, Tamaddoni A, Puehringer H, Oberkanins C, Najmabadi H (2007) Elucidating the spectrum of alpha-thalassemia mutations in Iran. Haematologica 92:992–993

Haghi M, Khorshidi S, Hosseinpour Feizi MA, Pouladi N, Hosseinpour Feizi AA (2009) beta-Thalassemia mutations in the Iranian Kurdish population of Kurdistan and West Azerbaijan provinces. Hemoglobin 33:109–114

Hamamy HA, Al-Allawi NA (2013) Epidemiological profile of common haemoglobinopathies in Arab countries. J Community Genet 4:147–167

Hamamy H, Alwan A (1994) Hereditary disorders in the Eastern Mediterranean Region. Bull World Health Organ 72:145–154

Hassan MK, Taha JY, Al-Naama LM, Widad NM, Jasim SN (2003) Frequency of haemoglobinopathies and glucose-6-phosphate dehydrogenase deficiency in Basra. East Mediterr Health J 9:45–54

Hellani A, Fadel E, El-Sadadi S, El-Sweilam H, El-Dawood A, Abu-Amero KK (2009) Molecular spectrum of alpha-thalassemia mutations in microcytic hypochromic anemia patients from Saudi Arabia. Genet Test Mol Biomark 13:219–221

Higgs DR, Goodbourn SE, Lamb J, Clegg JB, Weatherall DJ, Proudfoot NJ (1983) Alpha-thalassaemia caused by a polyadenylation signal mutation. Nature 306:398–400

Hosseinpour Feizi MA, Hosseinpour Feizi AA, Pouladi N, Haghi M, Azarfam P (2008) Molecular spectrum of beta-thalassemia mutations in Northwestern Iran. Hemoglobin 32:255–261

Ince HH, Ayyildiz O, Kalkanli S, Batun S, Muftuoglu E (2003) Molecular basis of beta-thalassemia mutations in Diyarbakir in the southeastern region of Turkey. Hemoglobin 27:275–278

Izady M (1992) The Kurds: a concise handbook. Taylor and Francis International Publishers, Washington

Jalal SD, Al-Allawi NA, Faraj AH, Ahmed NH (2008) Prevalence of haemoglobinopathies in Sulaimani–Iraq. Duhok Med J 2:71–97

Jalal SD, Al-Allawi NA, Bayat N, Imanian H, Najmabadi H, Faraj A (2010) β-Thalassemia mutations in the Kurdish population of northeastern Iraq. Hemoglobin 34:469–476

Jassim N, Al-Arrayed S, Gerard N, Al-Mukharraq H, Al-Ajami A, Ducrocoq R, Nagel R, Krishnamoorthy R (2001) Molecular basis of α-thalassemia in Bahrain. Bahrain Med Bull 23:3–7

Kadhim KA, Baldawi KH, Lami FH (2017) Prevalence, incidence, trend, and complications of thalassemia in Iraq. Hemoglobin 41:164–168

Kanavakis E, Papassotiriou I, Karagiorga M, Vrettou C, Metaxotou-Mavrommati A, Stamoulakatou A, Kattamis C, Traeger-Synodinos J (2000) Phenotypic and molecular diversity of haemoglobin H disease: a Greek experience. Br J Haematol 111:915–923

Karimi M, Rasekhi AR (2002) Efficiency of premarital screening of beta-thalassemia trait using MCH rather than MCV in the population of Fars Province, Iran. Haematologia (Budap) 32:129–133

Kutlar A (2007) Sickle cell disease: a multigenic perspective of a single gene disorder. Hemoglobin 31:209–224

Mehrabi M, Alibakhshi R, Fathollahi S, Farshchi MR (2013) The spectrum of β-thalassemia mutations in Kermanshah Province in West Iran and its association with hematological parameters. Hemoglobin 37:544–552

Murad H, Moasses F, Dabboul A, Mukhalalaty Y, Bakoor AO, Al-Achkar W, Jarjour Rami A, RA, (2018) Geographical distribution of β-globin gene mutations in Syria. Hematology 23:697–704

Najmabadi H, Karimi-Nejad R, Sahebjam S, Pourfarzad F, Teimourian S, Sahebjam F, Amirizadeh N, Karimi-Nejad MH (2001) The beta-thalassemia mutation spectrum in the Iranian population. Hemoglobin 25:285–296

Niazi AD (1968) Malaria situation in Zakho Qadha--Mosul Liwa. Bull Endem Dis (Baghdad) 10:185–194

Paridar M, Azizi E, Keikhaei B, Takhviji V, Baluchi I, Khosravi A (2019) Iranian patients with hemoglobin H disease: genotype-phenotype correlation. Mol Biol Rep 46:5041–5048

Polus R (2017) Prevalence of Hemoglobinopathies among marrying couples in Erbil province of Iraq. Iraqi J Hematol 6:90–93

Qaddoumi AA, Kamal N, Shbailat T (2008) Molecular spectrum of alpha-thalassemia in Jordan. J R Med Serv 5:23–27

Rahimi Z, Muniz A, Parsian A (2010) Detection of responsible mutations for beta thalassemia in the Kermanshah Province of Iran using PCR-based techniques. Mol Biol Rep 37:149–154

Rahimi Z, Najafi S, Moghofehie L, Amiri E, Vaisi-Raygani A, Rahimi Z (2019) The prevalence of hemoglobinopathies in reference laboratory of Kermanshah, Western Iran. Iran J Public Health 48:359–361

Rund D, Cohen T, Filon D, Dowling CE, Warren TC, Barak I, Rachmilewitz E, Kazazian HH Jr, Oppenheim A (1991) Evolution of a genetic disease in an ethnic isolate: beta-thalassemia in the Jews of Kurdistan. Proc Natl Acad Sci U S A 88:310–314

Shamoon RP (2020) Molecular spectrum of α-thalassemia mutations in Erbil province of Iraqi Kurdistan. Mol Biol Rep 47:6067–6071

Shamoon RP, Al-Allawi NA, Cappellini MD, Di Pierro E, Brancaleoni V, Granata F (2015) Molecular basis of β-thalassemia intermedia in Erbil Province of Iraqi Kurdistan. Hemoglobin 39:178–183

Shamoon RP, Yassin AK, Polus RK, Ali M (2020) Genotype-phenotype correlation of HbH disease in northern Iraq. BMC Med Genet 21:203

Tadmouri GO, Tüzmen S, Ozçelik H, Ozer A, Baig SM, Senga EB, Başak AN (1998) Molecular and population genetic analyses of beta-thalassemia in Turkey. Am J Hematol 57:215–220

Taj-Eldin S, al-Rabii H, Jawad J, Fakhri O (1968) Thalassaemia in Iraq. Ann Trop Med Parasitol 62:147–153

Thein SL, Menzel S, Lathrop M, Garner C (2009) Control of fetal hemoglobin: new insights emerging from genomics and clinical implications. Hum Mol Genet 18:R216–R223

Tosun F, Bilgin A, Kızılok A, Arpacı A, Yüreğir GT (2006) Five-year evaluation of premarital screening program for hemoglobinopathies in the province of Mersin, Turkey. Turk J Haematol 23:84–89

Valaei A, Karimipoor M, Kordafshari A, Zeinali S (2018) Molecular basis of α-thalassemia in Iran. Iran Biomed J 22:6–14

Weatheral D, Clegg J (2001) Thalassemia syndromes. Blackwell Publishers, Oxford

Yahya H, Khalel K, Allawi NA, Hilmi FF (1996) Thalassaemia genes in Baghdad-Iraq. East Mediterr Health J 2:315–319

Yaseen N, Al-Mamoori H, Hassan M (2020) Sickle β-globin haplotypes among patients with sickle cell anemia in Basra, Iraq: a cross sectional study. Iraqi J Hematol 2020:9

Yıldız S, Atalay A, Bağcı H, Atalay E (2005) Beta-thalassemia mutations in Denizli province of Turkey. Turk J Haematol 22:19–23

Zahed L, Bou-Dames J (1997) Acceptance of first-trimester prenatal diagnosis for the haemoglobinopathies in Lebanon. Prenat Diagn 17:423–428
Ethics declarations
Conflict of interest
The authors declare that they have no conflict of interest.
Ethical approval
This study does not contain any studies with human participants.
Additional information
Publisher's note
Springer Nature remains neutral with regard to jurisdictional claims in published maps and institutional affiliations.
About this article
Cite this article
Al-Allawi, N., Al Allawi, S. & Jalal, S.D. Genetic epidemiology of hemoglobinopathies among Iraqi Kurds. J Community Genet (2020). https://doi.org/10.1007/s12687-020-00495-z
Received:

Accepted:

Published:
Keywords
Hemoglobinopathies

Thalassemia

Sickle cell disease

Kurdistan

Iraq