Abstract
The Republic of Maldives (Maldives) is an island nation in the Indian Ocean with a population of 344, 023. Studies show that Maldives has one of the world's highest thalassemia carrier rates. It is estimated that 16–18 % of the Maldivians are β-thalassemia carriers, and approximately 28 new β-thal cases are recorded annually. Poor uptake of screening for the condition is one of the main reasons for this high number of new cases. The aim of this study was to explore the reasons for not testing for thalassemia in Maldives before or after marriage. Findings show that participants did not undergo carrier tests because of poor awareness and not fully knowing the devastating consequences of the condition. The outcomes of not testing were distressing for most participants. Religion played a vital role in all the decisions made by the participants before and after the birth of a β-thal child.
Access options
Buy single article
Instant access to the full article PDF.
USD 39.95
Price excludes VAT (USA)
Tax calculation will be finalised during checkout.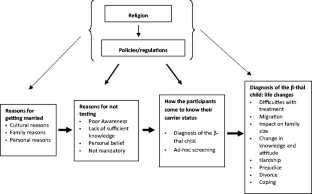 References
Ahmed S, Bekker H, Hewison J, Kinsey S (2002) Thalassaemia carrier testing in Pakistani adults: behaviour, knowledge and attitudes. Public Health Genomics 5:120–127. doi:10.1159/000065167

Al Hamdan NA, Al Mazrou YY, Al Swaidi FM, Choudhry AJ (2007) Premarital screening for thalassemia and sickle cell disease in Saudi Arabia. Genet Med 9:372–377. doi:10.1097/GIM.0b013e318065a9e8

Al-Farsi OA, Al-Farsi YM, Gupta I, Ouhtit A, Al-Farsi KS, Al-Adawi S (2014) A study on knowledge, attitude, and practice towards premarital carrier screening among adults attending primary healthcare centers in a region in Oman. BMC Public Health 14:1–16. doi:10.1186/1471-2458-14-380

Angastiniotis M (2014) The Maldives: WHO Mission August 2014. Thalassaemia International Federation, Nicosia

Birgens H, Ljung R (2007) The thalassaemia syndromes. Scand J Clin Lab Invest 67:11–26. doi:10.1080/00365510601046417

Bozkurt G (2007) Results from the North Cyprus thalassemia prevention program. Hemoglobin 31:257–264. doi:10.1080/03630260701297204

Braun V, Clarke V (2006) Using thematic analysis in psychology. Qual Res Psychol 3:77–101. doi:10.1191/1478088706qp063oa

Caelli K, Ray L, Mill J (2003) 'Clear as mud': toward greater clarity in generic qualitative research. Int J Qual Methods 2:1–13

Canatan D, Ratip S, Kaptan S, Cosan R (2003) Psychosocial burden of beta-thalassaemia major in Antalya, south Turkey. Soc Sci Med 56:815–819. doi:10.1016/S0277-9536(02)00080-1

Champion LV, Skinner SC (2008) The health belief model. In: Glanz K, Rimer BK, Viswanath K (eds) Health behavior and health education: theory, research, and practice. Jossey-Base: A Wiley Inprint, San Francisco

Chiruka S, Darbyshire P (2011) Management of thalassaemia. Paediatr Child Health 21:353–356. doi:10.1016/j.paed.2011.02.012

Fahad M, Alswaidi ZA, Memish SJ, O'Brien NA, Al-Hamdan FM, Al-Enzy OAA, Al-Wadey AM (2012) At-risk marriages after compulsory premarital testing and counseling for β-thalassemia and sickle cell disease in Saudi Arabia, 2005–2006. J Genet Couns 21(2):243–255. doi:10.1007/s10897-011-9395-4

Firdous N (2005) Prevention of thalassaemia and haemoglobinopathies in remote and isolated communities—the Maldives experience. Ann Hum Biol 32:131–137. doi:10.1080/03014460500074996

Firdous N, Gibbons S, Modell B (2011) Falling prevelance of beta-thalassaemia and eradication of malaria in the Maldives. J Community Genet 2:173–189. doi:10.1007/s12687-011-0054-0

Garewal G, Das R, Jaur J, Marwaha RK, Gupta I (2005) Establishment of prenatal diagnosis for ß-thalassaemia: a step towards its control in a developing country. Ann Hum Biol 32:138–144

Habibzadeh F, Yadollahie M, Roshanipoor M, Haghshenas M (2012) Reproductive behaviour of mothers of children with beta-thalassaemia major. East Mediterr Health J 18:246–249

Karimi M, Jamalian N, Yarmohammadi H, Askarnejad A, Afrasiabi A, Hashemi A (2007) Premarital screening for β-thalassaemia in Southern Iran: options for improving the programme. J Med Screen 14:62–66. doi:10.1258/096914107781261882

Kvale S (2007) Doing interviews. SAGE Publications, Ltd, London. doi:10.4135/9781849208963

Memish ZA, Saeedi MY (2011) Six-year outcome of the national premarital screening and genetic counseling program for sickle cell disease and β-thalassemia in Saudi Arabia. Ann Saudi Med 31:229–235. doi:10.4103/0256-4947.81527

Merriam SB (2009) Qualitative research: a guide to design and implementation. Wiley, San Francisco

Ministry of Health (2013) The Maldives health statistics 2013. Ministry of Health, Maldives

Ministry of Legal Reform Information and Arts (2008) Functional translation of the Constitution of the Republic of Maldives 2008. President's office, Maldives

National Bureau of Statistics (2015) Maldives: population and housing Cencus 2014. Ministry of Finance & Treasory, Maldives

Peoples' Majlis (2012) Thalassaemia prevention law. President's Office, Maldives

Pijpe J, de Voogt A, van Oven M, Henneman P, van der Gaag KJ, Kayser M, de Knijff P (2013) Indian ocean crossroads: human genetic origin and population structure in the Maldives. Am J Phys Anthropol 151:58–67. doi:10.1002/ajpa.22256

Rozario S (2009) Allah is the scientist of the scientists: modern medicine and religious healing among British Bangladeshis. Cult Relig 10:177–199. doi:10.1080/14755610903077562

Saxena A, Phadke S (2002) Feasibility of thalassaemia control by extended family screening in Indian context. J Health Popul Nutr 20:31

Sharghi A, Karbakhsh M, Nabaei B, Meysamie A, Farrokhi A (2006) Depression in mothers of children with thalassemia or blood malignancies: a study from Iran. Clin Pract Epidemiol Ment Health 2:27

Shaw A, Hurst J (2008) "What is this genetics, anyway?" understandings of genetics, illness causality and inheritance among British Pakistani users of genetic services. J Genet Couns 17:373–383. doi:10.1007/s10897-008-9156-1

Tarazi I, Al Najjar E, Lulu N, Sirdah M (2007) Obligatory premarital tests for β-thalassaemia in the Gaza strip: evaluation and recommendations. Int J Lab Hematol 29:111–118. doi:10.1111/j.1751-553X.2006.00836.x

United Nations Children's Fund (2014) The state of the world's children report 2015 statistical tables. United Nations Children's Fund (UNICEF), New York

Verma IC, Saxena R, Kohli S (2011) Past, present & future scenario of thalassaemic care & control in India. Indian J Med Res 134:507–521

Webster's New World Medical Dictionary (2008) Thalassemia major. Credo Reference, Boston http://ezproxy.library.uwa.edu.au. Accessed 15 Nov 2015

Widayanti CG, Ediati A, Tamam M, Faradz SMH, Sistermans EA, Plass AMC (2011) Feasibility of preconception screening for thalassaemia in Indonesia: exploring the opinion of Javanese mothers. Ethn Health 16:483–499. doi:10.1080/13557858.2011.564607

World Health Organization (2003) WHO South East Asia advisory committee on health research: report to the regional director. World Health Organization: Regional Office for South-East Asia, New Delhi

World Health Organization (2010) Social disparities in health in the Maldives: an assessment and implications. World Health Organization: Regional Office for South-East Asia, India

World Health Organization (2015) World health statistics 2015. World Health Organization, Luxembourg

Zeinalian M, Nobari R, Moafi A, Salehi M, Hashemzadeh-Chaleshtori M (2013) Two decades of pre-marital screening for beta-thalassemia in central Iran. J Community Genet 4:517–522. doi:10.1007/s12687-013-0142-4
Acknowledgments
We would like to thank all the participants who took part in this study and all the staff of Maldives Blood Services for all the help they provided during this study.
Ethics declarations
This study was approved by the ethics committee of the University of Western Australia (Ref: RA/4/1/5626) in accordance with the requirements of the National Statement on Ethical Conduct in Human Research (National Statement) and the policies and procedures of The University of Western Australia. In Addition, the study was approved by the National Health Research Committee of Maldives on the seventh of February, 2013. All procedures of this study were carried out in accordance to the laws and regulations of Australia and Maldives. All participants provided written consent prior to study.
Conflict of interest
The authors declare that they have no conflict of interest.
About this article
Cite this article
Waheed, F., Fisher, C., Awofeso, A. et al. Carrier screening for beta-thalassemia in the Maldives: perceptions of parents of affected children who did not take part in screening and its consequences. J Community Genet 7, 243–253 (2016). https://doi.org/10.1007/s12687-016-0273-5
Received:

Accepted:

Published:

Issue Date:

DOI: https://doi.org/10.1007/s12687-016-0273-5
Keywords
Maldives

Thalassemia

Premarital testing

Genetic screening