Abstract
Neurogenetics, the science that studies the genetic basis of the development and function of the nervous system, is a discipline of recent development in Peru, an emerging Latin American country. Herein, we review the clinical, scientific and ethical aspects regarding the development of this discipline, starting with the first molecular diagnosis of neurogenetic diseases, to family and population-based genetic association studies. Neurogenetics in Peru aims to better explain the epidemiology of monogenic and complex neurodegenerative disorders that will help in implementing public health policies for these disorders. The characterization of Peru and its health system, legal issues regarding rare diseases and the historical milestones in neurogenetics are also discussed.
Access options
Buy single article
Instant access to the full article PDF.
USD 39.95
Price excludes VAT (USA)
Tax calculation will be finalised during checkout.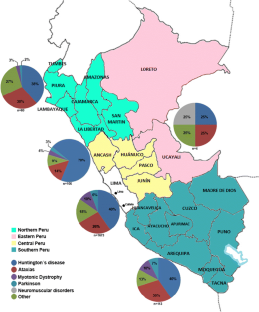 References
Acosta-Baena N et al (2011) Pre-dementia clinical stages in presenilin 1 E280A familial early-onset Alzheimer's disease: a retrospective cohort study. Lancet Neurol 10:213–220

Almeida AM, Bertoncini CR, Borecky J, Souza-Pinto NC, Vercesi AE (2006) Mitochondrial DNA damage associated with lipid peroxidation of the mitochondrial membrane induced by Fe2+-citrate. An Acad Bras Cienc 78:505–514

Alonso E et al (2007) Distinct distribution of autosomal dominant spinocerebellar ataxia in the Mexican population. Mov Disord 22:1050–1053

Brief E, Illes J (2010) Tangles of neurogenetics, neuroethics, and culture. Neuron 68:174–177

Cardon LR, Palmer LJ (2003) Population stratification and spurious allelic association. Lancet 361:598–604

Cornejo-Olivas M, Cornejo-Herrera I, Lindo-Samanamud S, Castilhos R, Saraiva-Pereira M, Jardim L, Mazzetti P (2013a) Spinocerebellar ataxia type 10 or SCA10 in Peruvian population. First report of three families paper presented at the AAN Annual Meeting Global Impact of Non-communicable Neurological Diseases, February 12,2014

Cornejo-Olivas M et al (2015) Clinical and molecular features of late onset Huntington disease in a Peruvian cohort. J Huntington's Dis 4:99–105

Cornejo-Olivas M, Torres L, Mazzetti P, Cosentino C, Zabetian CP, Mata IF (2013b) Variable penetrance of the LRRK2-R1441G mutation in a Peruvian family [abstract]. Paper presented at the MDS Congress 2014

Counseling AHCoG (1975) Genetic counseling. Am J Hum Genet 27:240–242

Cuba JM (1986) A focus of Huntington's chorea in Peru. Rev Neurol 142:151–153

Foundation Psd (2014) Linking PD genes in a LARGE way in Latin America vol Fall 2014. PDF

Group THsDCR (1993) A novel gene containing a trinucleotide repeat that is expanded and unstable on Huntington's disease chromosomes. Cell 72:971–983

Hawrylycz MJ et al (2012) An anatomically comprehensive atlas of the adult human brain transcriptome. Nature 489:391–399

Hernandez-Vasquez A, Rubilar-Gonzalez J, Pisfil-Benites N (2014) Financing for rare or orphan diseases: a thing to do. Rev Peru Med Exp Salud Publica 31:393

Horovitz DD, de Faria Ferraz VE, Dain S, Marques-de-Faria AP (2013) Genetic services and testing in Brazil. J Community Genet 4:355–375

INDEPA (2010) Ethnolinguistic map of Peru. Revista Peru Med Exp Salud Publica 27:288–291

Kang PB (2013) Ethical issues in neurogenetic disorders. Handb Clin Neurol 118:265–276

Loayza J (2005) La maldicion de Cañete vol 43. La Republica Lima, Peru

Lotan A, Fenckova M, Bralten J, Alttoa A, Dixson L, Williams RW, van der Voet M (2014) Neuroinformatic analyses of common and distinct genetic components associated with major neuropsychiatric disorders. Front Neurosci 8:331

McCarroll SA, Feng G, Hyman SE (2014) Genome-scale neurogenetics: methodology and meaning. Nat Neurosci 17:756–763

Miller JA, Horvath S, Geschwind DH (2010) Divergence of human and mouse brain transcriptome highlights Alzheimer disease pathways. Proc Natl Acad Sci U S A 107:12698–12703

Penchaszadeh VB (2013) Genetic testing and services in Argentina. J Community Genet 4:343–354

Posso M, Puig T, Bonfill X (2015) Balance entre riesgos y beneficios del tamizaje mamografico de cancer de mama ¿apoyaria su recomendacion en mujeres peruanas? Rev Peru Med Exp Salud Publica 32:117–128

Rodrigues CS et al (2012) Presymptomatic testing for neurogenetic diseases in Brazil: assessing who seeks and who follows through with testing. J Genet Couns 21:101–112

Saavedra A (1950) Sobre un caso de Corea de Huntington. Rev Neuropsiquiatria 2:232–239

Sandoval JR, Salazar-Granara A, Acosta O, Castillo-Herrera W, Fujita R, Pena SD, Santos FR (2013) Tracing the genomic ancestry of Peruvians reveals a major legacy of pre-Columbian ancestors. J Hum Genet 58:627–634

Stephens C, Porter J, Nettleton C, Willis R (2007) UN declaration on the rights of indigenous peoples. Lancet 370:1756

Teive HA, Munhoz RP, Arruda WO, Raskin S, Werneck LC, Ashizawa T (2011) Spinocerebellar ataxia type 10—a review. Parkinsonism Relat Disord 17:655–661

Tirado-Hurtado I, et al (2014) Determination of the origin of Huntington disease based on haplotypes in a Peruvian population. Paper presented at the ASHG 2014 Meeting

Torres L, Cosentino C, Mori-Quispe N (2008) Actualizacion sobre la enfermedad de huntington y experiencia de 30 años en el Instituto Nacional de Ciencias. Neurologicas Diagnostico 47:65–69

Trelles L, De los Angeles M (1989) La neurogenetica, pasado, presente y futuro. Rev Neuropsiquiatr 52:168–188

Vaillant TZ (2000) Bioetica y neurogenetica. Cuad Bioet 11:360–366

Valdez W, Napanga E, Oyola A, J M, A V, J M, M B (2013) Analisis de situacion de salud del peru vol 1, 1 edn. Ministerio de Salud Lima. Available at: http://www.minsa.gob.pe/hama/Informaci%C3%B3n_Hma/Indicadores/2012%20HMA%20ASIS.pdf; accessed on 02 Apr 2015

Velazquez-Perez L, Rodriguez-Labrada R, Garcia-Rodriguez JC, Almaguer-Mederos L, Cruz-Marino T, Laffita-Mesa JM (2011) A comprehensive review of spinocerebellar ataxia type 2 in Cuba. Cerebellum 10:184–198

Velazquez Perez L et al (2009) Molecular epidemiology of spinocerebellar ataxias in Cuba: insights into SCA2 founder effect in Holguin. Neurosci Lett 454:157–160

Yamada G, Castro J (2010) La economía peruana en la última década : mejor desempeño y mayor resiliencia a las crisis. 02:1-31
Acknowledgments
This review was scientifically supported by NIH Research Training Grant No R25 TW009345, funded by the Fogarty International Center, the National Institute of Mental Health, and the NIH Office of the Director Office of Research on Women's Health and the Office of AIDS Research.
Conflict of interest
The authors declare that they have no competing interests.
Compliance with ethical standards
This article does not contain any studies with human or animal subjects performed by any of the authors.
Additional information
This article is part of the special issue on "Genetics and Ethics in Latin America".
About this article
Cite this article
Cornejo-Olivas, M., Espinoza-Huertas, K., Velit-Salazar, M.R. et al. Neurogenetics in Peru: clinical, scientific and ethical perspectives. J Community Genet 6, 251–257 (2015). https://doi.org/10.1007/s12687-015-0239-z
Received:

Accepted:

Published:

Issue Date:

DOI: https://doi.org/10.1007/s12687-015-0239-z
Keywords
Bioethics

Neurogenetics

Peru

Public policies