Abstract
Little is known about the decisions and perspectives of participants undergoing direct-to-consumer genetic testing (DTCGT). The aims of this study were to examine the views, attitudes and decision-making factors of primary care patients regarding DTCGT. Their experience of and reactions to testing also emerged during the study. In this longitudinal, qualitative study, 20 primary care patients participated in DTCGT and individual interviews: (1) prior to testing after the informed consent session, (2) after receiving results, (3) 3 months post-test, and (4) 12 months post-test. Interviews included open-ended questions and all transcripts were analyzed using grounded theory, constant comparison methods. Five key themes emerged from data analysis as participants underwent DTCGT and reflected on their decision over time: (1) limited concerns about DTCGT, (2) motivations for testing, (3) expectations of testing, (4) understanding of results, and (5) impact of testing and results. While a few participants expressed concerns before testing, participants were motivated to test by curiosity, gaining actionable knowledge, and altruism. Most were uncertain of what to expect from DTCGT and needed assistance in understanding results. While many reported testing had no significant impact on them, being relieved or pleased after testing was the most common emotional effect. Notably, a few participants made positive health changes in response to testing. Given the paucity of information about primary care patients and DTCGT, this study adds more in-depth information to the emerging research on how such participants' view, make decisions about, experience and react to DTCGT over time. Because uncertainty remains about the accuracy of DTCGT, the response of primary care patients to this testing requires further investigation.
Access options
Buy single article
Instant access to the full article PDF.
US$ 39.95
Tax calculation will be finalised during checkout.
Subscribe to journal
Immediate online access to all issues from 2019. Subscription will auto renew annually.
US$ 79
Tax calculation will be finalised during checkout.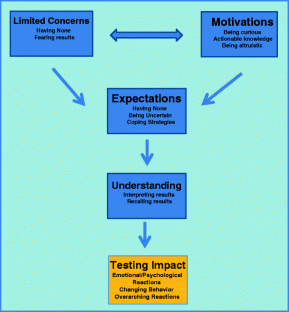 Notes
1.

P15:I2 is an abbreviation for participant 15: interview 2. The remaining quotations follow this format, indicating for the reader when the interview was conducted.
References
American College of Medicine Genetics Board of Directors (2004) ACMG statement on direct-to-consumer genetic testing. Genet Med 6(1):60

Bloss CS, Ornowski L, Silver E, Cargill M, Vanier V, Schork NJ et al (2010a) Consumer perceptions of direct-to-consumer personalized genomic risk assessments. Genet Med 12(9):556–566

Bloss CS, Ornowski L, Silver E, Cargill M, Vanier V, Schork NJ et al (2010b) Consumer perceptions of direct-to-consumer personalized genomic risk assessments. Genet Med 12(9):556–566. doi:10.1097/GIM.0b013e3181eb51c6

Bloss CS, Schork NJ, Topol EJ (2011) Effect of direct-to-consumer genomewide profiling to assess disease risk. N Engl J Med 364(6):524–534

Bloss CS, Topol EJ, Schork NJ (2012) Association of direct-to-consumer genome-wide disease risk estimates and self-reported disease. Genet Epidemiol 36(1):66–70

Borry P, Cornel MC, Howard HC (2010) Where are you going, where have you been: a recent history of the direct-to-consumer genetic testing market. J Community Genet 1(3):101–106

Brett GR, Metcalfe SA, Amor DJ, Halliday JL (2012) An exploration of genetic health professionals' experience with direct-to-consumer genetic testing in their clinical practice. Eur J Hum Genet 20(8):825–830. doi:10.1038/ejhg.2012.13

Committee on Genetics, American College of Obstetricians and Gynecologists (2008) ACOG committee opinion no. 409: direct-to-consumer marketing of genetic testing. Obstet Gynecol 111(6):1493–1494

Edelman E, Eng C (2009) A practical guide to interpretation and clinical application of personal genomic screening. BMJ 339:b4253

Federal Trade Commission. (2006). At-home genetic tests: a healthy dose of skepticism may be the best prescription. http://www.ftc.gov/bcp/edu/pubs/consumer/health/hea02.shtm. Accessed August 11, 2008

Giovanni MA, Fickie MR, Lehmann LS, Green RC, Meckley LM, Veenstra D et al (2010) Health-care referrals from direct-to-consumer genetic testing. Genet Test Mol Biomarkers 14(6):817–819

Glaser BG (1999) The future of grounded theory. Qual Heal Res 9(6):836

Glaser BG, Strauss AL (1967) The discovery of grounded theory: strategies for qualitative research. Sociology Press, Mill Valley, CA

Goldsmith L, Jackson L, O'Connor A, Skirton H (2012) Direct-to-consumer genomic testing: systematic review of the literature on user perspectives. Eur J Hum Genet 20(8):811–816. doi:10.1038/ejhg.2012.18

Gollust SE, Gordon ES, Zayac C, Griffin G, Christman MF, Pyeritz RE et al (2012) Motivations and perceptions of early adopters of personalized genomics: perspectives from research participants. Public Health Genomics 15(1):22–30. doi:10.1159/000327296

Gordon ES, Griffin G, Wawak L, Pang H, Gollust SE, Bernhardt BA (2012) "It's not like judgment day": public understanding of and reactions to personalized genomic risk information. J Genet Couns 21(3):423–432

Hahn S, Letvak S, Powell K, Christianson C, Wallace D, Speer M et al (2010) A community's awareness and perceptions of genomic medicine. Public Health Genomics 13(2):63–71

Hudson K, Javitt G, Burke W, Byers P, American Society of Human Genetics Social Issues,Committee (2007) ASHG statement* on direct-to-consumer genetic testing in the United States. Obstet Gynecol 110(6):1392–1395

Kaphingst KA, McBride CM, Wade C, Alford SH, Reid R, Larson E et al (2012) Patients' understanding of and responses to multiplex genetic susceptibility test results. Genet Med 14(7):681–687

Kaufman DJ, Bollinger JM, Dvoskin RL, Scott JA (2012) Risky business: risk perception and the use of medical services among customers of DTC personal genetic testing. J Genet Couns 21(3):413–422. doi:10.1007/s10897-012-9483-0

Khoury MJ, McBride CM, Schully SD, Ioannidis JP, Feero WG, Janssens AC et al (2009) The scientific foundation for personal genomics: recommendations from a National Institutes of Health-Centers for Disease Control and Prevention multidisciplinary workshop. Genet Med 11(8):559–567

Leighton JW, Valverde K, Bernhardt BA (2012) The general public's understanding and perception of direct-to-consumer genetic test results. Public Health Genomics 15(1):11–21. doi:10.1159/000327159

Madsen SM, Holm S, Riis P (2007) Attitudes towards clinical research among cancer trial participants and non-participants: an interview study using a grounded theory approach. J Med Ethics 33(4):234–240

McBride CM, Koehly LM, Sanderson SC, Kaphingst KA (2010a) The behavioral response to personalized genetic information: will genetic risk profiles motivate individuals and families to choose more healthful behaviors? Annu Rev Public Health 31:89–103

McBride CM, Wade CH, Kaphingst KA (2010b) Consumers' views of direct-to-consumer genetic information. Annu Rev Genomics Hum Genet 11:427–446

McGowan ML, Fishman JR, Lambrix MA (2010) Personal genomics and individual identities: motivations and moral imperatives of early users. New Genet Soc 29(3):261–290

McGuire AL, Burke W (2008) An unwelcome side effect of direct-to-consumer personal genome testing: raiding the medical commons. JAMA 300(22):2669–2671

McGuire AL, Burke W (2011) Health system implications of direct-to-consumer personal genome testing. Public Health Genom 14(1):53–58. doi:10.1159/000321962

McGuire AL, Diaz CM, Wang T, Hilsenbeck SG (2009) Social networkers' attitudes toward direct-to-consumer personal genome testing. Am J Bioeth 9(6–7):3–10

O'Daniel JM, Haga SB, Willard HF (2010) Considerations for the impact of personal genome information: a study of genomic profiling among genetics and genomics professionals. J Genet Couns 19(4):387–401

Rahm AK, Feigelson HS, Wagner N, Le AQ, Halterman E, Cornish N et al (2012) Perception of direct-to-consumer genetic testing and direct-to-consumer advertising of genetic tests among members of a large managed care organization. J Genet Couns 21(3):448–461. doi:10.1007/s10897-011-9477-3

Rogowski WH, Grosse SD, John J, Kaariainen H, Kent A, Kristofferson U et al (2010) Points to consider in assessing and appraising predictive genetic tests. J Community Genet 1(4):185–194

Schmidt LA (2010) Making sure: registered nurses watching over their patients. Nurs Res 59(6):400–406

Stack CB, Gharani N, Gordon ES, Schmidlen T, Christman MF, Keller MA (2011) Genetic risk estimation in the coriell personalized medicine collaborative. Genet Med Off J Am Coll Med Genet 13(2):131–139

Su Y, Howard HC, Borry P (2011) Users' motivations to purchase direct-to-consumer genome-wide testing: an exploratory study of personal stories. Journal of Community Genetics 2:135–146

Wasson K (2008) Consumer alert: ethical issues raised by the sale of genetic tests directly to consumers. Am J Bioeth 8(6):16–18

Wasson K, Cook ED, Helzlsouer K (2006) Direct-to-consumer online genetic testing and the four principles: an analysis of the ethical issues. Ethics Med Int J Bioeth 22(2):83–91

Wasson K, Hogan NS, Sanders TN, Helzlsouer K (2012) Primary care patients' views, attitudes, and decision-making factors regarding direct-to-consumer personal genome testing: results from a qualitative study. Am J Bioeth Prim Res 3(2):24–35

White MT, Callif-Daley F, Donnelly J (1999) Genetic testing for disease susceptibility: social, ethical and legal issues for family physicians. Am Fam Physician 60(3):757–758, 748, 750, 755
Acknowledgments
The authors wish to thank Bryanna Cox and the Primary Care Department at Loyola University Medical Center for their assistance with the research.
Conflicts of interest
The authors have no conflicts of interest to declare.
Statement of research compliance
This research study was conducted in a manner which complies with the current laws in the USA. It was reviewed and approved by the Institutional Review Board at Loyola University Chicago.
About this article
Cite this article
Wasson, K., Sanders, T.N., Hogan, N.S. et al. Primary care patients' views and decisions about, experience of and reactions to direct-to-consumer genetic testing: a longitudinal study. J Community Genet 4, 495–505 (2013). https://doi.org/10.1007/s12687-013-0156-y
Received:

Accepted:

Published:

Issue Date:
Keywords
Direct-to-consumer

Genetic testing

Primary care patients

Decision making

Ethical issues