Abstract
This paper is a précis of my keynote address at the Symposium on Predictive Genetic Testing organised by the Robert Koch Institute in Berlin. The talk is based on reflections which I have had over a number of years on genetic testing and its evaluation and regulation. It presents a thesis, which I hope will generate discussion and comment. A theme which will run through the paper is the need for precise definition of terms before making any normative statement about such terms. Our failure to do so in genetic discourse is at best confusing and at worst capable of resulting in inappropriate (and sometimes harmful) regulatory responses.
Access options
Buy single article
Instant access to the full article PDF.
USD 39.95
Price includes VAT (USA)
Tax calculation will be finalised during checkout.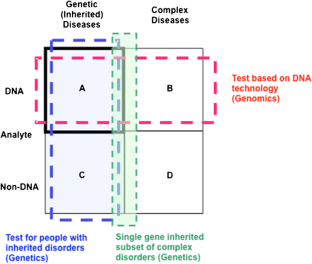 References
Becker F, van El CG, Ibarreta D, Zika E et al (2011) Genetic testing and common disorders in a public health framework: how to assess relevance and possibilities. Eur J Hum Genet 19:S6–S44

Bossuyet PM, Reitsma JB, Bruns DE et al (2003) Towards complete and accurate reporting of studies of diagnostic accuracy: the STARD initiative. BMJ 326:41–44

Burke W, Zimmern RL (2004) Ensuring the appropriate use of genetic tests. Nature Rev Genet 5(12):955–958

Burke W and Zimmern R (2007). Moving beyond ACCE: An expanded framework for genetic test evaluation. A paper for the UK Genetic Testing Network. PHG Foundation

European Parliament (2002) European Parliament Resolution on the Commission Communication on Life Sciences and Biotechnology – A Strategy for Europe (COM (2002) 27) of 21 November 2002. Available at http://www.europarl.europa.eu/sides/getDoc.do?pubRef=-//EP//TEXT+TA+P5-TA-2002-0566+0+DOC+XML+V0//EN. Accessed 4 April 2012

Furness P, Zimmern R, Wright C, Adams A (2008) The evaluation of diagnostic laboratory tests and complex biomarkers. Summary of a Diagnostic Summit 14-15 Jan 2008. PHG Foundation and Royal College of Pathologists. Available at http://www.phgfoundation.org/file/3998/. Accessed 4 April 2012

Global Harmonization Task Force (2007). Clinical Evaluation. Available at http://www.ghtf.org/documents/sg5/sg5_n2r8_2007final.pdf. Accessed 4 April 2012

Hansard (2006) House of Commons on Genetic Discrimination on 15 March 2006. Available at http://www.publications.parliament.uk/pa/cm200506/cmhansrd/vo060315/halltext/60315h02.htm#60315h02_head0. Accessed 4 April 2012

Human Genetics Commission (2002) Inside information: Balancing interests in the use of personal genetic data. Department of Health. London. Available at http://www.hgc.gov.uk/insideinformation_summary.pdf. Accessed 4 April 2012

Human Genetic Examination Act (Genetic Diagnosis Act – GenDG) (2009) Available at http://www.eurogentest.org/uploads/1247230263295/GenDG_German_English.pdf. Accessed 4 April 2012

Jörg Schmidke (2012); Eva Fisher (2012). Personal communication

Neil C, Manson NC, Onora O'Neill O (2007) Rethinking informed consent in bioethics. Cambridge University Press, Cambridge

Nuffield Council on Bioethics (2006) Genetic Screening: a supplement to the 1993 report. Nuffield Council on Bioethics. London. Available at http://www.nuffieldbioethics.org/GeneticScreening_Suppl2006.pdf. Accessed 4 April 2012

Sequeiros J, Paneque M, Guimaraes B et al (2012) The wide variation of definitions of genetic testing in international recommendations, guidelines and reports. J Community Genet 3(2):113–124

UNESCO (1997) Article 1 of the Universal Declaration of the Human Genome and Human Rights. Available at http://www.unesco.org/new/en/social-and-human-sciences/themes/bioethics/human-genome-and-human-rights/. Accessed 4 April 2012

Wright CF, Hall A, Zimmern RL (2010) Regulating direct-to-consumer genetic tests: what is all the fuss about? Genet Med 13:295–300

Zimmern RL (1999) Genetic Testing: a conceptual exploration. J Med Ethics 25:151–156

Zimmern RL (2009) Milroy lecture. Testing challenges: evaluation of novel diagnostics and molecular biomarkers. Clin Med 9:68–73

Zimmern R and Kroese M (2006) The evaluation of novel genetic tests and complex molecular biomarkers. A paper for the UK Genetic Testing Network. PHG Foundation

Zimmern RL, Kroese M (2007) The evaluation of genetic tests. J Public Health 24:1–5
Additional information
Special Issue: Predictive Genetic Testing, Risk Communication and Risk Perception.
About this article
Cite this article
Zimmern, R.L. Issues concerning the evaluation and regulation of predictive genetic testing. J Community Genet 5, 49–57 (2014). https://doi.org/10.1007/s12687-012-0111-3
Received:

Accepted:

Published:

Issue Date:
Keywords
Genetic Test

Genetic Discrimination

Predictive Genetic Test

Robert Koch Institute

Heritable Disorder