Abstract
Species from the genus Astragalus L. (Fabaceae) are distributed throughout the world, with southwest China being one of the distribution centers of this genus. Many Astragalus species are used by local Chinese people as traditional medicines for enhancing immunity. However, the complexity of morphological characters in many Astragalus species makes it difficult to correctly identify them. DNA barcoding is a useful tool for species identification based on standardized DNA markers. In this study, internal transcribed spacer (ITS) region and three chloroplast regions (matK, rbcL, and trnH–psbA) were used for the identification of Astragalus species from SW China. The ITS region showed a high success rate of PCR amplification and bidirectional sequencing, as well as a high discriminatory ability (72%). The matK region also possessed relatively perfect university and had a high discriminatory ability (61%); while the rbcL region, the most popular cpDNA marker, showed good university but low discriminatory ability (44%). We found that the trnH–psbA region was not suitable for identifying Astragalus species because of its low success rate of DNA sequencing. In the studied species, combination of multiple DNA barcodes could improve the discriminatory ability. The ITS region was able to identify frequently used Astragalus species in SW China, such as A. yunnanensis, A. acaulis, A. bhotanensis, and A. camptodontoides, and we concluded that this region could be listed as the core barcode for species identification of medicinal Astragalus species from SW China.
Access options
Buy single article
Instant access to the full article PDF.
US$ 39.95
Tax calculation will be finalised during checkout.
Subscribe to journal
Immediate online access to all issues from 2019. Subscription will auto renew annually.
US$ 79
Tax calculation will be finalised during checkout.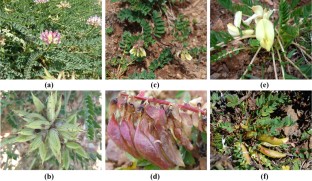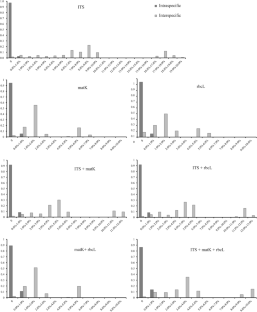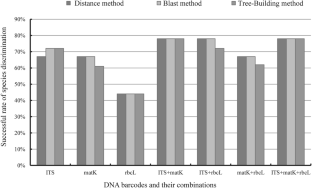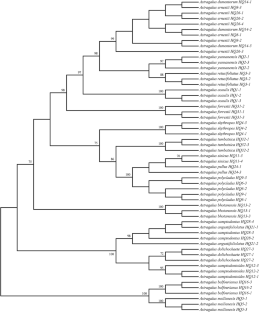 References
Bagheri A, Maassoumi AA, Rahiminejad MR, Brassac J, Blattner FR (2017) Molecular phylogeny and divergence times of Astragalus section Hymenostegis: an analysis of a rapidly diversifying species. Sci Rep 7:14033

CBOL Plant Working Group (2009) A DNA barcode for land plants. Proc Natl Acad Sci 106:12794–12797

Chen SL, Yao H, Han JP, Liu C, Song JY, Shi LC, Zhu YJ, Ma XY, Gao T, Pang XH, Luo K, Li Y, Li XW (2010) Validation of the ITS2 region as a novel DNA barcode for identifying medicinal plant species. PLoS ONE 5:e8613

Chen SL, Yao H, Han JP, Xin TY, Pang XH (2013) Principles for molecular identification of traditional Chinese materia medica using DNA barcoding. China J Chin Mater Med 38:141–148

China Plant BOL Working Group (2011) Comparative analysis of a large dataset indicates that internal transcribed spacer (ITS) should be incorporated into the core barcode for seed plants. Proc Natl Acad Sci 108:19641–19646

Coissac E, Hollingsworth PM, Lavergen S, Taberlet P (2016) From barcodes to genomes: extending the concept of DNA barcoding. Mol Ecol 25:1423–1428

Doyle JJ, Doyle JL (1987) A rapid DNA isolation procedure from small quantities of fresh leaf tissue. Phytochem Bull 19:11–15

Fu J, Wang ZH, Huang LF, Zheng SH, Wang DM, Chen SL, Zhang HT, Yang SH (2014) Review of the botanical characteristics, phytochemistry, and pharmacology of Astragalus membranaceus (Huangqi). Phytother Res 28:1275

Gao LM, Yan L, Phan LK, Yan LJ, Thomas P, Phan LK, Möller M, Li DZ (2016) DNA barcoding of east Asian Amentotaxus (Taxaceace): potential new species and implications for conservation. J Syst Evol 9999:1–9

Ghorbani A, Gravendeel B, Selliah S, Zarre S, Boer HD (2017) DNA barcoding of tuberous Orchidoideae: a resource of identificatin of orchids used in Salep. Mol Ecol Resour 17:342–352

Gogoi B, Bhau BS (2018) DNA barcoding of the genus Nepenthes (Pitcher Plant): a preliminary assessment towards its identification. BMC Plant Biol 18:153

Guo HY, Wang WW, Yang N, Guo BL, Zhang S, Yang RJ, Yuan Y, Yu JL, Hu SN, Sun QS, Yu J (2010) DNA barcoding provides distinction between Radix Astragali and its adulterants. Sci China Life Sci 53:992–999

Hall TA (1999) BioEdit: a user-friendly biological sequence alignment editor and analysis program for Windows 95/98/NT. Nucleic Acids Symp 41:95–98

Han BY, Zhang Y, Tian XY, Xiao CJ (2016) Chemical constituents from undergroud part of Astragalus camptodontoides. Guihaia 36(11):1382–1388

Hebert PDN, Cywinska A, Ball SL, deWaard JR (2003) Biological identifications through DNA barcodes. Proc R Soc B 270:313–327

Hollingsworth PM, Graham SW, Little DP (2011) Choosing and using a plant DNA barcode. PLoS ONE 6:e19254

Kiss L (2012) Limits of nuclear ribosomal DNA internal transcribed spacer (ITS) sequences as species barcodes for Fungi. Proc Natl Acad Sci 109:e1811

Kool A, de Boer HJ, Krüger Å, Rydberg A, Abbad A, Björk L, Martin G (2012) Molecular identification of commercialized medicinal plants in Southern Morocco. PLoS ONE 7:e39459

Kress WJ (2017) Plant DNA barcodes: applications today and in the future. J Syst Evol 55(44):291–307

Kress WJ, Wurdack KJ, Zimmer EA, Weigh LA, Janzen DH (2005) Use of DNA barcodes to identify flowering plants. Proc Natl Acad Sci 102:8369–8374

Li XW, Yang Y, Henry RJ, Rosetto M, Wang YT, Chen SL (2015) Plant DNA barcoding: from gene to genome. Biol Rev 90:157–166

Liu J, Yan HF, Ge XJ (2016) The use of DNA barcoding on recently diverged species in the genus Gentiana (Gentianaceae) in China. PLoS ONE 11(4):e0153008

Manzanilla V, Kool A, Nhat LN, Van HN, Thu HLT, de Boer HJ (2018) Phylogenomics and barcoding of Panax: toward the identification of ginseng species. BMC Evol Biol 18:44

Meier R, Kwong S, Vaidya G, Ng PKL (2006) DNA barcoding and taxonomy in Diptera: a tale of high intraspecific variability and low identification success. Syst Biol 55(5):715–728

Mishra P, Kumar A, Nagireddy A, Mani DN, Shukla AK, Tiwari R, Sundaresan V (2016) DNA barcoding: an efficient tool to overcome authentication challenges in the herbal market. Plant Biotechnol J 14:8–21

Mishra P, Kumar A, Nagireddy A, Shukla AK, Sundaresan V (2017) Evaluation of single and multilocus DNA barcodes towards species delineation in complex tree genus Terminalia. PLoS ONE 12(8):e0182836

Qian ZG, Jia XY, Dai R, Gu DS (1997) Study on species diversity of medicinal plant, genus Astragalus in Yunnan. J Yunnan Univ Tradit Chin Med 20:4–7

Schoch CL, Seifert KA, Huhndorf S, Robert V, Spouge JL, Levesque CA, Chen W (2012) Nuclear ribosomal internal transcribed spacer (ITS) region as a universal DNA barcode marker for Fungi. Proc Natl Acad Sci 109:6241–6246

State Pharmacopoeia Committee (2015) Chinese Pharmacopoeia. China Medical Science and Technology Press, Beijing

Tamura K, Peterson D, Peterson N, Stecher G, Nei M, Kumar S (2011) MEGA5: molecular evolutionary genetics analysis using maximum likelihood, evolutionary distance, and maximum parsimony methods. Mol Biol Evol 28:2731–2739

Techen N, Parveen I, Pan Z, Khan IA (2014) DNA barcoding of medicinal plant material for identification. Curr Opin Biotechnol 25:103–110

Tian XY, Han BY, Xiao CJ, Jiang B (2014) Chemical and Biological studies of Astragalus ernestii H.F. Comber. Nat Prod Res Dev 26:188–192

Ünsal SG, Çiftçi YÖ, Eken BU, Velioğlu E, Marco GD, Gismondi A, Canini A (2019) Intraspecific discrmination study of wild cherry populations from North-Western Turkey by DNA barcoding approach. Tree Genet Genomes 15:16

Wu F, Ma JX, Meng YQ, Zhang DY, Muvunyi BP, Luo K, Di HY, Guo WL, Wang YR, Feng BC, Zhang JY (2017) Potential DNA barcodes for Melilotus species based on five single loci and their combinations. PLoS ONE 12(9):e0182693

Xiao CJ, Zhang Y, Qiu L, Dong X, Jiang B (2014) Schistosomicidal and antioxidant flavonoids from Astragalus englerianus. Planta Med 80:1727–1731

Xiao CJ, Qiu L, Xu W, Dong X, Jiang B (2015) Chemical constituents from roots of Astragalus englerianus and their anti-oxidative activities. Chin Tradit Herb Drugs 46(1):22–27

Xu LR, Podlech D (2010) Fabaceae. In: Wu ZY, Raven PH (eds) Flora of China. Missouri Botanical Garden Press, Beijing

Yan LJ, Liu J, Moller M, Zhang L, Zhang M, Li DZ, Gao LM (2015) DNA barcoding of Rhododendron (Ericaceae), the largest Chinese plant genus in biodiversity hotspots of the Himalya-Hengduan Mountains. Mol Ecol Resour 15:932–944

Yao H, Song JY, Liu C, Luo K, Han JP, Li Y, Pang XH, Xu HX, Zhu YJ, Xiao PG, Chen SL (2010) Use of ITS2 region as the universal DNA barcode for plants and animals. PLoS ONE 5:e13102

Yip PY, Kwan HS (2006) Molecular identification of Astragalus membranaceus at the species and locality levels. J Ethnopharm 106:222–229

Zhang DQ, Duan LZ, Zhou N (2014) Application of DNA barcoding in Roscoea (Zingiberaceae) and a primary discussion on taxonomic status of Roscoea cautleoides var. pubescens. Biochem Syst Ecol 52:14–19

Zheng SH, Liu DW, Ren WG, Fu J, Huang LF, Chen SL (2014) Integrated analysis for identifying radix astragali and its adulterants based on DNA barcoding. Evid-Based Complement Altern Med 2014:1–11
Acknowledgements
This study was supported by the National Natural Science Foundation of China (Grant Nos. 31170313, 81960637 & 31660081) and Yunnan provincial science and Technology Department (Grant No. 2016FB144). The authors thank Chunlei Xiang, Junbo Yang, Jing Yang, and Zhirong Zhang from the Kunming Institution of Botany (CAS) for their help in specimen identification and molecular experiments as well as Liyun Yang from the Institute of Alpine Economic Plant, Yunnan Academy of Agricultural Sciences, for her help in collecting specimens and materials for the molecular analyses.
Additional information
Publisher's Note
Springer Nature remains neutral with regard to jurisdictional claims in published maps and institutional affiliations.
About this article
Cite this article
Zhang, D., Jiang, B. Species identification in complex groups of medicinal plants based on DNA barcoding: a case study on Astragalus spp. (Fabaceae) from southwest China. Conservation Genet Resour 12, 469–478 (2020). https://doi.org/10.1007/s12686-019-01119-6
Received:

Accepted:

Published:

Issue Date:
Keywords
Astragalus

DNA barcoding

Species identification

Medicinal plant

ITS

Southwest China