Abstract
Accurate species identification is the basis for successful species conservation and research, but extensive phenotypic plasticity in freshwater mussel (Bivalvia: Unionida) species often leads to misidentification by morphology alone. Molecular techniques have proven a powerful alternative tool for identification of freshwater mussels in North America and Europe. Unfortunately, no such tools are currently available for tropical mussels, which are subject to particularly severe habitat alteration and destruction. We developed a PCR–RFLP key for the freshwater mussel fauna of Peninsular Malaysia, comprising nine native and one non-native species from seven genera and three unionid subfamilies (Gonideinae, Rectidentinae and Anodontinae). The key enables identification of each species in two to four single digestion steps using six restriction endonucleases. All species can be identified using a single PCR fragment of 374 bp length (Histone H3) with the exception of two Pseudodon species, which can be differentiated through amplification and subsequent digestion of a 709 bp CO1 gene fragment. Reliability of the key was tested with specimens from 46 populations sampled from 13 different river basins of Peninsular Malaysia.
Access options
Buy single article
Instant access to the full article PDF.
US$ 39.95
Tax calculation will be finalised during checkout.
Subscribe to journal
Immediate online access to all issues from 2019. Subscription will auto renew annually.
US$ 79
Tax calculation will be finalised during checkout.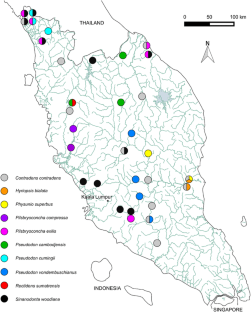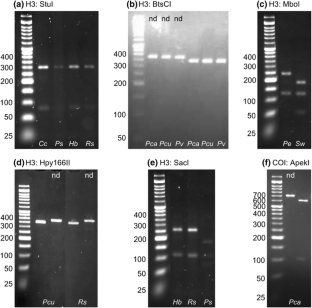 References
Beggel S, Geist J (2015) Acute effects of salinity exposure on glochidia viability and host infection of the freshwater mussel Anodonta anatina (Linnaeus, 1758). Sci Total Environ 502:659–665. https://doi.org/10.1016/j.scitotenv.2014.09.067

Boyer SL, Howe AA, Juergens NW, Hove MC (2011) A DNA-barcoding approach to identifying juvenile freshwater mussels (Bivalvia: Unionidae) recovered from naturally infested fishes. J N Am Benthol Soc 30:182–194. https://doi.org/10.1899/10-004.1

Campbell DC, Johnson PD, Williams JD et al (2008) Identification of "extinct" freshwater mussel species using DNA barcoding. Mol Ecol Resour 8:711–724. https://doi.org/10.1111/j.1755-0998.2008.02108.x

Cho A, Morris T, Wilson C, Freeland J (2016) Development of species-specific primers with potential for amplifying eDNA from imperilled freshwater unionid mussels. Genome. https://doi.org/10.1139/gen-2015-0196

Chowdhury GW, Zieritz A, Aldridge DC (2016) Ecosystem engineering by mussels supports biodiversity and water clarity in a heavily polluted lake in Dhaka, Bangladesh. Freshw Sci 35:188–199. https://doi.org/10.1086/684169

Colgan DJ, Ponder WF, Eggler PE (2000) Gastropod evolutionary rates and phylogenetic relationships assessed using partial 28S rDNA and histone H3 sequences. Zool Scr 29:29–63. https://doi.org/10.1046/j.1463-6409.2000.00021.x

de Bruyn M, Stelbrink B, Morley RJ et al (2014) Borneo and Indochina are major evolutionary hotspots for Southeast Asian biodiversity. Syst Biol 63:879–901. https://doi.org/10.1093/sysbio/syu047

Dudgeon D (2000) The ecology of tropical Asian rivers and streams in relation to biodiversity conservation. Annu Rev Ecol Syst 31:239–263. https://doi.org/10.1146/annurev.ecolsys.31.1.239 doi

Elderkin CL (2009) Intragenomic variation in the rDNA internal transcribed spacer (ITS1) in the freshwater mussel Cumberlandia monodonta (Say, 1828). J Molluscan Stud 75:419–421. https://doi.org/10.1093/mollus/eyp043

Folmer O, Black M, Hoeh W et al (1994) DNA primers for amplification of mitochondrial cytochrome c oxidase subunit I from diverse metazoan invertebrates. Mol Mar Biol Biotechnol 3:294–299

Gerke N, Tiedemann R (2001) A PCR-based molecular identification key to the glochidia of European freshwater mussels (Unionidae). Conserv Genet 2:287–289

Gustafson RG, Iwamoto EM (2005) A DNA-based identification key to pacific northwest freshwater mussel glochidia: importance to salmonid and mussel conservation. Northwest Sci 79:233–245

Haag WR, Williams JD (2014) Biodiversity on the brink: an assessment of conservation strategies for North American freshwater mussels. Hydrobiologia 735:45–60. https://doi.org/10.1007/s10750-013-1524-7

Hartmann JT, Beggel S, Auerswald K et al (2016) Establishing mussel behavior as a biomarker in ecotoxicology. Aquat Toxicol 170:279–288. https://doi.org/10.1016/j.aquatox.2015.06.014

IUCN (2016) IUCN red list of threatened species. Version 2016-2. http://www.iucnredlist.org

Källersjö M, von Proschwitz T, Lundberg S et al (2005) Evaluation of ITS rDNA as a complement to mitochondrial gene sequences for phylogenetic studies in freshwater mussels: an example using Unionidae from north-western Europe. Zool Scr 34:415–424

Kneeland SC, Rhymer JM (2007) A molecular identification key for freshwater mussel glochidia encysted on naturally parasitized fish hosts in Maine, USA. J Molluscan Stud 73:279–282. https://doi.org/10.1093/mollus/eym017

Kneeland SC, Rhymer JM (2008) Determination of fish host use by wild populations of rare freshwater mussels using a molecular identification key to identify-glochidia. J N Am Benthol Soc 27:150–160. https://doi.org/10.1899/07-036.1

Lopes-Lima M, Froufe E, Do VT et al (2017) Phylogeny of the most species-rich freshwater bivalve family (Bivalvia: Unionida: Unionidae): defining modern subfamilies and tribes. Mol Phylogenet Evol 106:174–191. https://doi.org/10.1016/j.ympev.2016.08.021

Myers N, Mittermeier RA, Mittermeier CG et al (2000) Biodiversity hotspots for conservation priorities. Nature 403:853–858. https://doi.org/10.1038/35002501

Stoeckle BC, Kuehn R, Geist J (2016) Environmental DNA as a monitoring tool for the endangered freshwater pearl mussel (Margaritifera margaritifera L.): a substitute for classical monitoring approaches? Aquat Conserv Mar Freshw Ecosyst 26:1120–1129. https://doi.org/10.1002/aqc.2611

Vannarattanarat S, Zieritz A, Kanchanaketu T et al (2014) Molecular identification of the economically important freshwater mussels (Mollusca-Bivalvia-Unionoida) of Thailand: developing species-specific markers from AFLPs. Anim Genet 45:235–239. https://doi.org/10.1111/age.12115

Vaughn CC (2018) Ecosystem services provided by freshwater mussels. Hydrobiologia 810:15–27

Vesterlund S, Sorvari J, Vasemägi A (2014) Molecular identification of cryptic bumblebee species from degraded samples using PCR–RFLP approach. Mol Ecol Resour 14:122–126

Wächtler K, Mansur MCD, Richter T (2001) Larval types and early postlarval biology in naiads (Unionoida). In: Bauer G, Wächtler K (eds) Ecology and evolution of the freshwater mussels Unionoida. Springer, Berlin, pp 93–125

White LR, McPheron BA, Stauffer JR (1994) Identification of fresh-water mussel glochidia on host fishes using restriction-fragment-length polymorphisms. Mol Ecol 3:183–185

White LR, McPheron BA, Stauffer JR (1996) Molecular genetic identification tools for the unionids of French Creek, Pennsylvania. Malacologia 38:181–202

Zieritz A, Aldridge DC (2009) Identification of ecophenotypic trends within three European freshwater mussel species (Bivalvia: Unionoida) using traditional and modern morphometric techniques. Biol J Linn Soc 98:814–825. https://doi.org/10.1111/j.1095-8312.2009.01329.x

Zieritz A, Aldridge DC (2011) Sexual, habitat-constrained and parasite-induced dimorphism in the shell of a freshwater mussel (Anodonta anatina, Unionidae). J Morphol 272:1365–1375. https://doi.org/10.1002/jmor.10990

Zieritz A, Lopes-Lima M (2018) Handbook and National Red-List of the Freshwater Mussels of Malaysia. IUCN

Zieritz A, Hoffman JI, Amos W, Aldridge DC (2010) Phenotypic plasticity and genetic isolation-by-distance in the freshwater mussel Unio pictorum (Mollusca: Unionoida). Evol Ecol 24:923–938. https://doi.org/10.1007/s10682-009-9350-0

Zieritz A, Gum B, Kuehn R, Geist J (2012) Identifying freshwater mussels (Unionoida) and parasitic glochidia larvae from host fish gills: a molecular key to the North and Central European species. Ecol Evol 2:740–750. https://doi.org/10.1002/ece3.220

Zieritz A, Lopes-Lima M, Bogan AE et al (2016) Factors driving changes in freshwater mussel (Bivalvia, Unionida) diversity and distribution in Peninsular Malaysia. Sci Total Environ 571:1069–1078. https://doi.org/10.1016/j.scitotenv.2016.07.098

Zieritz A, Bogan AE, Froufe E et al (2018a) Diversity, biogeography and conservation of freshwater mussels (Bivalvia: Unionida) in East and Southeast Asia. Hydrobiologia 810:29–44. https://doi.org/10.1007/s10750-017-3104-8

Zieritz A, Bogan AE, Rahim KAA et al (2018b) Changes and drivers of freshwater mussel diversity and distribution in northern Borneo. Biol Conserv 219:126–137
Acknowledgements
This project was funded by the Ministry of Higher Education Research Grant FRGS/1/2015/WAB13/UNIM//1. We thank SNA Musa, SNK Che Samsuddin and SN Muhamad Nor for laboratory-work assistance.
About this article
Cite this article
Razak, N.F.A., Supramaniam, C.V. & Zieritz, A. A dichotomous PCR–RFLP identification key for the freshwater mussels (Bivalvia: Unionida) of Peninsular Malaysia. Conservation Genet Resour 11, 457–464 (2019). https://doi.org/10.1007/s12686-018-1038-8
Received:

Accepted:

Published:

Issue Date:
Keywords
COI

Histone H3

Glochidia

Molecular identification

Molluscs

Unionidae