Abstract
In this study, we aimed to develop an approach for genetic material extraction and sample preparation of ancient DNA for next generation sequencing that minimizes intra-laboratory contamination. A special module system consisting of four sterile gloveboxes connected by antechambers, which maintain a high purity atmosphere and allow conducting all stages of sample preparation in an isolated clean environment, starting with the processing of archaeological material, was developed. Furthermore, a fast and cost-effective double-stranded library preparation protocol for massive parallel sequencing was developed using non-standard modified sequencing adaptors, which enabled obtaining a library of fragments from extremely low amounts of starting degraded material. Bioinformatics data processing showed that the distribution of substitution frequencies in a subset of reads, mapped to the human reference genome, completely coincides with the pattern of postmortem modifications expected when the double-stranded library preparation method is employed. This is a strong evidence for the endogenous origin of the sequenced fragments of the human genome. Thus, the results of ancient sample and negative control sample sequencing, indicated the absence of visible contamination during sample preparation procedure.
Access options
Buy single article
Instant access to the full article PDF.
US$ 39.95
Tax calculation will be finalised during checkout.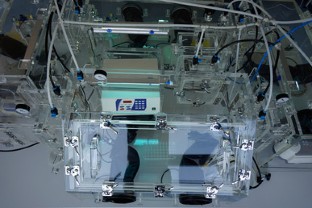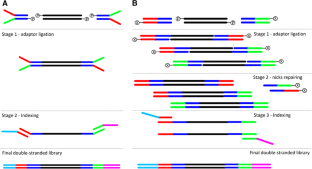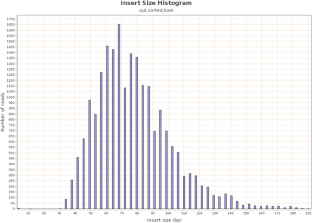 References
Allard MW, Young D, Huyen Y (1995) Detecting dinosaur DNA. Science 268:1192 (author reply 1194)

Allentoft ME, Sikora M, Sjogren KG, Rasmussen S, Rasmussen M, Stenderup J, Damgaard PB, Schroeder H, Ahlstrom T, Vinner L, Malaspinas AS, Margaryan A, Higham T, Chivall D, Lynnerup N, Harvig L, Baron J, Della Casa P, Dabrowski P, Duffy PR, Ebel AV, Epimakhov A, Frei K, Furmanek M, Gralak T, Gromov A, Gronkiewicz S, Grupe G, Hajdu T, Jarysz R, Khartanovich V, Khokhlov A, Kiss V, Kolar J, Kriiska A, Lasak I, Longhi C, McGlynn G, Merkevicius A, Merkyte I, Metspalu M, Mkrtchyan R, Moiseyev V, Paja L, Palfi G, Pokutta D, Pospieszny L, Price TD, Saag L, Sablin M, Shishlina N, Smrcka V, Soenov VI, Szeverenyi V, Toth G, Trifanova SV, Varul L, Vicze M, Yepiskoposyan L, Zhitenev V, Orlando L, Sicheritz-Ponten T, Brunak S, Nielsen R, Kristiansen K, Willerslev E (2015) Population genomics of Bronze Age Eurasia. Nature 522:167–172. https://doi.org/10.1038/nature14507

Austin JJ, Ross AJ, Smith AB, Fortey RA, Thomas RH (1997a) Problems of reproducibility—does geologically ancient DNA survive in amber-preserved insects? Proc Biol Sci 264:467–474. https://doi.org/10.1098/rspb.1997.0067

Austin JJ, Smith AB, Thomas RH (1997b) Palaeontology in a molecular world: the search for authentic ancient DNA. Trends Ecol Evol 12:303–306. https://doi.org/10.1016/S0169-5347(97)01102-6

Briggs AW, Stenzel U, Johnson PL, Green RE, Kelso J, Prufer K, Meyer M, Krause J, Ronan MT, Lachmann M, Paabo S (2007) Patterns of damage in genomic DNA sequences from a Neandertal. Proc Natl Acad Sci USA 104:14616–14621. https://doi.org/10.1073/pnas.0704665104

Cock PJ, Antao T, Chang JT, Chapman BA, Cox CJ, Dalke A, Friedberg I, Hamelryck T, Kauff F, Wilczynski B, de Hoon MJ (2009) Biopython: freely available Python tools for computational molecular biology and bioinformatics. Bioinformatics 25:1422–1423. https://doi.org/10.1093/bioinformatics/btp163

Cooper A, Poinar HN (2000) Ancient DNA: do it right or not at all. Science 289:1139

Dabney J, Knapp M, Glocke I, Gansauge MT, Weihmann A, Nickel B, Valdiosera C, Garcia N, Paabo S, Arsuaga JL, Meyer M (2013) Complete mitochondrial genome sequence of a Middle Pleistocene cave bear reconstructed from ultrashort DNA fragments. Proc Natl Acad Sci USA 110:15758–15763. https://doi.org/10.1073/pnas.1314445110

Der Sarkissian C, Allentoft ME, Avila-Arcos MC, Barnett R, Campos PF, Cappellini E, Ermini L, Fernandez R, da Fonseca R, Ginolhac A, Hansen AJ, Jonsson H, Korneliussen T, Margaryan A, Martin MD, Moreno-Mayar JV, Raghavan M, Rasmussen M, Velasco MS, Schroeder H, Schubert M, Seguin-Orlando A, Wales N, Gilbert MT, Willerslev E, Orlando L (2015) Ancient genomics. Philos Trans R Soc Lond B Biol Sci 370:20130387. https://doi.org/10.1098/rstb.2013.0387

Fulton TL (2012) Setting up an ancient DNA laboratory. Methods Mol Biol 840:1–11. https://doi.org/10.1007/978-1-61779-516-9_1

Gansauge MT, Meyer M (2013) Single-stranded DNA library preparation for the sequencing of ancient or damaged DNA. Nat Protoc 8:737–748. https://doi.org/10.1038/nprot.2013.038

Gilbert MT, Hansen AJ, Willerslev E, Rudbeck L, Barnes I, Lynnerup N, Cooper A (2003a) Characterization of genetic miscoding lesions caused by postmortem damage. Am J Hum Genet 72:48–61. https://doi.org/10.1086/345379

Gilbert MT, Willerslev E, Hansen AJ, Barnes I, Rudbeck L, Lynnerup N, Cooper A (2003b) Distribution patterns of postmortem damage in human mitochondrial DNA. Am J Hum Genet 72:32–47. https://doi.org/10.1086/345378

Graur D, Pupko T (2001) The Permian bacterium that isn't. Mol Biol Evol 18:1143–1146

Gutierrez G, Marin A (1998) The most ancient DNA recovered from an amber-preserved specimen may not be as ancient as it seems. Mol Biol Evol 15:926–929

Hofreiter M, Jaenicke V, Serre D, von Haeseler A, Paabo S (2001) DNA sequences from multiple amplifications reveal artifacts induced by cytosine deamination in ancient DNA. Nucleic Acids Res 29:4793–4799

Krause J, Orlando L, Serre D, Viola B, Prufer K, Richards MP, Hublin JJ, Hanni C, Derevianko AP, Paabo S (2007) Neanderthals in central Asia and Siberia. Nature 449:902–904. https://doi.org/10.1038/nature06193

Langmead B, Salzberg SL (2012) Fast gapped-read alignment with Bowtie 2. Nat Methods 9:357–359. https://doi.org/10.1038/nmeth.1923

Li H, Durbin R (2009) Fast and accurate short read alignment with Burrows-Wheeler transform. Bioinformatics 25:1754–1760. https://doi.org/10.1093/bioinformatics/btp324

Li TW, Weeks KM (2006) Structure-independent and quantitative ligation of single-stranded DNA. Anal Biochem 349:242–246. https://doi.org/10.1016/j.ab.2005.11.002

Lindahl T (1993) Instability and decay of the primary structure of DNA. Nature 362:709–715. https://doi.org/10.1038/362709a0

Nicholls H (2005) Ancient DNA comes of age. PLoS Biol 3:e56. https://doi.org/10.1371/journal.pbio.0030056

Okonechnikov K, Conesa A, Garcia-Alcalde F (2016) Qualimap 2: advanced multi-sample quality control for high-throughput sequencing data. Bioinformatics 32:292–294. https://doi.org/10.1093/bioinformatics/btv566

Orlando L, Ginolhac A, Zhang G, Froese D, Albrechtsen A, Stiller M, Schubert M, Cappellini E, Petersen B, Moltke I, Johnson PL, Fumagalli M, Vilstrup JT, Raghavan M, Korneliussen T, Malaspinas AS, Vogt J, Szklarczyk D, Kelstrup CD, Vinther J, Dolocan A, Stenderup J, Velazquez AM, Cahill J, Rasmussen M, Wang X, Min J, Zazula GD, Seguin-Orlando A, Mortensen C, Magnussen K, Thompson JF, Weinstock J, Gregersen K, Roed KH, Eisenmann V, Rubin CJ, Miller DC, Antczak DF, Bertelsen MF, Brunak S, Al-Rasheid KA, Ryder O, Andersson L, Mundy J, Krogh A, Gilbert MT, Kjaer K, Sicheritz-Ponten T, Jensen LJ, Olsen JV, Hofreiter M, Nielsen R, Shapiro B, Wang J, Willerslev E (2013) Recalibrating Equus evolution using the genome sequence of an early Middle Pleistocene horse. Nature 499:74–78. https://doi.org/10.1038/nature12323

Paabo S (1989) Ancient DNA: extraction, characterization, molecular cloning, and enzymatic amplification. Proc Natl Acad Sci USA 86:1939–1943

Rasmussen M, Li Y, Lindgreen S, Pedersen JS, Albrechtsen A, Moltke I, Metspalu M, Metspalu E, Kivisild T, Gupta R, Bertalan M, Nielsen K, Gilbert MT, Wang Y, Raghavan M, Campos PF, Kamp HM, Wilson AS, Gledhill A, Tridico S, Bunce M, Lorenzen ED, Binladen J, Guo X, Zhao J, Zhang X, Zhang H, Li Z, Chen M, Orlando L, Kristiansen K, Bak M, Tommerup N, Bendixen C, Pierre TL, Gronnow B, Meldgaard M, Andreasen C, Fedorova SA, Osipova LP, Higham TF, Ramsey CB, Hansen TV, Nielsen FC, Crawford MH, Brunak S, Sicheritz-Ponten T, Villems R, Nielsen R, Krogh A, Wang J, Willerslev E (2010) Ancient human genome sequence of an extinct Palaeo-Eskimo. Nature 463:757–762. https://doi.org/10.1038/nature08835

Skoglund P, Northoff BH, Shunkov MV, Derevianko AP, Paabo S, Krause J, Jakobsson M (2014) Separating endogenous ancient DNA from modern day contamination in a Siberian Neandertal. Proc Natl Acad Sci USA 111:2229–2234. https://doi.org/10.1073/pnas.1318934111

Zhang Z, Schwartz S, Wagner L, Miller W (2000) A greedy algorithm for aligning DNA sequences. J Comput Biol 7:203–214. https://doi.org/10.1089/10665270050081478

Zischler H, Hoss M, Handt O, von Haeseler A, van der Kuyl AC, Goudsmit J (1995) Detecting dinosaur DNA. Science 268:1192–1193 (author reply 1194)
Funding
This work was supported by the Endowment Fund.
About this article
Cite this article
Matsvay, A.D., Alborova, I.E., Pimkina, E.V. et al. Experimental approaches for ancient DNA extraction and sample preparation for next generation sequencing in ultra-clean conditions. Conservation Genet Resour 11, 345–353 (2019). https://doi.org/10.1007/s12686-018-1016-1
Received:

Accepted:

Published:

Issue Date:
Keywords
Ancient DNA

Bioinformatics

Human genetics

Next generation sequencing

DNA extraction