Abstract
Transcriptome sequencing was performed using Illumina paired-end RNA sequencing technology, for facilitating gene discovery and SSR marker development in an endangered tree, Woonyoungia septentrionalis. A total of 41,578,222 high-quality reads were obtained, and 93,156 non-redundant unigenes were assembled and annotated by sequence similarity searching in diverse public databases. Analyses showed that 36,176 unigenes (38.83%) had at least blast hit against Nr, Nt, KO, SwissProt, PFAM, KO, or GO database; and 2945 unigenes (4.13%) were annotated in all seven databases. Totally, 17,719 genic-SSRs were identified in 14,629 (15.70%) out of 93,156 unigenes. Finally, 51 primers of the 64 designed SSR primers produced clear SSR bands, of which 20 SSR loci were polymorphic in 149 individuals representing four natural populations. Observed and expected heterozygosity varied from 0 to 0.846 and from 0 to 0.792, respectively. At the species level, the Ho and He of the four W. septentrionalis populations were 0.3325 and 0.3559, respectively. The average genetic diversity within populations, H and I were 0.3500 and 0.5937, respectively. Cross-species amplification of the 20 markers was tested in other related species. The transcriptomic resources and genic SSR markers are valuable tools not only for ecological conservation of this species, but also for phylogenetic studies.
Access options
Buy single article
Instant access to the full article PDF.
US$ 39.95
Tax calculation will be finalised during checkout.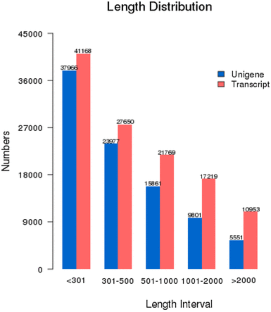 References
Dandy JE (1931) Four new Magnolieae from Kwangsi. J Bot 69:231–233

Doyle JJ (1987) Isolation of DNA from fresh plant tissue. Phytochem Bull 19:11–15

Figlar RB, Nooteboom HP (2004) Notes on Magnoliaceae IV. Blumea 49:87–100

Flora of China Editorial Committee (2008) Flora of China (Menispermaceae through Capparaceae). In: Wu CY, Raven PH, Hong DY (eds) Flora of China, vol 7. Science Press & Missouri Botanical Garden Press, Beijing & St. Louis, p 68

Grabherr MG, Haas BJ, Yassour M, Levin JZ, Thompson DA, Amit I, Adiconis X, Fan L, Raychowdhury R, Zeng Q (2011) Full-length transcriptome assembly from RNA-Seq data without a reference genome. Nat Biotechnol 29:644–652

Law YW (1984) A preliminary study on the taxonomy of the family Magnoliaceae. Acta Phytotaxon Sin 22:89–109

Law YW (1997) Woonyoungia Law—a new genus of Magnoliaceae from China. Bull Bot Res 17(4):354

Lin Q, Duan L, Yuan D Q (2005) Taxonomic notes on the genus Kmeria (Pierre) Dandy (Magnoliaceae). J Wuhan Bot Res 23:236–238

Lin Y, Zeng L, Zhang Q, Wang Y, Tang S (2011) Development of microsatellite markers in Kmeria septentrionalis (Magnoliaceae), an endangered Chines tree. Am J Bot 98:e158–e160

Martin M (2011) Cutadapt removes adapter sequences from high-throughput sequencing reads. Embnet Journal. doi:10.14806/ej.17.1.200

Nooteboom HP, Chalermglin PA (2002) A new species of Magnolia (Magnoliaceae) from Thailand. Blumea 47:541–543

Pan CY (2007) Reproductive ecology research on rare and endangered species Kmeria septentrionalis Dandy. Master Degree Thesis, Guangxi University, China

Peakall R, Smouse PE (2012) GenAIEx 6.5: genetic analysis in Excel. Population genetic software for teaching and research–an update. Bioinformatics 28:2537–2539

Peng YH, He QF, Tan CQ, Shen WH, Qin WG, He F (2016) Quantitative analysis of stand spatial structure of a rare species Kmeria septentrionalis in Guangxi. Chin J Ecol 35:363–369

Xu M, Liu X, Wang JW, Teng SY, Shi JQ, Li YY, Huang MR (2017) Transcriptome sequencing and development of novel genic SSR markers for Dendrobium officinale. Mol Breed 37:8

Yeh FC, Yang R, Boyle T (1999) Popgene version 1.32: Microsoft Window-based freeware for population genetics analysis. University of Alberta, Edmonton

Zhang QW, Lin YT, Qin WG, Wei GF, Liu YH, Tang SQ (2013) Population size structure and life table of endangered plant Woonyoungia septentrionalis. Guihaia 33:291–294

Zhao JL, He TH, Li QM (2010) Contrasting coarse and fine scale genetic structure among isolated relic population of Kmeria septentrionalis. Genetica 138:939–944
Acknowledgements
This study was supported by the National Key Research and Development Program of China (2016YFC0502605), the Priority Academic Program Development of Jiangsu Higher Education Institutions (PAPD), and the Collaborative Innovation Plan of Jiangsu Higher Education (CIP).
About this article
Cite this article
Xu, M., Li, Z., Wang, J. et al. RNA sequencing and SSR marker development for genetic diversity research in Woonyoungia septentrionalis (Magnoliaceae). Conservation Genet Resour 10, 867–872 (2018). https://doi.org/10.1007/s12686-017-0884-0
Received:

Accepted:

Published:

Issue Date:
Keywords
Endangered tree

Genic SSR

Genetic diversity

Transcriptome sequencing

Woonyoungia septentrionalis