Abstract
Prior to conducting genetic studies on critically endangered species, it is desirable to optimise DNA extraction to limit destructive sampling and reduce impacts on populations. We optimized DNA extraction for the critically endangered marine alga, Nereia lophocladia. Only gentle cryogenic homogenization using a mortar and pestle, followed by brief incubation in lysis buffer, produced high molecular weight DNA. However, this DNA still required post hoc cleanup to be of sufficient quantity for PCR and next generation sequencing. Importantly, sufficient DNA can be obtained from as little as 25 mg of algal material while still allowing contingencies for losses associated with cleanup. Optimisation of DNA extraction for this critically endangered species is paving the way for genomic studies to inform management strategies and conservation.
Access options
Buy single article
Instant access to the full article PDF.
US$ 39.95
Tax calculation will be finalised during checkout.
Subscribe to journal
Immediate online access to all issues from 2019. Subscription will auto renew annually.
US$ 79
Tax calculation will be finalised during checkout.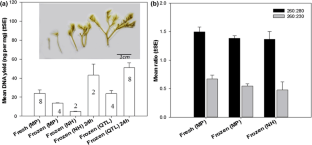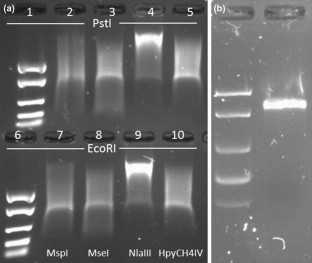 References
Brodie J, Anderson RA, Kawachi M, Millar AJ (2009) Endangered algal species and how to protect them. Phycologia 48:423–438

DPI (2016) http://www.dpi.nsw.gov.au/fishing/species-protection/conservation/what-current/critically/marine-brown-alga/priorities-action-statement-actions-for-marine-brown-algae-nereia-lophocladia

FSC (2008) Final Determination 36—Nereia lophocladia, Brown alga. http://www.dpi.nsw.gov.au/__data/assets/pdf_file/0015/251340/FD36-Nereia-lophocladia.pdf. Accessed 29 September 2015.

Kramer AT, Havens K (2009) Plant conservation genetics in a changing world. Trends Plant Sci 14:599–607

Russello RA, Waterhouse MD, Etter PD, Hohnson EA (2015) From promise to practice: pairing non-invasive sampling with genomics in conservation. Peer J 3:e1106

Snirc A, Silberfeld T, Bonnet J, Tillier A, Tuffet S, Sun JS (2010) Optimisation of DNA extraction from brown algae (Phaeophyceae) based on a commerical kit. J Phycol 46:616–621

Taberlet P, Waits LP, Luikart G (1999) Noninvasive genetic sampling: look before you leap. Trends Ecol Evol 14:323–327

Wilson LJ, Weber XA, King TM, Fraser CI (2016) DNA extraction techniques for genomic analyses of macroalgae. In: Hu Z, Fraser C (eds) Seaweed phylogeography. Springer, Dordrecht

Yee NR, Finley LA (2015) Targeted surveys for critically endangered marine brown alga Nereia lophocladia. Coffs Harbour Underwater Inspection – Northern Breakwater Upgrade Project. Report prepared by Elgin Associates for NSW DPI Lands, 21 September 2015.
Acknowledgements
We thank Nicholas Yee, Luke Finley and Andrew Roberts for specimen collection. Research was done under New South Wales Department of Primary Industries permits SIMP 2015/001 and PO1/0059(A)-2.0.
Electronic supplementary material
Below is the link to the electronic supplementary material.
About this article
Cite this article
Coleman, M.A., Weigner, K.E. & Kelaher, B.P. Optimising DNA extraction from a critically endangered marine alga. Conservation Genet Resour 10, 309–311 (2018). https://doi.org/10.1007/s12686-017-0810-5
Received:

Accepted:

Published:

Issue Date:
Keywords
Seaweed

Threatened

Rare

Brown alga