Abstract
Noninvasive genetic methods enable the sampling of natural populations while minimizing detrimental effects on them. However, noninvasive methods are marred by DNA extraction and amplification difficulties that can be mitigated by improved methodology. Past studies have shown that noninvasive genetic protocols are system specific and highlighted the importance of pilot studies in the establishment of genetic monitoring programs. We tested, using a factorial design experiment, the effect of different methods for the collection-preservation and extraction on the amplification of DNA from Nubian ibex (Capra nubiana) fecal samples. We found collection-preservation using paper bags and extraction with QIAamp® fast DNA stool mini kit to significantly enhance success rate compared to collection-preservation in ethanol and extraction with QIAamp® DNA mini kit. Our results will contribute to the studies of natural populations of the vulnerable C. nubiana.
Access options
Buy single article
Instant access to the full article PDF.
US$ 39.95
Tax calculation will be finalised during checkout.
Subscribe to journal
Immediate online access to all issues from 2019. Subscription will auto renew annually.
US$ 79
Tax calculation will be finalised during checkout.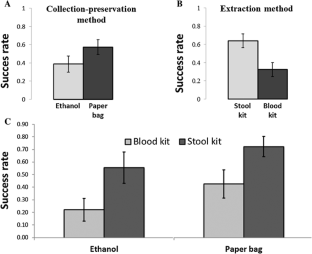 References
Alkon P, Harding L, Jdeidi T et al (2008) Capra nubiana. The IUCN red list of threatened species. doi:10.2305/IUCN.UK.2008.RLTS.T3796A10084254.en

Baumung R, Cubric-Curik V, Schwend K et al (2006) Genetic characterisation and breed assignment in Austrian sheep breeds using microsatellite marker information. J Anim Breed Genet 123:265–271. doi:10.1111/j.1439-0388.2006.00583.x

Beja-Pereira A, Oliveira R, Alves PC et al (2009) Advancing ecological understandings through technological transformations in noninvasive genetics. Mol Ecol Resour 9:1279–1301. doi:10.1111/j.1755-0998.2009.02699.x

Blattman AN, Beh KJ (1992) Dinucleotide repeat polymorphism within the ovine major histocompatibility complex. Anim Genet 23:392

Buchanan FS, Galloway SM, Crawford AM (1994) Ovine microsatellites at the OarFCB5. Anim Genet 25:60

Cockett NE, Jackson SP, Shay TL et al (1994) Chromosomal localization of the callipyge gene in sheep (Ovis aries) using bovine DNA markers. Proc Natl Acad Sci USA 91:3019–3023. doi:10.1073/pnas.91.8.3019

Crawford AM, Dodds KG, Ede AJ et al (1995) An autosomal genetic linkage map of the sheep genome. Genetics 140:703–724

Kemp SJ, Hishida O, Wambugu J et al (1995) A panel of bovine, ovine and caprine polymorphic microsatellites. Anim Genet 26:299–306

Kossarek LM, Grosse WM, Mcgraw RA (1993) Rapid communication: bovine dinucleotide repeat polymorphism RM006l. J Anim Sci 71:3176–3176

Maudet C, Luikart G, Taberlet P (2001) Development of microsatellite multiplexes for wild goats using primers designed from domestic Bovidae. Genet Sel Evol 33:S193–S203

Maudet C, Luikart G, Dubray D et al (2004) Low genotyping error rates in wild ungulate faeces sampled in winter. Mol Ecol Notes 4:772–775. doi:10.1111/j.1471-8286.2004.00787.x

Piggott MP (2004) Effect of sample age and season of collection on the reliability of microsatellite genotyping of faecal DNA. Wildl Res 31:485–493.

Ramón-Laca A, Soriano L, Gleeson D, Godoy JA (2015) A simple and effective method for obtaining mammal DNA from faeces. Wildlife Biol 21:195–203. doi:10.2981/wlb.00096

Renan S, Speyer E, Shahar N et al (2012) A factorial design experiment as a pilot study for noninvasive genetic sampling. Mol Ecol Resour 12:1040–1047. doi:10.1111/j.1755-0998.2012.03170.x

Schwartz MK, Monfort SL (2008) Genetic and endocrine tools for carnivore surveys. Noninvasive Surv Methods Carniv 228–262

Tende T, Hansson B, Ottosson U, Bensch S (2014) Evaluating preservation medium for the storage of DNA in African lion Panthera leo faecal samples. Curr Zool 60:351–358

Valière N, Bonenfant C, Toïgo C et al (2007) Importance of a pilot study for non-invasive genetic sampling: genotyping errors and population size estimation in red deer. Conserv Genet 8:69–78. doi:10.1007/s10592-006-9149-2

Waits JL, Leberg PL (2000) Biases associated with population estimation using molecular tagging. Anim Conserv 3:191–199. doi:10.1111/j.1469-1795.2000.tb00103.x

Woodruff SP, Johnson TR, Waits LP (2015) Evaluating the interaction of faecal pellet deposition rates and DNA degradation rates to optimize sampling design for DNA-based mark-recapture analysis of Sonoran pronghorn. Mol Ecol Resour 16:843–854. doi:10.1111/1755-0998.12362
Acknowledgements
We would like to thank the regional biologists and rangers of the Israel Nature and Parks Authority for their support and assistance. We thank Ofer Ovadia and Sharon Renan for fruitful communication. This research was supported by the Israeli Nature and National Parks Protection Authority and the Israeli Ministry of Environmental Protection as part of the program for development and rehabilitation of the Dead Sea Basin. This is publication XXX of the Mitrani Department of Desert Ecology, Ben-Gurion University of the Negev.
About this article
Cite this article
Goodman, I., Shahar, N., Bar-Gal, G.K. et al. Evaluation of noninvasive genetic methods for Nubian ibex. Conservation Genet Resour 9, 181–183 (2017). https://doi.org/10.1007/s12686-016-0642-8
Received:

Accepted:

Published:

Issue Date:
Keywords
Fecal DNA

Collection-preservation

DNA extraction

Capra nubiana

Nubian ibex