Abstract
Non-invasive sampling aims to obtain suitable samples without causing harm to the study organism, thus making it a more preferred sampling technique. Molecular methods have advanced in such a way that quality DNA can be obtained from less invasive mammal samples. Various PCR enhancing techniques have also been developed to aid in amplification of low quality DNA samples, to produce reliable results that can be used to monitor populations and species or for forensic applications. Temminck's ground pangolin is one of the few mammals to be covered in scales. In this study, we attempt to identify the most appropriate DNA isolation and PCR methods as well as determine whether PCR additives could be used to improve isolation of DNA and downstream amplification of mitochondrial DNA, from scale samples collected from these pangolins. In this study, it was determined that several different methods are required in order to successfully amplify DNA, and a decision tree rather than a single method should be followed.
This is a preview of subscription content,
to check access.
Access this article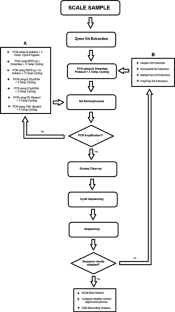 References
Atkins WA (2004) Pholidota pangolins (Manidae). In Grzimek B, Kleiman DG, Geist V, McDade MC (eds) Grzimek's animal life encyclopedia, vol 16. Thomson-Gale, Detroit

Bräutigam A, Howes J, Humphreys T, Hutton J (1994) Recent information on the status and utlilization of African pangolins. Traffic Bull 15:15–22

Challender DWS, Hywood L (2012) African pangolins: Under increased pressure from poaching and intercontinental trade. Traffic Bull 24:53–55

Herklots GAC (1937) The pangolin or scaly anteater. Hong Kong Nat 8:78–83

Nagai M, Yoshida A, Sato N (1998) Additive effects of bovine serum albumin, dithiothereitol and glycerol on PCR. Biochem Mol Biol 44:157–163

Pietersen DW (2013) Behavioural ecology and conservation biology of ground pangolins,Smutsia temminckii in the Kalahari Desert. Dissertation, University of Pretoria

Taberlet P, Griffin S, Goossens B, Questiau S, Manceau V, Escaravage N, Waits LP, Bouvet J (1996) Reliable genotyping of samples with very low DNA quantities using PCR. Nucleic Acids Res 24:3189–3194
Acknowledgments
This study was supported by the National Zoological Gardens of South Africa (NZG) and was funded by the National Research Foundation (NRF) grant: KFD—competitive support for unrated researchers (Grant No. 78865). We thank the Tikki Hywood Trust, FreeMe Wildlife Rehabilitation Centre, Darren Pietersen (African Pangolin Working Group), Mundulea Nature Reserve and the National Museum in Bloemfontein for providing samples for this study.
Electronic supplementary material
Below is the link to the electronic supplementary material.
About this article
Cite this article
du Toit, Z., Grobler, J.P., Kotze, A. et al. Scale samples from Temminck's ground pangolin (Smutsia temminckii): a non-invasive source of DNA. Conservation Genet Resour 9, 1–4 (2017). https://doi.org/10.1007/s12686-016-0602-3
Received:

Accepted:

Published:

Issue Date:

DOI: https://doi.org/10.1007/s12686-016-0602-3
Keywords