Abstract
The Leptodea leptodon (Bivalvia: Unionidae) is native to the United States, it is threatened by human activities and habitat destruction. In the present study, it's complete mitochondrial genome was reconstructed from whole-genome Illumina sequencing data with an average coverage of 1213X. The total length of mitogenome is 16,133 bp, which consists of 37 typical animal mitochondrial genes, including 22 transfer RNAs (tRNAs), 13 protein-coding genes (PCGs) and two ribosomal RNAs. The putative control region (329 bp) is located between ND5 and tRNA-Gln, with an A + T content of 67.4 %. The base composition of the genome is A (38.7 %), C (26.7 %), G (10.8 %) and C (26.7 %) with an overall GC content of 37.5 %. Phylogenetic analysis suggests that L. leptodon is closely related to its confamilial counterparts than to the other taxa.
This is a preview of subscription content, log in to check access.
Access options
Buy single article
Instant access to the full article PDF.
US$ 39.95
Price includes VAT for USA
Subscribe to journal
Immediate online access to all issues from 2019. Subscription will auto renew annually.
US$ 99
This is the net price. Taxes to be calculated in checkout.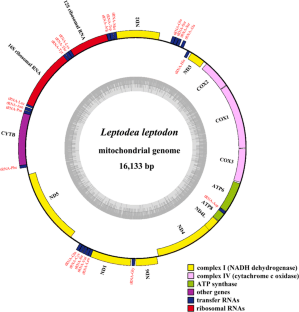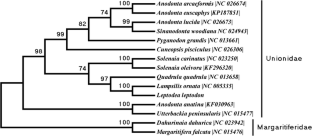 References
Breton S, Beaupré HD, Stewart DT, Piontkivska H, Karmakar M, Bogan AE, Blier PU, Hoeh WR (2009) Comparative mitochondrial genomics of freshwater mussels (Bivalvia: Unionoida) with doubly uniparental inheritance of mtDNA: gender-specific open reading frames and putative origins of replication. Genetics 183:1575–1589

Breton S, Stewart DT, Shepardson S, Trdan RJ, Bogan AE, Chapman EG, Ruminas AJ, Piontkivska H, Hoeh WR (2011) Novel protein genes in animal mtDNA: a new sex determination system in freshwater mussels (Bivalvia: Unionoida)? Mol Biol Evol 28:1645–1659

Ceballos G, Ehrlich PR, Barnosky AD, García A, Pringle RM, Palmer TM (2015) Accelerated modern human-induced species losses: entering the sixth mass extinction. Sci Adv 1:e1400253

Galtier N, Nabholz B, Glémin S, Hurst GDD (2009) Mitochondrial DNA as a marker of molecular diversity: a reappraisal. Mol Ecol 18:4541–4550

Hahn C, Bachmann L, Chevreux B (2013) Reconstructing mitochondrial genomes directly from genomic next-generation sequencing reads—a baiting and iterative mapping approach. Nucleic Acids Res 41:e129

Lance SL, Love CN, Nunziata SO, O'Bryhim JR, Scott DE, Flynn RW, Jones KL (2013) 32 species validation of a new Illumina paired-end approach for the development of microsatellites. PLoS ONE 8:e81853

Murphy GEP, Romanuk TN (2014) A meta-analysis of declines in local species richness from human disturbances. Ecol Evol 4:91–103

Roberts AD (2004) Scaleshell mussel draft recovery plan (Leptodea leptodon). United States Fish and Wildlife Service, Fort Snelling, Minnesota

Serb JM, Lydeard C (2003) Complete mtDNA sequence of the North American freshwater mussel, Lampsilis ornata (Unionidae): an examination of the evolution and phylogenetic utility of mitochondrial genome organization in Bivalvia (Mollusca). Mol Biol Evol 20:1854–1866

Syzmanski J (1998) Leptodea leptodon (scaleshell mussel) rangewide status assessment 1998. United States Fish and Wildlife Service, Fort Snelling, Minnesota

Tamura K, Stecher G, Peterson D, Filipski A, Kumar S (2013) MEGA6: molecular evolutionary genetics analysis version 6.0. Mol Biol Evol 30:2725–2729

Zhan A, Bailey SA, Heath DD, Macisaac HJ (2014) Performance comparison of genetic markers for high-throughput sequencing-based biodiversity assessment in complex communities. Mol Ecol Resour 14:1049–1059
Acknowledgments
This study was financially supported by the Program for Changjiang Scholars and Innovative Research Team in University (No. IRT1174) and the Key Laboratory Program Founded by the Education Department of Shaanxi Province (JH12321).
About this article
Cite this article
Feng, L., Zhang, X. & Zhao, G. The complete mitochondrial genome of the scaleshell Leptodea leptodon (Bivalvia: Unionidae). Conservation Genet Resour 8, 443–445 (2016). https://doi.org/10.1007/s12686-016-0592-1
Received:

Accepted:

Published:

Issue Date:
Keywords
Illumina sequencing

Leptodea leptodon

Mitogenome

Next-generation sequencing