Abstract
Eel farming in Asia relies on wild-caught juvenile "glass eels" of the genus Anguilla. When supplies of Japanese eels (Anguilla japonica) declined in the 1990s, Asian eel farming shifted to using European eels (Anguilla anguilla). The European eel is currently classified as "Critically Endangered", and export out of Europe has been suspended since March 2009. In early 2016, glass eels were seized at the Hong Kong International Airport and genetically identified using the COI barcode region. Samples matched A. anguilla with a similarity range of 99.39–99.85 %. To our knowledge, this is the first documented case of illegal trade of A. anguilla from Europe into Hong Kong using genetic evidence. Furthermore, multiple isolated incidents of eel seizures by customs indicate that Hong Kong is a major hub facilitating illegal trade in eels from Europe to Asia. We demonstrated that COI barcoding is a suitable tool in identifying illegally imported A. anguilla, which can support enforcement and prosecution as well as enable international cooperation between Europe and Asia.
Access options
Buy single article
Instant access to the full article PDF.
USD 39.95
Price includes VAT (USA)
Tax calculation will be finalised during checkout.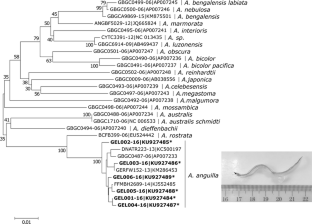 References
Anonymous (2007) Consideration of proposals to amend the appendices I and II. CoP14. Proposal 18. Fourteenth meeting of the conference of the parties, The Hague. http://www.cites.org/eng/cop/14/prop/E14-P18.pdf. Accessed 05 June 2015

Anonymous (2014a) Commission regulation (EU) no 1320/2014 amending council regulation (EC) No 338/97. http://eur-lex.europa.eu/legal-content/EN/TXT/HTML/?uri=CELEX:31997R0338&from=en. Accessed 22 Mar 2016

Anonymous (2014b) Le marché de l'anguille européenne. Les Études De FranceAgriMer. http://www.franceagrimer.fr/content/download/33408/302575/file/ETU-MER-2014-marche%20anguille.pdf. Accessed 26 Mar 2016

Anonymous (2016a) Analysis and evidence in support of the EU action plan against wildlife trafficking. Accompanying document for the EU action plan against wildlife trafficking. http://eur-lex.europa.eu/legal-content/EN/TXT/PDF/?uri=CELEX:52016SC0038&from=EN. Accessed 03 Mar 2016

Anonymous (2016b) EU action plan against wildlife trafficking (COM(2016) 87 final). Publications office. http://ec.europa.eu/environment/cites/pdf/WAP_EN_WEB.PDF. Accessed 26 Mar 2016

Asis AMJM, Lacsamana JKM, Santos MD (2016) Illegal trade of regulated and protected aquatic species in the Philippines detected by DNA barcoding. Mitochondrial DNA Part A DNA Mapp Seq Anal 27:659–666. doi:10.3109/19401736.2014.913138

Crook V (2010) Trade in Anguilla species, with a focus on recent trade in European Eel A. anguilla. TRAFFIC report prepared for the European Comission

Crook V (2014) Slipping away: international Anguilla eel trade and the role of the Philippines. TRAFFIC International and ZSL, London

Crook V, Nakamura M (2013) Glass eels: assessing supply chain and market impacts of a CITES listing on Anguilla species. Traffic Bull 25:24–30

Dawnay N, Ogden R, McEwing R, Carvalho GR, Thorpe RS (2007) Validation of the barcoding gene COI for use in forensic genetic species identification. Forensic Sci Int 173:1–6. doi:10.1016/j.forsciint.2006.09.013

EU (2007) Council regulation (EC) no 1100/2007 of 18 September 2007 establishing measures for the recovery of the stock of European eel. http://eur-lex.europa.eu/eli/reg/2007/1100/oj. Accessed 26 Mar 2016

Evans DW, Bartkevics V, Wickström H (2014) Tracking Stocked European Eel (Anguilla anguilla) using otolith michrochemistry. Poster at ICES 5th international otolith symposium 20–24 Oct 2014

Gonçalves PFM, Oliveira-Marques AR, Matsumoto TE, Miyaki CY (2015) DNA barcoding identifies illegal parrot trade. J Hered 106:560–564. doi:10.1093/jhered/esv035

Jacoby D, Gollock M (2014) Anguilla anguilla. The IUCN red list of threatened species. Version 2014.3. www.iucnredlist.org. Accessed 18 May 2015

Jacoby DMP, Casselman JM, Crook V, DeLucia M-B, Ahn H, Kaifu K, Kurwie T, Sasal P, Silfvergrip AMC, Smith KG, Uchida K, Walker AM, Gollock MJ (2015) Synergistic patterns of threat and the challenges facing global anguillid eel conservation. Glob Ecol Conserv 4:321–333. doi:10.1016/j.gecco.2015.07.009

Kimura M (1980) A simple method for estimating evolutionary rates of base substitutions through comparative studies of nucleotide sequences. J Mol Evol 16:111–120. doi:10.1007/BF01731581

Kumar S, Tamura K, Nei M (1994) MEGA: molecular evolutionary genetics analysis software for microcomputers. Comput Appl Biosci 10:189–191

Nijman V (2010) An overview of international wildlife trade from Southeast Asia. Biodivers Conserv 19:1101–1114. doi:10.1007/s10531-009-9758-4

Nijman V (2015) CITES-listings, EU eel trade bans and the increase of export of tropical eels out of Indonesia. Mar Policy 58:36–41. doi:10.1016/j.marpol.2015.04.006

Reis-Santos P, Gillanders BM, Tanner SE, Vasconcelos RP, Elsdon TS, Cabral HN (2012) Temporal variability in estuarine fish otolith elemental fingerprints: implications for connectivity assessments. Estuar Coast Mar Sci 112:216–224. doi:10.1016/j.ecss.2012.07.027

Shiraishi H, Crook V (2015) Eel market dynamics: an analysis of Anguilla production, trade and consumption in East Asia. TRAFFIC, Tokyo

Violi L, Falcone G, De Luca AI, Chies L (2015) Sustainabillity of European Eel popullation: a statistical survey on production, conservation status and market trends. Food Saf Manag 16:83–89

Ward RD, Zemlak TS, Innes BH, Last PR, Hebert PDN (2005) DNA barcoding Australia's fish species. Philos Trans R Soc Lond B Biol Sci 360:1847–1857

Ziegler S, Merker S, Streit B, Boner M, Jacob DE (2016) Towards understanding isotope variability in elephant ivory to establish isotopic profiling and source-area determination. Biol Conserv 197:154–163
Acknowledgments
Funding for this project was provided by the University of Hong Kong, University of Potsdam and Technische Universität Braunschweig. The glass eel samples were kindly provided by the Agriculture, Fisheries and Conservation Department (AFCD), the CITES Management Authority of Hong Kong Special Administrative Region of China. Information on past seizures were provided by European CITES authorities. We thank TRAFFIC, the wildlife trade monitoring network and the Sustainable Eel Group (SEG) for assistance and support.
Ethics declarations
Conflict of interest
The authors declare that they have no conflict of interest.
About this article
Cite this article
Stein, F.M., Wong, J.C.Y., Sheng, V. et al. First genetic evidence of illegal trade in endangered European eel (Anguilla anguilla) from Europe to Asia. Conservation Genet Resour 8, 533–537 (2016). https://doi.org/10.1007/s12686-016-0576-1
Received:

Accepted:

Published:

Issue Date:
Keywords
Forensics

DNA barcoding

Wildlife trade

Anguilla anguilla

Hong Kong