Abstract
Environmental DNA (eDNA) is increasingly applied as a highly sensitive way to detect aquatic animals non-invasively. However, distinguishing closely related taxa can be particularly challenging. Previous studies of ancient DNA and genetic diet analysis have used blocking primers to enrich target template in the presence of abundant, non-target DNA. Here we apply a blocking primer to increase the specificity of a TaqMan assay for eDNA detection of rare and endangered bull trout (Salvelinus confluentus) in the presence of the closely related (Salvelinus namaycush). We found that addition of a blocking primer substantially increased assay specificity without compromising sensitivity or quantification ability.
Access options
Buy single article
Instant access to the full article PDF.
US$ 39.95
Tax calculation will be finalised during checkout.
Subscribe to journal
Immediate online access to all issues from 2019. Subscription will auto renew annually.
US$ 79
Tax calculation will be finalised during checkout.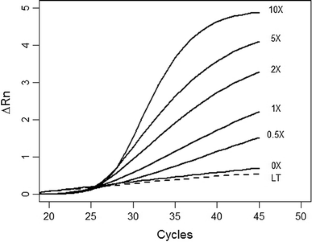 Acknowledgments
The authors thank the McCutheon Lab at the University of Montana for use of their spectrophotometer. TW is supported by a NSF Graduate Research Fellowship (Grant No. DGE-1313190).
About this article
Cite this article
Wilcox, T.M., Schwartz, M.K., McKelvey, K.S. et al. A blocking primer increases specificity in environmental DNA detection of bull trout (Salvelinus confluentus). Conservation Genet Resour 6, 283–284 (2014). https://doi.org/10.1007/s12686-013-0113-4
Received:

Accepted:

Published:

Issue Date:
Keywords
Environmental DNA

Bull trout

Blocking primer

Complex templates