Abstract
We characterized the complete second exon with adjacent introns of MHC class II beta genes in the anurans Bufo calamita, B. bufo and B. viridis. Introns were remarkably conserved among species. There were at least two loci (A and B), which we amplified with different forward primers but identical reverse primers. Locus A had low diversity whereas locus B exhibited 42 alleles in B. calamita and 14 in B. bufo. We detected evidence of positive selection at antigen binding sites in both these species and demonstrated expression of locus B in B. calamita.
Access options
Buy single article
Instant access to the full article PDF.
USD 39.95
Price excludes VAT (USA)
Tax calculation will be finalised during checkout.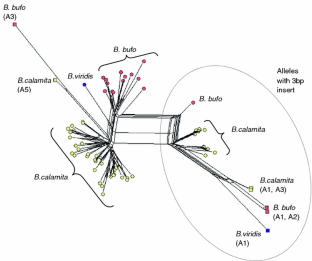 References
Babik W, Pabijan M, Radwan J (2008) Contrasting patterns of variation in MHC loci in the Alpine newt. Mol Ecol 17(10):2339–2355

Bos DH, DeWoody JA (2005) Molecular characterization of major histocompatibility complex class II alleles in wild tiger salamanders (Ambystoma tigrinum). Immunogenetics 57(10):775–781

Bryant D, Moulton V (2004) Neighbor-net: an agglomerative method for the construction of phylogenetic networks. Mol Biol Evol 21(2):255–265

Hudson DH, Bryant D (2006) Application of phylogenetic networks in evolutionary studies. Mol Biol Evol 23(2):254–267

Jukes TH, Cantor CR (1969) Evolution of protein molecules. In: Munro HN (ed) Mammalian protein metabolism. Academic Press, New York, pp 21–132

Kiemnec-Tyburczy KM, Richmond JQ, Savage AE, Zamudio KR (2010) Selection, trans-species polymorphism, and locus identification of major histocompatibility complex class II beta alleles of New World ranid frogs. Immunogenetics 62(11–12):741–751

Ko WY, David RM, Akashi H (2003) Molecular phylogeny of the Drosophila melanogaster species subgroup. J Mol Evol 57(5):562–573

May S, Beebee TJC (2009) Characterisation of major histocompatibility complex class II alleles in the natterjack toad, Bufo calamita. Conserv Genet Resour 1(1):415–417

Nei M, Gojobori T (1986) Simple methods for estimating the numbers of synonymous and nonsynonymous nucleotide substitutions. Mol Biol Evol 3(5):418–426

Nei M, Kumar S (2000) Molecular evolution and phylogenetics. Oxford University Press, New York

Richmond JQ, Savage AE, Zamudio KR, Rosenblum EB (2009) Toward immunogenetic studies of amphibian chytridiomycosis: linking innate and acquired immunity. Bioscience 59(4):311–320

Stuart SN, Chanson JS, Cox NA, Young BE, Rodrigues ASL, Fischman DL, Waller RW (2004) Status and trends of amphibian declines and extinctions worldwide. Science 306(5702):1783–1786

Tamura K, Peterson D, Peterson N, Stecher G, Nei M, Kumar S (2011) MEGA5: molecular evolutionary genetics analysis using maximum likelihood, evolutionary distance, and maximum parsimony methods. Mol Biol Evol 28(10):2731–2739

Tong JC, Bramson J, Kanduc D, Chow S, Sinha AA, Ranganathan S (2006) Modeling the bound conformation of Pemphigus vulgaris-associated peptides to MHC Class II DR and DQ alleles. Immunome Res 2:1–10

Zeisset I, Beebee TJC (2009) Molecular characterization of major histocompatibility complex class II alleles in the common frog, Rana temporaria. Mol Ecol Resour 9(3):738–745
About this article
Cite this article
Zeisset, I., Beebee, T.J.C. Bufo MHC class II loci with conserved introns flanking exon 2: cross-species amplification with common primers. Conservation Genet Resour 5, 211–213 (2013). https://doi.org/10.1007/s12686-012-9770-y
Received:

Accepted:

Published:

Issue Date:

DOI: https://doi.org/10.1007/s12686-012-9770-y
Keywords