Abstract
The smalltooth sawfish, Pristis pectinata, is protected under the US Endangered Species Act (ESA) and all forms of international trade of this species are prohibited under Appendix I of the Convention on International Trade in Endangered Species of Flora and Fauna (CITES). Although it is illegal to land or trade P. pectinata within the US or across its borders, it is difficult to enforce these regulations for some sawfish body parts because they resemble legally-traded shark body parts (e.g. dried fins). There is also a growing need for conservation genetics research on this species and its relatives, including assessments of population structure and genetic diversity. Given these pressing trade monitoring and research needs, we developed: (1) a rapid PCR-based test to identify P. pectinata body parts in trade in the US and western Atlantic, (2) a DNA-barcode based on 520 bp of cytochrome b that resolves P. pectinata and five other extant sawfish species and (3) a suite of 11 polymorphic P. pectinata microsatellite markers that can be used in a variety of conservation genetics applications for this and other sawfish species. We anticipate that this suite of genetic tools will contribute to the conservation of this critically endangered species and its relatives by reinforcing landings and trade restrictions and by enabling future conservation genetics research.
This is a preview of subscription content, log in to check access.
Access options
Buy single article
Instant access to the full article PDF.
US$ 39.95
Tax calculation will be finalised during checkout.
Subscribe to journal
Immediate online access to all issues from 2019. Subscription will auto renew annually.
US$ 99
Tax calculation will be finalised during checkout.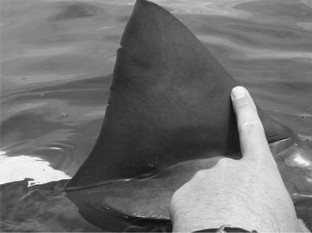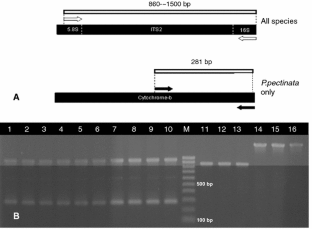 References
Baker CS (2008) A truer measure of the market: the molecular ecology of fisheries and wildlife trade. Mol Ecol 17:3985–3998

Baker CS, Palumbi SR (1996) Population structure, molecular systematics, and forensic identification of whales and dolphins. In: Avise JC, Hamrick JL (eds) Conservation genetics: case histories from nature. Chapman and Hall, New York, pp 10–49

Bigelow HB, Schroeder WC (1953) Fishes of the Western North Atlantic, Part 2. Sawfishes, Guitarfishes, Skates, Rays, and Chimaeroids. Memoir of the Sears Foundation for Marine Research. Yale University, New Haven

Carlson JK, Osbourne J, Schmidt TW (2007) Monitoring the recovery of smalltooth sawfish, Pristis pectinata, using standardized relative indices of abundance. Biol Conserv 136:195–202. doi:10.1016/j.biocon.2006.11.013

Chapman DD, Abercrombie DL, Pikitch EK, Doudy C, Stanhope M, Shivji MS (2003) A streamlined, bi-organelle, multiplex PCR approach to species identification: global conservation and trade monitoring for the great white shark, Carcharodon carcharias. Conserv Genet 4:415–425

Clarke SC, Magnussen JE, Abercrombie DL, McAllister M, Shivji MS (2006) Identification of shark species composition and proportion in the Hong Kong shark fin market using molecular genetics and trade records. Conserv Biol 20:201–211. doi:10.1111/j.1523-1739.2006.00247.x

Cortés E, Brooks E, Apostolaki P, Brown CA (2006) Stock assessment of the dusky shark in the US Atlantic and Gulf of Mexico. Panama City Laboratory Contribution 06–05. US Department of Commerce, Panama City

Evett IW, Weir BS (1998) Interpreting DNA evidence: statistical genetics for forensic scientists. Sinauer, Sunderland

Faria VV (2007) Taxonomic review, phylogeny, and geographical population structure of the sawfishes (Chondrichthyes, Pristiformes). Dissertation, Iowa State University

Feldheim KA, Stow AJ, Ahonen H, Chapman DD, Shivji M, Peddemors V, Wintner S (2007) Polymorphic microsatellite markers for studies of the conservation and reproductive genetics of imperilled sand tiger sharks (Carcharias taurus). Mol Ecol Resour 7:1366–1368. doi:10.1111/j.1471-8286.2007.01888.x

NMFS (2006) National Marine Fisheries Service. SEDAR 11 stock assessment report: Large coastal shark complex, blacktip and sandbar shark. US Department of Commerce, NMFS, Office of Sustainable Fisheries, Silver Spring

NMFS (2009) Recovery plan for smalltooth sawfish (Pristis pectinata). Prepared by the Smalltooth Sawfish Recovery Team for the National Marine Fisheries Service, Silver Spring

Glenn TC, Schable NA (2005) Isolating microsatellite DNA loci. Methods Enzymol 395:202–222

Goudet J (2002) FSTAT, a program to estimate and test gene diversities and fixation indices (version 2.9.3.2). http://www2.unil.ch/popgen/softwares/fstat.htm. Accessed 12 Oct 2009

Hale LF, Carlson JK (2007) Characterization of the shark bottom longline fishery: 2005–2006. NOAA Technical Memorandum NMFS-SEFSC-554. US Department of Commerce, Panama City

Hayes CG, Jiao Y, Cortes E (2009) Stock assessment of scalloped hammerhead sharks in the western North Atlantic Ocean and Gulf of Mexico. N Am J Fish Manag 29:1406–1417. doi:10.1577/M08-026.1

Jones AG (2005) GERUD 2.0: a computer program for the reconstruction of parental genotypes from half-sib progeny arrays with known or unknown parents. Mol Ecol Resour 5:708–711. doi:10.1111/j.1471-8286.2005.01029.x

Kumar SK, Tamura K, Nei M (2004) MEGA3: an integrated software for molecular evolutionary genetics analysis and sequence alignment. Brief Bioinform 5:150–163

McKelvey KS, Schwartz MK (2005) DROPOUT: a program to identify problem loci and samples for noninvasive genetic samples in a capture-mark-recapture framework. Mol Ecol Resour 5:716–718. doi:10.1111/j.1471-8286.2005.01038.x

Michelini E, Cevenini L, Mezzanotte L, Simoni P, Baraldini M, De Laude L, Roda A (2007) One-step triplex-polymerase chain reaction assay for the authentication of yellowfin (Thunnus albacares), bigeye (Thunnus obesus), and skipjack (Katsuwonus pelamis) tuna DNA from fresh, frozen, and canned tuna samples. J Agric Food Chem 55:7638–7647

Morgan A, Cooper P, Curtis T, Burgess GH (2009) An overview of the United States East Coast Bottom Longline Shark-Fishery, 1994–2003. Mar Fish Rev 71:23–38

Nicholas KB, Nicholas HB Jr, Deerfield DW II (1997) GeneDoc: analysis and visualization of genetic variation. Embnew News 4:14

Paetkau D, Strobeck C (1994) Microsatellite analysis of genetic variation in black bear populations. Mol Ecol 3:489–495

Poulakis GR, Seitz JC (2004) Recent occurrence of the smalltooth sawfish, Pristis pectinata (Elasmobranchiomorphi: Pristidae), in Florida Bay and the Florida Keys, with comments on sawfish ecology. Fla Sci 67:27–35

Raymond M, Rousset F (1995) GENEPOP V 3.4: population genetics software for exact tests of ecumenicism. J Hered 86:248–249

Schmid TH, Ehrhardt LM, Snelson FF (1988) Notes on the occurrence of rays (Elasmobranchii, Batoidea) in the Indian River Lagoon system, Florida. Fla Sci 51:121–128

Schuelke M (2000) An economic method for the fluorescent labeling of PCR fragments. Nat Biotechnol 18:233–234

Seitz JC, Poulakis GR (2002) Recent occurrence of sawfishes (Elasmobranchiomorphi: Pristidae) along the southwest coast of Florida (USA). Fla Sci 65:256–266

Seitz JC, Poulakis GR (2006) Anthropogenic effects on the smalltooth sawfish (Pristis pectinata) in the United States. Mar Pollut Bull 52:1533–1540. doi:10.1016/j.marpolbul.2006.07.016

Shivji MS, Clarke C, Pank M, Natanson L, Kohler N, Stanhope M (2002) Genetic identification of pelagic shark body parts for conservation and trade-monitoring. Cons Biol 16:1036–1047

Shivji MS, Chapman DD, Pikitch EK, Raymond PW (2005) Genetic profiling reveals illegal international trade in fins of the great white shark, Carcharodon carcharias. Conserv Genet 6:1035–1039. doi:10.1007/s10592-005-9082-9

Simpfendorfer CA (2000) Predicting recovery rates for endangered western Atlantic sawfishes using demographic analysis. Environ Biol Fishes 58:371–377

Simpfendorfer CA (2005) Threatened fishes of the world: Pristis pectinata Latham, 1794 (Pristidae). Environ Biol Fishes 73:20

Snelson FF, Williams SE (1981) Notes on the occurrence, distribution, and biology of elasmobranch fishes in the Indian River Lagoon system, Florida. Estuaries 4:110–120

Sunnucks P, Hales DF (1996) Numerous transposed sequences of mitochondrial cytochrome oxidase I-II in aphids of the genus Sitobion (Hemiptera: Aphididae). Mol Biol Evol 13:510–524
Acknowledgments
This research was funded by the National Marine Fisheries Service (NMFS award #GA133F08SE4254 to M.S.S., K.A.F. and D.D.C.), the Pritzker Laboratory for Molecular Systematics and Evolution, the Grainger Foundation, and the Institute for Ocean Conservation Science. Sawfish tissue samples were obtained under ESA permits #1352 (Mote Marine Laboratory), #1475 (Florida Fish and Wildlife Conservation Commission) and #1538 (NMFS Southeast Fisheries Science Center). Special thanks to Shelley Norton (NOAA Fisheries Service-Southeast Regional Office) for helping to secure funds, Nicole Phillips for providing tissue samples from other sawfish species, and the Bimini Biological Field Station for Bahamian samples.
About this article
Cite this article
Feldheim, K.A., Chapman, D.D., Simpfendorfer, C.A. et al. Genetic tools to support the conservation of the endangered smalltooth sawfish, Pristis pectinata . Conservation Genet Resour 2, 105–113 (2010). https://doi.org/10.1007/s12686-010-9175-8
Received:

Accepted:

Published:

Issue Date:
Keywords
Sawfish

Microsatellites

DNA barcoding

Wildlife trade