Abstract
Efforts to manage the Mississippi River have produced hydrologic, geomorphic, and social change. Sediments have been the focus of contentious litigation; and engineers in the mid-nineteenth century argued for returning sediment to the city to raise land. Levees, built of sediment, protected the city and also guarded the powerful planter class. By forcing the sediment-bearing discharges into the Gulf of Mexico, the levee system denied sediment to most of the floodplain which allowed the delta to subside at a pace that was faster than land building caused by crevasses, and also permitted the intrusion of salt water into the valuable fisheries in the adjacent bays and estuaries. Further manipulations in the form of massive spillways followed the 1927 flood. This hydrologic re-plumbing disrupted the ecology and economy of floodplain and coastal areas. Current plans to restore the disappearing delta using sediment diversions will further disrupt the re-established economies. Upstream, reservoirs now capture much of the river-borne sediment which limits the viability of restoration efforts. The redirection of sediment has produced both geomorphic and social change in the lower delta and efforts to restore coastal wetlands, as previous alterations, will impose disruptions on the state's marginalized residents.
Access options
Buy single article
Instant access to the full article PDF.
US$ 39.95
Tax calculation will be finalised during checkout.
Subscribe to journal
Immediate online access to all issues from 2019. Subscription will auto renew annually.
US$ 79
Tax calculation will be finalised during checkout.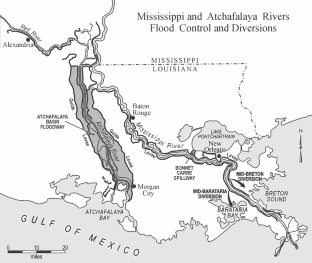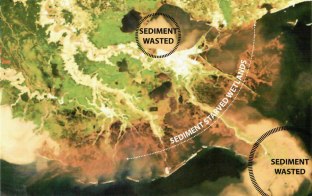 Notes
1.

The batture is the area adjacent to the river that is submerged during high stage, but exposed during low stage.
References
Barton E (1854) Report on the sanitary condition of New Orleans in the yellow fever epidemic of 1853. Picayune, New Orleans

Bayou Goula Residents (1932) Petition to Atchafalaya Levee District. Bayou Goula folder, Atchafalaya Levee District, Port Allen, LA

Blum MD, Roberts HH (2014) Is sand in the Mississippi River a sustainable resource. Nat Geosci 7(12):851–852

Coalition to Restore Coastal Louisiana (CRCL) (1989) Here today and gone tomorrow: a citizen's program for saving the Mississippi River delta to protect its heritage, economy, and environment. US Government Printing Office, Baton Rouge

Coastal Protection and Restoration Authority (CPRA) (2007) Louisiana's comprehensive master plan for a sustainable coast. CPRA, Baton Rouge

Coastal Protection and Restoration Authority (CPRA) (2012) Louisiana's comprehensive master plan for a sustainable coast. CPRA, Baton Rouge

Colten CE (2005) Unnatural metropolis: wresting New Orleans from nature. LSU Press, Baton Rouge, LA

Colten CE (2014) Southern waters: the limits to abundance. LSU Press, Baton Rouge, LA

Colten CE (2016) Environmental management in coastal Louisiana: a historical review. J Coastal Res 33(3):699–711

Colten CE (2018) Cartographic depictions of Louisiana land loss: a tool for sustainable policies. Sustainability 10(3):763

Colten CE, Simms JRZ, Grismore AA, Hemmerling SA (2018) Social justice and mobility in coastal Louisiana, USA. Reg Env Change 18(2):371–383

Council for the Future of Coastal Louisiana (CFCL) (2002) Saving coastal Louisiana: a national treasure. Governor's Office of Coastal Activities, Baton Rouge, LA

Davis DW (2000) Historical perspectives on Crevasses, Levees, and the Mississippi River. Centuries of Change: Transform New Orleans and its Environs. University of Pittsburgh Press, Pittsburgh, pp 84–106

Day JW et al (2018) Large infrequently operated river diversions for Mississippi River restoration. In: Day JW, Erdman JA (eds) Mississippi delta restoration. Springer, New York, pp 113–133

Delahoussaye J (2010) A James Delahoussaye collection of Atchafalaya River basin recordings. Library of Congress, Washington, DC

Delahoussaye J (2014) Collection of atchafalaya River Basin Recordings. Library of Congress, Washington, DC

Derbigny P (1807) Case laid before counsel for their opinion on the claim to the batture. Situated in front of the suburb St. Mary, N.P., New Orleans

du Pratz MLP, Tregle JG (1975) Mapping the American future. In: Tregle JG (ed) The History of Louisiana. Louisiana State University Press, Baton Rouge

du Russy L (1859) Special report on the cost of draining the swamp lands bordering on Lake Pontchartrain. J.M, Taylor, Baton Rouge

Earth Scan Laboratory, Louisiana State University (2011) Terra-1 MODIS 250m true color 16:42 Z, https://www.esl.lsu.edu/static/pics/modis/HDF/2011-05/20110511.1642.t1.mrp.jpg

Gagliano SW et al (1970) Deterioration and restoration of coastal wetlands. In: Proceedings of the 12th international conference on coastal engineering 1970, Washington, DC, pp. 1767–81

Gagliano SW et al (1981) Land loss in the Mississippi River deltaic plain. Trans Gulf Coast Assoc Geol Soc 31:295–300

Kelman A (2003) A river and its city: the nature of landscape in New Orleans. Univ of California Press, Berkeley

Kesel RH (1989) The role of the Mississippi River in wetland loss in southeastern Louisiana, USA. Env Geol and Water Sci 13(3):183–193

Louisiana Coastal Wetlands Conservation and Restoration Task Force (LCWCRTF) (1993) Coastal wetlands planning, protection, and restoration act: Louisiana coastal wetlands restoration plan. Louisiana Coastal Wetlands Conservation and Restoration Task Force, Baton Rouge

Louisiana Coastal Wetlands Conservation and Restoration Task Force (LCWCRTF) (1998) Coast 2050: toward a sustainable coastal Louisiana. Louisiana department of natural resources, Baton Rouge

Mandelman A (2020) The place with no edge: an intimate history of people, technology, and the Mississippi River delta. LSU Press, Baton Rouge

Morris C (2012) The big muddy: an environmental history of the Mississippi and its peoples, from Hernando de Soto to hurricane Katrina. Oxford University Press, New York

New Orleans Counseil de Ville (1835) Resolution relative to a protest in the congress concerning the levee tax. Ordinances and Resolutions, 1805–1835. New Orleans Municipal Archievs, microform AB 311. New Orleans Public Library, New Orleans

Nittrouer J, Viparelli E (2014) Sand as a stable and sustainable resource for nourishing the Mississippi River delta. Nat Geosci 7:350–354

Prince H (2008) Wetlands of the American midwest: a historical geography of changing attitudes. University of Chicago Press, Chicago

Reuss M (2004) Designing the bayous: The control of water in the Atchafalaya Basin, 1800–1995. Texas A&M University Press, College Station, TX

Russell RJ (1936) Physiography of the Lower Mississippi River Delta. Louisiana Geological Survey Bulletin, Baton Rouge, LA

Steinberg T (1995) Slide Mountain or, the folly of owning nature. University of California Press, Berkeley

Swyngedouw E (1999) Modernity and hybridity: nature, regeneracionismo, and the production of the Spanish waterscape, 1890–1930. Ann Assoc Am Geogr 89(3):443–465

Vermeer DE (1966) Geophagy among the Tiv of Nigeria. Ann Assoc Am Geogr 56(2):197–204

Vermeer DE, Frate DA (1975) Geophagy in a Mississippi county. Ann Assoc Am Geogr 65(3):414–424

Viosca P Jr (1927) Flood control in the Mississippi valley in its relation to Louisiana fisheries. Trans Am Fish Soc 57(1):49–64

Viosca P Jr (1928) Louisiana wet lands and the value of their wild life and fishery resources. Ecology 9(2):216–229
Acknowledgements
A portion of this research was supported by the Water Institute of the Gulf.
Additional information
Publisher's Note
Springer Nature remains neutral with regard to jurisdictional claims in published maps and institutional affiliations.
About this article
Cite this article
Colten, C.E. Redirecting sediment and rearranging social justice. Water Hist 13, 33–43 (2021). https://doi.org/10.1007/s12685-020-00255-3
Received:

Accepted:

Published:

Issue Date:
Keywords
Mississippi River

Wetland restoration

Levees