Abstract
As an obsolete underground water supply system, the qanāt is particularly affected by the destruction and demolition taking place within the oases of Saudi Arabia. In a period of economic and demographic growth, the oasis of Dūmat al-Jandal (province of Jawf) is a good example of such an evolution. Qanāts have been replaced by everdeeper pumping systems since the mid-twentieth century, and the series of shafts associated with these monumental structures, well known elsewhere in the Middle East, are no longer visible from the surface, primarily for reasons of security. The investigation conducted since 2011 by the Saudi–Italian–French archaeological project in Dūmat al-Jandal provides a first image of the ancient hydraulic network through a combination of complementary analyses integrated into a GIS: field surveys, oral information gathering, underground exploration, analysis of old aerial photographs and comparison with recent satellites images.
Access options
Buy single article
Instant access to the full article PDF.
USD 39.95
Price includes VAT (USA)
Tax calculation will be finalised during checkout.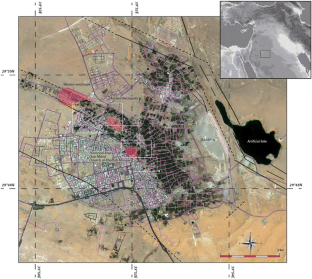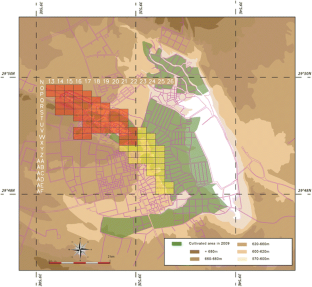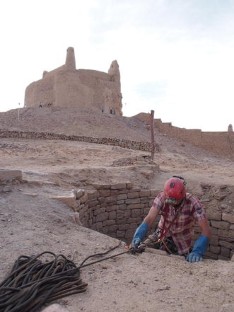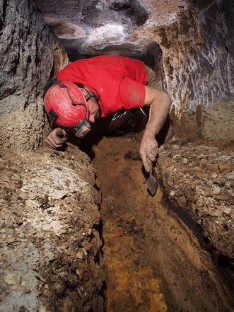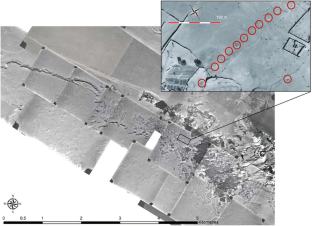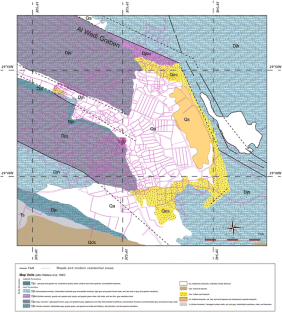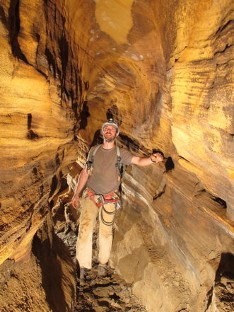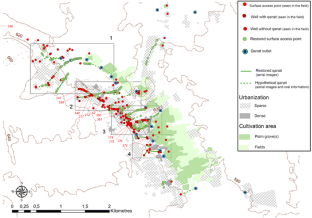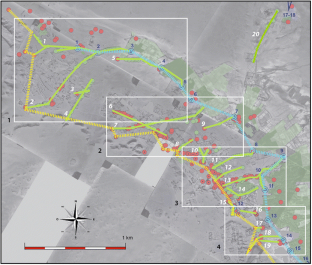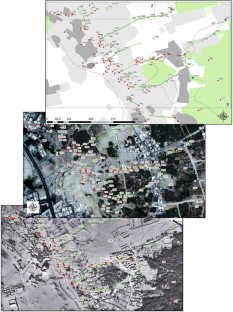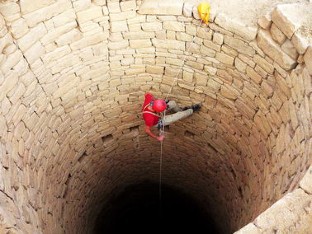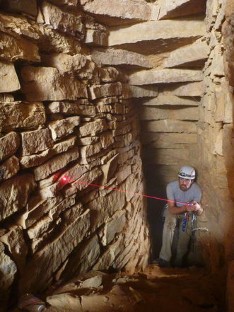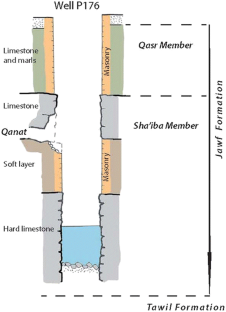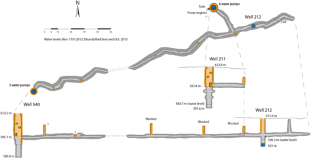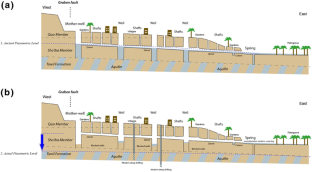 Notes
1.

The ArcGis background map was created by Guillaume Fortin and the wells and shafts were positioned and located by Anaïs Chevalier under the supervision of Guillaume Charloux.

2.

Our sincere thanks to Hussayn Khalifa (SCTA, Jawf) who provided us with the aerial views.
References
Abudanh F, Twaissi S (2010) Innovation or Technology Immigration? The Qanat Systems in the Regions of Udhruh and Ma'an in Southern Jordan. Bull Am Schools of Orient Res 360:67–87

Ajmi (al-) HF (2005) Geology of Sakaka area. King Saud University, King Saud Univ. Press, Riyadh Saudi Arabia

Bassam (Al-) A, Zaidi FK (2016) Acqueducts in Saudi Arabia. In: Angelakis AN, Chiotis E, Eslamian S, Weingartner H (eds) Underground aqueducts handbook. CRC Press, Baco Raton, pp 211–228

Avner U, Magness J (1998) Early Islamic Settlement in the Southern Negev. Bull Am Sch Orient Res 310:39–57

Balooni K, Kalro AH, Kamalamma AG (2010) Sustainability of tunnel wells in a changing agrarian context: a case study from South India. Agric Water Manag 97:659–665

Bellwald U (2008) The hydraulic infrastructure of petra—a model for water strategies in arid land. In: Ohlig C (ed) Cura aquarum in Jordanien. GmbH, Norderstedt, pp 47–94

Birks JS, Letts SE (1977) Diqal and Muqayda: dying Oases in Arabia. Tijdschrift voor economische en sociale geografie 68:145–151. doi:10.1111/j.1467-9663.1977.tb01410.x

Boucharlat R (2017) The chronology and environmental background of iron age settlement in Southeastern Iran and the question of the origin of the qanat irrigation system. In: Angelakis AN, Chiotis ED, Eslamian S, Weingartner H (eds) Underground aqueducts handbook. CRC Press, Boca Raton

Burckhardt J (1822) Travels in Syria and the Holy Land. John Murray, London

Butler SS (1909) Baghdad to Damascus via el Jauf, Northern Arabia. Geograp J 33:517–533

Charbonnier J (2013) La maîtrise du temps d'irrigation au sein des oasis alimentées par des aflâj: Étude de cas à Adam (Sultanat d'Oman). Revue d'ethnoécologie. doi:10.4000/ethnoecologie.1471

Charloux G (2012) Known and unknown archaeological monuments in the Dûmat al-Jandal oasis in Saudi Arabia: a review. Proc Sem Arab Stud 42:41–56

Charloux G, Traad (al AK, Qayead (al-) AA et al (2014a) The Western Enclosure Wall, Sector C. In: Charloux G, Loreto R (eds) Dûma 1. The 2010 report of the Saudi–Italian–French Archaeological Project in Dûmat al-Jandal. Saudi Commission for Tourism and Antiquities, Riyadh, pp 145–258

Charloux G, Loreto R (2013) Dûmat al-Jandal 2800 years of history in the Kingdom of Saudi Arabia. Saudi Commission for Tourism and Antiquities, Riyadh

Charloux G, Cotty M, Thomas A (2014b) Nabataean or not? The ancient necropolis of Dumat. First stage: a reassessment of al-Dayel's excavations. Arab Archaeol Epigr 25:186–213. doi:10.1111/aae.12044

Costa PM (1983) Notes on traditional hydraulics and agriculture in Oman. World Archaeol 14:273–295

Crary DD (1951) Recent Agricultural Developments in Saudi Arabia. Geogr Rev 41:366–383. doi:10.2307/210958

FAO (2009) Groundwater management in Saudi Arabia. Draft synthesis report. Food and Argriculture Organization of the United Nations, Rome

Fattahi M (2015) OSL dating of the Miam Qanat (KĀRIZ) system in NE Iran. J Archaeol Sci 59:54–63. doi:10.1016/j.jas.2015.04.006

Forder A (1902) To the Jof and Back. Geogr J 20:619–624

Geyer B (ed) (1990) Techniques et pratiques hydro-agricoles traditionnelles en domaine irrigué. Geuthner, Paris

Goblot H (1979) Les qanats: une technique d'acquisition de l'eau. Mouton, Paris

Guarmani C (1866) Itinéraire de Jérusalem au Neged septentrional. E. Martinet, Paris

Hehmeyer I, Keall EJ, Rahimi D (2002) Ghayl Bā Wazīr: applied qanāt technology in the fissured karst landscape of southern Yemen. Proc Sem Arab Stud 32:83–97

Huber C (1884) Voyage dans l'Arabie Centrale, Hamâd, Sammar, Qaçîm, Hedjâz 1878–1882. Bulletin de la Société de Géographie 5:304–363

Hussain HM (2009) The History of The Qanat System (Aflaj) in Bahrain (in Arabic). Alwasat Newspaper October–December 2009

Jasir H (1981) Fi shamal gharb al-Jazirah, nusus, mushahadat, intiba`at. Manshurat Dar al-Yawamah lil-Bahth wa-al-Tarjamah wa-al-Nashr, Riyad

Lightfoot DR (1996a) Syrian qanat Romani: history, ecology, abandonment. J Arid Environ 33:321–336. doi:10.1006/jare.1996.0068

Lightfoot DR (1996b) Moroccan Khettara: traditional Irrigation and Progressive Desiccation. Geoforum 27:261–273

Lightfoot DR (1997) Qanats in the levant: hydraulic technology at the periphery of early empires. Technol Cult 38:432–451. doi:10.2307/3107129

Lightfoot DR (2000) The origin and diffusion of Qanats in Arabia: new evidence from the northern and southern Peninsula. Geogr J 166:215–226

Madani T (2006) Le partage de l'eau dans l'oasis de Figuig (Maroc oriental). Mélanges de la Casa de Velázquez Nouvelle série 36(2):61–81

Magee P (2005) The chronology and environmental background of iron age settlement in Southeastern Iran and the question of the origin of the qanat irrigation system. Iranica Antiqua 40:217–231. doi:10.2143/IA.40.0.583210

Marshudi (Al-) AS (2007) The falaj irrigation system and water allocation markets in Northern Oman. Agric Water Manag 91:71–77

Muheisen (al-) Z (2009) The water engineering and irrigation system of the Nabataeans. Publications office, Faculty of Archaeology and Anthropology. Yarmouk University, Irbid

Musil A (1927) Arabia deserta: a topographical itinerary, 1st edn. AMS Press, New York

Nash H (2007) Stargazing in traditional water management: a case study in northern Oman. Proc Sem Arab Stud 37:157–170

Nasif AA (1980) Qanats at Al-'Ulâ'. Proc Sem Arab Stud 10:75–80

Nasif AA (1987a) The ancient qanat system in Dumat al-Jandal – Jawf. Ages 2:61–70

Nasif AA (1987b) An ancient water system in Sakâkâ, al-Jawf, Saudi Arabia. Proc Sem Arab Stud 17:127–135

Nolde E (1895) Reise nach Innerarabien, Kurdistan und Armenien. 1892. F. Vieweg und sohn, [Place of publication not identified]

Palgrave WG (1866) Narrative of a year's journey through Central and Eastern Arabia: 1862–1863. Macmillan, London

Petersen A (2009) Islamic urbanism in eastern Arabia: the case of the al-'Ayn-al-Buraymī oasis. Proc Sem Arab Stud 39:307–320

Philby HSJ (1923) Jauf and the North Arabian desert. Geogr J 62:241–259

Powers RW, Ramirez LF, Redmond CD, Elberg EL (1966) Geology of the Arabian Peninsula. Sedimentary Geology of Saudi Arabia. United States Government Printing Office, Washington

Rousset M-O (2010) Qanats de la steppe syrienne. Travaux de la Maison de l'Orient et de la Méditerranée 55:241–270

Schiettecatte J, Al-Ghazzi A, Chabrol A et al (2012) Le peuplement protohistorique et historique de l'oasis d'al-Kharj (province de Riyâd, Arabie Saoudite). Comptes rendus de l'Académie des Inscriptions & Belles-Lettres 2012:1365–1399

Seetzen UJ (1808) Beyträge zur Geographie Arabiens. Monatliche Correspondenz zur Beforderung der Erd-und Himmels-Kunde XLVI

Sudairi (al-) AA (1995) The desert frontier of Arabia: al-Jawf through the ages. Stacey International, London

Tikriti (al-) WY (2011) Archaeology of the Falaj: a field study of the ancient irrigation systems of the United Arab Emirates. Department of Historic Environment, Abu Dhabi Culture & Heritage, Abu Dhabi

Unesco (2006) Decisions adopted at the 30th Session of the World Heritage Committee (Vilnius, 2006), doc. WHC-06/30.COM/19

Vincent P (2008) Saudi Arabia: an environmental overview. Taylor & Francis, London

Wallace CA, Dini SM, Farasani (Al-) AA (1997) Explanatory notes to the geological map of the Al Jawf Quadrangle, Kingdom of Saudi Arabia. Geoscience Map GM-128C, scale 1:250,000, sheet 29D

Wallin GA (1854) Narrative of a Journey from Cairo to Medina and Mecca, by Suez, Arabá, Tawilá, al-Jauf, Jubbé, Háil, and Nejd, in 1845. J Royal Geogr Soc Lond 24:115–207

Waqidi (al-) (2011) The Life of Muhammad: Al-Waqidi's Kitab Al-Maghazi. Routledge, New York

Wellbrock K, Voß P, Grottker M (2012a) The evolution of water management methods in north-western Arabia and the southern Levant from the Neolithic Age through Antiquity DWhG—Zehn Jahre. wasserhistorische Forschungen und Berichte, Siegburg, pp 29–56

Wellbrock K, Voß P, Heemeier B, et al (2012) The water management of Tayma and other ancient oasis sett lements on the north-western Arabian Peninsula—a synthesis. In: Hausleiter A (ed) Tayma I. pp 70–122

Wessels J (2005) Reviving ancient water tunnels in the desert—digging for gold? J Mt Sci 2:294–305. doi:10.1007/BF02918402

Wilkinson JC (1977) Water and tribal settlement in South-East Arabia: a study of the Aflāj of Oman. Clarendon press, Oxford

Winnett FV, Reed W (1970) Ancient Records from North Arabia. University of Toronto Press, Toronto

Wuttmann M, Gonon T, Thiers C (2000) The Qanats of 'Ayn-Manâwîr. Kharga Oasis, Egypt. J Ach Stud Res 1:162–169

Yâqût al-Hamawî (1995) Kitâb mu'jam al-buldân. Dâr Sâdir, Beyrouth
Acknowledgements
This research was undertaken within the framework of a French-Italian-Saudi collaborative archaeological programme led by Guillaume Charloux (CNRS, UMR 8167 Orient et Méditerranée, France) and Romolo Loreto (University of Naples 'L'Orientale', Italy). The programme is supported by numerous institutions and we thank them sincerely: the Saudi Commission for Tourism and Antiquities, CNRS, UMR 8167 Orient et Méditerranée, 'Mondes sémitiques', Italian and French Foreign Ministries, French Embassy in Saudi Arabia, Airbus Group, University of Naples 'L'Orientale', Labex RESMED (ANR-10-LABX-72), and investment programme ANR-11-IDEX-0004-02. We would also like to thank Julien Charbonnier, Jérémie Schiettecatte, Jérôme Perrin of the BRGM in Ryadh, and Henri Paloc and Baudoin Lismonde of the BRGM for their comments and answers to our various queries.
About this article
Cite this article
Charloux, G., Courbon, P., Testa, O. et al. Mapping an ancient qanat system in a northern Arabian urbanized oasis. Water Hist 10, 31–51 (2018). https://doi.org/10.1007/s12685-017-0203-4
Received:

Accepted:

Published:

Issue Date:
Keywords
Oasis

Water supply

Hydraulic system

Speleology

Saudi Arabia