Abstract
The history of pipe-borne water supply in urban areas of Nigeria, such as Benin City, illustrates how critical decisions affecting land tenure, residential segregation, and public investment in water supply laid the foundations for present-day inequality. In cities across the world, millions lack access to potable water. Networked infrastructure does not change at the same pace as political leaders or discourse around development. Colonial government decisions made under prevailing ideologies impact present day-water systems. The purpose of this paper is to show how such choices marked the start of disparate and inadequate investments in piped water needed to serve a growing city. This is attempted through an exploration of two critical periods in the city's history that affected subsequent public water provision—the introduction of piped water along the Ogba River leading to water rate protests that ended in 1939 and the commissioning of a new waterworks along the Ikpoba River in 1987. The colonial legacy of unequal distribution of services continued throughout the postcolonial period and into the present day, in which universal provision of basic services has not been achieved.
Access options
Buy single article
Instant access to the full article PDF.
USD 39.95
Price excludes VAT (USA)
Tax calculation will be finalised during checkout.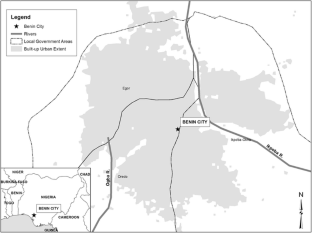 Notes
The details of the colonial history of urban infrastructure in Benin City as presented here benefited greatly from the extensive research on Edo culture, traditions and history by Dr. Ekhaguosa Aisien. Dr. Aisien is a medical doctor and internationally recognized historian of Edo-speaking peoples. I was fortunate to meet him in 2005, when he provided me with copies of five of his books on Edo history and culture.

The Osiwu are the traditional surgeons of Edoland, who have kept and passed down the practice of Iwu (body marking).

The odiunwere is an Edo word designating the oldest male resident of a street. Often the street will bear the person's family name, as they were the first to settle in an area. It is not a hereditary position, but operates similar to a chieftaincy, as the odiunwere will often be called upon to settle disputes, represent the neighborhood, and serve as a leader around whom the neighborhood can organize to resolve problems and disputes.

The monarchy was restored in 1914 and a new Benin palace was subsequently built.

These whites-only settlements were originally termed "European Segregation Areas", then "European Reservations" followed by "European Residential Areas" and eventually, "Government Residential Areas." (Olukoju 2003b, pp. 275, 284).

Ikun describes a pre-colonial style of architecture in the Benin kingdom, featuring specially designated ikuns, or self-contained rooms, facing a central square. Each ikun was used for special purposes such as religious worship or entertaining guests. According to Aisien (2001), p. 146, the current palace of the Oba of Benin is the best remaining example of Ikun architecture.

Edo state did not exist until Bendel state was divided into Edo and Delta states on August 27, 1991.

1 m3 is equal to 1,000 liters.

Population Division of the Department of Economic and Social Affairs of the United Nations Secretariat, World Population Prospects: The 2006 Revision and World Urbanization Prospects: The 2007 Revision, http://esa.un.org/unup, Last accessed: February 22, 2012.

This amounts to 1 staff per 6,400 in Edo state as a whole.

I was able to meet with Edo State Water Board staff who provided a history of the Ikpoba River Water works, a tour of the facility and a discussion of the challenges in managing operations.
References
Acemoglu D, Johnson S, Robinson JA (2001) The colonial origins of comparative development: an empirical investigation. Am Econ Rev 91(5):1369–1401

Acey C (2007) Space vs. race: a historical exploration of spatial injustice and unequal access to water in Lagos, Nigeria. Crit Plan 14(Summer):49–69

Aisien E (1986) Iwu: the body markings of the Edo people. Aisien Publishers, Benin City

Aisien E (1995) Benin City: the Edo state capital. Aisien Publishers, Benin City

Aisien E (2001) The Benin City pilgrimage stations. Aisien Publishers, Benin City

Banerjee A, Iyer L (2002) History, institutions and economic performance: the legacy of colonial land tenure systems in India. MIT Department of Economics Working Paper No. 02-27. Available online: http://papers.ssrn.com/sol3/papers.cfm?abstract_id=321721. Last accessed Feb 22, 2012

Boahen A (1986) Topics in West African history. Longman Group, Essex

Bohman A (2012) The presence of the past: a retrospective view of the politics of urban water management in Accra, Ghana. Water Hist. Available online. doi:10.1007/s12685-011-0047-2

Bradbury RE (1968) Continuities and discontinuities in pre-colonial and colonial Benin Politics 1897–1951. In: Lewis IM (ed) History and social anthropology. Routledge, London, pp 193–252

Cole PD (1975a) Lagos society in the nineteenth century. In: Aderibigbe AB (ed) Lagos: the development of an African City. Longman Nigeria, Ikeja, pp 27–58

Cole PD (1975b) Modern and traditional elites in the politics of Lagos. Cambridge University Press, New York

Collignon B, Vézina M (2000) Independent water and sanitation providers in African Cities: full report of a ten-country study water and sanitation program. Water and Sanitation Program, Washington, DC. (www.wsp.org/pdfs/af_providers.pdf)

Constantine S (1984) The making of british colonial development policy. London, Frank Cass, pp 1914–1940

Dada AC (2009) Sachet water phenomenon in Nigeria: assessment of the potential health impacts. Afr J Microbiol Res 3(1):15–21

Edo VO (2008) The changing phases of power and civil administration in Benin: from inception to 1987. Nebula 5(1):164–173

Ekeh PP (2005) Studies in Urhobo culture. Urhobo historical society

Enogholase, G (2009) No drop of water in Osunbor's N98 m water project—Oshiomhole. Vanguard, January 19. Available online at: http://www.vanguardngr.com/content/view/26603/42/. Last accessed April 21, 2011

Engerman SL, Sokoloff, KL (2005) Colonialism, inequality, and long-run paths of development. Working Paper. National Bureau of Economic Research. Available online: http://www.nber.org/papers/w11057. Last accessed Feb 22, 2012

Erah PO, Akujieze CN, Oteze GE (2002) The quality of groundwater in Benin City. Trop J Pharm Res 1(2):75–82

Gale TS (1979) Lagos: the history of British colonial neglect of traditional African Cities. Afr Urban Stud 5:11–24

Gale TS (1980) Segregation in British West Africa (La Ségrégation En Afrique Occidentale Britannique). Cahiers d'Études Africaines 20(80):495–507

Gandy M (2006) Planning, anti-planning and the infrastructure crisis facing metropolitan Lagos. Urban Stud 432(2):371–396

Haig EFG (1940) River birds of the Benin division. Niger Field 9(1–2):23–28

Harris R (2008) Development and hybridity made concrete in the colonies. Environ Plan A 40(1):15

Igbafe PA (1968) The Benin water rate agitation 1937–1939: an example of social conflict. J Hist Soc Niger 4(3):355–373

Igbafe PA (1970) The fall of Benin: a reassessment. J Afr Hist 11(3):385–400

Igbafe PA (1979) Benin under British administration: the impact of colonial rule on an African Kingdom, 1897–1938. Longman, London

Igbafe PA (2007) A history of the Benin Kingdom: an overview Benin Kings and Rituals: Court arts from Nigeria. Snoeck Publishers, Belgium

Kenny JT (1995) Climate race and imperial authority: the symbolic landscape of the British Hill Station in India. Ann Assoc Am Geogr 85(4):694–714

Lawal AA (1987) Trade and finance of the Lagos Colony. In: Adefuye A, Agiri B, Osuntokun A (eds) History of the peoples of Lagos State. Lantern Books, Lagos

Mabogunje A (1968) Urbanization in Nigeria. Africana Pub. Corp, New York

Malmsten NR (1977) British government policy toward colonial development, 1919–1939. J Mod His 1249–1287

Myers GA (2003) Verandahs of power: colonialism and space in Urban Africa. Syracuse University Press, Syracuse

Nilsson D (2011) Pipes, progress and poverty: social and technological change in Urban water provision in Kenya and Uganda, 1895–2010 (Doctoral Thesis). Stockholm Papers in the History and Philosophy of Technology, Stockholm

Nilsson D, Kaijser A (2009) Discrimination by default: the post-colonial heritage of Urban water provision in East Africa. In: Castro JE, Heller L (eds) Water and sanitation services: public policy and management. Earthscan, London, pp 259–275

Nilsson D, Nyanchaga EN (2008) Pipes and politics: a century of change and continuity in Kenyan urban water supply. J Mod Afr Stud 46(1):133–158

Ogu VI (2000) Private sector participation and municipal waste management in Benin City Nigeria. Environ Urban 12(2):103

Olukoju A (2003a) Infrastructure development and urban facilities in Lagos, 1861–2000. Institut francais de recherche en Afrique, University of Ibadan, Ibadan

Olukoju A (2003b) The segregation of Europeans and Africans in colonial Nigeria. In: Laurent F, Albert IO (eds) Security, crime and segregation in West African cities since the 19th Century 451. Hommes et societes, Karthala

Olukoju A (2004) Nigerian cities in historical perspective. In: Falola T, Salim SJ (eds) Nigerian cities. Africa World Press, Trenton, pp 11–46

Osaghae EE (1999) Exiting from the state in Nigeria. Afr J Polit Sci 4(1):83–98

Plankensteiner B (ed) (2007) Benin Kings and rituals: court arts from Nigeria. Snoeck Publishers, Belgium

Population Division of the Department of Economic and Social Affairs of the United Nations Secretariat (2012) World Population Prospects: The 2006 Revision and World Urbanization Prospects: The 2007 revision, http://esa.un.org/unup. Last accessed Feb 22, 2012

Umogun, I (2008) Royal magazine: his royal majesty Oba Erediauwa celebrates his 29th National Igue Festival. Benin City: Nigerian Tourism Development Corporation/Omo n'Oba Erediauwa CFR OBA of Benin

UNICEF and World Health Organization (2012) Progress on drinking water and sanitation: 2012 Update. WHO/UNICEF joint monitoring Programme for water supply and sanitation, New York

Williams E (1944) Capitalism and slavery. Andre Deutsch, London

Yeoh BSA (1996) Contesting space: power relations and the Urban built environment in colonial Singapore. Oxford University Press, Kuala Lumpur
Acknowledgments
The author is very thankful to Heather Hoag and two anonymous referees for their very helpful comments that have greatly improved this work. In addition, the author is thankful to the UCLA Globalization Research Center-Africa and Graduate Division for financial support to carry out this research as part of my doctoral dissertation. The author is especially grateful to Dr. Ekhaguosa Aisien, who generously gave his time and collection of historical books on Edo culture and the history of Benin City. All errors and omissions are my own.
About this article
Cite this article
Acey, C. Forbidden waters: colonial intervention and the evolution of water supply in Benin City, Nigeria. Water Hist 4, 215–229 (2012). https://doi.org/10.1007/s12685-012-0061-z
Received:

Accepted:

Published:

Issue Date:

DOI: https://doi.org/10.1007/s12685-012-0061-z
Keywords
Africa

Colonialism

Nigeria

Urban history

Water supply