Abstract
The idea of using the second largest river on earth—Africa's Congo—for electricity production has existed for over 100 years. Plans first proposed in 1928 were more fully explored during the European (and colonial) post-World War II industrial expansion. The idea of diverting the entire Lower Congo through electricity generators, Grand Inga was embraced by Apartheid South Africa, the Arab Republic of Egypt, and nations of post-Apartheid southern Africa. In the twenty-first century, as Europe seeks to mitigate carbon emissions, non-carbon producing electricity generation is defined as 'green' and 'renewable'. The Inga Falls on the Lower Congo River are again attracting attention. This perception of Grand Inga as a saviour of European economies is not new. For centuries, Europeans have viewed Africa as a source of raw materials for economic expansion. With the advent of electrical power and its generation by flowing water, African rivers entered the domain of European extractive relations. Moreover, the trivialization of potential environmental harm that hydro-power development could cause is not new. Rivers across the continent have been dammed in the name of 'development', benefiting elites and international corporations with scant regard for environmental consequences. Plans for a massive Grand Inga Dam were replaced by studies of a Grand Inga Cascades in 2009 when engineers recognized catastrophic local consequences. Grand Inga is eligible for finance under Kyoto as a renewable technology. This designation was surely made without consideration of the river's geomorphology, function and biogeochemistry as major constituents of the tropical Atlantic Ocean. This is because the Congo—and its influence—do not stop at its coastal mouth. A vast submarine canyon extending 730 km from the coast and ending in a 300,000 km2 fan on the ocean floor serves as a major conduit of terrestrial minerals and carbon to the deep sea. On the surface, the river's plume has been detected 800 km offshore. Accumulating marine evidence indicates the Congo's significant influence on the equatorial Atlantic, which, in turn, is central to many climate change models. Analysis of the development of electricity, its infrastructure and policies at a continental scale articulates the global political economic context of Grand Inga's long environmental history, while environmental impact analysis at an Atlantic Basin, rather than at strictly local scale, indicates potentially serious global consequences.
Access options
Buy single article
Instant access to the full article PDF.
USD 39.95
Price excludes VAT (USA)
Tax calculation will be finalised during checkout.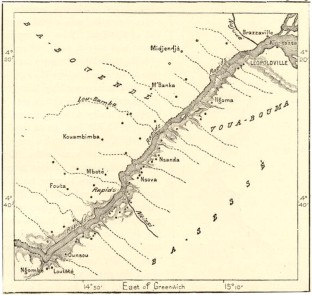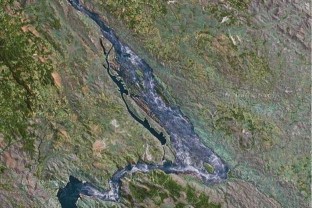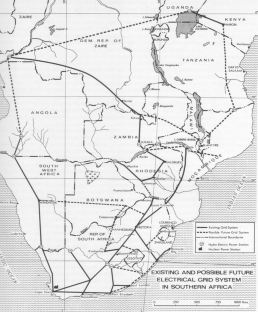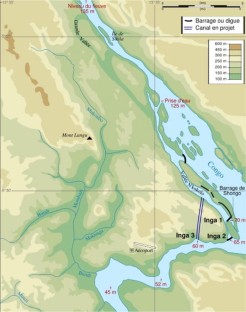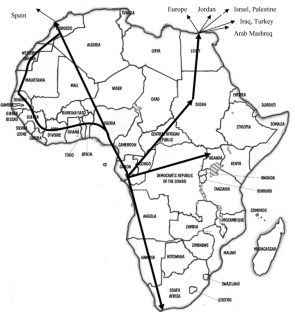 Notes
In the twelfth century, letters began circulating in Europe about a Christian kingdom in the East free of vice and crime with rivers that ran of gold, ruled by Prester John, but besieged by infidels. The fourteenth century location shifted from Asia to Abyssinia (Ethiopia); Portuguese explorers hoped to find and rescue him.

DRC was formerly colonial Belgian Congo, becoming independent Congolese Republic in 1960, Zaire in 1971 under Joseph Désiré Mobutu, and DRC in 1997 under Joseph Kabila. Namibia was colonial German South West Africa (1884–1915), South African protectorate South West Africa (1915–1990) before independence in 1990. For historical consistency, place names will be used which reflect the era under discussion.

One unit of electricity is a kilowatt hour (kWh), which is 1 kW (1,000 watts) of power expended per hour.

One kWh = 1.34 horsepower (hp), the unit of measure for energy before the mass production of electricity.

Water volume and height produce huge potential power.

See footnote 1 for explanation of names.

Comparison was made with the world's largest aluminium factory Kitimat, northern British Columbia, Canada. This ALCAN plant imported ore from Jamaica—9,000 km away. French Guinea's bauxite was only 3,500 from the mouth of the Congo (L'aménagement hydro-électrique …: Vers … 1957).

Sydelco included: La Société des Force hydro-électrique de Sanga, la Société coloniale d'Ėlectricité (Colectric) le Bureau d'Ėtudes industrielles F. Courtoy, la Société Ėlectrobel, la Société Ėlectrorail, la Société Traction et Ėlectricité and la Société Sofina.

Including a semi-permanent research site with a 20-km road connecting it to Boma, an airfield across the river at Matadi, and 26-km network of paths providing access to the river's curve.

Became independent Ghana.

For perspective, the Province of Ontario set a record for daily power consumption on August 1, 2006 when the demand reached 27,500 megawatt (MW) at 5 pm (IESO 2006).

In 1957, the Tennessee Valley Authority (TVA) in the United States sold electricity produced from its dams at 3 mills per unit; Inga promised the rate of 1.3 mills per unit of electricity. For units of electricity see footnotes 3 and 4. One mill was a thousandth of an American dollar (Congo Scheme for Cheapest Electricity 1957).

Milliard, in American English, is equal to the term billion, or 109 (Weisstein, undated).

The Congo River enters the Atlantic Ocean between Banana Point, DRC and Sharks Point, Angola.

Became independent Ghana as Inga was being discussed.

The I.B.R.D. (World Bank) had shown reluctance to make a loan (Scott Laing 1957).

The company's initial capitalization was Frs. 260 millions (approximately ₤1,850,000) subscribed as follows: Société Générale de belgique 30%, Société de Bruxelles pour le Finance et l'Industrie (Brufina 30%, Banque de Paris et paysbas 30% and Société Commerciale et Minière du Congo 'Cominière' (Nagelmackers Group) 10%) (Lockhart 1957a).

Colonial Leopoldville became Kinshasa.

Kariba Dam, completed on the Zambezi River in 1959, represented a technological breakthrough: 330-kilovolt (kV) transmission lines connected a remote, undeveloped site with urban and mining areas more than 550 km away (Federal Power Board 1959).

Losses from long-distance transmission lines were estimated at 70% in the 1950s (Cotton 1957b).

British groups were not invited, a British embassy official noted, because Belgians believed that 'other countries had more experience in the elaboration of such schemes', although 'for the provision of machinery we could compete with the best' (Scott Laing 1957). British were building the French designed dam at Kariba gorge, on the Zambezi River.

The four were: la Société comerciale et minière du Congo (Cominière), le Syndicat d'Ėtude de l'Aménagement hydro-électrique d'Inga (Sydelinga) [composed of La Sofina, l'Électrobel, la Société Traction et Électricité, Le Bureau Courtoy, L'Ecetra (emanation de l'Électrobel)], la Compagnie africaine des ingénieurs-conseils (Cadic), and Vattenbyggnadsbyran (V.D.B) of Stockholm. Congo (Cominière), invited two American companies to join them—Harza Engineering International of Chicago and the New York consulting firm Ebasco Services, Inc.

Committee consisted of: Clarence E. Blee (American), Chief Engineer, Tennessee Valley Authority; Lawton (Canadian), Chief Engineer, Aluminium Ltd; Claudio Marcello (Italian) Chief engineer of the Italian Edison Society; Vogt, Director General of the administration of Kingdom of Norway Water and Hydro-Electricity; H Julliard, consulting Engineer from Berne; F Campus [chair of the group], Professor Civil Engineering, Université de Liège; I. de Magnee, Prof. Geology, Université Libre de Bruxelles; L Dupriez, Professor of Economic Sciences, Université de Louvain; P Fourmarier, Junior Professor of Electricity at the Université de Liège; J Lamoen, Professor of Université de Liège et de Université Libre de Bruxelles (L'aménagement …: Un comité … 1957).

Grand Inga: Preliminary Investigation on the Development of Inga (NEPAD 2002).

British Protectorate Northern Rhodesia became independent Zambia in 1963; colonial Southern Rhodesia became Rhodesia in 1965 and independent Zimbabwe in 1980; Nyasaland became independent Malawi in 1963; German East Africa's Tanganyika (1865) became British Tanganyika Territory in 1922, independent Tanganyika in 1962 and the United Republic of Tanzania in 1964.

In 1965, Ian Smith, head of the British Colony of Southern Rhodesia, proclaimed the Unilateral Declaration of Independence (UDI) of the nation of Rhodesia. Rhodesia was expelled from international institutions and became the object of economic sanctions and boycotts.

Original members: Angola, Botswana, Mozambique, Tanzania and Zambia (and, briefly, Nigeria). Zimbabwe in 1980, served as chair (Schoeman 2002).

SADCC membership: Angola, Botswana, Lesotho, Malawi, Mozambique, Swaziland, Tanzania, Zambia, and Zimbabwe (Schoeman 2002).

Republic of Upper Volta became Burkina Faso in 1984.

Carried out by EDF (France) and Lahmeyer (Germany), assisted by two African consultancy groups, BETEC of the DRC and Electrical Power Systems Eng.Co (EPS) of Egypt (World Energy Council 2003).

Original membership: Angola, Botswana, Lesotho, Malawi, Mozambique, Namibia, Swaziland, Tanzania, Zambia, and Zimbabwe. South Africa joined after 1994 democratic elections, Mauritius in 1995, DRC in 1997, and the Seychelles in 1998.

ESCOM rejected models of private electricity development from Britain and the United States in 1922, choosing instead that of Canada's Ontario Hydro—a public provider of cheap electricity for development (ESCOM 1949).

Angola's Empresa National de Electricidade (ENE), Botswana's Botswana Power Corporation (BPC), Democratic Republic of Congo's Société National d'Électric (SNEL), Lesotho's Lesotho Electricity Corporation (LEC), Malawi's Malawi Electricity Supply Commission (MESC), Mozambique's Electricidade de Mozambique (EDM), Namibia's Nampower, South Africa's Eskom, Swaziland's Swaziland Electricity Board (SEB), Tanzania's Tanzania Electricity Supply Company (TANESCO), Zambia's Zambia Electricity Supply Corporation (ZESCO), and Zimbabwe's Zimbabwe Electricity Supply Authority (ZESA) (Southern African Power Pool, undated).

SAPP is the first formal international pool created outside North America and Western Europe; designed as a 'loose pool' along the lines of NORDEL/Nord Pol (Scandinavia), UCPTE (Western Europe) and US Pools such as Midcontinent Area Power Pool before 1996 restructuring of the US market. It is based on agreement, not law (see O'Leary et al. 1998).

In July 2001, the Organization for African Unity (OAU) became the African Union (AU).

Also Algeria, Egypt, Nigeria and Senegal.

By the early 1990s, HVDC (High-Voltage Direct Current) lines could transmit electricity for about 6,500 km, and HVAC (High-Voltage Alternating Current) lines for 4,800 km (Hammons and Falcon, undated).

1997 marine cable between Morocco and Spain vi Gibraltor; plans for Tunisia-Sicily cable.

Rural electrification is never considered with Inga Power. It is intended solely for areas of high demand—large cities and industrial areas—and to produce an export commodity.

Estuary location is 6.05°S, 13.30°E.

Technologies are referred to as run of the river as long as they do not involve storage dams and do not cause appreciable change to river flow. However, run of the river projects require installation of structures in rivers—barrages or low dams which, although not altering the overall flow regime of the river, could change other river properties. Proposals to capture and store river floods ('higher than normal flow') would be a significant intervention in flow regimes, since floods—as well as low flow—are essential components of flow patterns.

Varying from 3-km width and 400-m depth near the river's mouth to 15-km width and 1,300-m depth at the continental shelf break, the Congo Canyon (globally oriented east–west around 6°S) descends to approximately 5000 m, and ends in a fan (the Congo cone) on the ocean floor (Angola abyssal plain—see foot note 46) estimated to cover 300,000 km2. Its channels can be traced for 900 km (Rojas 2007; Normark and Carlson 2003).

Abyssal plains are the vast, flat, mostly unexplored areas of ocean bottom that constitute about 40% of the total ocean floor.

Including Zemchug, Bering, Navarin, Monterey, Amazon—see Normark and Carlson (2003).

Proposed filters would protect machinery from sediments, but would still result in the release of sediment-starved water.
References
Abazza M (1994) Africa–Europe electrical interconnection and prospects of world-wide interconnections. Minister of Electricity and Energy, Arab Republic of Egypt, CIGRE Keynote Address, Paris, 28 Aug 1994

ABB (2005) The early HVDC development. http://library.abb.com/global/scot/scot221.nsf/veritydisplay/8cf1c44dbc522685c12574e9006051a5/$file/The%20early%20HVDC%20development.pdf. Accessed 21 April 2009

African Unification Front (undated) Hydroelectric energy: sharing energy in the African Union. http://www.africanfront.com/energy1.php. Accessed 21 April 2009

African Union Commission and European Commission Launch an Ambitious Africa–EU Energy Partnership (2008) Memo/08/555. Brussels, 8 Sept 2008. http://europa.eu/rapid/pressReleasesAction.do?reference=MEM)/08/555. Accessed 21 April 2009

America's Library (undated) The world's first hydro-electric power plant. America's Library, Library of Congress. http://www.americaslibrary.gov/cgi-bin/page.cgi/db/gilded/hydro_1. Accessed 21 April 2009

Ashe B (2002) Eskom's reach in Africa, 16 Aug 2002. EarthLife Africa eThekwini. Eskom's African privatisation footprint 2000–2002. CorpWatch: holding corporations accountable website. http://www.corpwatch.org/article.php?id=3529. Accessed 21 April 2009

Bakken Library and Museum (undated) Catalogue. http://www.thebakken.org/library/books/19u.htm. Accessed 21 April

Braga ES, Andrié C, Bourlès B, Vangriesheim A, Baurand F, Chuchla R (2004) Congo River signature and deep circulation in the eastern Guinea Basin. Deep Water Res I 51:1057–1073

Byatt HA (1920) From HA Byatt, Administrator, Dar-es-Salaam to Principal Secretary of State for the Colonies, London, 9 June 1920. Tanganyika Territory No. 224, PRO T 161/1049

Carlton J (1955) From John Carlton, British Consulate-General, Leopoldville, Belgian Congo to Harold Macmillan, M.P., Foreign Office, 6 June 1955. Confidential. No. 43e (1531/6/55). PRO Foreign Office: Political Departments: General Correspondence from 1906 to 1966. Hydro-Electric Power Project Congo River. FO 371/113570

CBC News (2007) All industry eyes will be on N.L.'s Orphan Basin oil exploration. Radio-Canada.ca 31 July 2006. CBC.ca. http://www.cbc.ca/news/story/2006/07/31/orphan-basin.html. Accessed 21 April 2009

Congo Scheme for Cheapest Electricity (1957) Daily Telegraph, 22 August 1957. PRO Foreign Office: Political Departments: General Correspondence from 1906 to 1966. Hydro-electric Power Project Congo River. FO 371/125403

Cotton JR (1957a) From JR Cotton, Counsellor (Commercial), British Embassy, Brussels to RL Pitt, Sir Alexander Gibb & Partners, Queen Anne's Lodge, London, 6 Nov 1957. B.S. No. 1006 (54315/57). PRO Foreign Office: Political Departments: General Correspondence from 1906 to 1966. Hydro-electric Power Project Congo River. FO 371/125403

Cotton JR (1957b) From JR Cotton, Counsellor (Commercial), British Embassy, Brussels to JB Smith, Board of Trade, London, 6 Nov 1957. Confidential. P. No. 153 (54316/57). PRO Foreign Office: Political Departments: General Correspondence from 1906 to 1966. Hydro-electric Power Project Congo River. FO 371/125403

Coynel A, Seyler P, Etcheber H, Meybeck M, Orange D (2005) Spatial and seasonal dynamics of total suspended sediment and organic carbon species in the Congo River. Global Biogeochem Cycles 19:GB4019

Crossland JI, Crossland CJ, Swaney DP (2006) Congo (Zaire) River Estuary, Democratic Republic of the Congo. http://nest.su.se/mnode/Africa/Congo/Congobud.htm. Accessed 21 April 2009

Davie K (2007) A dirty energy cauldron. Mail & Guardian. Business 2:1, 9–15 Feb 2007

Davies BR, Day J (1998) Vanishing waters. University of Cape, Cape Town

Deerpalsing N, Deva N (2006) Report on the problematics of energy in the ACP countries. Committee on Economic Development, Finance and Trade. ACP-EU Joint Parliamentary Assembly, 20 Feb 2006. http://www.acpsec.org/en/jpa/vienna/603562EN%20Report%20on%20Energy.pdf. Accessed 21 April 2009

Department of Environmental Affairs and Tourism (2005) South Africa. Country report. Fourteenth session of the United Nations Commission on Sustainable Development, Sept 2005. http://www.un.org/esa/agenda21/natlinfo/countr/safrica/energy.pdf. Accessed 21 April 2009

duPlooy P (2007) Build windmills in the calm. Mail & Guardian:4, 9–15 Feb 2007

Electrical Power (1929) Electrical power: national and regional schemes. Encyclopedia Britannica, 14th edn, vol 8, pp 144–150

Elmissiry M (2000) The southern African Power Pool and its impact on billing and metering. Metering Africa. In: Proceedings of Africa 2000 conference and exhibition, Nairobi, Kenya. http://www.esi-africa.com/last/ESI42000/42000_034_1.htm

Energy Information Administration (2006) Southern Africa SADC. Electricity. Country analysis briefs. Department of Energy, U.S. Government. http://www.eia.doe.gov/emeu/cabs/SADC.html. Accessed 21 April 2009

ENS (2005) Congo River hydro plan gains momentum, 25 Feb 2005. http://www.ens-newswire.com/ens/feb2005/2005-02-25-02.asp. Accessed 21 April 2009

ESCOM (1949) Twenty-five years: a record of the origin, progress and achievements of the Electricity Supply Commission, Union of South Africa, 1923–1948. Rhodes House 610.441 s.21

Eskom (2006) Director's report. Eskom annual report. http://www.eskom.co.za/annreport06/directorrep1.htm. Accessed 21 April 2009

Everwyn G (1962) Which way in Katanga? Afr Aff 61:149–157

Federal Power Board (1959) Annual report and accounts for the year ended, 30 June 1959. Federation of Rhodesia and Nyasaland. Salisbury. Rhodes House 740.14 s.37/1958/59

Government of Ethiopia (undated) Power supply for speedy development. No. 3, February 2005. http://www.mfa.gov.et/Press_Section/Newsletter3/BestPractices3.htm. Accessed 21 April 2009

Gyory J, Bischoff BH, Mariano AJ, Ryan EH (2004) The Angola current. http://oceancurrents.rsmas.miami.edu/atlantic/angola.html. Accessed 21 April 2009

Hammons T, Falcon J (1992) Remote renewable energy resources made possible by international electrical interconnections: a priority for all continents. http://www.geni.org/globalenergy/library/geni/PowerGeneration/remote-renewable-energy-international-electrical-connections–a-priority-for-all-continents/index.shtml. Accessed 21 April 2009. Published as Hammons T, Falcon J Remote renewable energy resources. Power Eng Rev IEEE 12:3

Hammons TJ, Taher E, Gulstone AB, Blyden BK, Johnston R, Isekemanga E, Paluku K, Calitz AC, Simanga NN (1997) African electricity infrastructure, interconnections and exchanges. IEEE Power Eng Rev 17:6–16

Hathaway T (2005) Grand Inga or grand illusion? International Rivers Network, April 2005. http://internationalrivers.org/en/africa/grand-inga-grand-illusion. Accessed 21 April 2009

Heezen BC, Menzies RJ (1964) Congo submarine canyons. AAPG Bull 48:1126–1149

IESO (2006) Ontario sets new record for peak demand. Independent Electricity Systems Operator, Ontario. Participant News, 1 Aug 2006. http://www.ieso.ca/imoweb/media/md_newsitem.asp?newsItemID=2974. Accessed 21 April 2009

Inga-Shaba (undated) http://www.mixbla.com/IngaShaba. Accessed 21 April 2009

Khripounoff A, Vangriesheim A, Babonneau N, Crassous P, Bennielou B, Savoye B (2003) Direct observation of intense turbidity current activity in the Zaire submarine valley at 4000 m water depth. Mar Geol 194:151–158. http://www.ifremer.fr/docelec/notice/2003/notice1419-EN.htm. Accessed 28 April 2009

Laboratorie d'Océanographie et du Climat: Expérimentation et Approches Numériques (2009) CO2 variability in the tropical Atlantic. Institute de Recherche pour le développement. http://www.lodyc.jussieu.fr/CO2tropiques/objectives.htm

L'aménagement hydro-électrique du site d'Inga: Un comité d'experts est créé pour étudier les avants-projects. (1957) La Libre Belgique 21 April 1957. Enclosure. Cmm'd No. 54316/57, May 3, 1957. PRO Foreign Office: Political Departments: General Correspondence from 1906 to 1966. Hydro-electric Power Project Congo River. FO 371/125403

L'aménagement hydro-électrique du site d'Inga: Vers l'éxploitation d'une prodigieuse resource énergétique du Congo (1957) La Libre Belgique. 14 April 1957:11. PRO FO 371/125403

Library of Congress (undated) Zaire. Country studies/area handbook program. Federal research division. http://www.country-data.com/frd/ca/zrtoc.html. Accessed 21 April 2009

Lockhart SA (1957a) From SA Lockhart to JB Smith, Commercial Relations and Export Department, Board of Trade, London, 25th June 1957. Confidential. O.T. 112 (312/16/57). PRO Foreign Office: Political Departments: General Correspondence from 1906 to 1966. Hydro-electric Power Project Congo River. FO 371/125403

Lockhart SA (1957b) From S.A. Lockhart, British Consulate-General, Leopoldville, Belgian Congo to J.H.A. Watson, Africa Department, Foreign Office, 20 Nov 1957. Confidential. 312/16/57. PRO Foreign Office: Political Departments: General Correspondence from 1906 to 1966. Hydro-electric Power Project Congo River. FO 371/125403

Lünsche S (2006) Power drive. Eskom special report. Financial Mail, special reports, 03 February 2006. http://free.financialmail.co.za/report06/eskom06/aeskom.htm. Accessed 27 April 2009

Mazeika PA (1967) Thermal domes in the eastern tropical Atlantic Ocean. Limnol Oceanogr 12(3):537–539

Mbuere va Mbuere DJ, Musaba L (2004) Inga: promise, 18 May 2004 business in Africa online. http://www.geni.org/globalenergy/library/technical-articles/generation/hydro/business-in-africa-online/inga-promise/index.shtml. Accessed 27 April 2009

Morris GL, Fan J (1998) Reservoir sedimentation handbook. McGraw Hill, New York

Muller C (1945) The aluminum monopoloy and the war. Political Sci Quart 60(1);14–43

Murtugudde R, Beauchamp J, McClain CR, Lewis M, Bursalacchi A (2002) Effects of penetrative radiation on the Upper Tropical Ocean Circulation. J Clim 15:470–486

Naidoo P (2009) New strategies for harvesting large scale bulk energy from the Congo River without a conventional dam. In: Presented at IEEE PES general meeting, Calgary, Canada, July 2009

Ndaba D (2007) Big backing for Inga generation and transmission study. Creamer Media's Engineering News Online, 26 January 2007. http://www.engineeringnews.co.za/article/big-backing-for-inga-generation-and-transmission-study-2007-01-26. Accessed 27 April 2009

Nelles HV (1974) The politics of development: forests, mines and hydro-electric power in Ontario, 1849–1941. Macmillan of Canada, Toronto

NEPAD (2002) NEPAD: new partnership for Africa's development. Executive summary (Draft). Short-term action plan, infrastructure, May 2002. http://www.afdb.org/fileadmin/uploads/afdb/Documents/Project-and-Operations/00473839-EN-PAPER-NEPAD-INFRASTRUCTURE-SHORT-TERM-ACTION-PLAN-EXEC-SUMMARY.pdf. Accessed 27 April 2009

NEPAD (2005) NEPAD website. http://www.nepad.org/2005/files/home.php. Accessed March 2007

Nexant, Inc. (2001) Guidelines for environmental impact assessment (EIA) for thermal power plants in the SAPP region. Rev. 4.1, 20 Dec 2001. Contract No. LAG-00-98-00006, Task Order 4. USAID Bureau for Global Programs, Field Support and Research, Center for the Environment. Office of Energy, Environment and Technology, and the USAID Regional Center for Southern Africa. http://citeseerx.ist.psu.edu. Accessed 27 April 2009

Nhamo G (1998–1999) Eight SADC countries share the Zambezi River Basin. The Zambezi Newsletter 1. SARDC IMERCSA, Harare. http://www.sardc.net. Accessed March 2007

Normark WR, Carlson PR (2003) Giant submarine canyons: is size any clue to their importance in the rock record? Geological Society of America Special Paper 370. spe370-10

O'Leary D, Charpentier J-P, Minogue D (1998) Promoting regional power trade—the Southern African Power Pool. Public Policy for the Private Sector, Note No. 145, June 1998. Finance, Private Sector and Infrastructure. The World Bank Group. http://rru.worldbank.org/documents/publicpolicyjournal/145olear. Accessed 27 April 2009

Olivier H (1976) Great dams in southern Africa. Purnell, Cape Town

Pérez V, Fernández E, Marañón E, Serret P, García-Soto C (2005) Seasonal and interannual variability of chlorophyll a and primary production in the Equatorial Atlantic: in situ and remote sensing observations. J Plankton Res 27:189–197. www.plankt.oupjournals.org. Accessed 27 April 2009

Probst JL, Nkounkou RR, Krempp G, Bricquet JP, Thiébaux JP, Olivry JC (1992) Dissolved major elements exported by the Congo and the Ubangi Rivers during the period 1987–1989. J Hydrol (Amsterdam) 135:237–257

Purdue University (2001) Southern African Power Pool (SAPP) project: modeling electricity trade in Southern Africa. Global Partnerships, Discovery Park Energy Center. http://www.purdue.edu/discoverypark/energy/centers/gp_safrica.php. Accessed 27 April 2009

Reed J (2006) The Inga hydroelectric plant: coincidence inspires hope. Financial Times, 20 Nov 2006. FT.Com. http://www.ft.com/cms/s/0/1179192c-6e5d-11db-b5c4-0000779e2340,dwp_uuid=1f2588a0-765d-11db-8284-0000779e2340.html?nclick_check=1. Accessed 28 April 2009

Rojas R (2007) Over 5 years of CRX at INTEC. Q J (INTEC Eng) Q4:1,5. http://www.intecengineering.com/news/journals/QJ4_07.pdf. Accessed 29 April 2009

SADC Energy Programmes and Projects (2006) Gaberone, Botswana October 2006. http://www.gfse.at/fileadmin/dam/gfse/gfse%206/pdf/SADC_GFSE_6_Briefing_Paper.PDF. Accessed 29 April 2009

SADC Protocol on Energy (1996) http://www.sadc.int/imdex/browse/page/147. Accessed 28 April 2009

Salomao T (2005) Speech by executive secretary Dr. T. Salomao on the signing of WESTCOR shareholders agreement, Gaborone, Botswana, 7 Sep 2005. Southern African Development Community. http://www.sadc.int/archives/read/news/557. Accessed 28 April 2009

Schoeman M (2002) From SADCC to SADC and beyond: The politics of economic integration. In: Thirteenth economic history conference, Buenos Aires. http://eh.net/XIIICongress/Papers/Schoeman.pdf. Accessed 29 April 2009

Scott Laing WJ (1957) From WJ Scott Laing, British Embassy, Brussels to JB Smith, Commercial Relations and Exports Department, Board of Trade, London, 3 May 1957. Confidential. P. No. 65 (54316/57). PRO Foreign Office: Political Departments: General Correspondence from 1906 to 1966. Hydro-electric Power Project Congo River. FO 371/125403

Shepard FP, Emery KO (1973) Congo submarine canyon and fan valley. AAPG Bull 57(9):1679–1691

Sholkovitz ER, van Grieken R, Eisma D (1978) The manor-element composition of suspended matter in the Zaire River and estuary. Neth J Sea Res 12:407–413

Southern African Power Pool (undated) Southern African power pool website. http://www.sapp.co.zw/viewinfo.cfm?linkid=7&siteid=1. Accessed 28 April 2009

Sparrow FT, Bowen BH, Yu Z (2005) The future of SAPP, WAPP, CAPP, and EAPP—with Inga. IEE PES GM 2005 Panel Session, Paper 05GM0597, San Francisco, 12–16 June 2005. http://ieeexplore.ieee.org/stamp/stamp.jsp?tp=&arnumber=1489398. Accessed 28 April 2009

Tollintos B (1955) From B Tollintos, British Council, Leopoldville, Belgian Congo to Sir Anthony Eden, K.G., M.P., 19 June 1955. Confidential & Guard. No. 5 (1531/1/55). PRO Foreign Office: Political Departments: General Correspondence from 1906 to 1966. Hydro-electric Power Project Congo River. FO 371/113570

Tortell PD, Martin CL, Corkum ME (2006) Inorganic carbon uptake and intracellular assimilation by subarctic Pacific phytoplankton assemblages. Limnol Oceanogr 51:2102–2110

United Nations Economic Commission for Africa (2006) Harnessing energy for development. http://www.uneca.org/awich/AWDR%202006/Harnessing%20Energy%20for%20Development.pdf. Accessed 28 April 2008

US Geological Survey (1921) World Atlas of commercial geology: Part I. Distribution of mineral production; Part II. Water power of the world. U.S. G PO, Washington, DC

Utilipoint International (2004) White Paper: the history of the energy trading, transaction and risk management software industry, 29 Sep 2004. Utilipoint International, Inc., Albuquerque. http://energyhedgefunds.com/ehfc/modules/articles-4/content/wp_etrm_qv_october_2004.pdf. Accessed 28 April 2009

vanZyl G, Goldstuck MeA (2005) The South African electricity industry: the rationale for reform and exposing some myths. http://www.essa.org.za/download/2005Conference/vanZyl.pdf. Accessed 28 April 2009

Vassett P (ed) (2003) Mbeki calls on EDF for Inga Dam. Africa Energy Intelligence No. 358, 26/11/2003. http://www.africaintelligence.com/AEM/archives/default_archives.asp?num=358&year=2003. Accessed April 28 2009

Weisstein EW (undated) Milliard. MathWorld—a wolfram web resource. http://mathworld.wolfram.cam/Milliard.html

World Commission on Dams (2000) Dams and development: framework for decision-making. Earthscan, London. http://www.dams.org/Report. Accessed 28 April 2009

World Energy Council (2003) The potential for regionally integrated energy development in Africa: a discussion document. WEC work programme 2002–2004. World Energy Council, London. http://www.gm.undp.org/Reports/The%20Potential%20for%20energy%20devt%20in%20Africa.pdf. Accessed 28 April 2009

Worth D (1998) Lighting the darkness: the gas supply industry in 19th century Cape Town and its role in the formation of an industrial landscape. http://industrialheritagesouthafrica.wordpress.com/gas-and-grain/lighting-the-darkness/. Accessed 28 April 2009
About this article
Cite this article
Showers, K.B. Congo River's Grand Inga hydroelectricity scheme: linking environmental history, policy and impact. Water Hist 1, 31–58 (2009). https://doi.org/10.1007/s12685-009-0001-8
Received:

Accepted:

Published:

Issue Date:

DOI: https://doi.org/10.1007/s12685-009-0001-8
Keywords