Solvent Engineering of Highly Conductive and Porous Fullerene Ammonium Iodide for Immobilizing Pd Nanoparticles with Enhanced Electrocatalytic Activity Toward Ethanol Oxidation
Abstract
So far, the application of fullerene derivative support in electrocatalysis has been limited by fullerene's low electronic conductivity and the difficulty in film morphology control. Although highly conductive (1.5 s m−1) fullerene ammonium iodide (PCBANI) had been demonstrated to be a potential support, the solid self-assembled film is not of benefit for metallic nanoparticle (NP) to exhibit catalytic activity. In this work, we found solvent engineering of pristine PCBANI aggregate could maintain stacked short-range assembly structure and porous morphology. Moreover, PCBANI film fabricated from the optimized DMSO/methanol could immobilize Pd NPs with a uniform size of around 4.8 ± 1.7 nm which was characterized by SEM, TEM, and SAED. The resulting Pd/PCBANI-1-coated electrode exhibits a mass-specific activity for Pd of 3361.0 mA mg−1 at a scan rate of 50 mV s−1 and good stability toward alcohol electrooxidation, which are both significantly higher than that of the Pd/PCBANI-2 fabricated from PCBANI's acetic acid/methanol dispersion and commercial Pd/C (active carbon). To the best of our knowledge, Pd/PCBANI-1 exhibits almost the highest catalytic activity among the existing fullerene-based Pd nanocatalysts. The high performance of the as-fabricated catalyst is attributed to highly conductive and porous PCBANI support, good dispersibility of Pd NPs on support, and favorable mass transfer.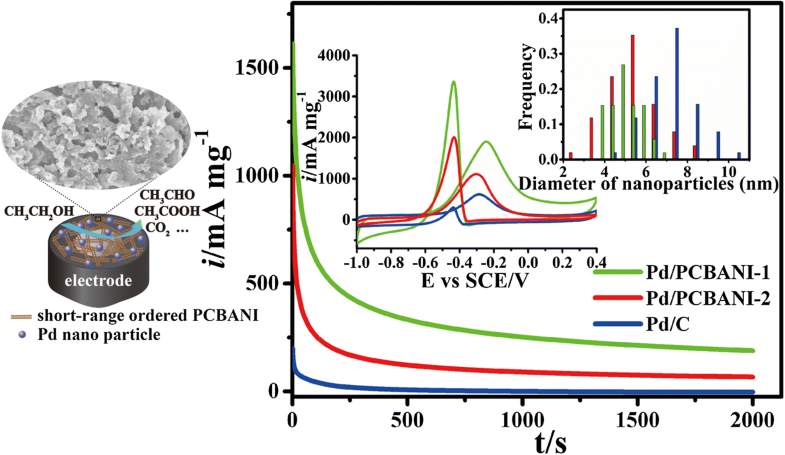 Keywords
Highly conductive fullerene 
Solvent engineering 
Pd nanoparticle 
Electrocatalyst 
Ethanol oxidation 
Notes
Funding Information
This study received financial support from the National Natural Science Foundation of China (grant nos. 21442005 and 21642008).
Compliance with Ethical Standards
Conflict of Interest
The authors declare that they have no competing interest.
Copyright information
© Springer Science+Business Media, LLC, part of Springer Nature 2019