An Exfoliated Graphite-Bismuth Vanadate Composite Photoanode for the Photoelectrochemical Degradation of Acid Orange 7 Dye
Abstract
This work investigates the removal of acid orange 7 dye from aqueous solution through photo electrochemical technique using a composite of exfoliated graphite and bismuth vanadate (EG-BiVO4) as photoanode. Monoclinic sheelite BiVO4 nanoparticles were synthesised through the hydrothermal route and subsequently added to prepared EG to form a composite. The EG-BiVO4 composite was fully characterised through XRD, SEM and FTIR. The cyclic voltammograms of the EG-BiVO4 electrodes were obtained in potassium ferricyanide and ferrocyanide redox probe. The XRD result revealed that the BiVO4 has a monoclinic sheelite crystal lattice with particle size of 74.17 nm. The EG-BiVO4 photoanode was applied for the photoelectrochemical degradation of acid orange 7 dye. Concentration decay of the dye was monitored using the UV-Vis spectrophotometer. The photo-assisted process gave improved degradation efficiency of 88% within 90 min. Kinetics study revealed that the process followed the pseudo first-order kinetics and fast with apparent rate constant of 1.60 × 10−2 min−1. The results of this investigation reveal the potential application of BiVO4 photoanode in the photoelectrochemical treatment of dye contaminated water.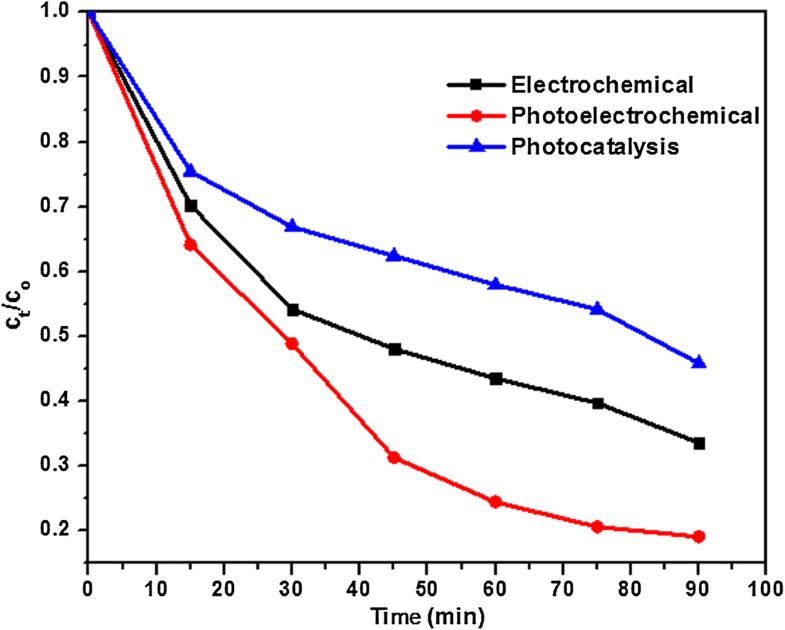 Keywords
Bismuth vanadate 
Photoelectrochemical degradation 
Acid orange 7 dye 
Exfoliated graphite 
Notes
Funding information
Financial supports were received from the following institutions in South Africa: Faculty of Science, University of Johannesburg; Global Excellence and Stature (GES) doctoral support, University of Johannesburg; Centre for Nanomaterials Science Research, University of Johannesburg; National Research Foundation (CPRR Grant number: 98887 and 118546); and Water Research Commission (Grant Number: K5/2567).
Copyright information
© Springer Science+Business Media, LLC, part of Springer Nature 2019