Surface Reconstruction of Polycrystalline Cu Electrodes in Aqueous KHCO3 Electrolyte at Potentials in the Early Stages of CO2 Reduction
Abstract
The reconstruction of the Cu(pc) polycrystalline surface at potentials that correspond to the early stages of CO2 reduction in 0.1 M KHCO3 was investigated by electrochemical scanning tunneling microscopy (ECSTM) at −0.90 V (SHE). A kinetically hindered surface reconstruction of the topmost layers of Cu(pc) into the (100) face was observed, reminiscent of the transformation previously reported at the same electrode potential in 0.1 M KOH. Evidently, the same reconstructed surface, Cu(pc)-[Cu(100)], can be generated in either 0.1 M KHCO3 (pH 8) or 0.1 M KOH (pH 13). In addition, only minimal structural disruption was observed when the reconstructed surface was transferred from KHCO3 to KOH electrolyte, and vice versa, provided the solution exchange was executed potentiostatically at −0.90 V. The structural convergence toward the same (100) facet regardless of pH or supporting electrolyte strongly suggests that the Cu(pc) → Cu(pc)-[Cu(100)] surface reorganization is a general phenomenon driven primarily by the rather negative potential applied on the electrode.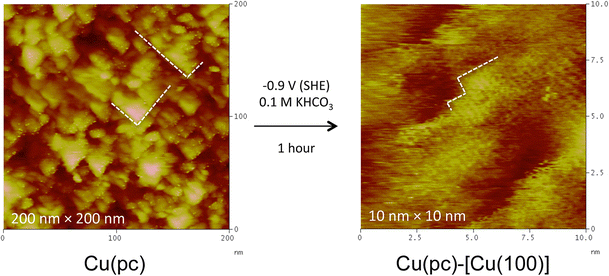 Keywords
Surface reconstruction of Cu(pc) under CO2-reduction potentials 
Operando electrochemical scanning tunneling microscopy 
Electrochemical CO2 reduction 
Cu(pc) to Cu(pc)-[Cu(100)] surface reconstruction 
Notes
Acknowledgments
This material is based upon the work performed by the Joint Center for Artificial Photosynthesis, a DOE Energy Innovation Hub, supported through the Office of Science of the US Department of Energy under Award No. DE-SC0004993.
Copyright information
© Springer Science+Business Media, LLC, part of Springer Nature 2018