Oxygen Electroreduction in Alkaline Solution on Pd Coatings Prepared by Galvanic Exchange of Copper
Abstract
Thin Pd coatings were obtained on glassy carbon electrodes by galvanically replacing the electron beam-deposited copper layers with palladium. The prepared electrodes were studied by scanning electron microscopy (SEM) and X-ray photoelectron spectroscopy (XPS). The electrodes were electrochemically tested for oxygen reduction reaction (ORR) employing the rotating disc electrode (RDE) method in alkaline solution. The remaining copper was detected for two of the thickest (5 and 10 nm) sacrificial Cu layers using energy-dispersive X-ray spectroscopy (EDX). SEM images of thin Pd films showed some larger particle growth for all the studied film thicknesses, but spherical particles such as those achieved for example by the electron beam evaporation method were not visible. Specific activity of the electrodes for O2 reduction did not depend on the thickness of the sacrificial copper layer. The O2 reduction reaction followed a four-electron pathway with a mechanism similar to that of commercial Pd/C, where the first electron transfer to the O2 molecule is the rate-determining step.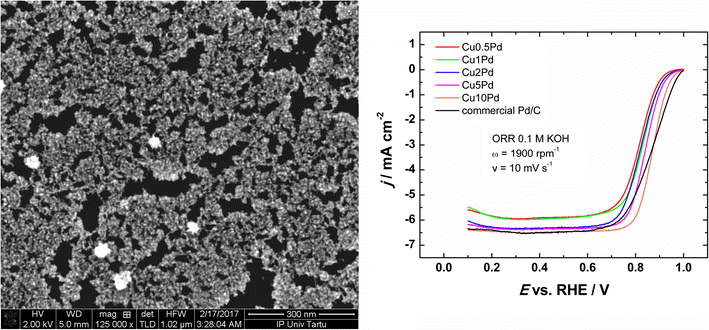 Keywords
Oxygen reduction 
Electrocatalysis 
Palladium film 
Copper film 
Galvanic replacement 
Notes
Acknowledgements
We would like to thank Prof. Sotiris Sotiropoulos from the Aristotle University of Thessaloniki for helpful comments.
Funding Information
This work was financially supported by institutional research funding (IUT20-16 and IUT2-24) of the Estonian Ministry of Education and Research. This research was also supported by the EU through the European Regional Development Fund (TK141 'Advanced materials and high-technology devices for energy recuperation systems').
Copyright information
© Springer Science+Business Media, LLC, part of Springer Nature 2017