Spinel Manganese Ferrites for Oxygen Electrocatalysis: Effect of Mn Valency and Occupation Site
Abstract
Spinel catalysts have been widely explored for the electrochemical oxygen reduction reaction (ORR) and oxygen evolution reaction (OER). To consolidate the understanding on electrocatalysis by spinel family, intermediate spinels should be deliberately examined because most spinel oxides are of intermediate structure. Here, we report an investigation on the ORR and OER performance of intermediate spinel MnFe2O4. The modulation of cation oxidation state and inversion degree of spinel MnFe2O4 were achieved by a simple annealing process. X-ray absorption spectroscopy analysis reveals that the Mn occupancy in octahedral sites varied from 0.25 ~ 0.41 and Mn cations were oxidized from 2+ to 3+ with increasing temperature treatment. Convinced by the leading role of octahedral-geometric, we further reveal the role of Mn oxidation state through normalizing the activity to active Mn[Oh] site number. Our findings clearly indicate that Mn3+ was more catalytically active than Mn2+ in catalyzing ORR and OER.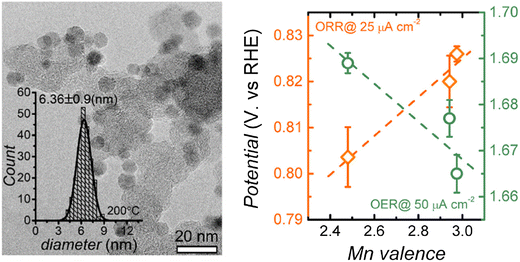 Keywords
Spinel oxide 
Manganese valence 
Cation distribution 
Oxygen reduction reaction 
Oxygen evolution reaction 
Notes
Acknowledgements
The authors thank the Facility for Analysis, Characterization, Testing and Simulation (FACTS) in Nanyang Technological University for materials characterizations. Authors appreciate the XAFCA beamline [30] of the Singapore Synchrotron Light Source for the XAFS characterization.
Funding Information
This work was supported by the Singapore Ministry of Education Tier 2 Grant (MOE2015-T2-1-020) and the Singapore National Research Foundation under its Campus for Research Excellence and Technological Enterprise (CREATE) program.
Copyright information
© Springer Science+Business Media, LLC 2017