Regulating the Product Distribution of CO Reduction by the Atomic-Level Structural Modification of the Cu Electrode Surface
Abstract
Cu catalyzes the electrochemical reduction of CO2 or CO to an assortment of products, a behavior that is a detriment when only one reduced compound is desired. The present article provides an example in which, through the atomic-level control of the structure of the Cu electrode surface, the yield distribution is regulated to generate only one product. The reaction investigated was the preferential reduction of CO to C2H5OH on Cu at a low overpotential in alkaline solution. Experimental measurements combined electrochemical scanning tunneling microscopy (ECSTM) and differential electrochemical mass spectrometry (DEMS). An atomically ordered Cu(100) surface, prepared from either a single crystal or by Cu(pc)-to-Cu(100) reconstruction, did not produce ethanol. When the surfaces were subjected to monolayer-limited Cu↔Cu2O cycles, only the reconstructed surface underwent an additional structural transformation that spawned the selective production of ethanol at a potential 645 mV lower than that which generates multiple products. Quasi-operando ECSTM indicated transformation to an ordered stepped surface, Cu(S) − [3(100) × (111)], or Cu(511). The non-selective, multiple-product Cu-catalyzed reduction of CO had thus been regulated to yield only one liquid fuel by an atomic-level structural modification of the electrode surface.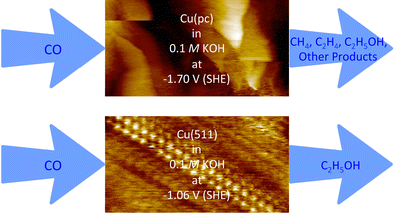 Keywords
Selective reduction of CO to ethanol on Cu(511) in alkaline solution at low overpotential 
Operando generation of Cu(511) electrode surface from polycrystalline Cu 
Operando electrochemical scanning tunneling microscopy (OECSTM) 
Differential electrochemical mass spectrometry (DEMS) 
Seriatim OECSTM-DEMS 
Notes
Acknowledgments
This material is based upon work performed by the Joint Center for Artificial Photosynthesis, a DOE Energy Innovation Hub, supported through the Office of Science of the U.S. Department of Energy under Award No. DE-SC0004993.
Copyright information
© Springer Science+Business Media New York 2016