Abstract
Objectives
The purpose of this study was to assess the effectiveness of a manualized mindfulness-based program for adolescents, Learning to Breathe (L2B), on indicators of adolescent social-emotional well-being, mental health, substance use, and executive function.
Methods
Participants included 251 high school students attending an urban school district who were randomly assigned to required health education classes that offered L2B or the business-as-usual health curriculum.
Results
No direct effects on self-report measures were found. Students exposed to L2B demonstrated significant improvements on executive functioning measures related to susceptibility to cognitive interference and working memory. Subsequent tests of moderation revealed beneficial program effects within the treatment group were dependent on rates of practice, and those that used L2B strategies regularly showed small-to-moderate improvements on indices of emotional awareness, emotional clarity, impulse control, social connectedness, mind-wandering, substance use, perceived stress, and self-compassion relative to controls.
Conclusions
This study provides mixed support regarding the potential effectiveness of a universal mindfulness program for high school students. The absence of direct effects on self-report measures implies that simply exposing adolescents to a mindfulness curriculum within the context of typical instruction, in the absence of supports for implementation, is unlikely to impact youth socio-emotional well-being or behavior. However, changes in EF favoring the intervention group suggest that possible benefits on tasks related to susceptibility, cognitive interference, and selective attention are possible. Tests of moderation revealed dosage effects, and students who adopt mindfulness practices can indeed benefit on multiple fronts.
Access options
Buy single article
Instant access to the full article PDF.
US$ 39.95
Tax calculation will be finalised during checkout.
Subscribe to journal
Immediate online access to all issues from 2019. Subscription will auto renew annually.
US$ 79
Tax calculation will be finalised during checkout.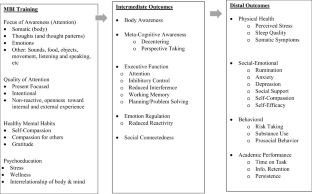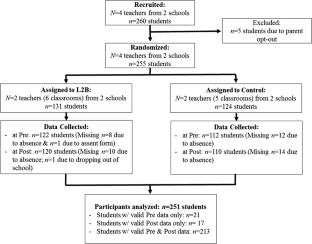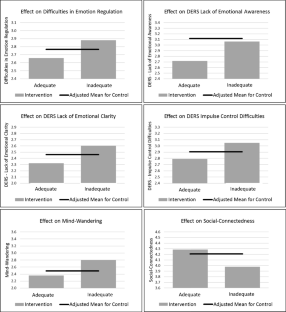 References
Aguinis, H. (1995). Statistical power with moderated multiple regression in management research. Journal of Management, 21, 1141–1158.

Atkins, D. C., & Gallop, R. J. (2007). Rethinking how family researchers model infrequent outcomes: a tutorial on count regression and zero-inflated models. Journal of Family Psychology, 21, 726–735.

Bailey, N. W., Chambers, R., Wootten, A., & Hassed, C. S. (2018). Commentary Regarding Johnson et al. (2017) "A randomized controlled evaluation of a secondary school mindfulness program for early adolescents: do we have the recipe right yet?". Mindfulness, 9, 1668–1670.

Benjamini, Y., & Hochberg, Y. (1995). Controlling the false discovery rate: a practical and powerful approach to multiple testing. Journal of the Royal Statistical Society, 57(1), 289–300.

Best, J. R., Miller, P. H., & Jones, L. L. (2009). Executive functions after age 5: changes and correlates. Developmental Review, 29, 180–200.

Black, D. S., & Slavich, G. M. (2016). Mindfulness meditation and the immune system: a systematic review of randomized controlled trials. Annals of the New York Academy of Sciences, 1373(1), 13–24.

Blakemore, S. J., & Mills, K. L. (2014). Is adolescence a sensitive period for sociocultural processing? Annual Review of Psychology, 65, 187–207.

Bluth, K., Campo, R. A., Pruteanu-Malinici, S., Reams, A., Mullarkey, M., & Broderick, P. C. (2016). A school-based mindfulness pilot study for ethnically diverse at-risk adolescents. Mindfulness, 7, 90–104.

Broderick, P. C. (2013). Learning to BREATHE: a mindfulness curriculum for adolescents to cultivate emotion regulation, attention, and performance. Oakland: New Harbinger Publications.

Broderick, P. C., & Metz, S. (2009). Learning to BREATHE: a pilot trial of a mindfulness curriculum for adolescents. Advances in School Mental Health Promotion, 2, 35–46.

Caballero, A., Granberg, R., & Tseng, K. Y. (2016). Mechanisms contributing to prefrontal cortex maturation during adolescence. Neuroscience and Biobehavioral Reviews, 70, 4–12.

Cameron, A. C., & Trivedi, P. K. (2013). Regression analysis of count data (Vol. 53). Cambridge: Cambridge University Press.

Carsley, D., Khoury, B., & Heath, N. L. (2018). Effectiveness of mindfulness interventions for mental health in schools: a comprehensive meta-analysis. Mindfulness, 9, 693–707.

Casey, B. J. (2015). Beyond simple models of self-control to circuit-based accounts of adolescent behavior. Annual Review of Psychology, 66, 295–319.

Chambers, R., Gullone, E., & Allen, N. B. (2009). Mindful emotion regulation: An integrative review. Clinical Psychology Review, 29, 560–572.

Cohen-Gilbert, J. E., & Thomas, K. M. (2013). Inhibitory control during emotional distraction across adolescence and early adulthood. Child Development, 84, 1954–1966.

Crane, R. S., Brewer, J., Feldman, C., Kabat-Zinn, J., Santorelli, S., Williams, J. M. G., & Kuyken, W. (2016). What defines mindfulness-based programs? The warp and the weft. Psychological Medicine, 47, 990–999.

Dahl, R. E. (2004). Adolescent brain development: a period of vulnerabilities and opportunities. Keynote address. Annals of the New York Academy of Sciences, 1021(1), 1–22.

Davidson, R. J. (2000). Affective style, psychopathology, and resilience: brain mechanisms and plasticity. The American Psychologist, 55, 1196–1214.

Dreyfuss, M., Caudle, K., Drysdale, A. T., Johnston, N. E., Cohen, O., Somerville, L. H., Galvan, A., Tottenham, N., Hare, T. A., & Casey, B. J. (2014). Teens impulsively react rather than retreat from threat. Developmental Neuroscience, 36, 220–227.

Dweck, C. S. (1999). Self-theories: their role in motivation, personality, and development. Philadelphia: Psychology Press.

Felver, J. C., Celis-de Hoyos, C. E., Tezanos, K., & Singh, N. N. (2016). A systematic review of mindfulness-based interventions for youth in school settings. Mindfulness, 7, 34–45.

Felver, J. C., Clawson, A., Morton, M., Brier-Kennedy, Janack, P., & DiFlorio, R. (2018). School-based mindfulness intervention supports adolescent resiliency. International Journal of School and Educational Psychology, 7, 111–122.

Fung, J., Kim, J. J., Jin, J., Chen, G., Baer, L., & Lau, A. (2019). A randomized trial evaluating school-based mindfulness intervention for ethnic minority youth: exploring mediators and moderators of intervention effects. Journal of Abnormal Child Psychology, 47, 1–19.

Gottfried, J. A. (Ed.). (2011). Neurobiology of sensation and reward. Boca Raton: CRC Press/Taylor & Francis.

Gratz, K. L., & Roemer, L. (2004). Multidimensional assessment of emotion regulation and dysregulation: development, factor structure, and initial validation of the difficulties in emotion regulation scale. Journal of Psychopathology and Behavioral Assessment, 26, 41–54.

Greco, L. A., Baer, R. A., & Smith, G. T. (2011). Assessing mindfulness in children and adolescents: development and validation of the child and adolescent mindfulness measure (CAMM). Psychological Assessment, 23, 606–614.

Green, W. (1994). Accounting for excess zeros and sample selection in Poisson and negative binomial regression models. (Working paper EC-94-10). New York: New York University, Department of Economics.

Greenberg, M. T., & Abenavoli, R. (2017). Universal interventions: fully exploring their impacts and potential to produce population-level impacts. Journal of Research on Educational Effectiveness, 10, 40–67.

Greenberg, M. T., & Lippold, M. A. (2013). Promoting healthy outcomes among youth with multiple risks: innovative approaches. Annual Review of Public Health, 34, 253–270.

Gross, J. J., & Thompson, R. A. (2007). Emotion regulation: conceptual foundations. In J. J. Gross (Ed.), Handbook of emotion regulation (pp. 3–24). New York: The Guilford Press.

Hare, T. A., Tottenham, N., Galvan, A., Voss, H. U., Glover, G. H., & Casey, B. J. (2008). Biological substrates of emotional reactivity and regulation in adolescence during an emotional go-nogo task. Biological Psychiatry, 63, 927–934.

Hilbe, J. M. (2011). Negative bionomial regression (2nd ed.). Cambridge University Press.

Hurlbut, S. C., & Sher, K. J. (1992). Assessing alcohol problems in college students. Journal of American College Health, 41(2), 49–58.

Johnson, C., Burke, C., Brinkman, S., & Wade, T. (2016). Effectiveness of a school-based mindfulness program for transdiagnostic prevention in young adolescents. Behaviour Research and Therapy, 81, 1–11.

Johnson, C., Burke, C., Brinkman, S., & Wade, T. (2017). A randomized controlled evaluation of a secondary school mindfulness program for early adolescents: do we have the recipe right yet? Behaviour Research and Therapy, 99, 37–46.

Judah, M. R., Grant, D. M., Mills, A. C., & Lechner, W. V. (2013). The neural correlates of impaired attentional control in social anxiety: an ERP study of inhibition and shifting. Emotion, 13, 1096–1106.

Kabat-Zinn, J. (1990). Full catastrophe living: using the wisdom of your body and mind to face stress, pain and illness. New York: Delacorte.

Kroenke, K., Strine, T. W., Spitzer, R. L., Williams, J. B., Berry, J. T., & Mokdad, A. H. (2009). The PHQ-8 as a measure of current depression in the general population. Journal of Affective Disorders, 114, 163–173.

Kuyken, W., Weare, K., Ukoumunne, O. C., Vicary, R., Motton, N., Burnett, R., Cullen, C., Hennelly, S., & Huppert, F. (2013). Effectiveness of the mindfulness in schools programme: non-randomised controlled feasibility study. The British Journal of Psychiatry, 203, 126–131.

Kuyken, W., Nuthall, E., Byford, S., Crane, C., Dalgleish, T., Ford, T., Greenberg, M. T., Ukoumunne, O. C., Viner, R. M., Williams, J. M. G., Brett, D., Lord, L., Palmer, L., Sonley, A., Taylor, L., Raja, A., & Casey, T. (2017). The effectiveness and cost-effectiveness of a mindfulness training programme in schools compared with normal school provision (MYRIAD): study protocol for a randomised controlled trial. Trials, 18, 194.

Ladouceur, C. D., Dahl, R. E., Williamson, D. E., Birmaher, B., Ryan, N. D., & Casey, B. J. (2005). Altered emotional processing in pediatric anxiety, depression, and comorbid anxiety-depression. Journal of Abnormal Child Psychology, 33(2), 165–177.

Larson, R. W., Moneta, G., Richards, M. H., & Wilson, S. (2002). Continuity, stability, and change in daily emotional experience across adolescence. Child Development, 73(4), 1151–1165.

LeBourgeois, M. K., Giannotti, F., Cortesi, F., Wolfson, A. R., & Harsh, J. (2005). The relationship between reported sleep quality and sleep hygiene in Italian and American adolescents. Pediatrics, 115, 257–265.

Lee, R. M., Draper, M., & Lee, S. (2001). Social connectedness, dysfunctional interpersonal behaviors, and psychological distress: Testing a mediator model. Journal of Counseling Psychology, 48(3), 310–318

Lejuez, C. W., Read, J. P., Kahler, C. W., Richards, J. B., Ramsey, S. E., Stuart, G. L., Strong, D. R., & Brown, R. A. (2002). Evaluation of a behavioral measure of risk taking: The Balloon Analogue Risk Task (BART). Journal of Experimental Psychology. Applied, 8(2), 75–84.

Little, R. J., & Rubin, D. B. (2002). Bayes and multiple imputation, Statistical Analysis with Missing Data, Second Edition (pp. 200–220). Hoboken: John Wiley & Sons.

MacLeod, C. M. (1991). Half a century of research on the Stroop effect: an integrative review. Psychological Bulletin, 109, 163–203.

Maynard, B. R., Solis, M. R., Miller, V. L., & Brendel, K. E. (2017). Mindfulness-Based interventions for improving cognition, academic achievement, behavior, and socioemotional functioning of primary and secondary school students. Campbell Systematic Reviews 2017: 5. Campbell Collaboration.

Metz, S. M., Frank, J. L., Reibel, D., Cantrell, T., Sanders, R., & Broderick, P. C. (2013). The effectiveness of the learning to BREATHE program on adolescent emotion regulation. Research in Human Development, 10, 252–272.

Meule, A. (2017). Reporting and interpreting working memory performance in n-back tasks. Frontiers in Psychology, 8, 1–3.

Mrazek, M. D., Phillips, D. T., Franklin, M. S., Broadway, J. M., & Schooler, J. W. (2013). Young and restless: validation of the Mind-Wandering Questionnaire (MWQ) reveals disruptive impact of mind-wandering for youth. Frontiers in Psychology, 4, 1–7.

Muthén, L. K., & Muthén, B. O. (1998-2017). Mplus User's Guide (Seventh ed.). Los Angeles, CA: Muthén & Muthén.

Muthen, B. O., & Satorra, A. (1995). Complex sample data in structural equation modeling. Sociological Methodology, 25, 267–316.

Nook, E. C., Sasse, S. F., Lambert, H. K., McLaughlin, K. A., & Somerville, L. H. (2018). The nonlinear development of emotion differentiation: granular emotional experience is low in adolescence. Psychological Science, 29, 1346–1357.

Powers, A., & Casey, B. J. (2015). The adolescent brain and the emergence and peak of psychopathology. Journal of Infant, Child, and Adolescent Psychotherapy, 14, 3–15.

Psychology Software Tools, Inc. [E-Prime 3.0]. (2016). Retrieved from http://www.pstnet.com.

Raes, F., Pommier, E., Neff, K. D., & Van Gucht, D. (2011). Construction and factorial validation of a short form of the self-compassion scale. Clinical Psychology & Psychotherapy, 18, 250–255.

Raes, F., Griffith, J. W., Van der Gucht, K., & Williams, J. M. G. (2014). School-based prevention and reduction of depression in adolescents: a cluster-randomized controlled trial of a mindfulness group program. Mindfulness, 5, 477–486.

Riediger, M., Schmiedek, F., Wagner, G. G., & Lindenberger, U. (2009). Seeking pleasure and seeking pain: differences in prohedonic and contra-hedonic motivation from adolescence to old age. Psychological Science, 20, 1529–1535.

Roeser, R. (2016). Process of teaching, learning, and transfer in mindfulness-based interventions (MBIs) for teachers: a contemplative educational perspective. In K. A. Schonert-Riechl & R. W. Roeser (Eds.), Handbook of Mindfulness in Education (pp. 149–170). New York: Springer.

Rothbart, M. K., Sheese, B. E., & Posner, M. I. (2007). Executive attention and effortful control: linking temperament, brain networks, and genes. Child Development Perspectives, 1(1), 2–7.

Sibinga, E. M., Webb, L., Ghazarian, S. R., & Ellen, J. M. (2016). School-based mindfulness instruction: an RCT. Pediatrics, 137(1), 1–8.

Siegrist, M. (1995). Reliability of the Stroop test with single-stimulus presentation. Perceptual and Motor Skills, 81(3_suppl), 1295–1298.

Snyder, H. R., & Hankin, B. L. (2016). Spiraling out of control: stress generation and subsequent rumination mediate the link between poorer cognitive control and internalizing psychopathology. Clinical Psychological Science: A Journal of the Association for Psychological Science, 4(6), 1047–1064.

Somerville, L. H., Jones, R. M., & Casey, B. J. (2010). A time of change: behavioral and neural correlates of adolescent sensitivity to appetitive and aversive environmental cues. Brain and Cognition, 72, 124–133.

Spitzer, R. L., Kroenke, K., Williams, J. B., & Löwe, B. (2006). A brief measure for assessing generalized anxiety disorder: the GAD-7. Archives of Internal Medicine, 166(10), 1092–1097.

Spoth, R., Redmond, C., Shin, C., Greenberg, M., Clair, S., & Feinberg, M. (2007). Substance-use outcomes at 18 months past baseline: the PROSPER community–university partnership trial. American Journal of Preventive Medicine, 32(5), 395–402.

Tang, Y. Y., Hölzel, B. K., & Posner, M. I. (2015). The neuroscience of mindfulness meditation. Nature Reviews. Neuroscience, 16, 213–225.

Trapnell, P. D., & Campbell, J. D. (1999). Private self-consciousness and the five-factor model of personality: distinguishing rumination from reflection. Journal of Personality and Social Psychology, 76, 284–304.

Walker, L. S., Beck, J. E., Garber, J., & Lambert, W. (2008). Children's Somatization Inventory: psychometric properties of the revised form (CSI-24). Journal of Pediatric Psychology, 34, 430–440.

White, T. L., Lejuez, C. W., & de Wit, H. (2008). Test-retest characteristics of the Balloon Analogue Risk Task (BART). Experimental and Clinical Psychopharmacology, 16, 565–570.

Wolf, D., Zschutschke, L., Scheurich, A., Schmitz, F., Lieb, K., Tusher, O., & Fellgiebel, A. (2014). Age-related increases in stroop interference: delineation of general slowing based on behavioral and white matter analysis. Human Brain Mapping, 35, 2448–2458.

Zelazo, P. D. (2015). Executive function: Reflection, iterative reprocessing, complexity, and the developing brain. Developmental Review, 38, 55–68.
Funding
The project described was supported by Award Number R305A140113 from the Institute of Educational Sciences (IES). The content is solely the responsibility of the authors and does not necessarily represent the official views of the Institute of Educational Sciences or the U. S. Department of Education.
Ethics declarations
Ethics Approval and Consent to Participate
All procedures performed in the study involving human participants were in accordance with the ethical standards of the Pennsylvania State University Institutional Review Board and with the 1964 Helsinki declaration and its later amendments or comparable ethical standards. Informed consent was obtained from all individual participants included in the study.
Conflict of Interest
In accordance with ethical obligations, Patricia C. Broderick, developer of Learning to Breathe, is reporting a financial interest that may be affected by the research reported in the enclosed paper. The remaining authors declare that they have no conflict of interest.
Additional information
Publisher's Note
Springer Nature remains neutral with regard to jurisdictional claims in published maps and institutional affiliations.
About this article
Cite this article
Frank, J.L., Broderick, P.C., Oh, Y. et al. The Effectiveness of a Teacher-Delivered Mindfulness-Based Curriculum on Adolescent Social-Emotional and Executive Functioning. Mindfulness 12, 1234–1251 (2021). https://doi.org/10.1007/s12671-021-01594-9
Accepted:

Published:

Issue Date:
Keywords
L2B

Mindfulness

Adolescence

Learning to Breathe