Abstract
Objectives
Previous research has suggested Mindful Self-Compassion (MSC) as being beneficial for people dealing with a variety of mental health issues in outpatient area.
Method
A clinical trial was conducted with 200 psychiatric inpatients testing the efficacy of a specially designed 6-week MSC program compared with a control intervention of progressive muscle relaxation (PMR). Each session lasted 75 min and took place once a week for each of the study groups. The primary end-point was the change in the self-compassion scale (SCS) total score from pre- to post treatment. Secondary end-points included changes in the Medical Outcomes Study 36-item short-form health survey (SF-36), the Global Severity Index (GSI) of the Brief Symptom Inventory-18 (BSI-18), and subjective feeling of happiness (single item).
Results
Of the 200 randomly assigned participants, the MSC group (M = 2.90, SD = 0.5) showed a significant improvement in SCS (F(1,198) = 25.57, p < .01, η2 = 0.11) after 6 weeks in comparison with the PMR group (M = 2.57, SD = 0.6, p > .05). Correspondingly, the MSC group stated a greater amount of happiness in comparison to the PMR group (p < .05). Furthermore, the GSI and SF-36 parameters improved in both study groups to the same extent during the 6-week treatment (p < .01).
Conclusions
These preliminary data suggest the clinical applicability of MSC in psychiatric patient groups, which merits further large-scale studies.
Access options
Buy single article
Instant access to the full article PDF.
USD 39.95
Price excludes VAT (USA)
Tax calculation will be finalised during checkout.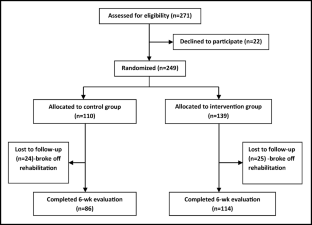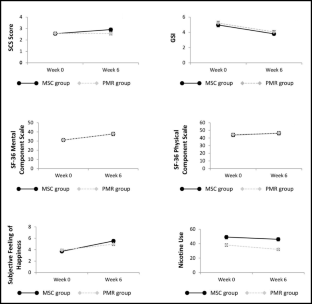 Similar content being viewed by others
References
Baer, R. A., Lykins, E. L., & Peters, J. R. (2012). Mindfulness and self-compassion as predictors of psychological wellbeing in long-term meditators and matched nonmeditators. The Journal of Positive Psychology, 7(3), 230–238.

Barnett, J., & Shale, A. (2012). The integration of complementary and alternative medicine (CAM) into the practice of psychology: a vision for the future. Professional Psychology: Research and Practice, 43(6), 576–585.

Blatt, S. J. (1995). Representational structures in psychopathology. Roches4ter symposium on developmental psychopathology: emotion, cognition, and representation. New York: University of Rochester Press.

Bullinger, M. (1995). German translation and psychometric testing of the SF-36 health survey: preliminary results from the IQOLA project. Social Science & Medicine, 41(10), 1359–1366.

Burstein, H. J., Gelber, S., Guadagnoli, E., & Weeks, J. C. (1999). Use of alternative medicine by women with early-stage breast cancer. New England Journal of Medicine, 340(22), 1733–1739.

Cohen, S. (2004). Social relationships and health. American Psychologist, 59(8), 676.

Derogatis, L. R. (1994). SCL-90-R: symptom Checklist-90-R: administration, scoring, and procedures manual. Minneapolis: National Computer Systems Inc.

Derogatis, L. R. (2001). BSI-18: administration, scoring, and procedures manual. Minneapolis: NCS Pearson Inc.

Faul, F., Erdfelder, E., Lang, A.-G., & Buchner, A. (2007). G* Power 3: a flexible statistical power analysis program for the social, behavioral, and biomedical sciences. Behavior Research Methods, 39(2), 175–191.

Franke, G. H. (2000). BSI-brief symptom inventory von L.R. Derogatis. Göttingen: Hogrefe.

Gaiswinkler, L., & Unterrainer, H. F. (2016). The relationship between yoga involvement, mindfulness and psychological well-being. Complementary Therapies in Medicine, 26, 123–127.

Gilbert, P. (2010). An introduction to compassion focused therapy in cognitive behavior therapy. International Journal of Cognitive Therapy, 3(2), 97–112.

Graser, J., & Stangier, U. (2018). Compassion and loving-kindness meditation: an overview and prospects for the application in clinical samples. Harvard Review of Psychiatry, 26(4), 201–215.

Hayes, S. C., Strosahl, K. D., & Wilson, K. G. (1999). Acceptance and commitment therapy: an experiential approach to behavior change. New York: Guilford Press.

Heffernan, M., Griffin, M., McNulty, S., & Fitzpatrick, J. J. (2010). Self-compassion and emotional intelligence in nurses. International Journal of Nursing Practice, 16, 366–373.

Hollis-Walker, L., & Colosimo, K. (2011). Mindfulness, self-compassion, and happiness in non-meditators: a theoretical and empirical examination. Personality and Individual Differences, 50(2), 222–227.

Hupfeld, J., & Ruffieux, N. (2011). Validierung einer deutschen Version der Self-Compassion Scale (SCS-D). Zeitschrift für Klinische Psychologie und Psychotherapie, 40(2), 115–123.

Jacobsen, E. (1929). Progressive relaxation. Chicago: University of Chicago Press.

Jain, S., Shapiro, S. L., Swanick, S., Roesch, S. C., Mills, P. J., Bell, I., & Schwartz, G. E. (2007). A randomized controlled trial of mindfulness meditation versus relaxation training: effects on distress, positive states of mind, rumination, and distraction. Annals of Behavioral Medicine, 33(1), 11–21.

Kabat-Zinn, J. (1982). An outpatient program in behavioral medicine for chronic pain patients based on the practice of mindfulness meditation: Theoretical considerations and preliminary results. General Hospital Psychiatry, 4(1), 33–47.

Kabat-Zinn, J. (1990). Full catastrophe living: using the wisdom of your mind and your body to face stress. New York: Delacorte.

Kabat-Zinn, J. (2003). Mindfulness-based interventions in context: past, present, and future. Clinical Psychology: Science and Practice, 10(2), 144–156.

Keller, M. B., McCullough, J. P., Klein, D. N., Arnow, B., Dunner, D. L., Gelenberg, A. J., Markowitz, J. C., et al. (2000). A comparison of nefazodone, the cognitive behavioral-analysis system of psychotherapy, and their combination for the treatment of chronic depression. New England Journal of Medicine, 342(20), 1462–1470.

Lee, R. M., & Robbins, S. B. (1998). The relationship between social connectedness and anxiety, self-esteem, and social identity. Journal of Counseling Psychology, 45(3), 338–345.

Linehan, M. (1993). Cognitive-behavioral treatment of borderline personality disorder. New York: Guilford Press.

Longe, O., Maratos, F. A., Gilbert, P., Evans, G., Volker, F., Rockliff, H., & Rippon, G. (2010). Having a word with yourself: neural correlates of self-criticism and self-reassurance. NeuroImage, 49(2), 1849–1856.

López, A., Sanderman, R., Smink, A., Zhang, Y., van Sonderen, E., Ranchor, A., & Schroevers, M. J. (2015). A reconsideration of the self-compassion scale's total score: self-compassion versus self-criticism. PLoS One, 10(7), e0132940.

MacBeth, A., & Gumley, A. (2012). Exploring compassion: a meta-analysis of the association between self-compassion and psychopathology. Clinical Psychology Review, 32(6), 545–552.

McHorney, C. A., Ware, J. E., Jr., & Raczek, A. E. (1993). The MOS 36-item short-form health survey (SF-36): II. Psychometric and clinical tests of validity in measuring physical and mental health constructs. Medical Care, 31(3), 247–263.

Neff, K. (2003). The development and validation of a scale to measure self-compassion. Self and Identity, 2(3), 223–250.

Neff, K., & Germer, C. K. (2013). A pilot study and randomized controlled trial of the mindful self-compassion program. Journal of Clinical Psychology, 69(1), 28–44.

Neff, K., Rude, S. S., & Kirkpatrick, K. L. (2007). An examination of self-compassion in relation to positive psychological functioning and personality traits. Journal of Research in Personality, 41(4), 908–916.

Nie, P., Gwozdz, W., Reisch, L., & Sousa-Poza, A. (2017). Values, norms, and peer effects on weight status. Journal of Obesity, 2017(1), 1–9.

Raes, F. (2010). Rumination and worry as mediators of the relationship between self-compassion and depression and anxiety. Personality and Individual Differences, 48(6), 757–761.

Rāhula, W. (1974). What the Buddha taught. Oxford: Oneworld Publications.

Salzberg, S., & Kabat-Zinn, J. (2004). Lovingkindness: the revolutionary art of happiness. Boston: Shambhala Publications.

Segal, Z., Williams, J., & Teasdale, J. (2002). Mindfulness-based cognitive therapy for depression: a new approach to relapse prevention. New York: Guilford Press.

Spitzer, C., Hammer, S., Löwe, B., Grabe, H., Barnow, S., Rose, M., et al. (2011). Die Kurzform des Brief Symptom Inventory (BSI-18): Erste Befunde zu den psychometrischen Kennwerten der deutschen Version. Fortschritte der Neurologie Psychiatrie, 79(09), 517–523.

Tang, Y.-Y., Ma, Y., Wang, J., Fan, Y., Feng, S., Lu, Q., & Fan, M. (2007). Short-term meditation training improves attention and self-regulation. Proceedings of the National Academy of Sciences, 104(43), 17152–17156.

Tang, Y.-Y., Ma, Y., Fan, Y., Feng, H., Wang, J., Feng, S., & Li, J. (2009). Central and autonomic nervous system interaction is altered by short-term meditation. Proceedings of the National Academy of Sciences, 106(22), 8865–8870.

Tang, Y.-Y., Hölzel, B. K., & Posner, M. I. (2015). The neuroscience of mindfulness meditation. Nature Reviews Neuroscience, 16(4), 213.

Unterrainer, H. F., Lewis, A. J., & Fink, A. (2014). Religious/spiritual well-being, personality and mental health: a review of results and conceptual issues. Journal of Religion and Health, 53(2), 382–392.

Van Dam, N. T., Sheppard, S. C., Forsyth, J. P., & Earleywine, M. (2011). Self-compassion is a better predictor than mindfulness of symptom severity and quality of life in mixed anxiety and depression. Journal of Anxiety Disorders, 25(1), 123–130.

Wang, C., Schmid, C., Rones, R., Kalish, R., Yinh, J., Goldenberg, D. L., et al. (2010). A randomized trial of Tai Chi for fibromyalgia. New England Journal of Medicine, 363(8), 743–754.

Ware, J. E., Kosinski, M., & Keller, S. D. (1994). SF-36 physical and mental health summary scales: a user's manual. Boston: Health Assessments Lab.

WHO. (1992). The ICD-10 classification of mental and behavioural disorders: clinical descriptions and diagnostic guidelines. Geneva: World Health Organization.

Zeidan, F., Johnson, S. K., Gordon, N. S., & Goolkasian, P. (2010). Effects of brief and sham mindfulness meditation on mood and cardiovascular variables. The Journal of Alternative and Complementary Medicine, 16(8), 867–873.
Acknowledgments
We would like to thank Nikolas Bonatos for critically reading the manuscript and we would also like to acknowledge Fedor Daghofer for his support in statistical analysis.
Ethics declarations
Informed Consent
Informed consent was obtained from all individual participants included in the study. The study protocol was approved by the institutional review board of the Medical University Graz in compliance with the current revision of the Declaration of Helsinki, ICG guideline for Good Clinical Practice and current regulations (EK-number: 28-019 ex 15/16) and is registered at clinicaltrials.gov (Identifiers: NCT02578433, Unique Protocol ID: ECS 1392/2015, brief title: Mindful Self Compassion in Rehabilitation Inpatients). Furthermore, the study was approved by the review board of the "Land Burgenland."
Additional information
Publisher's Note
Springer Nature remains neutral with regard to jurisdictional claims in published maps and institutional affiliations.
About this article
Cite this article
Gaiswinkler, L., Kaufmann, P., Pollheimer, E. et al. Mindfulness and Self-Compassion in Clinical Psychiatric Rehabilitation: a Clinical Trial. Mindfulness 11, 374–383 (2020). https://doi.org/10.1007/s12671-019-01171-1
Published:

Issue Date:

DOI: https://doi.org/10.1007/s12671-019-01171-1
Keywords