Abstract
Mindfulness meditation is at present deemed also as form of mental training that may allow for empowering focusing, attention regulation, and executive control skills. Nonetheless, the potential of traditional mindfulness practice for improving cognitive and neural efficiency is affected by two critical requirements—intensity of exercise and perseverance to practice—which represent a known limitation of accessibility to meditation practices. It has been suggested that the impact of such limitations might be reduced thanks to the support of external devices. The present study aims at testing the efficacy of an intensive technology-mediated intervention based on mindful practices and supported by a brain-sensing device to optimize cognitive performance and neural efficiency. Forty participants took part in the study and were randomly divided in an active control and an experimental group. Both groups were involved in a structured intervention, which lasted 4 weeks and was constituted by brief daily activities. The experimental group, differently from the active control, underwent mindfulness-based practices with the support of a dedicated device. Analyses highlighted increased electrophysiological responsiveness indices at rest and frequency profiles consistent with a relaxed mindset in the experimental group. Participants in the experimental group also showed improved electrophysiological markers of attention regulation and improved cognitive performance, as measured by a complex reaction times task. Findings hint at the potential of the investigated technology-mediated mindfulness practice for enhancing cognitive performance and for inducing consistent modulations of neural efficiency markers.
This is a preview of subscription content, log in to check access.
Access options
Buy single article
Instant access to the full article PDF.
US$ 39.95
Price includes VAT for USA
Subscribe to journal
Immediate online access to all issues from 2019. Subscription will auto renew annually.
US$ 99
This is the net price. Taxes to be calculated in checkout.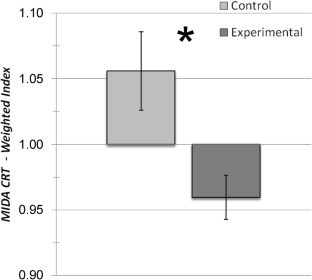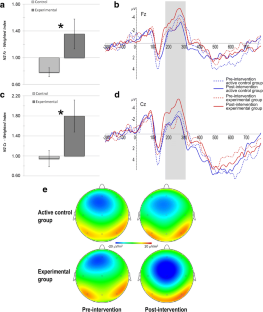 References
Andresen, J. (2000). Meditation meets behavioural medicine: the story of experimental research on meditation. Journal of Consciousness Studies, 7(11–12), 17–73.

Atchley, R., Klee, D., Memmott, T., Goodrich, E., Wahbeh, H., & Oken, B. (2016). Event-related potential correlates of mindfulness meditation competence. Neuroscience, 320, 83–92. https://doi.org/10.1016/j.neuroscience.2016.01.051.

Balconi, M., Fronda, G., Venturella, I., & Crivelli, D. (2017). Conscious, pre-conscious and unconscious mechanisms in emotional behaviour. Some applications to the mindfulness approach with wearable devices. Applied Sciences, 7(12), 1280. https://doi.org/10.3390/app7121280.

Berger, H. (1929). Über das Elektrenkephalogramm des Menschen. Archiv für Psychiatrie und Nervenkrankheiten, 87, 527–570. https://doi.org/10.1007/BF01797193.

Bhayee, S., Tomaszewski, P., Lee, D. H., Moffat, G., Pino, L., Moreno, S., & Farb, N. A. S. (2016). Attentional and affective consequences of technology supported mindfulness training: a randomised, active control, efficacy trial. BMC Psychology, 4(1), 60. https://doi.org/10.1186/s40359-016-0168-6.

Caffarra, P., Vezzadini, G., Dieci, F., Zonato, F., & Venneri, A. (2002). Una versione abbreviata del test di Stroop: dati normativi nella popolazione italiana. Nuova Rivista di Neurologia, 12(4), 111–115.

Cahn, B. R., & Polich, J. (2006). Meditation states and traits: EEG, ERP, and neuroimaging studies. Psychological Bulletin, 132(2), 180–211. https://doi.org/10.1037/0033-2909.132.2.180.

Chatrian, G.-E., Lettich, E., & Nelson, P. L. (1988). Modified nomenclature for the "10%" electrode system. Journal of Clinical Neurophysiology, 5(2), 183–186.

Cheng, K. S., Chang, Y. F., Han, R. P. S., & Lee, P. F. (2017). Enhanced conflict monitoring via a short-duration, video-assisted deep breathing in healthy young adults: an event-related potential approach through the Go/NoGo paradigm. PeerJ, 5, e3857. https://doi.org/10.7717/peerj.3857.

Cohen, J. (1988). Statistical power analysis for the behavioral sciences (II). Hillsdale, NJ: Lawrence Erlbaum Associates.

Cohen, S., Kamarck, T., & Mermelstein, R. (1983). A global measure of perceived stress. Journal of Health and Social Behavior, 24(4), 385–396. https://doi.org/10.2307/2136404.

De Tanti, A., Inzaghi, M. G., Bonelli, G., Mancuso, M., Magnani, M., & Santucci, N. (1998). Normative data of the MIDA battery for the evaluation of reaction times. Europa Medicophysica, 34(4), 211–220.

Fish, J., Brimson, J., & Lynch, S. (2016). Mindfulness interventions delivered by technology without facilitator involvement: what research exists and what are the clinical outcomes? Mindfulness, 7(5), 1011–1023. https://doi.org/10.1007/s12671-016-0548-2.

Folstein, J. R., & Van Petten, C. (2008). Influence of cognitive control and mismatch on the N2 component of the ERP: a review. Psychophysiology, 45(1), 152–170. https://doi.org/10.1111/j.1469-8986.2007.00602.x.

Ghisi, M., Flebus, G. B., Montano, A., Sanavio, E., & Sica, C. (Eds.). (2006). Beck depression inventory—II. Firenze: Giunti OS.

Grossman, P. (2010). Mindfulness for psychologists: paying kind attention to the perceptible. Mindfulness, 1(2), 87–97. https://doi.org/10.1007/s12671-010-0012-7.

Hölzel, B. K., Lazar, S. W., Gard, T., Schuman-Olivier, Z., Vago, D. R., & Ott, U. (2011). How does mindfulness meditation work? Proposing mechanisms of action from a conceptual and neural perspective. Perspectives on Psychological Science, 6(6), 537–559. https://doi.org/10.1177/1745691611419671.

Hommel, B., & Colzato, L. S. (2017). Meditation and metacontrol. Journal of Cognitive Enhancement, 1(2), 115–121. https://doi.org/10.1007/s41465-017-0017-4.

Jevning, R., Wallace, R. K., & Beidebach, M. (1992). The physiology of meditation: a review. A wakeful hypometabolic integrated response. Neuroscience and Biobehavioral Reviews, 16(3), 415–424. https://doi.org/10.1016/S0149-7634(05)80210-6.

Jung, T.-P., Makeig, S., Humphries, C., Lee, T.-W., McKeown, M. J., Iragui, V., & Sejnowski, T. J. (2000). Removing electroencephalographic artifacts by blind source separation. Psychophysiology, 37(2), 163–178.

Kabat-Zinn, J. (1990). Full catastrophe living: using the wisdom of your body and mind to face stress, pain, and illness. New York: Bantam Dell.

Kabat-Zinn, J. (2005). Coming to our senses: healing ourselves and the world through mindfulness. New York: Hyperion.

Keng, S.-L., Smoski, M. J., & Robins, C. J. (2011). Effects of mindfulness on psychological health: a review of empirical studies. Clinical Psychology Review, 31(6), 1041–1056. https://doi.org/10.1016/j.cpr.2011.04.006.

Khoury, B., Lecomte, T., Fortin, G., Masse, M., Therien, P., Bouchard, V., … Hofmann, S. G. (2013). Mindfulness-based therapy: a comprehensive meta-analysis. Clinical Psychology Review, 33(6), 763–771. https://doi.org/10.1016/j.cpr.2013.05.005.

Lippelt, D. P., Hommel, B., & Colzato, L. S. (2014). Focused attention, open monitoring and loving kindness meditation: effects on attention, conflict monitoring, and creativity—a review. Frontiers in Psychology, 5(1083). https://doi.org/10.3389/fpsyg.2014.01083.

Lomas, T., Cartwright, T., Edginton, T., & Ridge, D. (2015). A qualitative analysis of experiential challenges associated with meditation practice. Mindfulness, 6(4), 848–860. https://doi.org/10.1007/s12671-014-0329-8.

Lutz, A., Slagter, H. A., Dunne, J. D., & Davidson, R. J. (2008). Attention regulation and monitoring in meditation. Trends in Cognitive Sciences, 12(4), 163–169. https://doi.org/10.1016/j.tics.2008.01.005.

Malinowski, P., Moore, A. W., Mead, B. R., & Gruber, T. (2017). Mindful aging: the effects of regular brief mindfulness practice on electrophysiological markers of cognitive and affective processing in older adults. Mindfulness, 8(1), 78–94. https://doi.org/10.1007/s12671-015-0482-8.

Moore, A., Gruber, T., Derose, J., & Malinowski, P. (2012). Regular, brief mindfulness meditation practice improves electrophysiological markers of attentional control. Frontiers in Human Neuroscience, 6(February), 18. https://doi.org/10.3389/fnhum.2012.00018.

Neuper, C., & Pfurtscheller, G. (2001). Event-related dynamics of cortical rhythms: Frequency-specific features and functional correlates. International Journal of Psychophysiology, 43(1), 41–58. https://doi.org/10.1016/S0167-8760(01)00178-7.

Niedermeyer, E. (1999). The normal EEG of the waking adult. In E. Niedermeyer & F. H. Lopes da Silva (Eds.), Electroencephalography (pp. 167–192). Baltimore: Williams and Wilkins.

Pascoe, M. C., Thompson, D. R., Jenkins, Z. M., & Ski, C. F. (2017). Mindfulness mediates the physiological markers of stress: systematic review and meta-analysis. Journal of Psychiatric Research, 95, 156–178. https://doi.org/10.1016/j.jpsychires.2017.08.004.

Pedrabissi, L., & Santinello, M. (Eds.). (1989). State-trait anxiety inventory—forma Y. Firenze: Giunti OS.

Quaglia, J. T., Braun, S. E., Freeman, S. P., McDaniel, M. A., & Brown, K. W. (2016a). Meta-analytic evidence for effects of mindfulness training on dimensions of self-reported dispositional mindfulness. Psychological Assessment, 28(7), 803–818. https://doi.org/10.1037/pas0000268.

Quaglia, J. T., Goodman, R. J., & Brown, K. W. (2016b). Trait mindfulness predicts efficient top-down attention to and discrimination of facial expressions. Journal of Personality, 84(3), 393–404. https://doi.org/10.1111/jopy.12167.

Rosanova, M., Casali, A., Bellina, V., Resta, F., Mariotti, M., & Massimini, M. (2009). Natural frequencies of human corticothalamic circuits. The Journal of Neuroscience, 29(24), 7679–7685. https://doi.org/10.1523/JNEUROSCI.0445-09.2009.

Sliwinski, J., Katsikitis, M., & Jones, C. M. (2017). A review of interactive technologies as support tools for the cultivation of mindfulness. Mindfulness, 8(5), 1150–1159. https://doi.org/10.1007/s12671-017-0698-x.

Spinnler, H., & Tognoni, G. (1987). Standardizzazione e taratura italiana di test neuropsicologici. The Italian Journal of Neurological Sciences, Suppl, 8(6), 1–120.

Tang, Y.-Y., Hölzel, B. K., & Posner, M. I. (2015). The neuroscience of mindfulness meditation. Nature Reviews Neuroscience, 16(4), 213–225. https://doi.org/10.1038/nrn3916.

Theiler, S. (2015). A pilot study using mindfulness-guided-relaxation & biofeedback to alleviate stress in a group. Studies in Health Technology and Informatics, 219, 163–167.

Wenk-Sormaz, H. (2005). Meditation can reduce habitual responding. Alternative Therapies in Health and Medicine, 11(2), 42–58.

West, M. A. (1980). Meditation and the EEG. Psychological Medicine, 10(02), 369. https://doi.org/10.1017/S0033291700044147.
Acknowledgements
Authors kindly thank Alessandra Coniglio and Marina Ballerio for their support in data collection.
Ethics declarations
Conflict of Interest
The authors declare that they have no conflict of interest.
Ethical Approval
All procedures performed in studies involving human participants were in accordance with the ethical standards of the Catholic University of the Sacred Heart and with the 1964 Helsinki declaration and its later amendments or comparable ethical standard.
This article does not contain any studies with animals performed by any of the authors.
Informed Consent
Informed consent was obtained from all individual participants included in the study.
About this article
Cite this article
Crivelli, D., Fronda, G., Venturella, I. et al. Supporting Mindfulness Practices with Brain-Sensing Devices. Cognitive and Electrophysiological Evidences. Mindfulness 10, 301–311 (2019). https://doi.org/10.1007/s12671-018-0975-3
Keywords
Mindfulness

Neurofeedback

EEG

Wearable device

Attention

Cognitive control